When the weather is nice, most of my leisure time is spent outside which means lots of porch or deck time.  I love those houses that have the big front porches that can be decorated so invitingly!  But if you don't have that, like me, a back deck is a wonderful place to hang out. These deck and porch decorating ideas show how to expand your living space.
Porch Decorating Ideas
For  long time, I was frustrated with my back deck space because we had two huge trees that overhang it.  The shade was great but the trees were MESSY!!  I would just get the deck looking cute and then the next day it would be covered with yuck…..leaves, seeds, branches….even caterpillars sometimes!!!  It was a constant battle.  But…now we have cut those babies down and the deck stays clean…YAY!
So…I have a renewed interest in decorating.
As I was looking around for inspiration, I thought I would share a little bit of what I found with you.  Here are my favorite deck and porch decorating ideas:

This porch is extra cozy with all of the vintage accessories.   It is definitely one you would want to hang out on for an afternoon tea!

This porch has a calm and cohesive look because all the furniture has been painted a light neutral color to match.  See how the furniture was prepared for painting by checking out the  tutorial by The Creativity Exchange.
Deck Decorating Ideas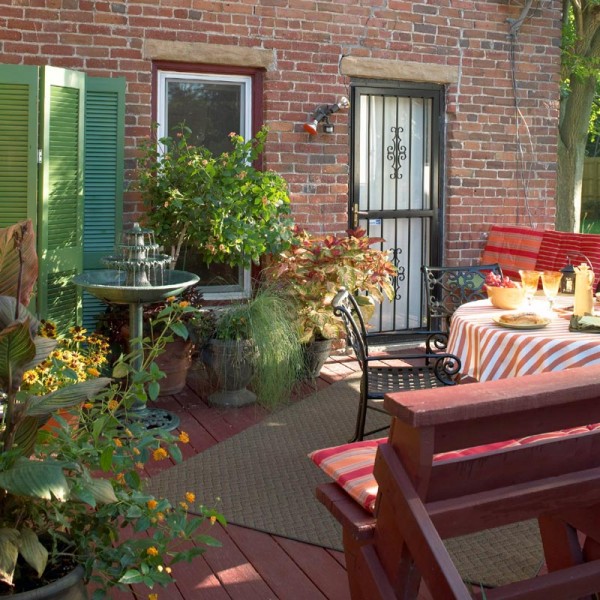 I like how this deck has plenty of plants and those wonderful shutters and bird bath.  It gives it such a romantic feel.  I could have a romantic dinner out here every night!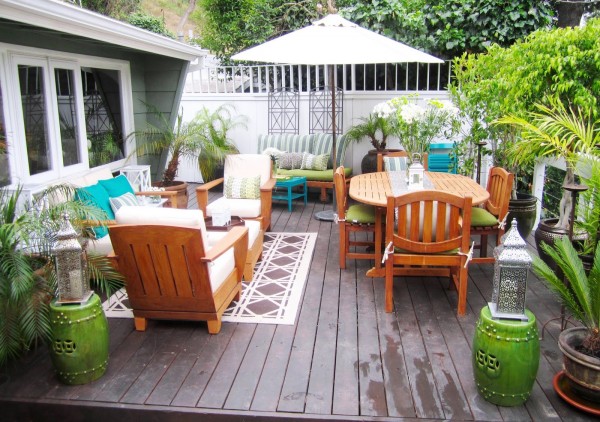 I would need to at least double the width of our deck for an arrangement like this but I love all the living space.  As far as decorating, though, I like the outdoor rug, the colorful ceramics, plants and bright pillows and cushions.  Those can be incorporated into any size deck or porch.
I think I know some things that I will be adding to my deck for some cool outdoor decor!  How about you?  Do you have some new ideas or ideas of your own?  Share your thoughts in the comments section!