Autumn brings to mind nature and the warm hues that are so cozy to look at. Bringing those textures and colors into the home makes an environment that is instantly comfortable and inviting, which is why I love decorating for Fall.
There are also plenty of ways to make your own decor items, using those beautiful items found in nature….or at least replicas! I gathered up a collection of Fall craft ideas for the home for a little inspiration.
Fall Crafts For The Home:

For this grouping, I combined a couple of craft items made from birch branches and bark with an Autumn floral pick and a vintage book in an Autumn hue of dark green. The candle holder was easy to make with some easy to find branches. You can use any kind for this craft. The branches warm up an ordinary glass candle holder. Find the instructions for this craft at my Branch Craft tutorial. You can see how to make the pumpkin at Birch Bark Pumpkin Craft.
Another quick and easy idea is to collect your favorite item from outside to use as a vase filler. Acorns, for example, make an excellent filler that is warm and full of texture. Babble has an interesting twist on this idea: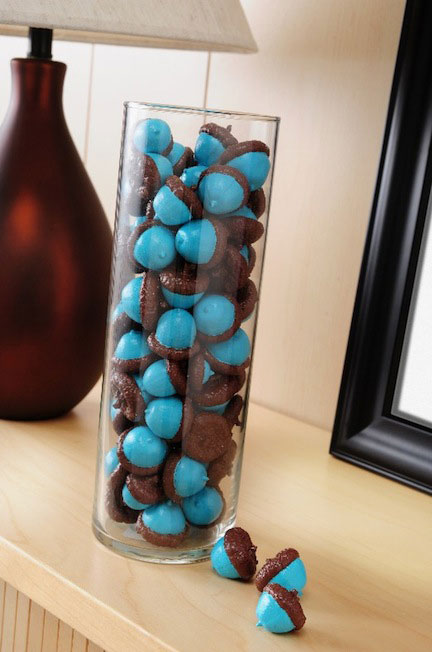 Painted acorns allow you to coordinate the vase filler with the rest of the decor in your room. Maybe the Autumn hues don't quite fit into your color scheme, then you can adjust the color while still incorporating a little nature in your home for the Fall.
Since I am a HUGE fan of decorating with vintage, old, junkie, etc….., one of my favorite ways to decorate is to fill old crates or wooden boxes. Unfortunately, I end up selling all of them. Here is a great example of one, decorated for Fall, by Bunches and Bits: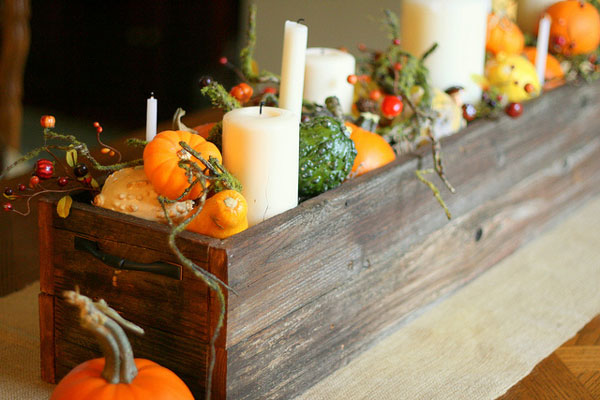 If you want to add a little chic elegance to your Autumn display try this candle holder idea by BHG: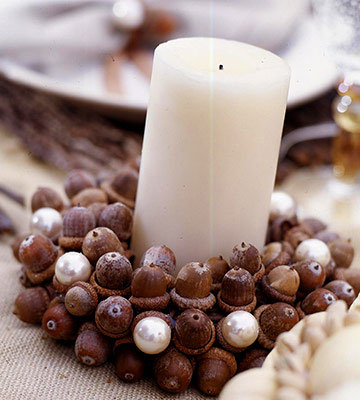 Simply throw in a handful of pearls into the mix of these acorns to make the Acorn and Pearl candle holder.
I hope you have been inspired!