At this time of year we just can't get enough of Fall decorating inspiration.  The outdoor colors are so beautiful that it's just a natural tendancy to want to replicate all of that beauty to the inside.
That's why I put together this collection of Fall decorating ideas that is especially creative and unique.  Now you can just sit back, grab a cup of coffee and enjoy the colorful show!
Fall Decorating Ideas
Autumn Leave Vases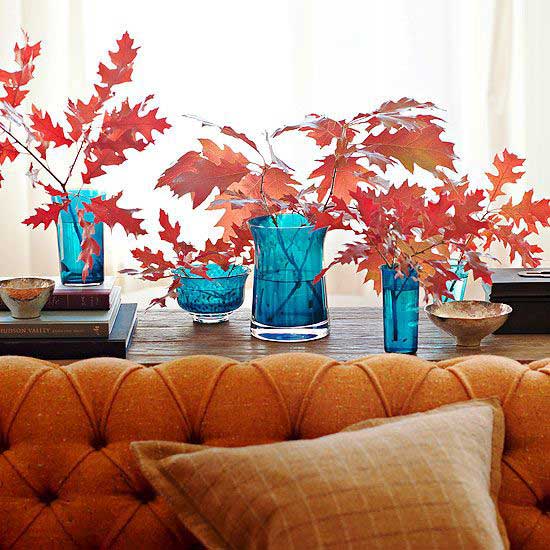 I love the combination of the colors of the autumn leaves against the blue of the vases.
White Pumpkins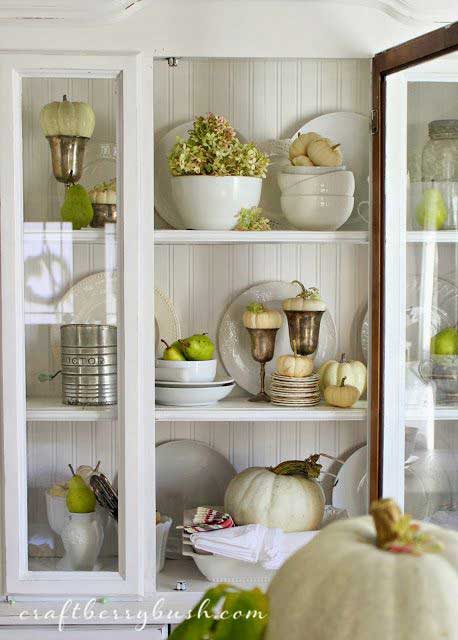 Green pears and of course white pumpkins are all that is needed to make a beautiful Fall display.

White pumpkin tablescape by Your Cozy Home
This is a beautiful tablescape for a Fall party.
Green Bottles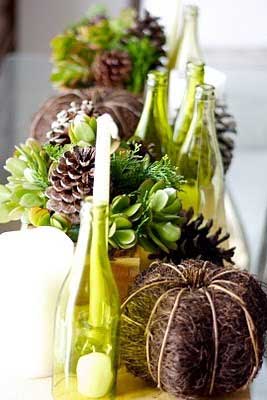 This is where recycled green bottles have a perfect fit.
Tiered Tray Fall Display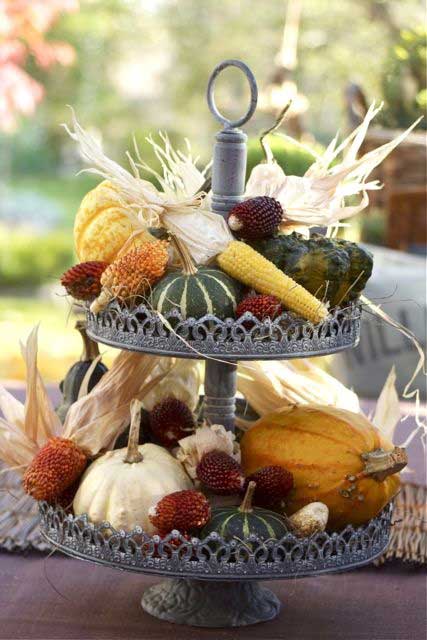 A tiered tray is a unique and creative way to make a Fall display that really stands out.
Fun Patterns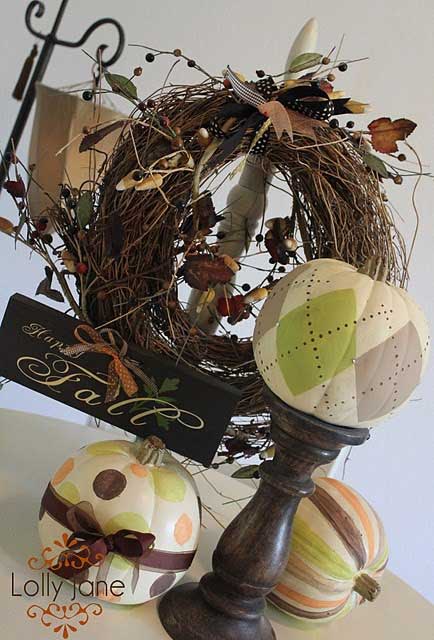 This Fall display just screams fun!  I love all of the different patterns on the pumpkins.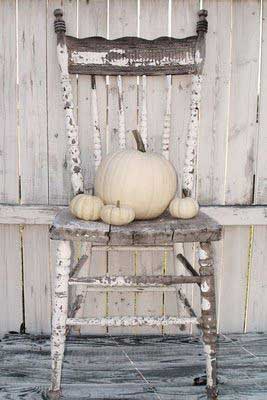 White pumpkins work perfectly for shabby chic decorating.
Vintage Door Knob Pumpkins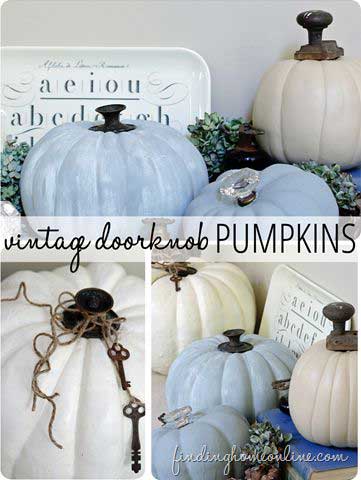 If traditional pumpkins don't fit your decor, make them fit with paint and fun embellishments!
Splashes Of Orange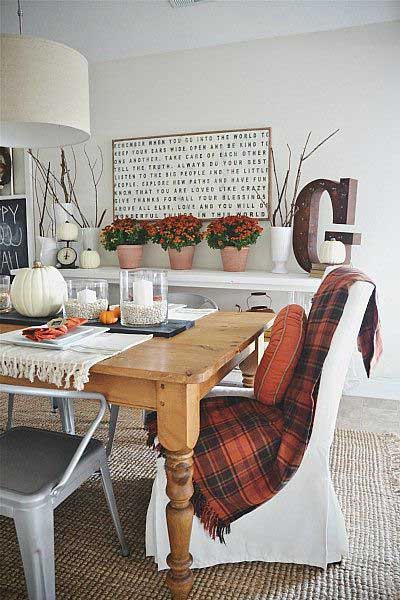 This is a gorgeous Fall dining room idea.  The throw and pillow added to the chair is a fantastic idea for adding some Fall color.
Fall Terrarium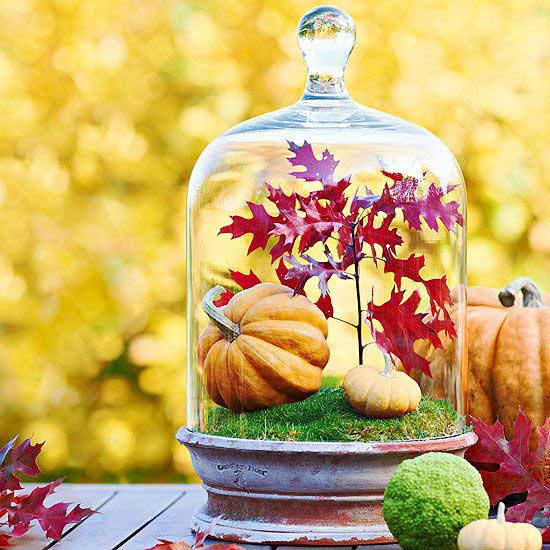 A Fall terrarium is an easy way to create an interesting focal point for the season.
Signs And Pillows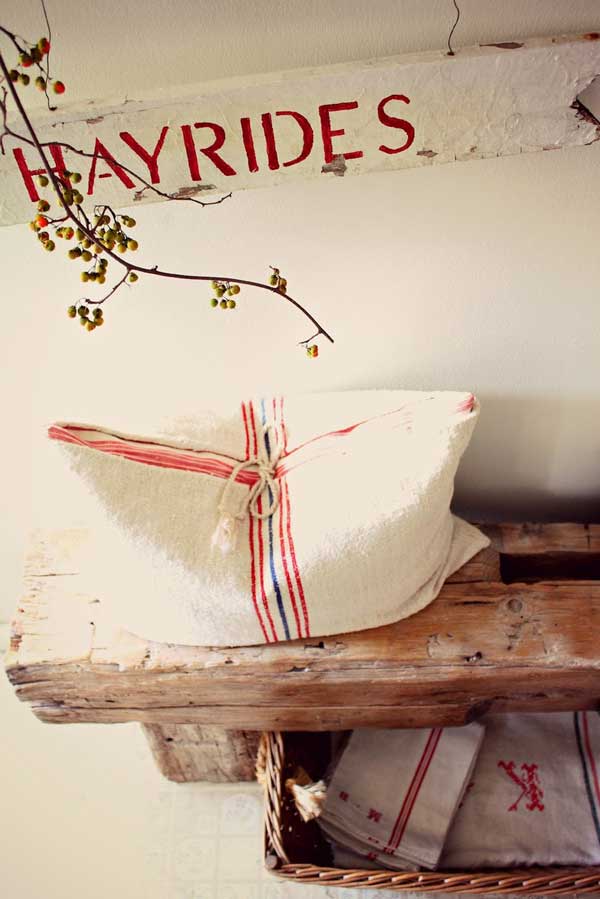 These colors aren't typical of what you would see in the Fall.  However, the theme is perfect.  Once again, if the traditional Fall colors don't work for your decor scheme, then get creative with the theme.  A bushel basket of red apples would look great with this setting as well!
Burlap Pumpkins

Simple and chic Fall decorating!
White Chenille Pumpkins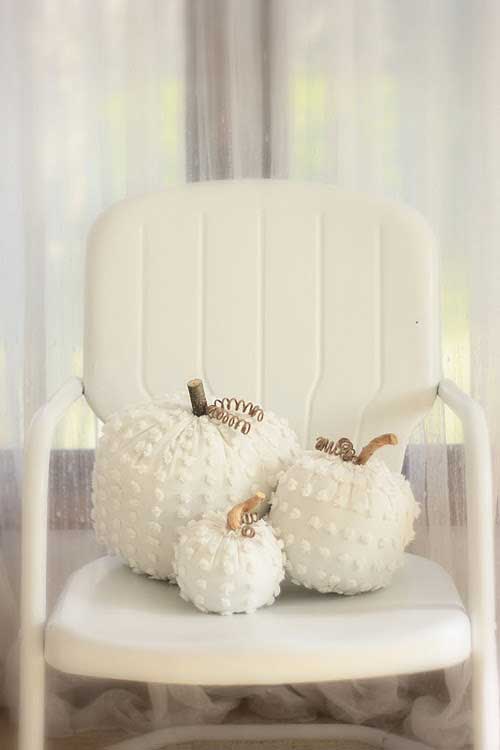 So soft and pretty!  I would want to keep these out all year long.
Fall Centerpieces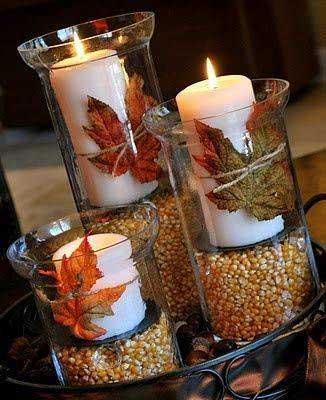 Here is an easy centerpiece idea using unpopped popcorn as a filler.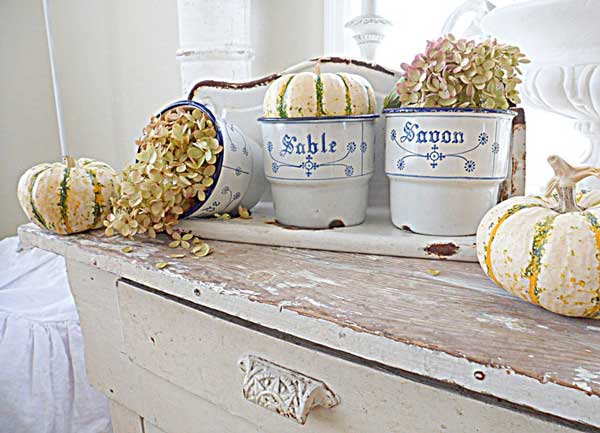 And finally, this French inspired Fall vignette is so soft and pretty with just the right amount of Autumn touches.
Make sure you also check out my recent posts on Ten Best Fall Mantel Decorating Ideas and Fall Craft Ideas For The Home.