Decorating bathrooms in a shabby chic style can be as simple as some minor cosmetic changes or as complex as a full makeover with new fixtures, cabinets and lighting. Before taking on any project it is good to have some inspiration pictures to get you moving in the right direction.
This post will be focusing on shabby chic bathrooms which is a style that blends romantic with worn. Distressed furnishings mixed with florals or a crystal chandelier is a great example. Vintage items and chippy wood frames also complement the style well.
I have found several inspiration bathrooms that I feel are great examples of the shabby chic style to help get your creative interior design juices flowing. Many of the ideas are quite similar to styles that you would find in shabby chic kitchens.
Shabby Chic Bathroom Ideas
Crystal Light Fixtures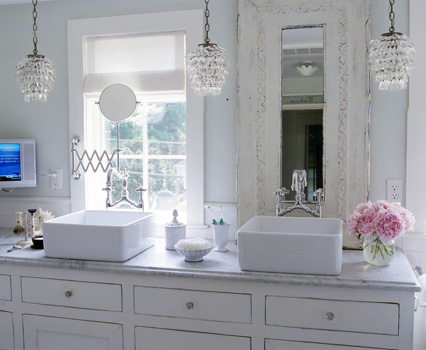 This first example is wonderfully shabby chic with the crystal pendant lights and the white washed wood mirror. The square vessel sinks look vintage inspired and the soft florals add a little romance.
Clawfoot Tub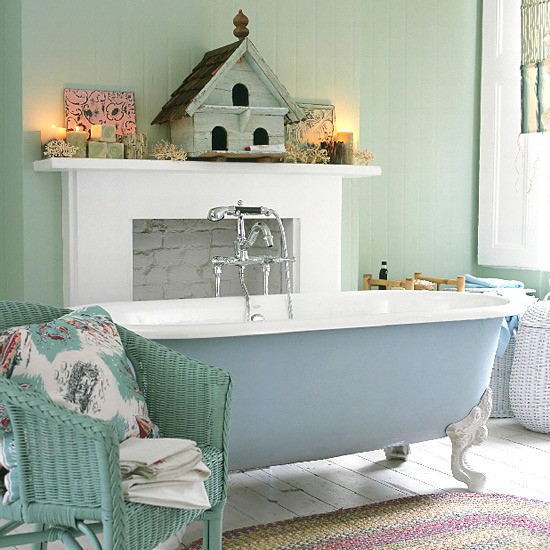 Claw foot tubs are a great luxury to have in a shabby chic bathroom. If you have a room large enough to fit a fireplace right in front of it, then that would be the ultimate – like this bathroom shown by Home and Decor. A lot of bathrooms done in a shabby chic style are all in white with maybe just a touch of color and most of the claw foot tubs I see are in white. This one is a little unique being in the pastel shade of blue.
Warm Wood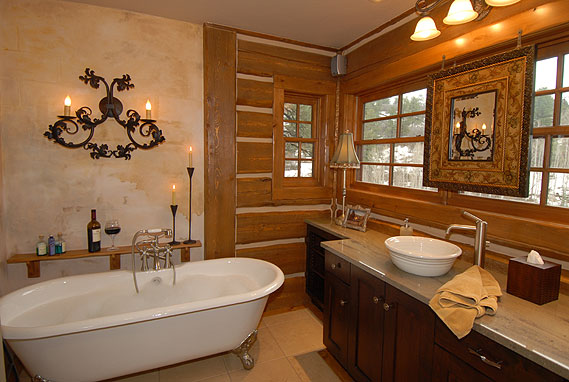 I just love this more rustic looking chic bathroom! It looks like quite the retreat – especially with that bottle of wine sitting on the shelf next to the tub! The tall taper candles are a nice touch as well.
French Inspired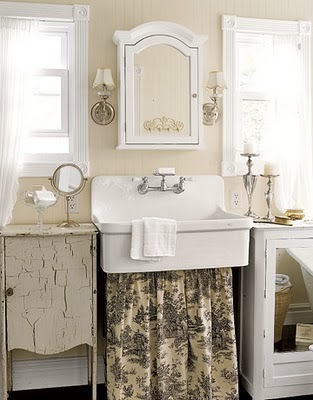 You will see a lot of French inspired in shabby chic as well like this design by We Heart It. This toille sink skirt is a fun example and looks great paired next to the chippy cabinet.
White Chic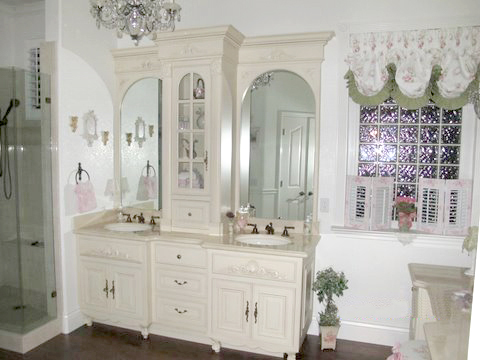 This pretty bathroom by The Bella Cottage is a great example of the shabby chic style using mainly white for a color palette. It looks so simple and clean and the crystal chandelier is set off perfectly against the white backdrop for some added glitz.