Candles are a great accessory for dressing up a home and making it warm and cozy.  A candle holder plays as big of a part, if not bigger, in the overall look of your candle decor.
You can certainly buy a basic candle holder, for any type of candle, and call it good.  But, what fun is that?  When there are so many options to get creative, it makes sense to develop a little style when setting out those flickers of light.
DIY candle holders don't even have to require a whole lot of DIY!  Sometimes all it takes is just a little imagination.
Ideas For DIY Candle Holders
Tree Log Tea Light Holders
The first candle holders that my husband and I made were made simply from birch logs and then other interesting tree logs.  All it took was a special drill bit to fit a tea light candle.

You can see how to make these candle holders at my birch candle holder DIY.
Use Industrial Salvage Materials
Since we have lately been collecting a lot of industrial salvage, my husband welded up some of our finds for me to use as funky candle holders.

I really like this set for our table.  I'm not sure what the parts are but the old writing in red almost looks like graffiti to me which just makes it look all the more artsy and funky.  A smaller size pillar candle fits perfectly inside – which I was thrilled to find!

This next set was made with gears and the candles just sit nicely right on top.  Of course, I just love the rusted patina!

And, this single holder was polished for a more sleek look.
Wrap A Glass Holder With Birch Twigs
Another type of candle holder that I love to make, and that isn't too difficult, is one using birch branches.

It's just a matter of adhering the branches to a glass candle holder.  Check out the tutorial for full instructions.
Architectural Salvage Is Great For Pillar Candles
Finally, another easy idea for a candle holder is to use some type of architectural salvage. For this one, I just used a section from an old pillar as my base. Then, I just glued a flat glass holder to the top with E6000 craft glue!

More DIY Candle Holder Inspiration
Here are a few more creative candle holder ideas that I found.
Wine Bottle Candle Holders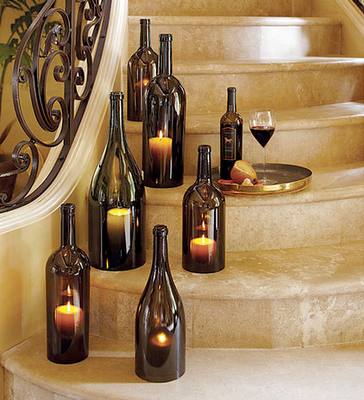 Here is an interesting and romantic look using wine bottles.  Just cut the bottoms off the bottles and insert the candles.  This is a great way to recycle too!
Or, you can use wine bottles simply to hold taper candles.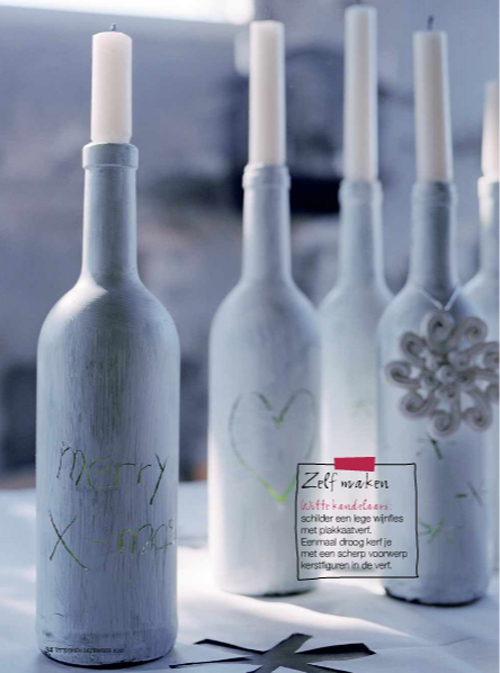 Turn A Light Fixture Into A Holder For Candles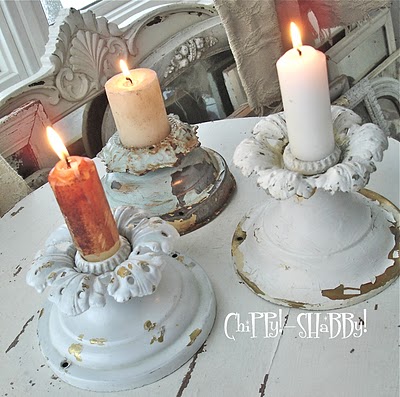 SOURCE: Chippy Shabby
I like this idea using old light fixtures as bases for holding candles.  The look is so shabby chic and interesting!
Do you have any creative ideas for diy candle holders?  What fun ideas have you tried?
Share your thoughts and ideas below.