In some of my previous homes, I've had fireplaces in the living rooms. It's always been fairly easy to decorate the area around a fireplace. You have a mantel and a hearth which offer great anchors to work off of. But what about decorating around a wood burning stove? This can be a little more tricky. Depending on where the stove is located, there could be limitations for what you can do.
Before I show how to decorate around a wood stove, there are some key things to think about. What will the wood stove hearth be made of? There are lots of options that will impact the total design. How close is the wood stove to any surrounding walls? This will determine if you need a fire safe wall material or not. Finally, think about how much space you want your entire wood stove decor area to take up.
We have had a wood burning stove in our cabin since we built it about ten years ago. Originally, we built a hearth pad from recycled bricks. It took up a large area in a corner of our living room. And, with a large hearth comes the need to fill up the space with extra stuff. After awhile, we decided enough was enough and made a change.
This post contains recommended product links. If you make a purchase through one of the links, I may earn a small commission at no cost to you.
Wood Stove Area Before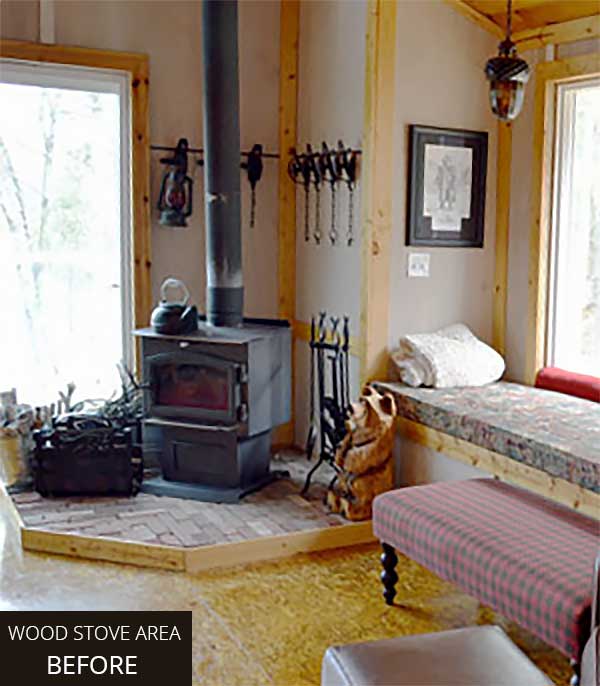 Our wood stove hearth took up a large part of that corner and was more than what we needed for safety. After ten years, we were at a point where we wanted to give the area a cleaner look. Plus, we needed to replace some of the stove pipe. So, we took the whole thing apart and started over.
It wasn't so easy. Wood burning stoves are heavy! Plus, the wood floor underneath the bricks needed to be repaired since it would be visible with a smaller hearth pad. That meant some sanding and a reapplication of polyurethane to the wood.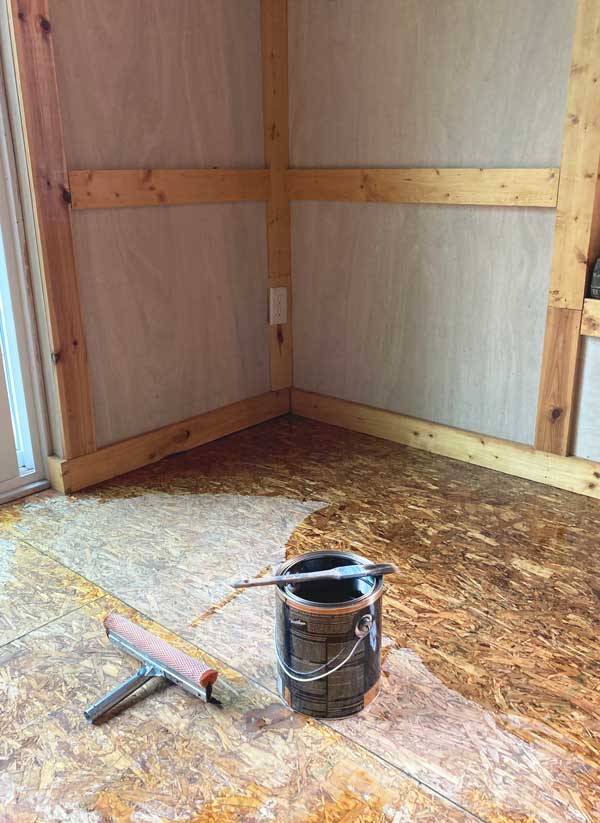 We did all of this work in the summer when we wouldn't need to use the stove. This took a little pressure off the project. Now, all we had to do was install a new hearth and get rid of some of the clutter.
After milling around with a few different ideas, we decided to go with a limestone slab, cut to fit the dimension we needed. We went to a local stone company, The Stone Zone, to get a heath cut to shape. I was amazed at all of the different types of stones and thicknesses we had to choose from.
Our Updated Wood Burner Area
We removed the clutter and now just keep a decorative log holder beside the stove. The tools fit nicely in the area in back of stove and are easily accessible. I like that I can now place a small rocker next to the wood stove. It's also easier to access the window seat.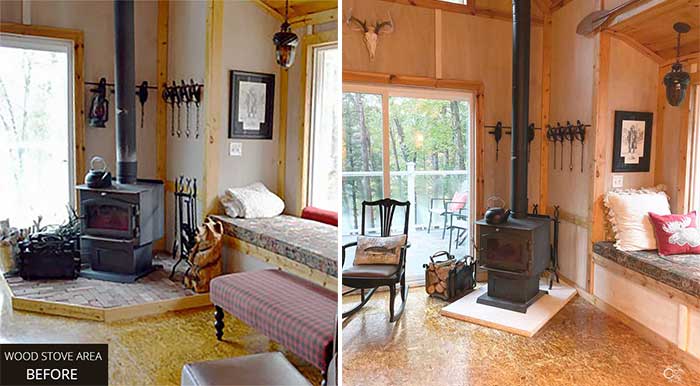 Now the wood stove area takes up a much smaller footprint. We chose a stone with the same coloration as the wall for a simpler look. I'm glad we went with the limestone because it brightens up the corner. It's also seamless which is easy on the eye.
More Ideas For Wood Stove Hearths
Every wood stove needs to have a hearth. Unless of course the stove is setting on a concrete floor. Besides brick and limestone, other hearth ideas are to use tile, granite, marble, steel, or a pre manufactured hearth pad. If you have a lot going on in a room, pick a seamless hearth pad.
I love this wood stove hearth and surrounding decor. It's great for a larger space.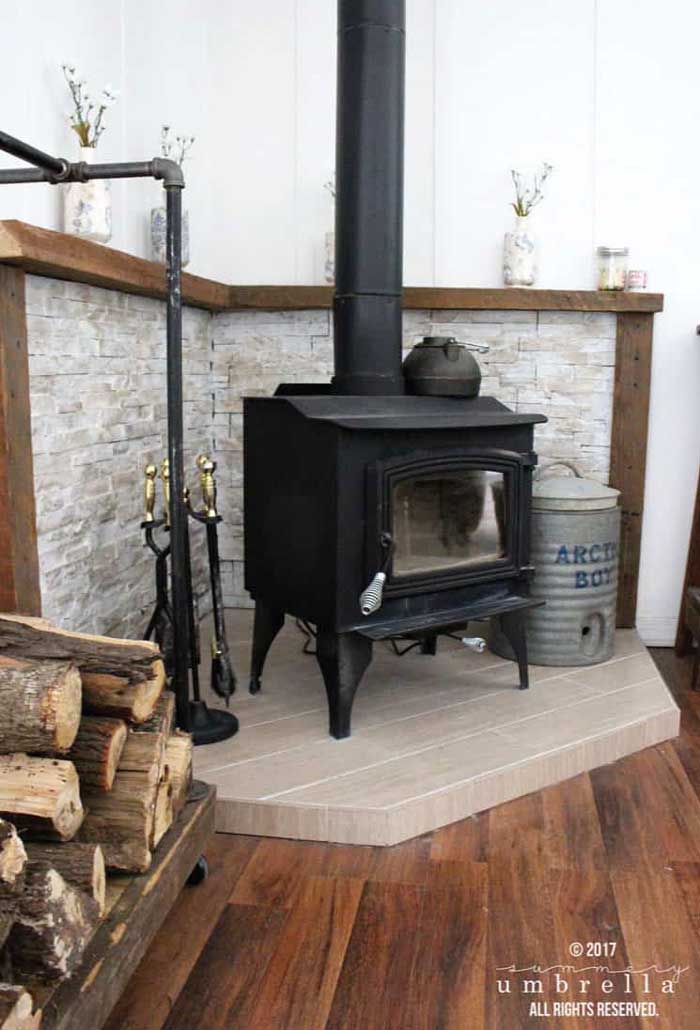 With the neutral colors of the tile hearth and whitewashed brick walls, the look is very cohesive. I love the wood trim surround which acts like a mantel.
If you need to have a fire safe back for your particular wood stove and spacing, all of the same materials for a hearth can be used on the wall. A few extra ideas for the wall would be fieldstone or stacked stone, corrugated or smooth steel, and wood look ceramic tile.