Using old windows in home decor is becoming increasingly popular. If you have a window with all of the glass still in tact, you may want to consider making it into a fun sign. I'll show you how to make a sign using a variety of easy techniques.
Best Techniques To Make A Sign On Glass
There are lots of different ways to go about making a sign on window glass. Between stencils, reverse painting, or hand lettering, there plenty of techniques to suit your skill.
Hand Lettering On Glass
The technique that I use is super easy and a breeze to fix if you make a mistake.
I simply use a chalk marker to hand write the message I want to express. If I don't like how the layout is going, I just need to wipe it away with a paper towel. It rubs off easily when it is dry as well.
I used white marker but you can get chalk markers in many different colors for more design choices.

Although freehand writing is super easy, you may want something that looks a little more professional. In that case, you may want to try something more like calligraphy or another hand lettered style. This type of writing is almost more like drawing. To keep the saying looking neat and balanced you can draw out grid lines first. Then simply erase the lines when you're finished. Or, put a paper, with lines, underneath the glass when you are lettering your sign.
If writing or drawing isn't your forte, you can cheat. Simply print out a message that you want to write out on your window. Then, put the paper behind the glass and trace over it with marker or paint.

SOURCE: Recaptured Charm
Here is a colorful option using liquid chalk. This works especially nice for making bold letters and shapes.
Window Sign Using Reverse Painting
So what if you would prefer that your painted sign be protected by the window glass? That too is easy to accomplish. Instead of painting directly to the front of the window glass, simply paint your words to the back in reverse! Before your mind gets boggled with that seemingly complicated idea, I can tell you that there is an easy way to accomplish this.
First, find or design your saying on your computer. Then, when you go to print it out, print the image in reverse. If you don't have this option, you can always print it out normal and then tape the image to the front of the window and trace over it with paint on the back side. This is just the reverse of painting lettering to the front of the window with the trace method.

SOURCE: Elegant Nest
Make A Sign With Vinyl Cutouts
Signs made with vinyl lettering are super easy to make. You can purchase either vinyl letters or complete sayings. However, if you really want to customize your design, you can use a Cricut for cutting your own vinyl.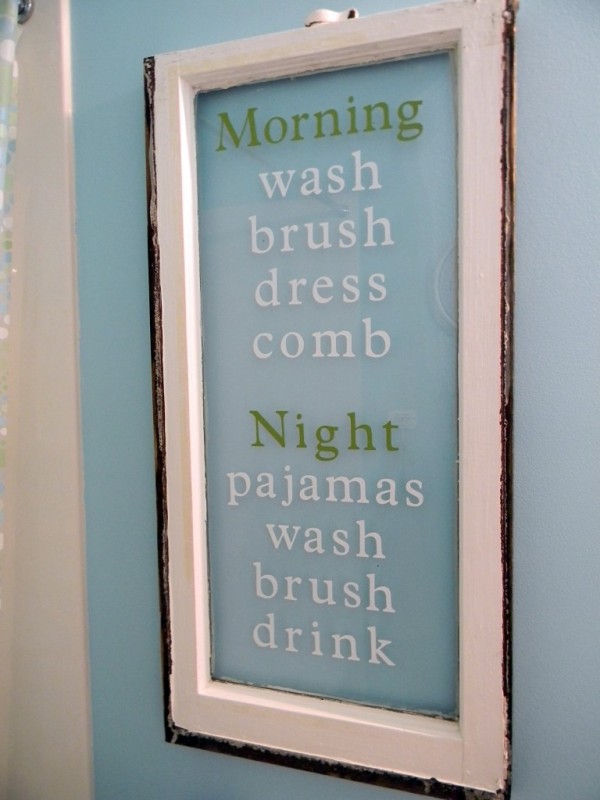 So whether you use chalk markers, paint or vinyl, you can create a window sign that is just right for your needs. Handwriting, stenciling and cutouts are all options depending on the style you are going for.