If you've ever renovated an old home, chances are you have a collection of old windows to do something with. When my husband and I renovated a home built in 1901, we had quite an assortment of old windows to deal with. Instead of just disposing of these, there are plenty of ways to use old windows in decorating.
Even if you don't want to decorate with windows yourself, there are sure to be others who would love to use them in their home. With the popularity of farmhouse style decorating, old windows are a common home accent.
Where To Find, Sell, Or Donate Old Windows
Since decorating with old windows has become so popular, you may be wondering where to get a hold of old windows if you don't renovate a home. Luckily, they are pretty easy to get a hold of at a variety of different places. Here is a list of places that you should check to find windows. This, of course, is also where you can get rid of windows that you don't want to use yourself.
Craigslist and other classifieds – an individual renovator will commonly list their windows here
Ebay and Etsy – both places are really good sources for old windows and other antiques
Antique Stores
Architectural Salvage Stores – a good place to find a wide variety of old windows in hard to find shape and sizes
Flea Markets
How To Prep Old Windows For Use In Decorating
It doesn't take much to get an old window in a good condition for displaying. After all, the distressed or chippy look is a big part of the charm. You do want to give the windows a good cleaning though. All it takes is some mild dish soap to remove any dirt and grime. You may still have some staining that you can either keep or paint over. I like a little grunge for rustic styling.
After cleaning, I would recommend removing any loose paint. There is a good chance that old windows were painted with lead paint and you don't want that chipping off in your home. A light sanding will remove what is currently loose. However, to keep the paint from chipping off later, you may want to seal the frames with polyurethane. I like to use a spray matte finish. This protects the window without losing any of the rustic charm.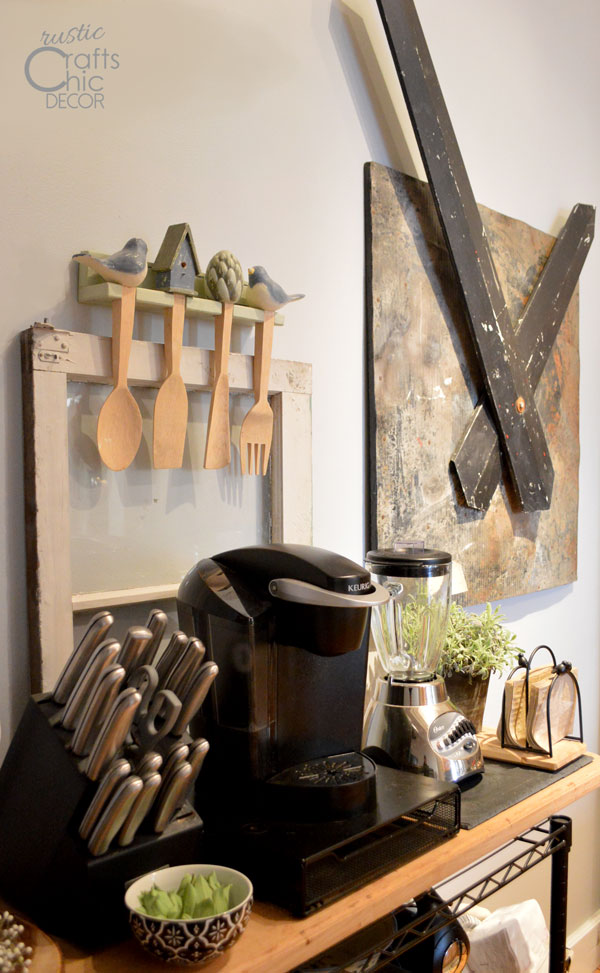 Old Window Decor Ideas
What you do with your old windows will depend on the size and style of window that you have. This collection of ways to use old windows includes a variety of different styles and ideas.
Paned Windows Make Great Photo Frames
Whether you place several small photos behind the panes or one large photo, old paned windows make fantastic frames.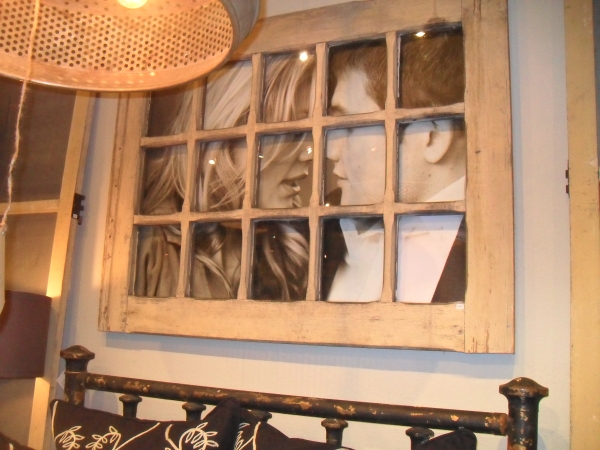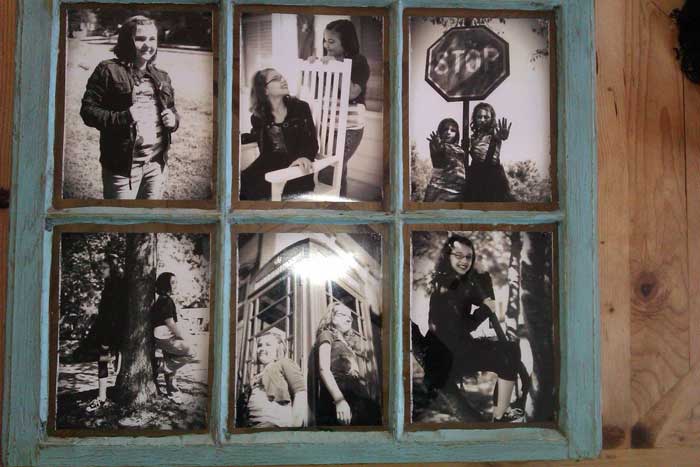 You also don't have to fill the entire pane with a photo. Another idea is to center your photos in the middle of each glass pane leaving a glass border. Or, fill just a couple of panes with photos and leave the rest glass. If you want to add embellishments such a words or patterned papers, you can do that too.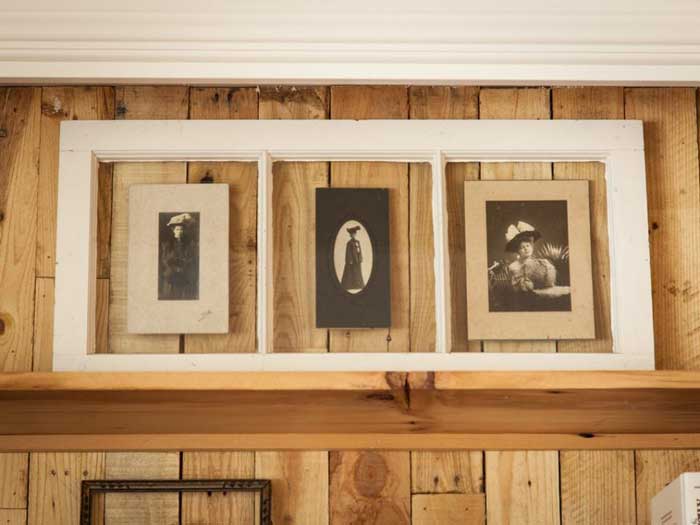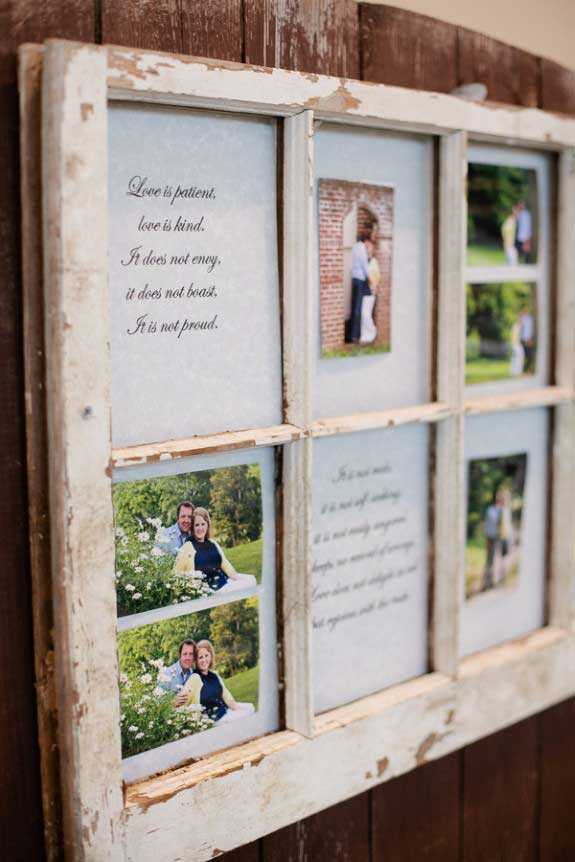 If you have an old paned window with glass that is cracked or missing, you can still use these frames for holding pictures. Either fill the missing panes with chicken wire or attach a strand of wire across the frame. Then just clip your photos to either the chicken wire or wire strand.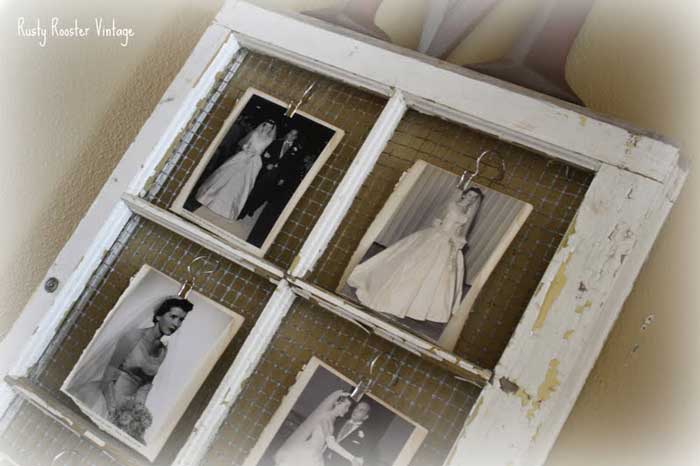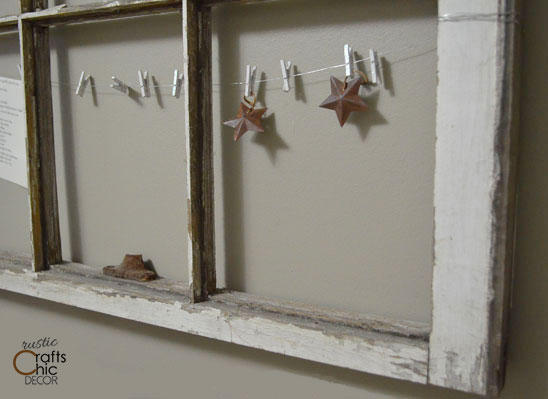 Turn An Old Window Into A Hanging Rack
Hang a window on it's side from the ceiling and attach small hooks to the panes for hanging things. Not only do you get a functional piece but it's decorative as well. If you have a small space especially, combining function with decor is a must.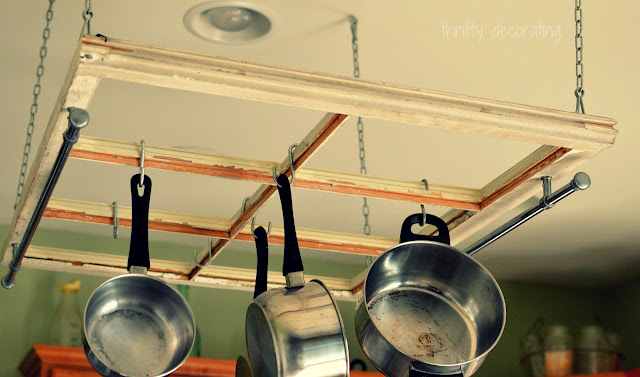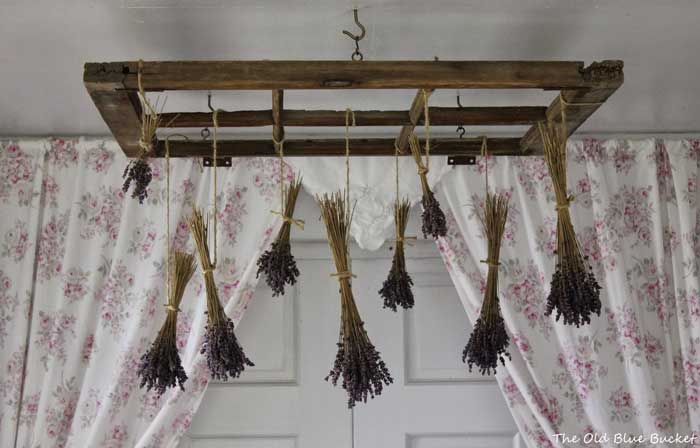 You can also hang a window on the wall and still use the panes for hanging things. To keep the window flush with the wall, simply pound a nail or hook into the wooden pane. You can use windows with or without glass.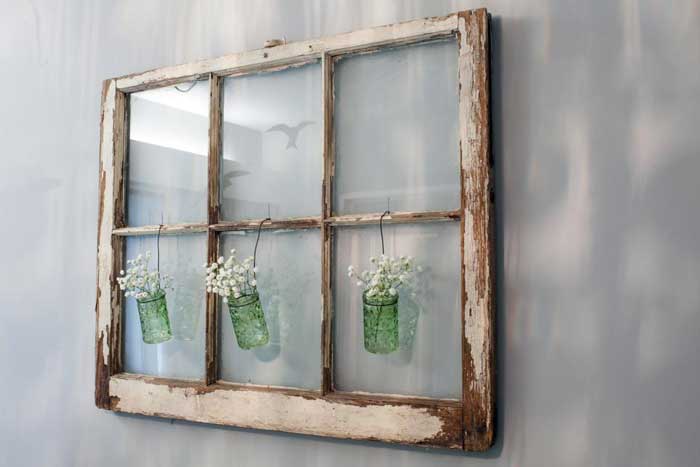 Of course you can also just attach hooks to the bottom of a window frame for hanging things like coats or hats. Then, you can still use the panes for other decorative uses like photos.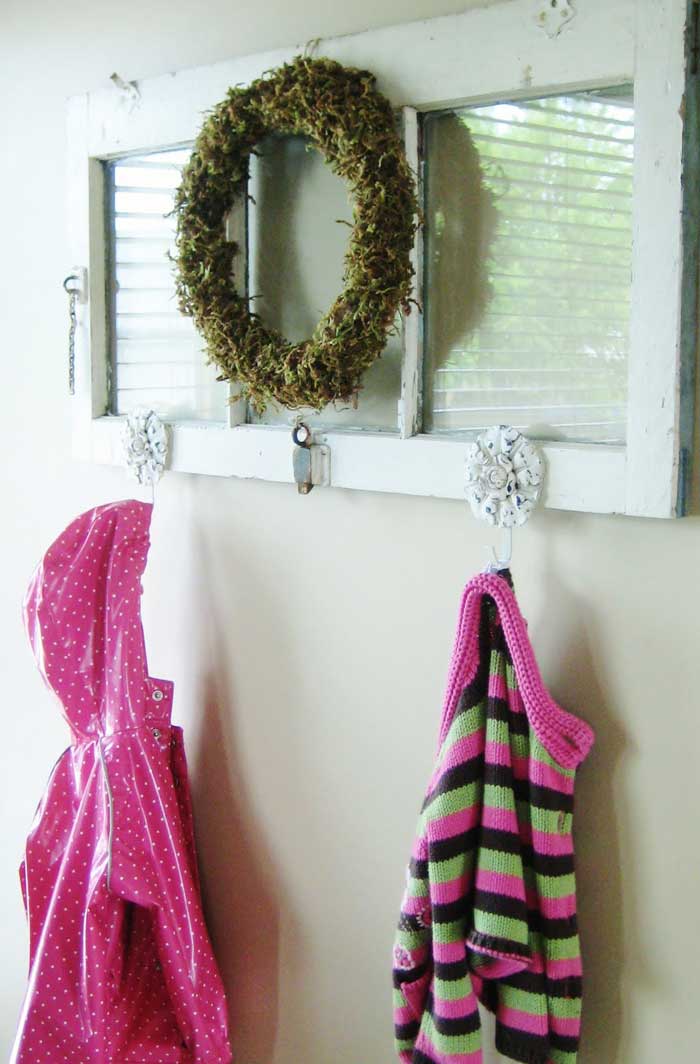 Just like the idea for hanging photos, you can also stretch wire or twine across the window panes for hanging whatever you need to store. These vintage hankies were given out at my daughter's wedding and an old window was the perfect way to display them.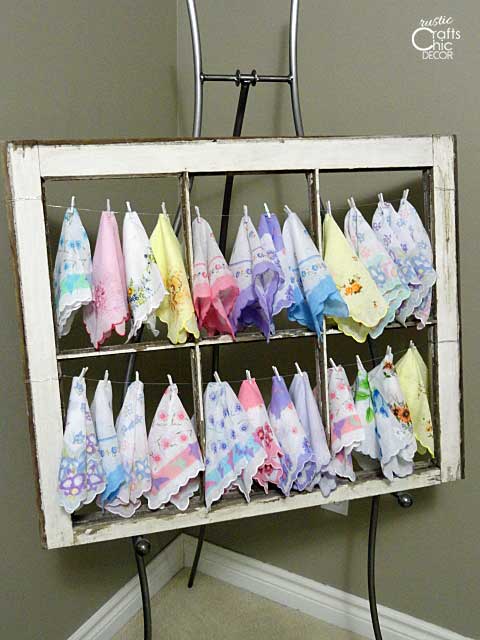 Make A Sign From An Old Window
Use vinyl letters, paint, markers, or chalk to make a decorative sign out of a window.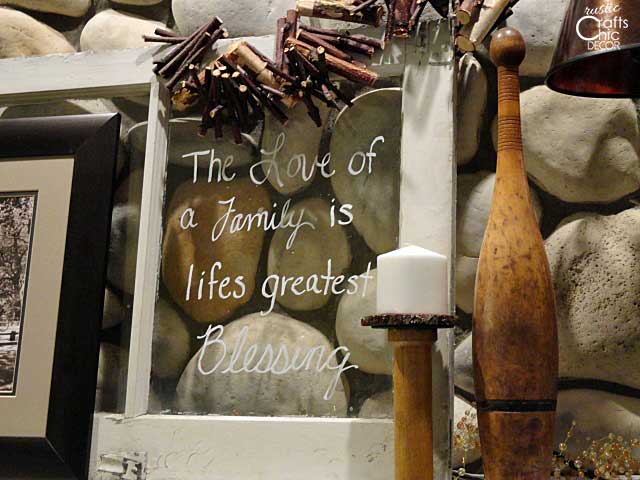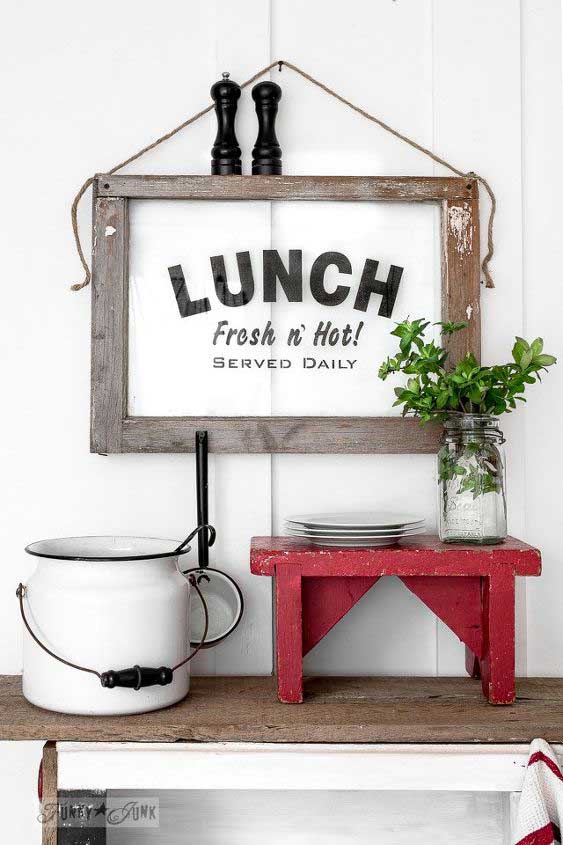 Decorative windows with lots of panes make it easy to have word separation.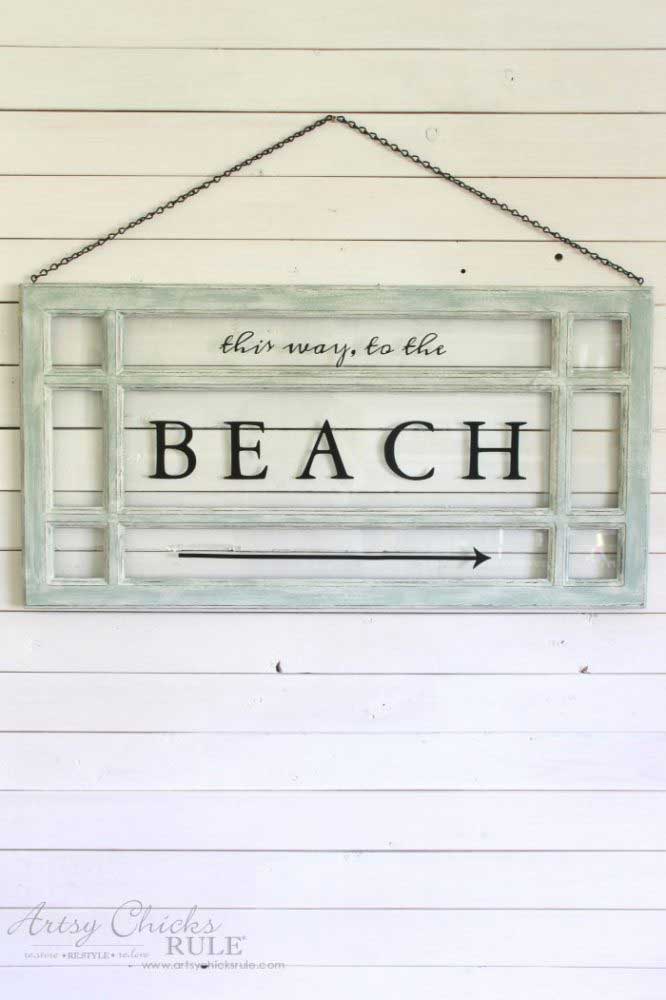 A wreath, a window, and vinyl letters create some fun wall art.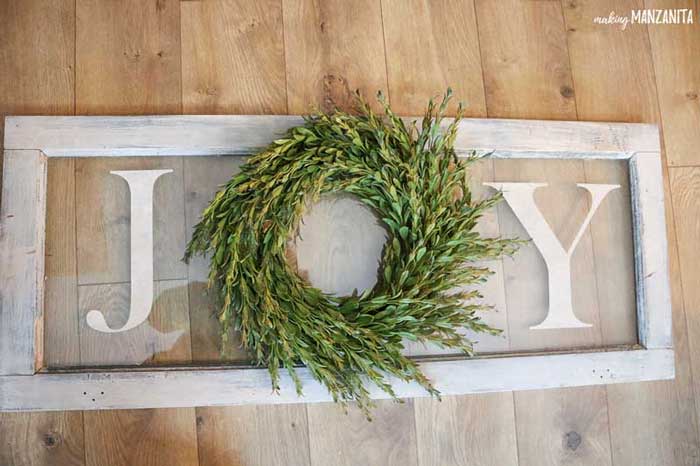 Vinyl lettering on a window is an easy way to create a fun sign.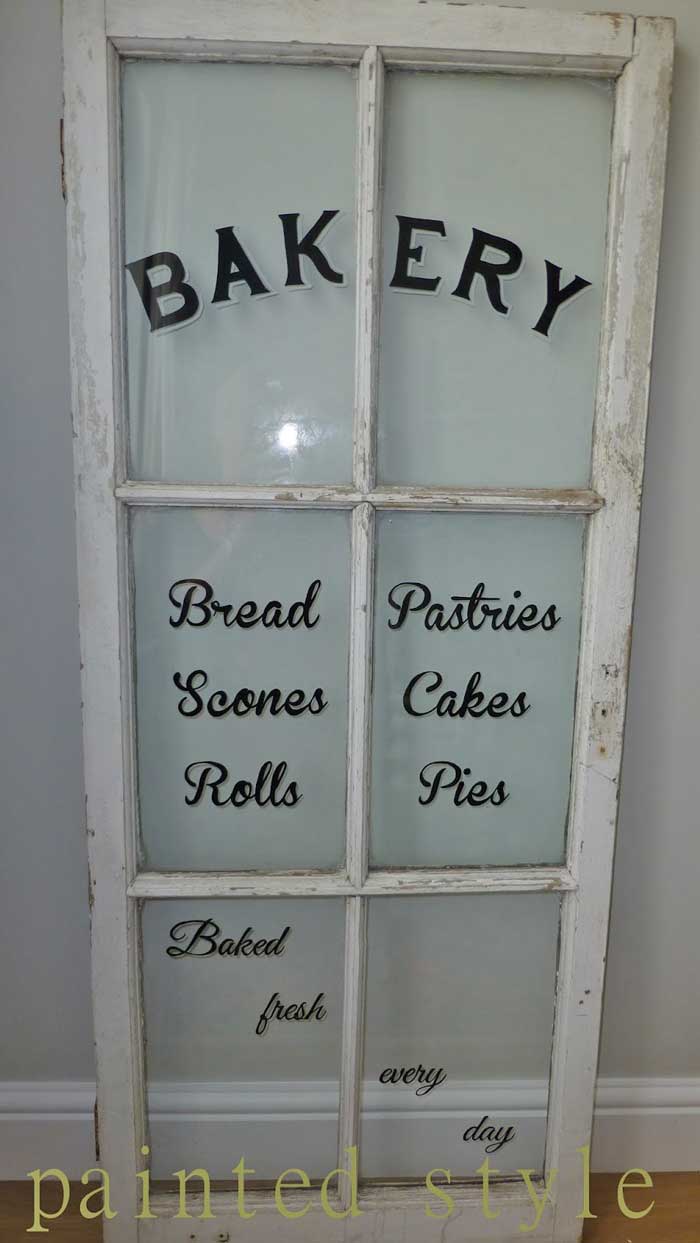 If you would prefer a more intricate design but don't want to draw it out yourself, decoupaging is the answer. Print out any graphic that you would like and then simply decoupage it to the back of a window. The image shows through the front of the glass and is perfectly protected.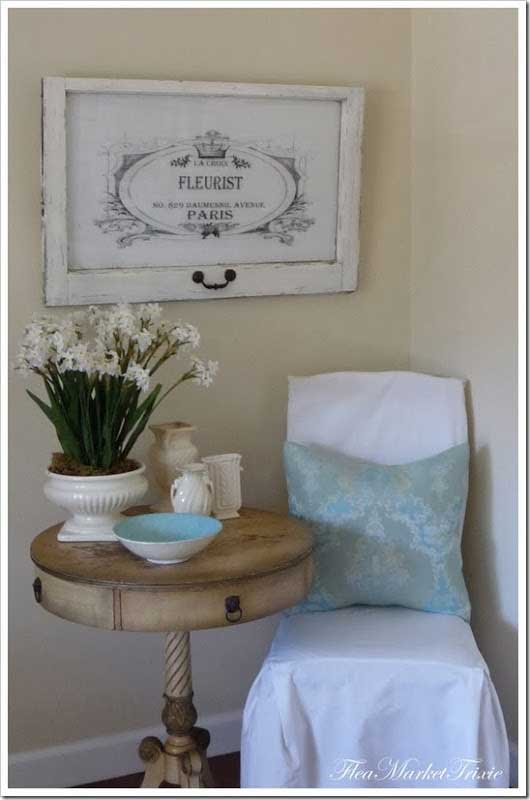 You can also back your sign with fabric, such as burlap, to add some extra rustic styling.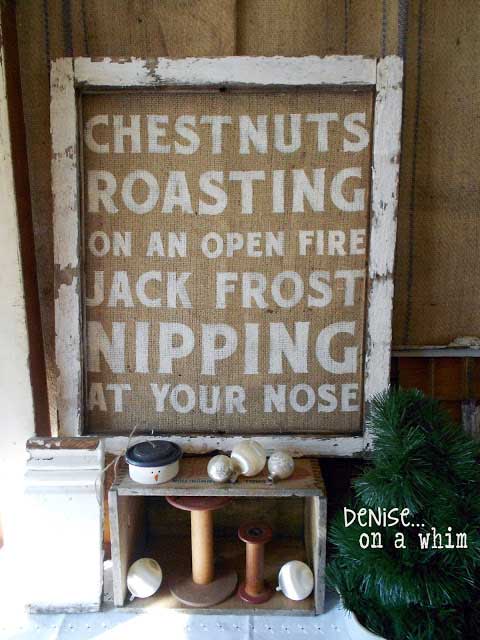 Turn An Old Window Into A Chalkboard
It's so easy to transform any window into a chalkboard with chalkboard paint. Although you can write on clear glass with chalkboard markers, I'm talking about the traditional black chalkboard look. Once the window is painted, you can use either regular chalk or chalkboard markers for a variety of looks.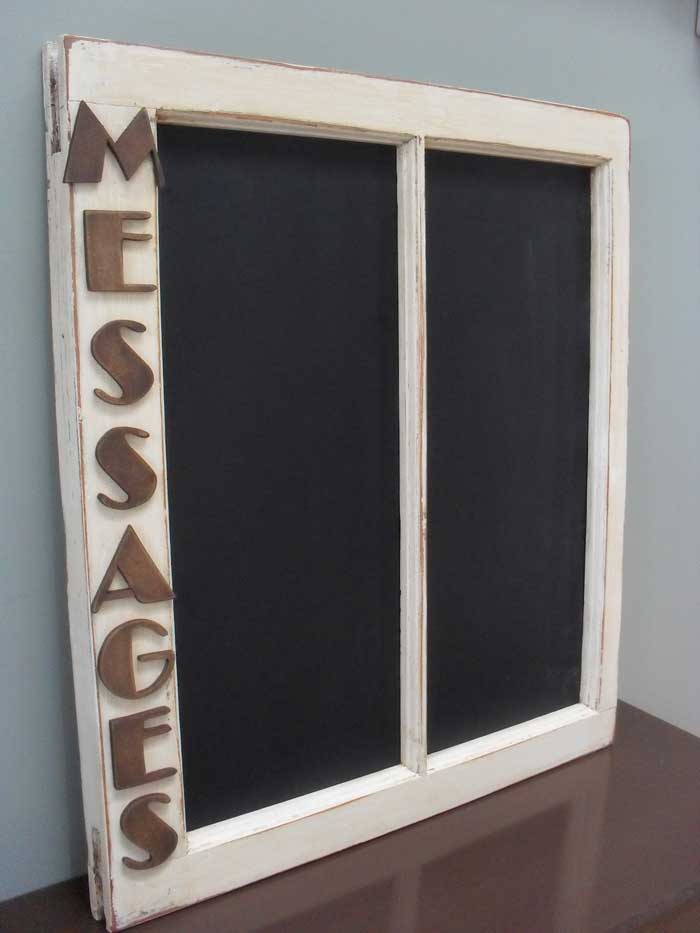 A dual purpose message board is also a fun way to go. Using a dual pane window, make one side a chalkboard and the other side a dry erase board. Just paint the front of the window, on one side, with chalkboard paint. Then paint the back of the other side of the window using white paint.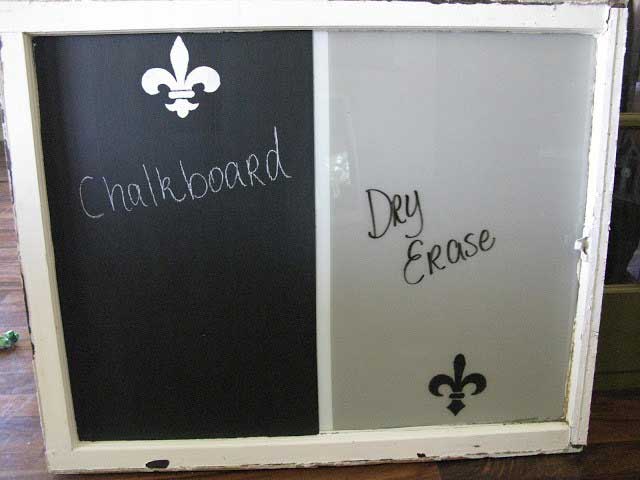 Multiple paned windows are perfect for making a chalkboard weekly planner. I had a window with six panes which was perfect for planning out my weekly activities. Sundays are usually pretty chill anyways.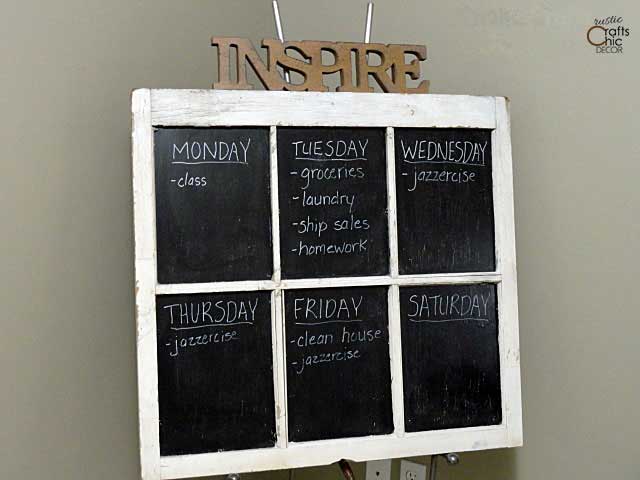 Simply Displayed Old Windows
You really don't have to do a whole lot to a window to make it a charming rustic accent. Create a gallery by hanging a collection of windows on the wall in different sizes, shapes and finishes. Or, display a window as part of a vignette. The character of a window speaks for itself.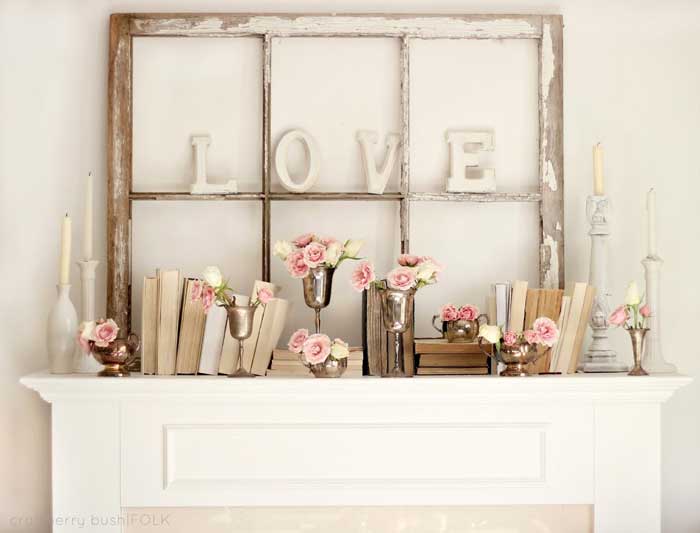 Old windows make great back drops for a wreath. They give a more prominent look than just displaying a wreath on its own.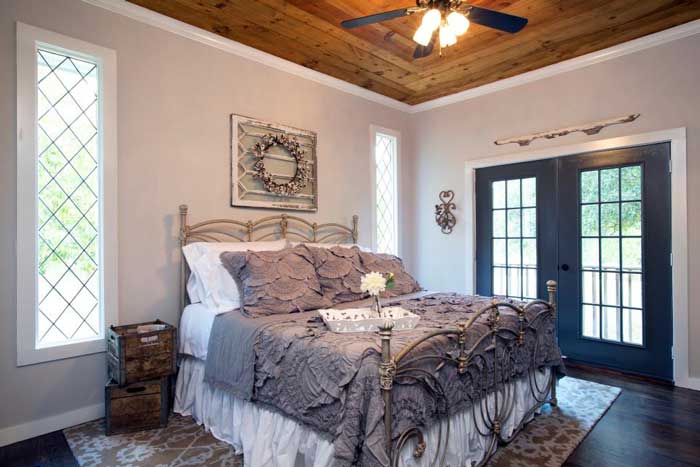 A large window adds height to a low piece of furniture.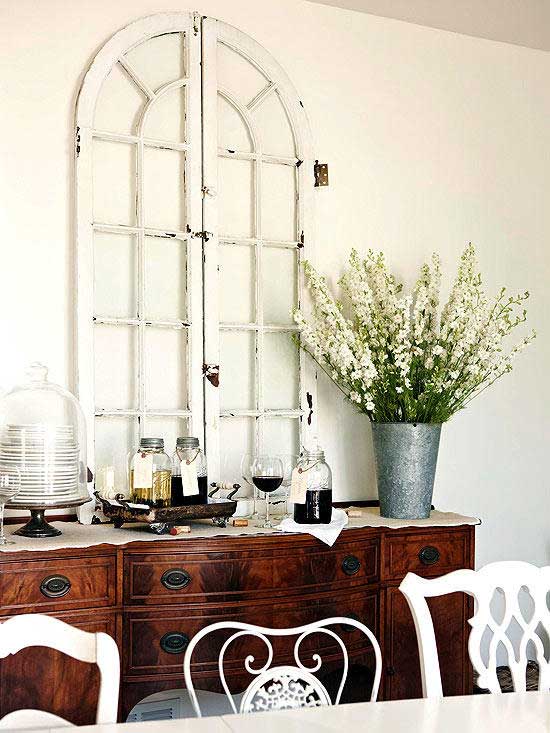 Hanging a variety of windows is a great way to use up empty wall space.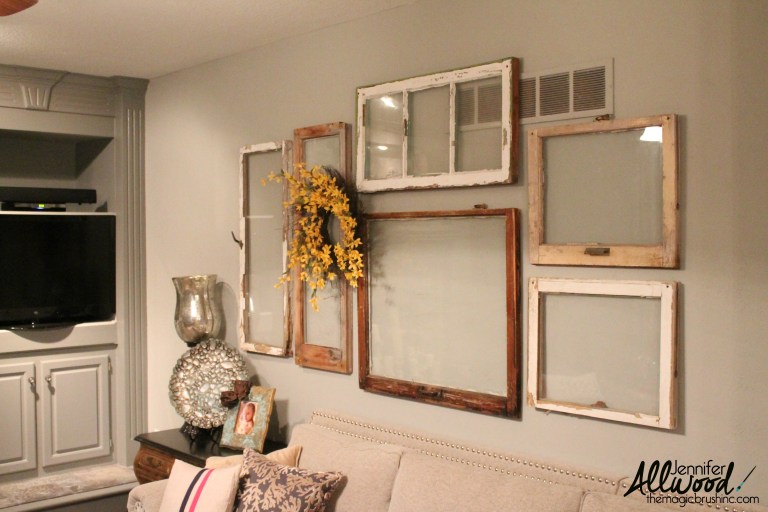 Windows displayed as a headboard are a fun use, especially for large windows. When you can use arched windows, you get an especially classy look.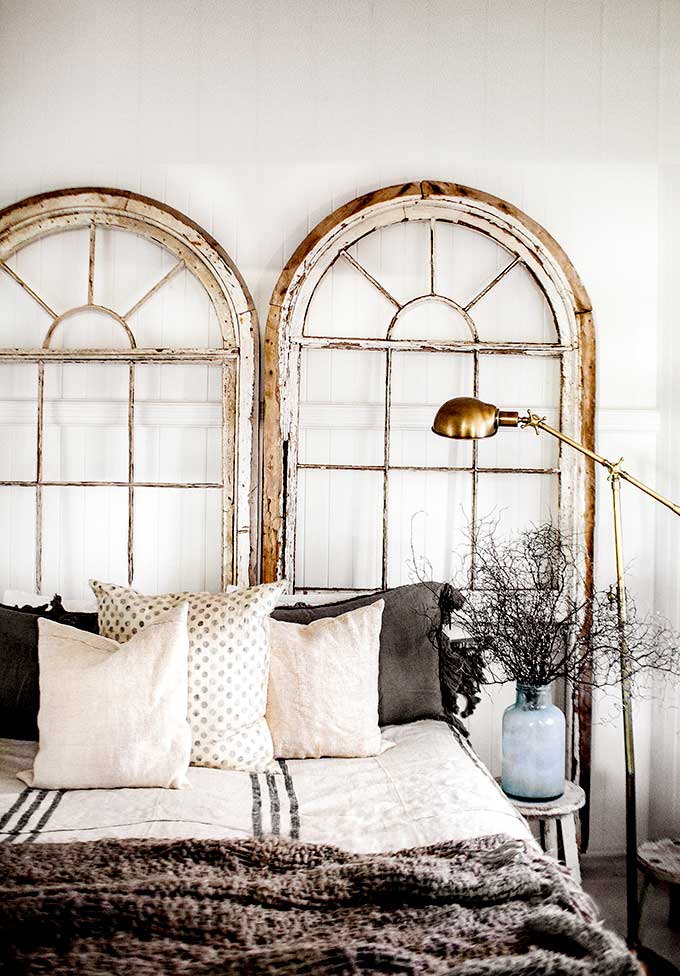 Clever Ways To Use Old Windows
Some uses for a vintage window are so clever that they don't fit a particular category. Because of this, these ideas could inspire you to come up with something completely original.
An Old Window Towel Rack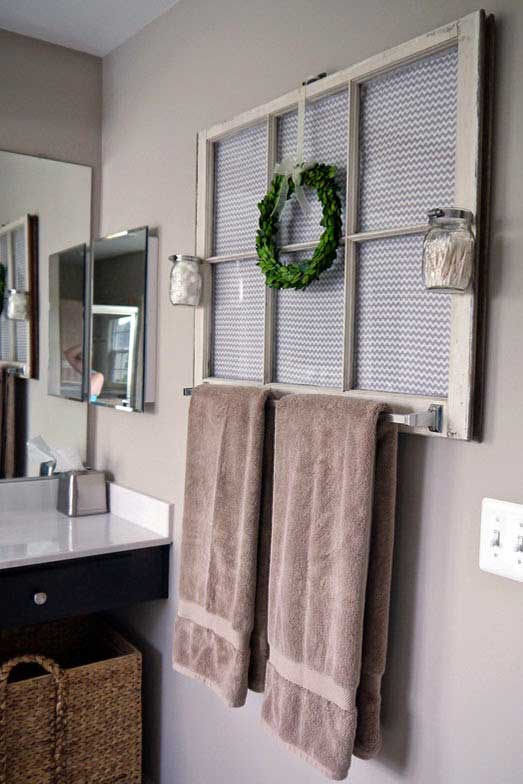 Construct A Rustic Window Cabinet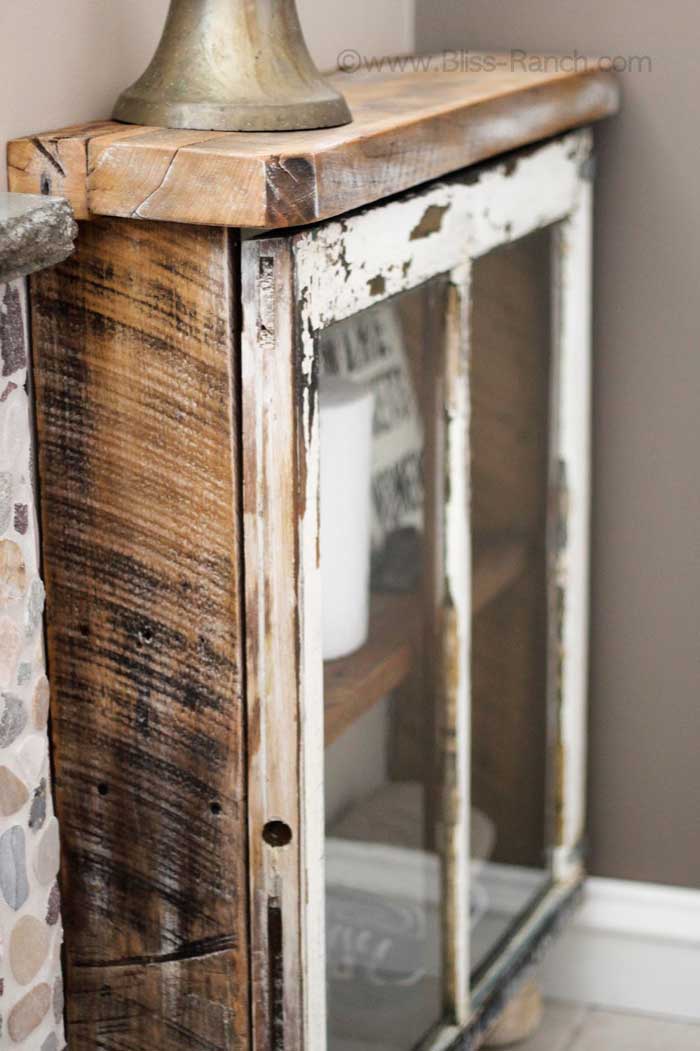 An Easy Window Shelf DIY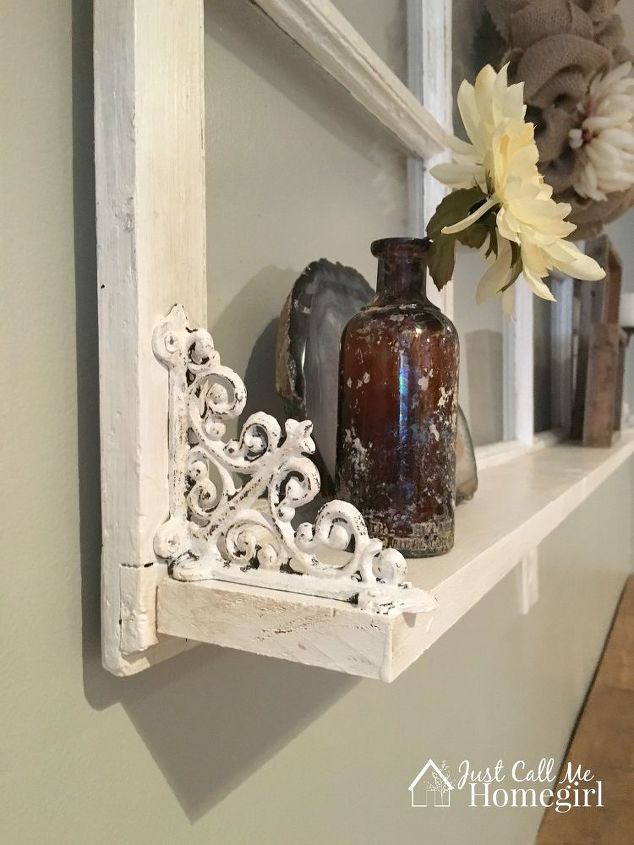 More Than Simply Displayed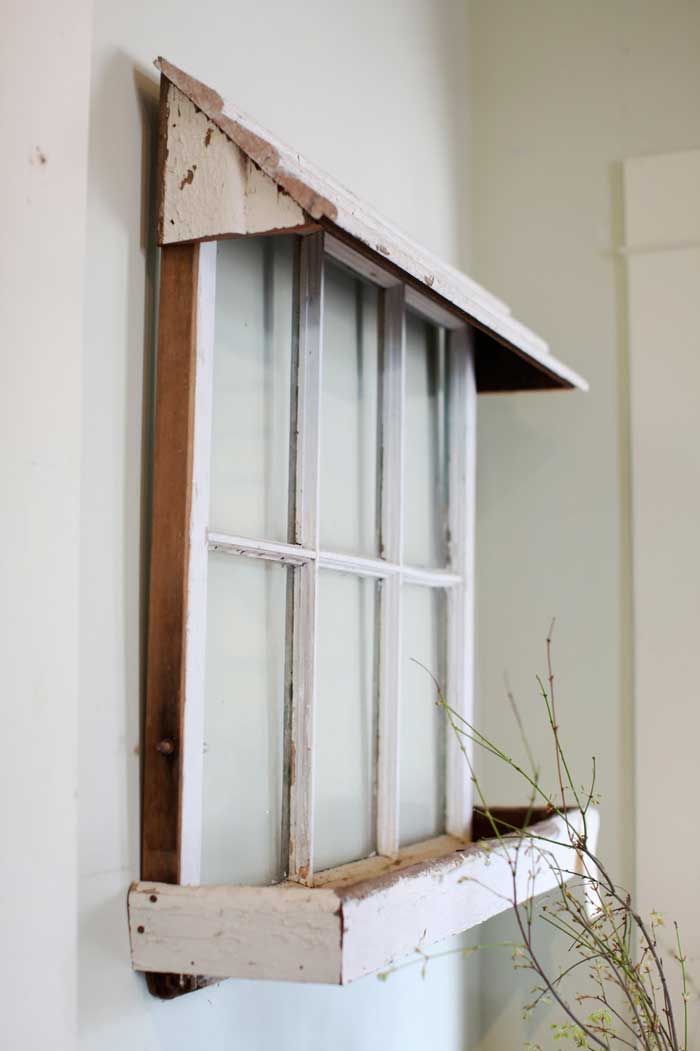 Window Shadow Box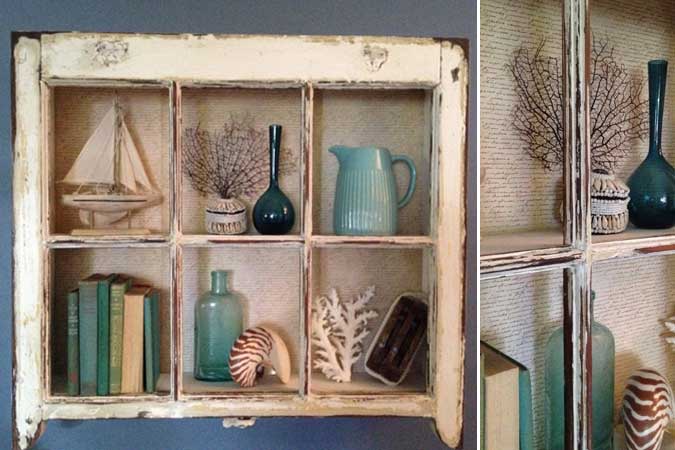 Keep reading for more ways to use old windows. You'll see how to make a fireplace screen, a mini greenhouse, mirrors, a bathroom cabinet and so many more creative ideas. Just check out these old window crafts and outdoor decorating ideas with old windows.