Whether you already have a blog or are just thinking about starting a blog, there are some financial benefits that you need to know about. Did you know that you can actually make good money from blogging? In fact, many bloggers have been able to quit there regular jobs entirely. The amount that you make depends on various factors, which I will explain. Depending on how you go about it, you can either make some nice supplemental income or enough to live on. I'll show you various ways to make money blogging along with tips on how to be successful.
The most obvious way to make money is by selling something. In fact, I have written a previous post all about selling crafts online. And, if you're in the crafting business, there are several other ways to prosper your hobby. However, there are other more passive ideas for making money from your blog. Ways where once you have the process in place, you can just sit back and watch the money roll in. There is no tangent item or service that you need to provide. Here are some of the best ideas for making passive income from blogging.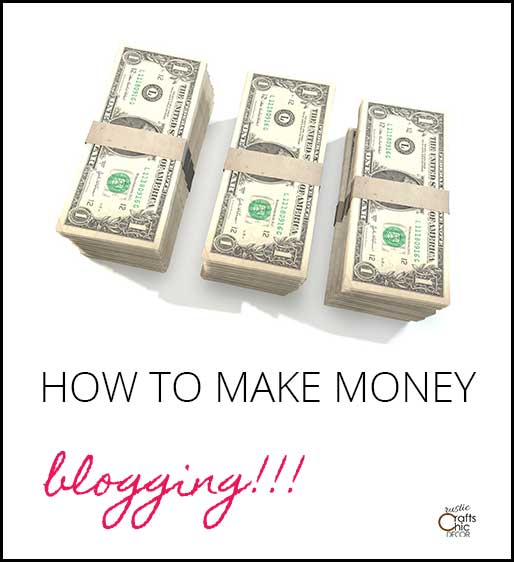 So, How Do Bloggers Get Paid?
Before I get into the details of how bloggers get paid, it is important to do everything you can to ensure that you are successful. For instance, if you have monetization in place but no one sees it, it won't do you any good. You need blog traffic. In fact, if you are just starting a new blog, you should wait until your blog is established and bringing in some traffic before trying to make money from it. See how to boost blog traffic to get you on the right track.
Besides traffic, an important thing to think about is your niche. And within your niche, what are some problems that you can help readers solve. You can have a blog where you simply write about what is on your mind. However, to get traffic that keeps coming back, you need to have something to offer.
Monetize With Ad Networks
Right off the bat, most bloggers will make use of ad networks like Google Adsense. All you have to do is sign up for an account and begin displaying ads. It's as simple as copying and pasting some code into your blog where you want an ad placed. This will be primarily in your sidebar, header or inside your content. You are then paid a small amount each time someone clicks on one of your ads, this is called PPC (pay per click) or CPC (cost per click).
The other way that you are paid for displaying ads from networks is by the amount of people who view the ad. This is basically a certain amount per 1000 impressions or views. It is known as CPM.
Besides Google Adsense, there are quite a few other network programs available.
Ad Network Programs Available
Google Adsense
Infolinks
Sortable
PopAds
Adbuff
Sell Ad Space
Once your blog is getting a good amount of traffic, you can begin selling ad space. You can sell space for either banner or links ads. Prospective advertisers will want to know the amount of traffic you are getting. Your blogging niche will also have to be relevant to the advertiser.
The nice thing is that you get to set your price and terms. It's helpful to have a link on your homepage for advertising information. Here you can show what your blog traffic is by monthly unique visitors. You can also show your social media followers. Either post your prices for certain ads or tell what types of ad space are available with a link to your contact information. You can then reply with more details on pricing. Leaving the prices out helps you to monitor the interest and determine if your prices are competitive or not.
Besides selling ad space, you can also write a sponsored post linking to the advertiser.
Add Some Affiliate Marketing
My favorite way to do some affiliate marketing is to add links to products sold from Amazon. When someone clicks on one of your links, they are brought to the product that you are suggesting. However, once a person gets to Amazon through your link, anything they purchase, during that session, earns you a small commission. You just need to sign up and start looking for relevant products to link to.
Besides Amazon, there are plenty of other retailers that offer affiliate marketing. Go to any online store and check to see if they offer affiliate marketing. Some have strict requirements on traffic and niche. Others are a little easier to get into.
Another option to single retailers is to join an affiliate network. These networks give you access to hundreds of affiliate programs.
Best Affiliate Networks
Sell Content
As a blogger, you are already in the business of creating content. Maybe you have some content that is worthy of a price tag. Offer that content as a download for a price. Some ideas are detailed how to's, top secret information, or designed images.
To set up your valuable piece of content as a payable download, see how to sell downloads on your website.
A Recap On How To Make Money Blogging
1. Work to get a good amount of organic and repeat traffic to your blog.
2. Write about those things that offer help to the reader in some way.
3. Display ads from networks on your blog.
4. Sell ad space to merchants.
5. Place affiliate links on your blog.
6. Sell content that is valuable.
7. Use your blog as a place to either directly sell your own product or to point your readers to your store located elsewhere.