Have you ever noticed how many Ikea hacks there are? It seems like everyone appreciates the affordability of Ikea products but then wants to tweak them to make them their own. I did this with an Ikea plant stand to make a functional storage tray table for my craft room. See what went into this Ikea table hack to make it unique.
Ikea Table Hack
It all started with an Ikea plant stand and an old drawer that I had on hand. Since I needed a side table in my craft room for extending my work space, I decided to combine the two.

A Drawer Makeover
To start, I had to get the drawer looking acceptable. It was in pretty rough shape! I cleaned it up, took the knobs off and applied some fresh paint.

The paint I used is Folk Art Coastal Texture Paint in seal gray. It's a thick paint that gives a nice distressed look. After painting, I lined the drawer with plastic backed burlap. I figured that would be the most durable type of burlap to line a drawer with. To adhere it to the bottom of the drawer, I simply sprayed Elmers adhesive to the bottom of the drawer and pressed the burlap down. Next, I painted the Ikea plant stand in the same color.

Once all the paint was dry, I combined the plant stand and drawer by gluing them together. I used E6000 craft glue which is super strong and durable. Instead of putting knobs back on the drawer, I ran twine through the holes and decorated with beads and a number plate. To finish off the edges of the burlap, I also applied aged ribbon and twine to border it off.

Since the table top is a drawer it acts like a tray for holding my craft supplies. This just ensures that things won't roll off while I am working.

My finished table is the perfect height and size for additional storage space. I can easily reach the supplies I need while sitting at my craft room desk.


My Ikea table hack was a success for what I needed. Plus, I was able to put that old drawer to use. A win win!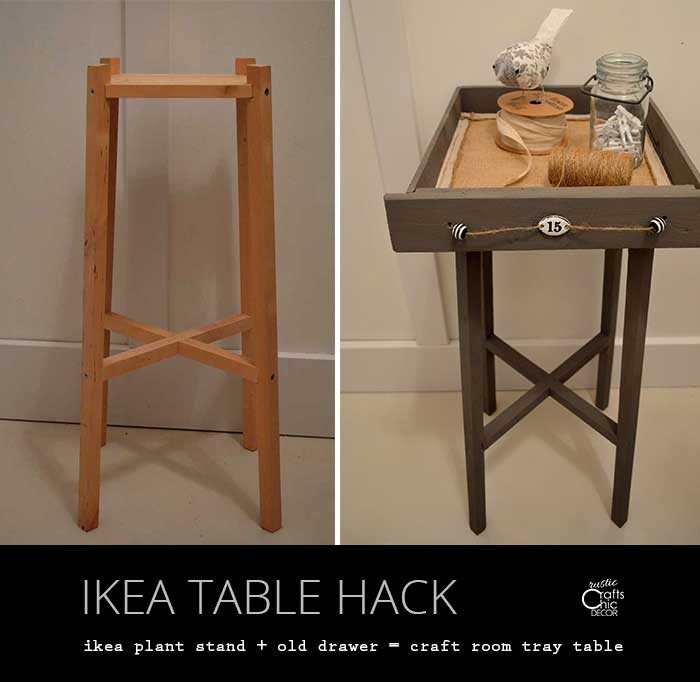 Have you done any Ikea hacks? And if so, what did you do?