Old keys don't have to lose their life once they no longer serve a functional purpose.  Vintage keys, especially the skeleton style, are very popular to use as a home decor accent once re-purposed. This collection of key crafts shows you several different ways to recycle keys for home decor.  If you just want some quick and easy ideas for using your old keys, try simply adding them to existing decor as an embellishment.
Quick And Easy Ways To Recycle Keys
a  stack of vintage books gets added interest when you wrap a ribbon around it and tie a key at the knot
simply hang one on your key rack with a pretty chain or ribbon
decorate gift packages or tags with an old key
Key Craft Ideas
Recycle A Key For Christmas Decor

TUTORIAL: Eyeballs By Day Crafts By Night
Seasonal home decor is just as fun, if not more fun, to make as other home decor.  I love this super cute Christmas craft idea that uses a vintage skeleton key as Santa's key!

TUTORIAL: Recycled Key Christmas Ornament DIY
Other types of old keys are just as good to recycle for Christmas decor. Use some for making Christmas ornaments that are easy to hang.
Recycle Keys To Spell Out Words

SOURCE: Midwest LIving
I love the look you get when using vintage keys to spell out words.  This is such a fun way to decorate pumpkins for a unique Fall look. Another idea is to spell out a word, with old keys, and frame it with a burlap backing. Or, simply spell out a word on a reclaimed board and hang it on the wall.
Make Fun Drawer Pulls

TUTORIAL: HGTV
Skeleton keys or any old door keys are the perfect size to be recycled into drawer pulls. These are painted in fun colors but would also look great just left in they're natural metal. I am in love with this idea for drawer pulls and will probably do this one when I get the opportunity.  I will be getting screw posts and attaching them at each end of my key using E6000 craft glue.  Simple and extremely stylish!
Recycle A Key And A Bottle To Make A Cool Vase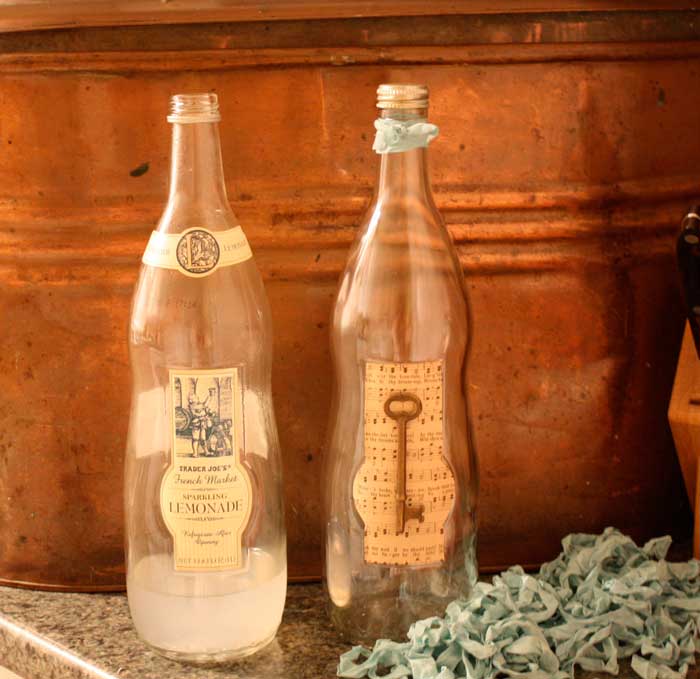 A great way to recycle and use a vintage skeleton key.  I love the shape of those bottles of lemonade that you can get at the grocery store.  They make a perfect bottle to re-purpose into a fun vase, especially when decorated with vintage items such as a key.
I hope you have been inspired by these unique key crafts!