Fall is the perfect time of year to do some leaf crafts with your preschoolers. When kids are too young to be in school, you may be looking for ways to keep them occupied. What better way than to do something creative. With the leaves changing and falling outside, it's a good time to collect some to use in creative ways. In fact, you may want to do some of your own crafting with these leaf craft ideas for adults.
The following leaf crafts for preschoolers can be divided into two groups. Leaf crafts that use freshly fallen leaves and craft projects making leaves out of paper. Either group will get your kids to appreciate nature and the colors of Fall.
Leaf Crafts Using Fallen Leaves
The projects using fresh fallen leaves are my favorite. It may require a fun nature walk outside before coming in to get crafty. Kids will appreciate there project more when they are actively involved in collecting their own supplies.
Funny Face Leaf Craft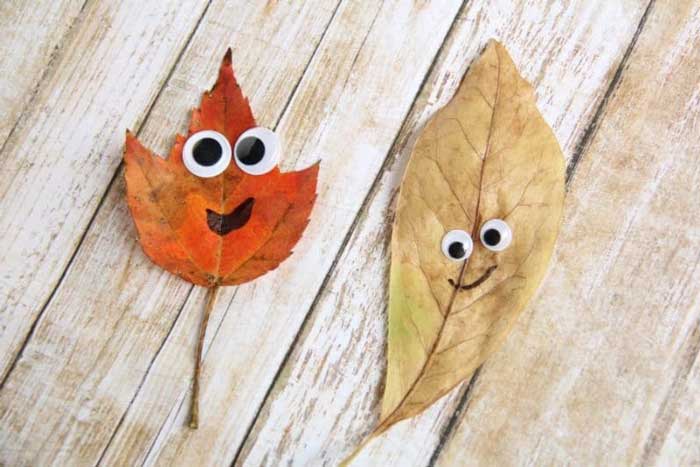 I can already hear the giggles as your little ones glue on googly eyes to make funny faces on leaves. Using adhesive backed eyes makes this craft really easy for little fingers. Then, all they need to do is draw on a smile. Of course, this is also a good way to teach your kids about emotions. Show them how to make a variety of faces – happy, sad, or even mad.
Leaf Hedgehog Craft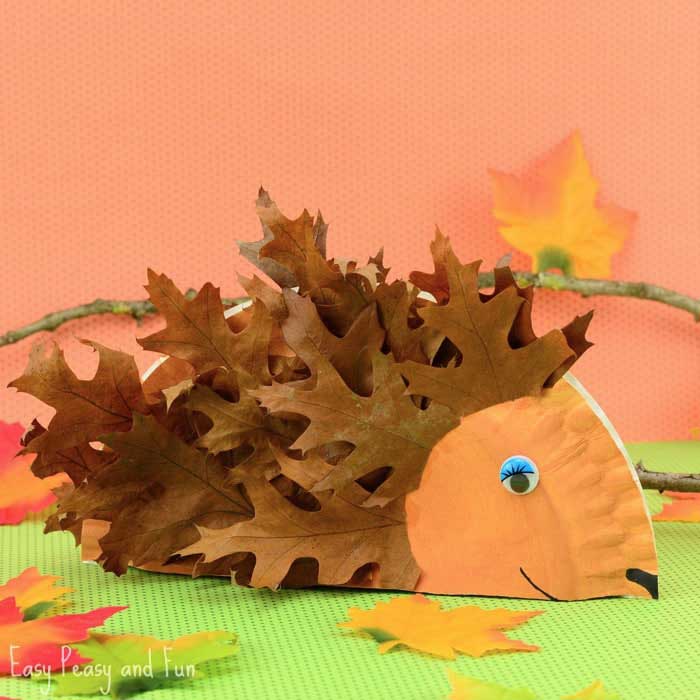 This is a fun one! Who wouldn't want to create there own leafy hedgehog! Since the base is made from a paper plate, it is stiff enough to stand on it's own. With all the gluing and painting, this craft should keep kids occupied for quite awhile.
Leaf Suncatcher Craft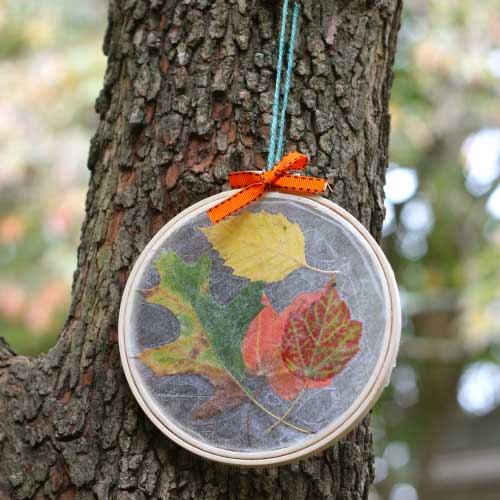 Using a small embroidery hoop, it's easy to make a pretty suncatcher showcasing a collection of colorful leaves. This is a great way for kids to appreciate nature and enjoy the Fall colors well after the season.
A Crown Of Leaves To Wear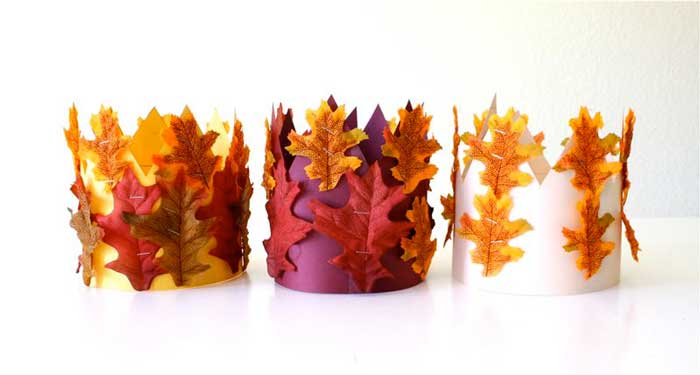 What better way to show off your leaf collection than wearing it on your head! Since kids love dressing up, this craft project offers double the fun. After creating their own crowns, your kids can take part in some imaginary play.
Ways For Preschoolers To Make Their Own Leaves
Preschoolers can use real leaves as inspiration for making their own. Here are some fun ways to get creating.
Decorative Leaf Tree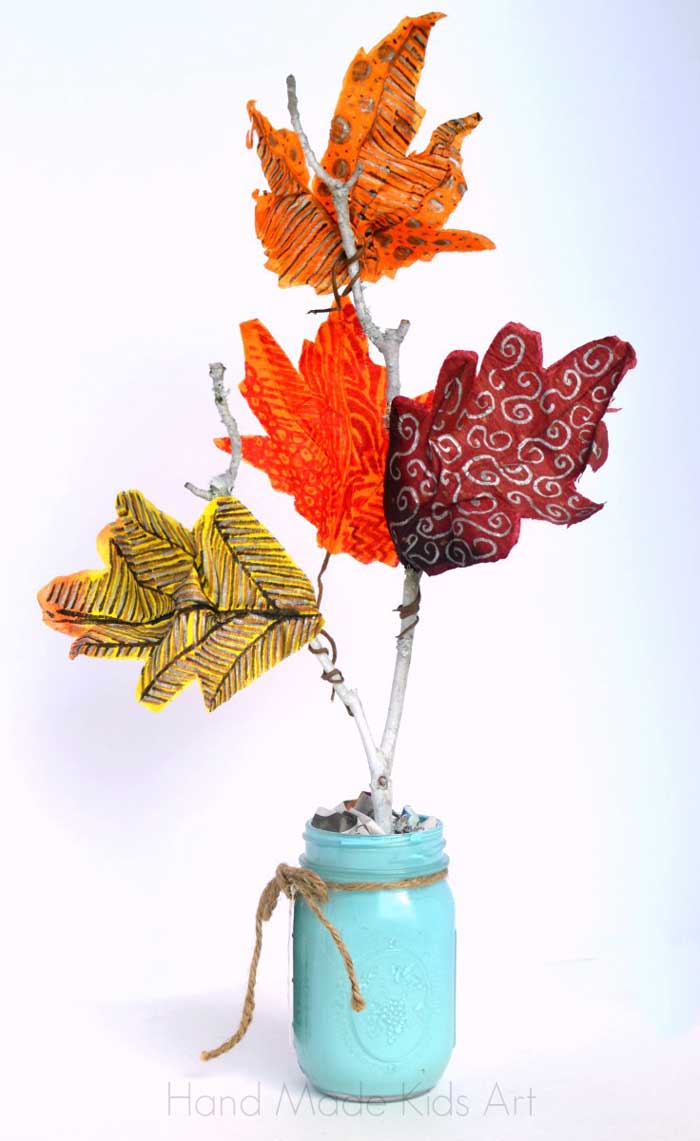 By using a real leaf as a guide, kids can cut out their own paper leaves to decorate. For this project, the paper leaves were purchased from a dollar store and they have wire in them already. All the kids have to do is add their own pattern and then attach them to a branch to make a fun arrangement.
Recycle And Craft Some Leaves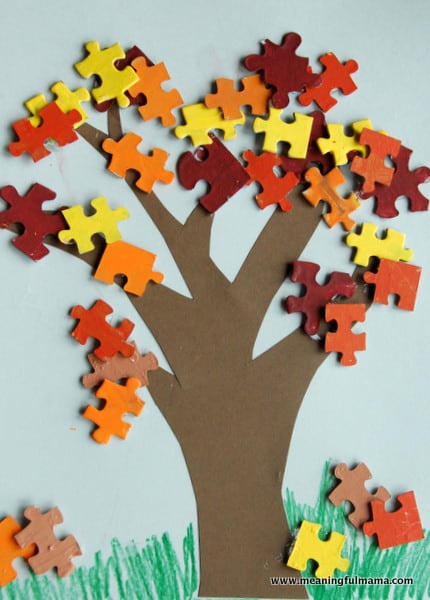 What I like about this craft is that you can recycle and focus on the Fall colors at the same time. A puzzle with missing pieces is great to use in a kids craft project. Instead of thinking about the actual shape of a leaf, focus on the colors instead. Kids can paint the puzzle pieces in a variety of leaf colors and use them as the leaves on a tree cutout.
Popcorn Fall Trees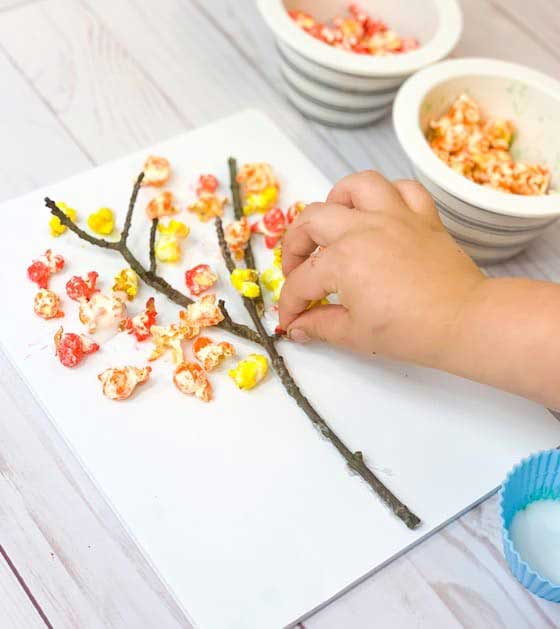 Here is one of the more creative ideas I've seen for making leaves. All you need to do is pop a bag of popcorn and then mix it with tempera powdered paint. Kids will love shaking the popcorn bags with the powdered paint to get colored popcorn. Then, all they need to do is glue the popcorn pieces to some branches.