Out of all of the sugar cookies that I have tried, I think that this is the best tasting rolled sugar cookie recipe around! I give most of the credit to the addition of almond extract in the recipe. Although the texture of the cookies are just perfect as well. They have a soft but firm texture, not hard and crunchy. This can be attributed, I believe, to the cream of tartar.
I normally make these cookies every year for Christmas cutouts. However, this year I made them after Christmas (because we didn't quite get enough treats this year…NOT!) Anyway, I couldn't just skip the tradition, so I made cutouts of trees and snowmen to give out to my kids for some more winter cheer. And oh, by the way, we were supposed to roll out and bake these cookies at my daughters house on Christmas morning for a fun new tradition as a family. But, that did not happen with all the activity. So, this week I sat in my own kitchen decorating cookies and remembering how this was pretty much how it went every year when the kids were home. They would be all in for doing cookies, maybe decorate one or two, and then it would be just me for the rest….. Some things never change!
Rolled Sugar Cookie Recipe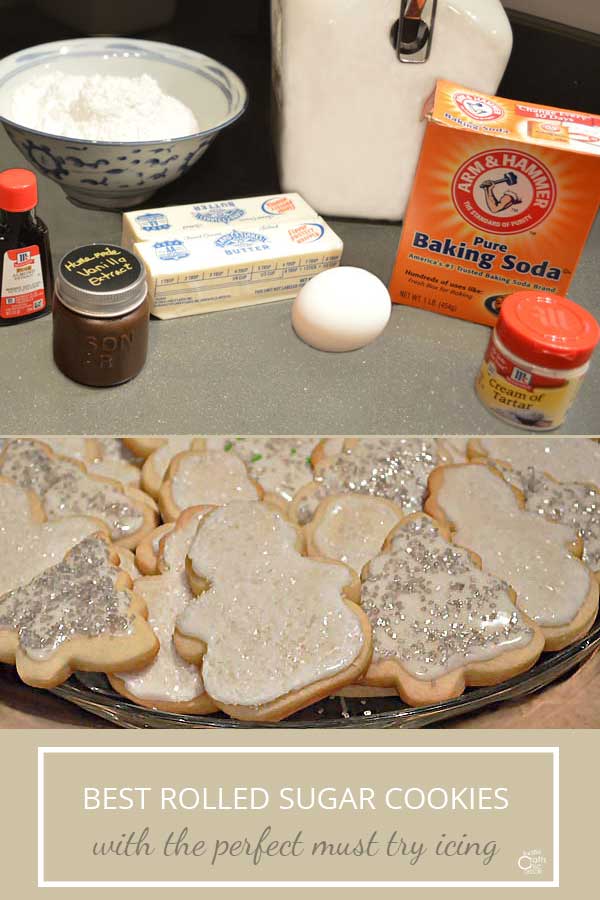 Rolled Sugar Cookie Recipe
A couple of key special ingredients make this rolled sugar cookie recipe the best around.
Ingredients
1 1/2

cup

powdered sugar

1

cup

softened butter

1

tsp

pure vanilla

1/2

tsp

almond extract

1

egg

2 1/2

cups

all purpose flour

1

tsp

baking soda

1

tsp

cream of tartar
Sugar Cookie Icing
1

cup

powdered sugar

1

tbsp

milk

1

tbsp

white corn syrup

1/4

tsp

almond extract
Instructions
Cream together powdered sugar, butter, vanilla, almond extract, and egg in a large bowl. It helps to cut butter into small pieces.

Cream until you get a smooth consistency.

Mix together the flour, baking soda, and cream of tartar. Slowly add this dry mixture to the creamed mixture.

Form the dough into a ball and refrigerate for at least two hours before rolling out and cutting into shapes.

When you are ready to bake, preheat oven to 375 degrees. Roll and cut cookie shapes. Bake cookies for 7 to 8 minutes. Let cool completely before icing.
The icing will look a little runny but it will dry firm. To change the consistency, simply add more powdered sugar or milk. After spreading the icing on the cookies, dust with some decorative sugars.
Once the sugar cookies are finished, the hardest part will be keeping them on a plate. They are mouth watering delicious!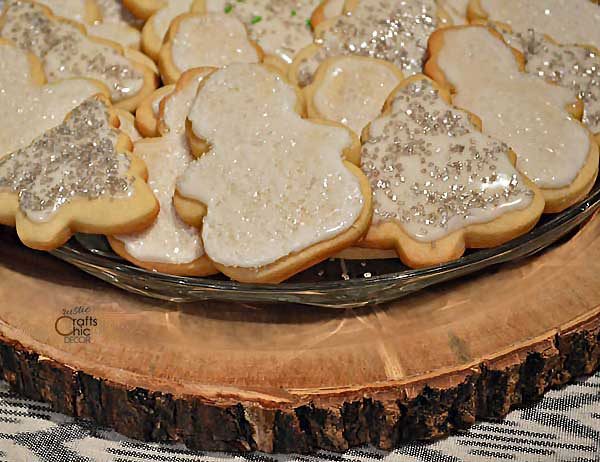 For more delicious recipes, try a comforting dessert of apple crisp with pecans. Or, if pie is your thing, you must check out all of the delicious recipes for pumpkin pie and pumpkin desserts.