On a cold winter day, what can be better than snuggling up with a steaming cup of hot chocolate? Not only does it warm you from the inside out but the rich chocolate flavor brings so much comfort and joy! And, when you pair a cup of hot chocolate with one or two Christmas sugar cookies, the result is pure heaven.
This year, I am planning on setting up a hot chocolate bar for our family holiday time at the cabin. To make it especially festive, I will scatter in some Winter decor as well as a variety of fun toppings. If you are interested in setting up a bar yourself, here are some festive hot chocolate bar ideas that you will want to try!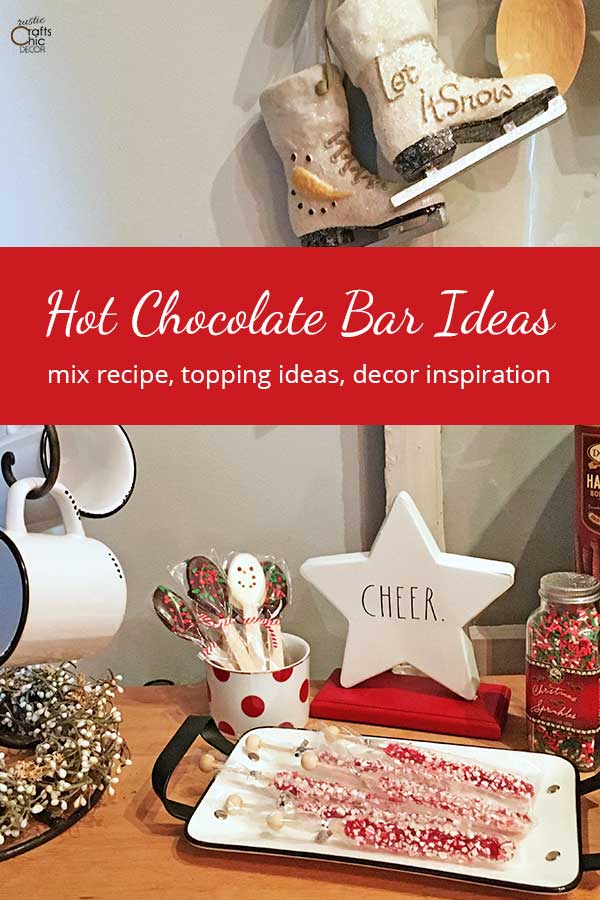 This post contains recommended product links. If you make a purchase through one of the links, I will earn a small commission.
Must Try Dark Hot Chocolate Mix
Before getting into the hot chocolate bar ideas themselves, it's important to start with a delectable hot chocolate mix recipe. Although you can use store bought hot chocolate mixes, homemade can be both healthier and tastier. I never like it when a pre-made mix contains chemically sounding ingredients I have never heard of!
Because dark chocolate is the most healthy form of chocolate, I like to make my mixes dark. You can make up a large batch of mix and store it in an air tight container to last for months. Of course, our hot chocolate never lasts that long!
This simple recipe is a perfect start for the rest of the hot chocolate bar ideas.
Hot Chocolate Mix Recipe
1 cup Hershey's dark cocoa powder
2 cups powdered sugar
2 1/2 cups non fat dry milk
1 t. Kosher salt
Using a sifter, blend all of the ingredients and store in a large air tight container. Add a 1/4 cup of hot chocolate mix per 10 ounces of hot water. You can adjust the ratio to your own liking. Now, play around with toppings to adjust your flavor even more!
Hot Chocolate Bar Topping Ideas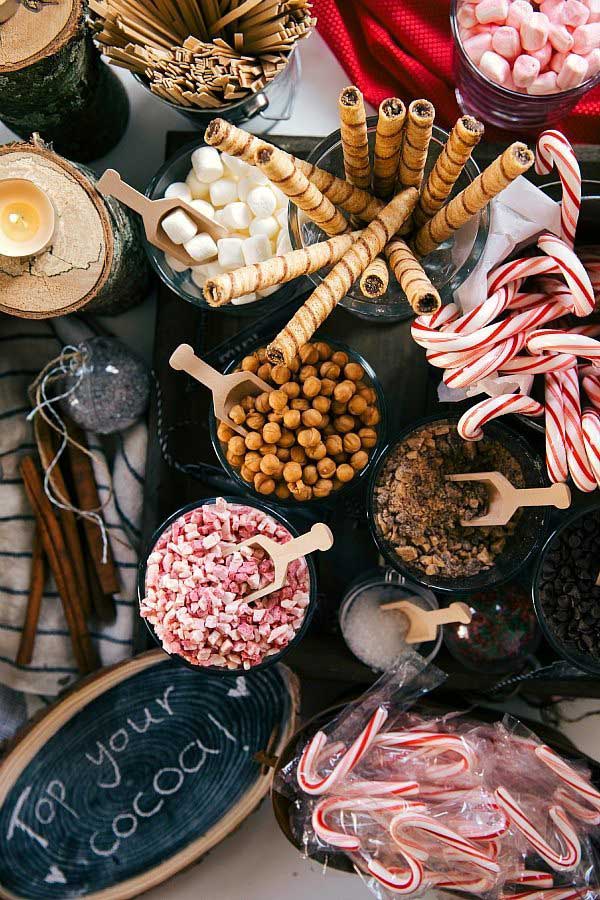 There are so many things that you can add to a mug of hot chocolate to enhance the flavor. That is why it is so much fun to create a hot chocolate bar. With everybody's taste buds being just a little different, toppings are a great way to make everyone happy.
For a fun look, use small mason jars to hold a variety of different toppings. Labels and other other embellishments to the jars will create a decorative look. Here are some ideas for toppings that you might want to include in jars.
mini chocolate chips – besides chocolate chips you could also use peppermint, peanut butter, or white chocolate chips
crushed peppermint candies or small candy canes for stirring
mini marshmallows
Kraft caramel bits
colorful sprinkles
whipped cream – use a can or make your own for dolloping
cinnamon, nutmeg, ginger, or even a tiny pinch of cayenne pepper for just a little extra spice
fun stir sticks like chocolate covered spoons, rock candy, candy canes, or cookie sticks
instant coffee mix – why not make it a mocha!
When you have a large group and want to have enough hot water ready, use a large electric coffee/hot beverage dispenser. I have used this on a number of occasions and never run out of water.
Use Decorative Signs And Other Decor For A Festive Bar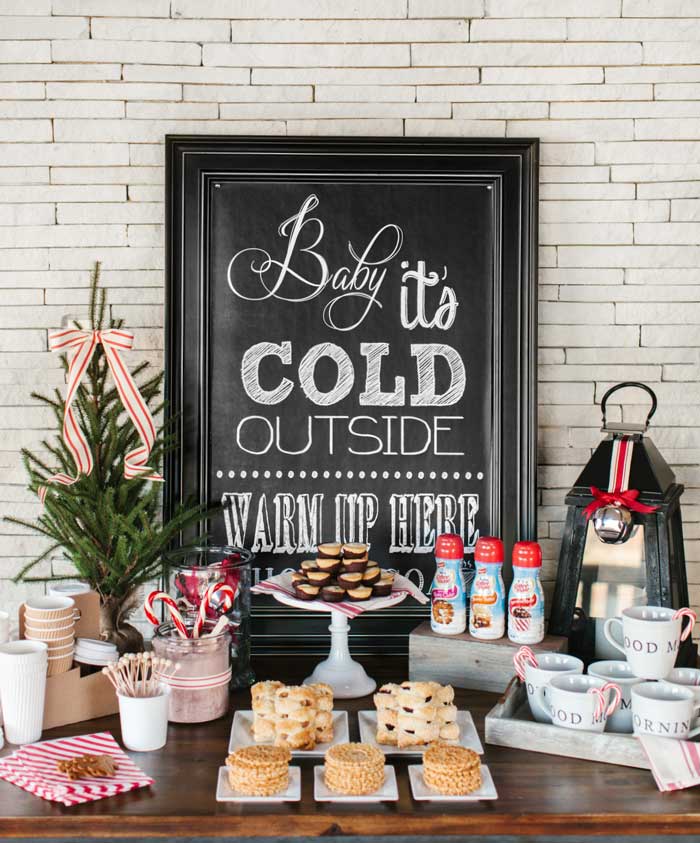 I don't know which part of a hot chocolate bar is most fun to put together – all of the ingredients or the decorative embellishments. All of it together is what creates a fun and festive look. You'll also want to vary the heights of your toppings and decor to make the display more interesting.
To create an eye catching hot chocolate station, here are some ideas of what to shop for.
Decorative Signs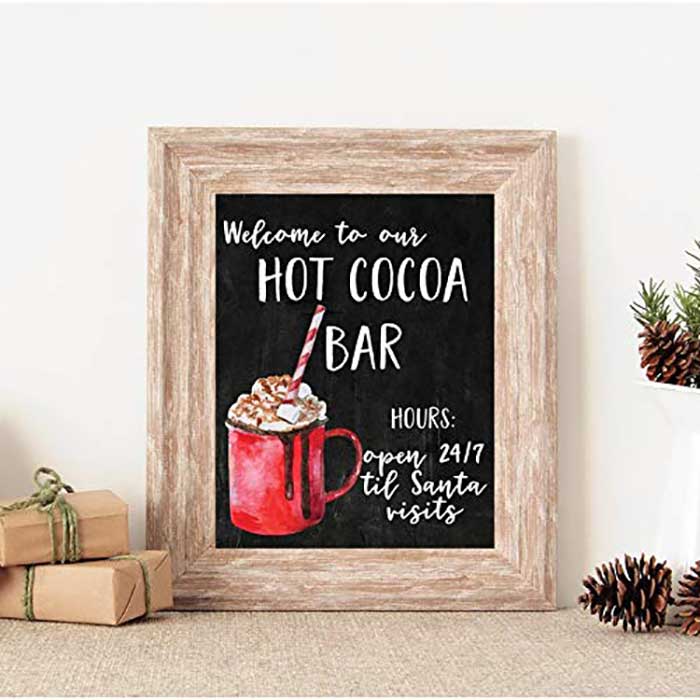 A festive sign is the most popular way to decorate a hot cocoa bar. In case you couldn't tell what all of the toppings and cocoa mix were for, a sign like this leaves no doubt! It provides a nice focal point for the entire display.
Festive Napkins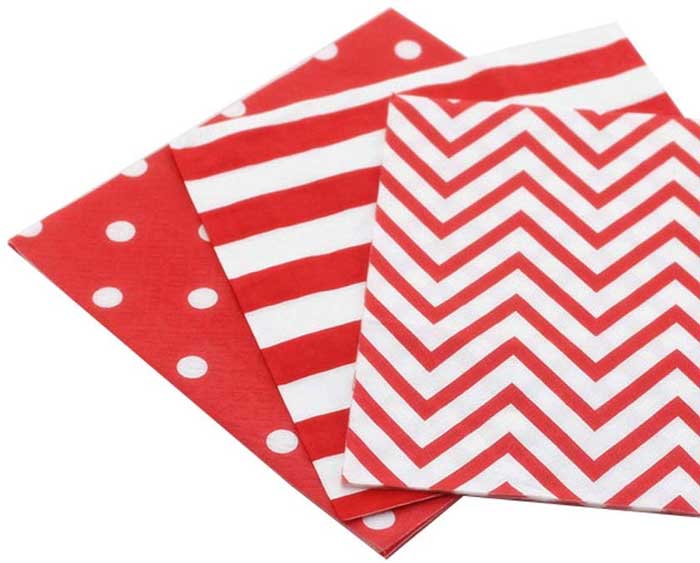 Cocktail napkins are a fun way to add color to your bar. Whether you go with a cheerful pattern or a themed graphic, napkins add a lot of style for very little money. Patterns in red and white are particularly festive for a hot chocolate station.
Fun Labels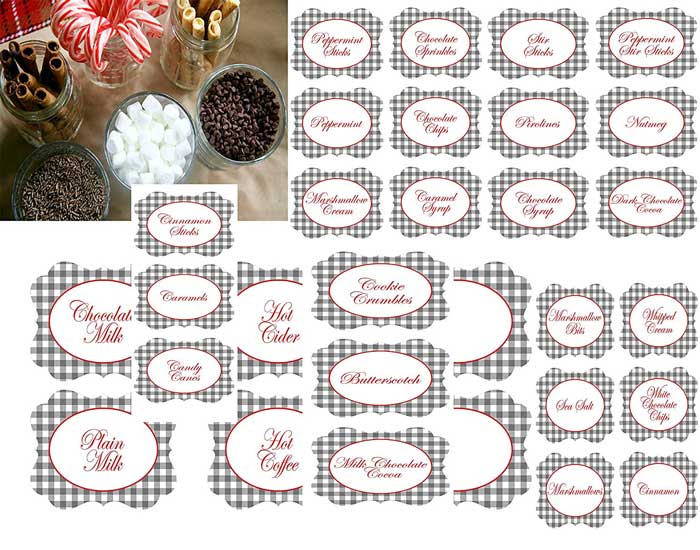 Decorative labels on your topping jars not only look festive but they also serve to inform guests of what the toppings actually are. Even though most toppings are obvious, a label is confirming.
Small Mason Jars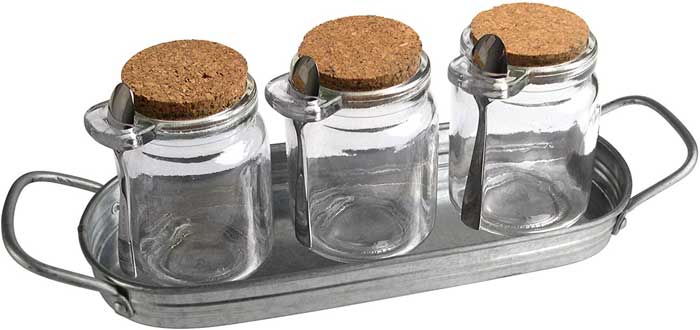 Your basic mason or jelly jars would work just fine to hold all of your toppings. But, how cute is this small mason jar condiment set! With the included tray and spoons, this set has a lot of value.
Hot Chocolate Mugs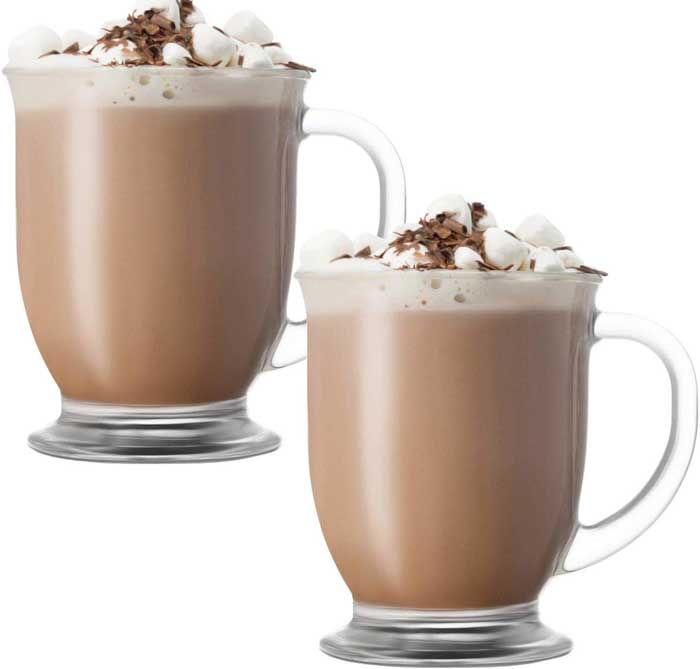 Finally, what better way to serve up that delicious hot chocolate than in a clear fancy mug. When you are drinking a hot decadent drink, it's all the more comforting to see the rich chocolate fluid.