Why is it that the turkey gets all the attention at the holiday meal? It's really all of the Thanksgiving side dishes that get loaded onto a plate. Not just one time but two, three or four! In fact, I like to make more than enough to have plenty to feast on for days after the dinner. Because these side dishes deserve a highlight, I have come up with this collection of the best and easiest Thanksgiving vegetable side dishes.
Fancy side dishes make Thanksgiving the time to get all of your needed vegetables. Turkey is great and desserts like pumpkin pie or apple crisp are definitely yummy. However, today those vegetables are taking the center stage. With these recipes, even your picky kids will want to be downing seconds.
Must Try Thanksgiving Vegetable Side Dishes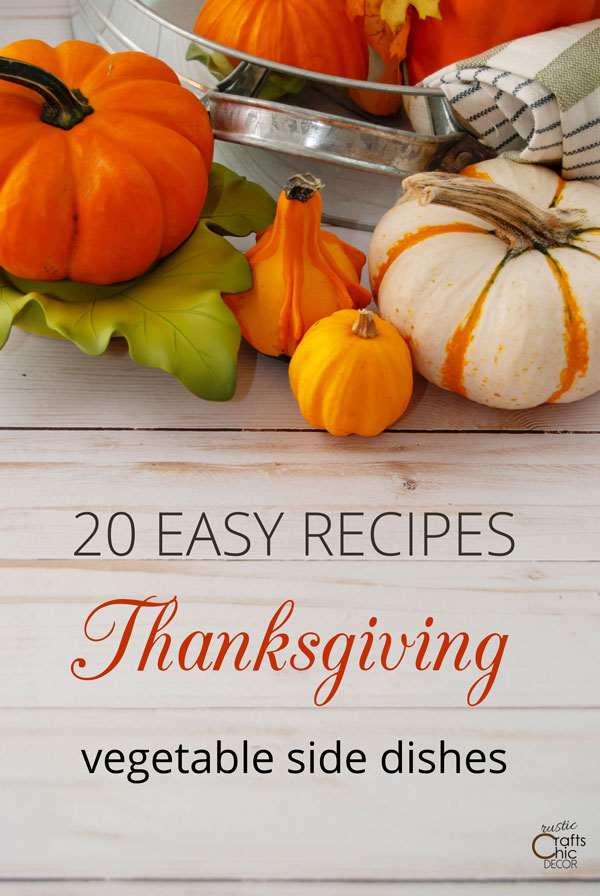 Thanksgiving morning is usually a very busy time. With all of the prep work for the turkey and the table, it may be overwhelming to think about all of the side dishes too. Luckily, most of these vegetable recipes can be made ahead of time. You'll only have to worry about heating them up on the day of your feast.
To free up room in your oven, use crock pots for heating your vegetable sides. That big turkey won't allow for much more additions to the oven!
These first five side dishes are my all time favorites for Thanksgiving. We have them year after year and I can't imagine ever not including the in our feast.
1. Baked Corn – Almost Bread!
Baked Corn Casserole
This creamy baked corn will remind you of hush puppies or a moist corn bread. Everyone will want refills of this vegetable side dish! Depending on the size of your group, you may want to double this recipe and bake it in a 9×13 pan.
Ingredients
1

stick

melted butter

1

15 oz can

creamed corn

1

15 oz can

whole kernel corn

1

8 oz

sour cream

1

box

Jiffy corn muffin mix

not prepared
Instructions
Mix all ingredients together in a medium size bowl.

Transfer to a greased 8×8 inch casserole dish.

Bake uncovered at 350 degrees for 45 minutes.
2. Party Mashed Potatoes
Party Mashed Potatoes
You don't even need gravy for these delectable potatoes! A combination of rich and creamy ingredients make these potatoes a special treat. Make them ahead of time and then just heat them up in the crock pot.
Ingredients
5

pounds

potatoes

8

oz

cream cheese

8

oz

sour cream

2

t.

salt

2

T.

chives

2

T.

butter
Instructions
Boil peeled potatoes until tender.

Drain water and mash until smooth.

Add softened cream cheese, sour cream, butter, chives, and salt.

To use immediately, place in a greased casserole dish and bake at 350 degrees for 30 minutes. Since I like to save room in my oven, I make these ahead of time and then place in a crock pot for a few hours before dinner.
3. Sweet Potatoes Disguised As Dessert
Sweet Potato Casserole
A side dish that tastes more like a decadent dessert!
Ingredients
3

pounds

mashed sweet potatoes

1/4

cup

milk

1/4

cup

butter, melted

3/4

cup

sugar

1

t.

vanilla

2

eggs, beaten
Crunchy Pecan Topping
1

cup

brown sugar

1/4

cup

butter, melted

1/2

cup

flour

1

cup

chopped pecans
Instructions
Combine main ingredients in a medium bowl and mix well. Transfer to a greased casserole dish.

Mix topping ingredients and spread over top of potato mixture.

Bake at 350 degrees for 30 minutes.
4. Green Bean Casserole
Green Bean Casserole
This is a pretty classic recipe but I had to include it as it is so easy and delicious.
Ingredients
1

can

cream of mushroom soup

3/4

cup

milk

1/8

t.

black pepper

2 (14oz)

cans

French style green beans

2.8 oz

can

French's crispy fried onions

divided in half
Instructions
Mix soup, milk, pepper, green beans, and half of the fried onions together.

Transfer to casserole dish and bake at 350 degrees for 30 minutes.

Remove from oven and top with remaining half of onions.

Bake for 5 minutes longer.
5. Cheesy Cauliflower And Broccoli
Broccoli And Cauliflower With Cheese Sauce
Give broccoli and cauliflower a burst of creamy flavor with a rich cheese sauce everyone will love.
Ingredients
2

heads

broccoli

1

head

cauliflower
Cheese Sauce
3

T

butter

3

T

all purpose flour

1 3/4

cups

whole milk

2

cups

shredded cheddar cheese

1

T

Dijon mustard

1/8

t

salt
Instructions
Cut broccoli and cauliflower into small florets and boil in a large pot until tender.
Cheese Sauce
In a medium size pot, melt butter.

Once smooth, begin whisking in the milk.

Bring to a boil and then remove from heat.

Pour sauce over cooked vegetables and serve.
More Thanksgiving Vegetable Side Dishes
6. Creamed Spinach Casserole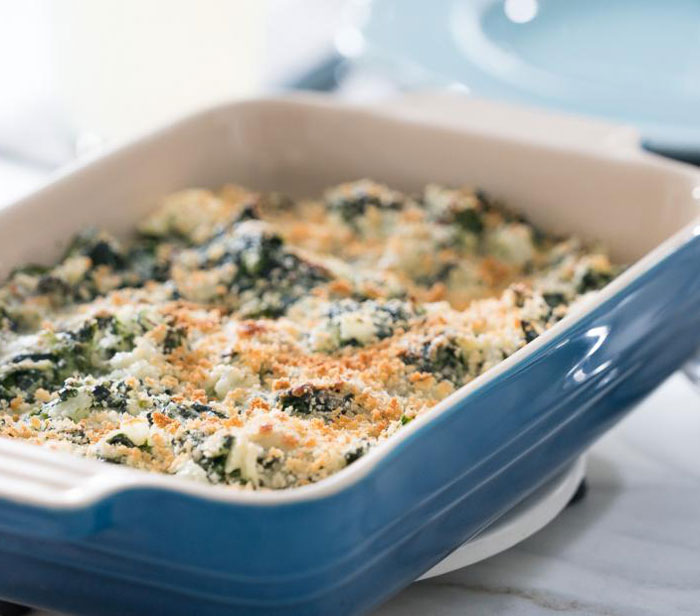 Get your kids and really anyone to eat their spinach with this creamy blend of cheese and spices. Even the topping has plenty of Parmesan cheese to win the crowd over.
7. Roasted Parsnips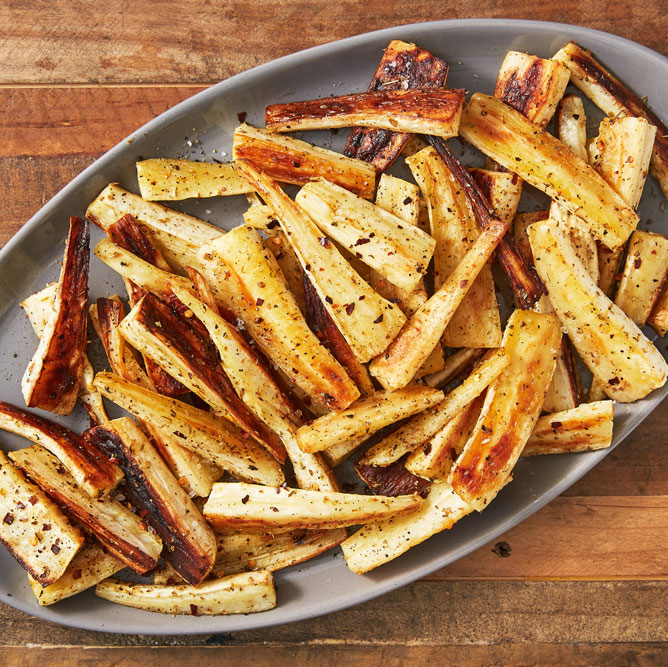 A less traditional buy yummy alternative to potatoes would be these tasty roasted parsnips. They are easy to make and create a nice accompaniment to a savory turkey.
8. Green Bean With Chorizo And Almonds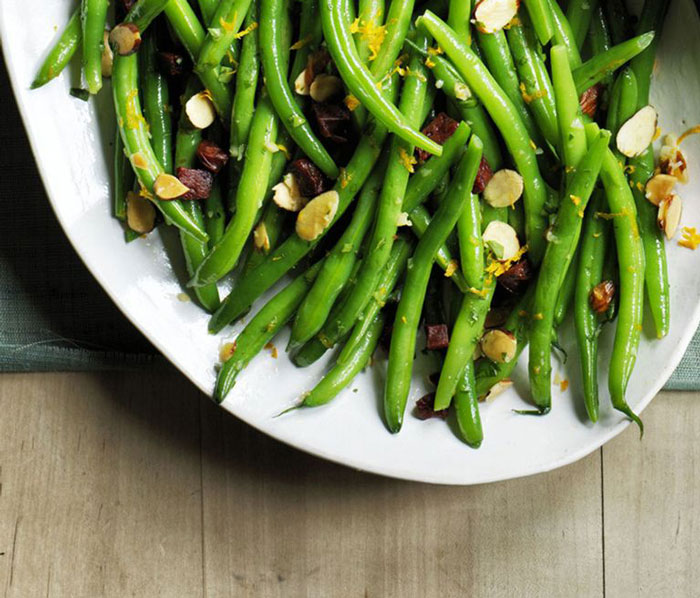 Add a little zest to ordinary green beans by adding in some spicy dried chorizo. The sausage along with the crunchy almonds will create a tasty sensation that is out of the norm.
10. Roasted Brussel Sprouts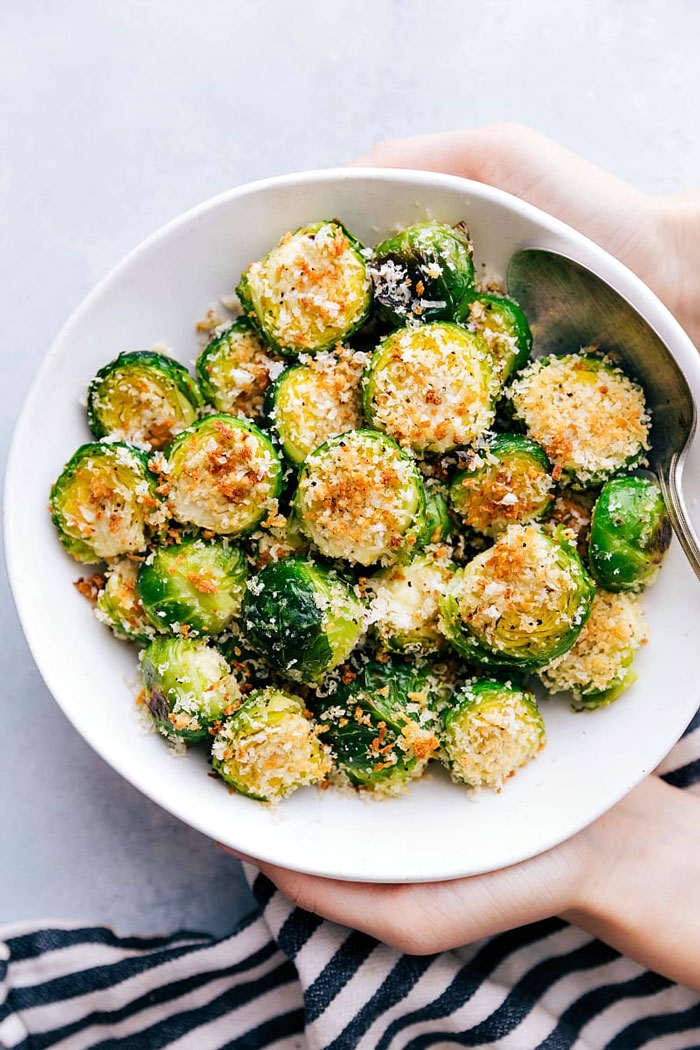 With roasted brussel sprouts being such a popular appetizer menu item, it makes sense that they should make it to the Thanksgiving table. The crispy Parmesan cheese adds just the right amount of flavor.
11. Garlic Butter Acorn Squash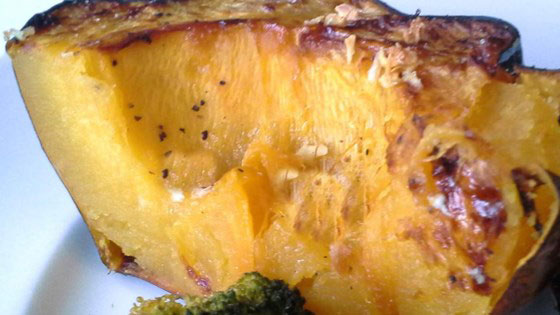 With all of the sweet versions of acorn squash out there, a savory version is a nice change. Squash baked with garlic butter is a perfect addition to the Thanksgiving meal.
12. Simple Sauteed Carrots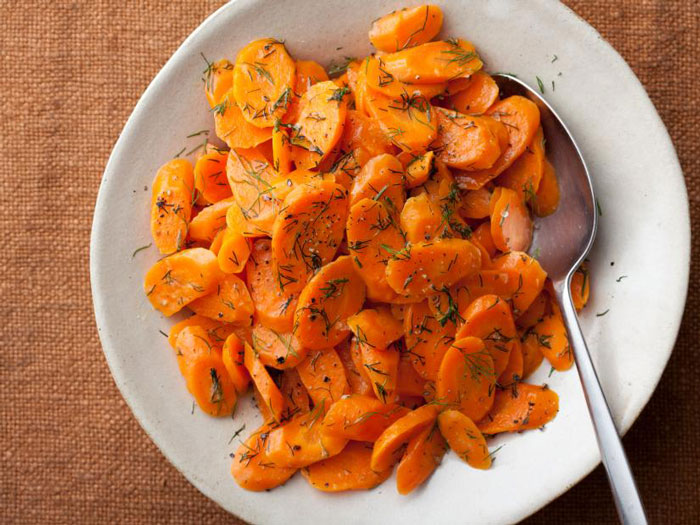 Simple, fresh, and healthy is all I can say with this sauteed carrot side dish. The fresh dill dresses up the look and taste. If you make a lot of rich side dishes, this one will be a welcome treat to freshen the palette.
13. Candied Yams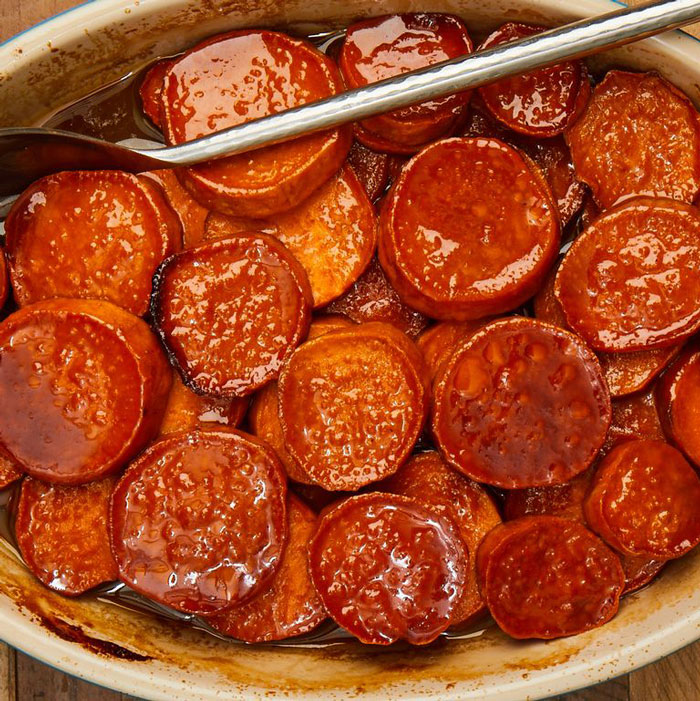 A holiday meal deserves side dishes with that little something extra. In this case, the special ingredient is bourbon!
14. Braised Red Cabbage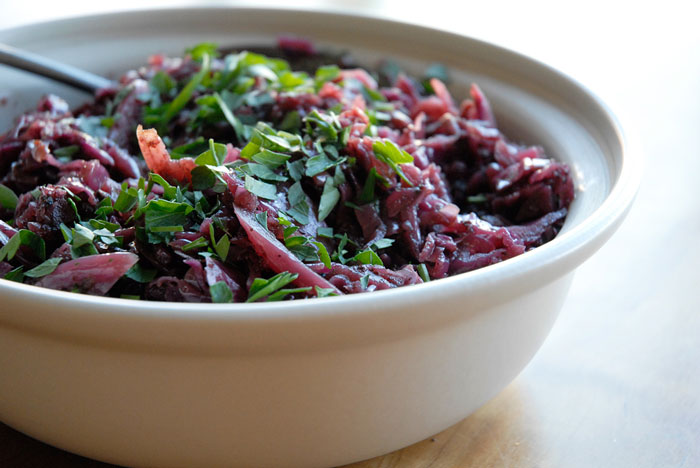 Add some bright color and sweet tang to the meal with a braised red cabbage dish that is sure to please.
Serve Several Vegetables At Once With A Variety Of Vegetable Medleys
15. Roasted Vegetable Medley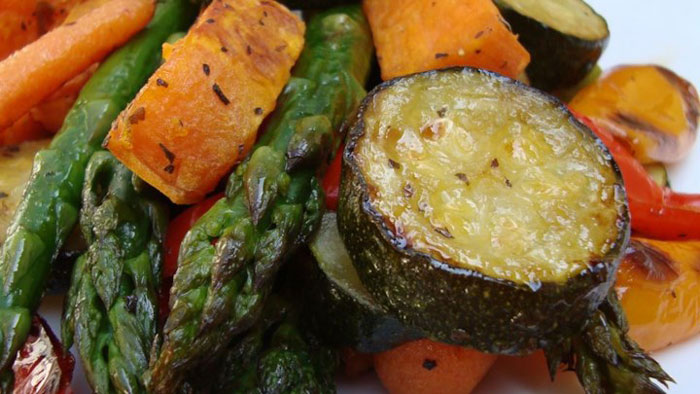 This colorful medley contains yams, parsnips, carrots, zucchini, asparagus, and red peppers.
16. Easy Mixed Vegetable Casserole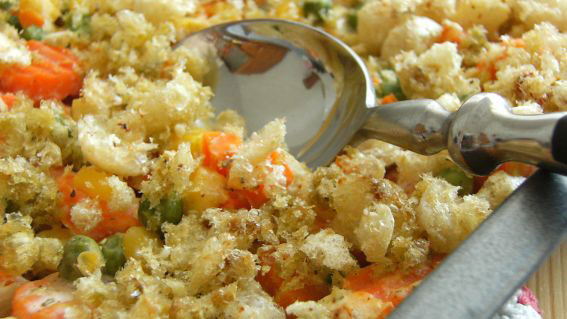 You can't get much easier than using a bag of frozen mixed vegetables as your base. When you add things like cheese, mayonnaise, and Ritz crackers, it turns into a flavorful masterpiece.
17. Roasted Carrot, Brussel Sprouts, And Cranberry Salad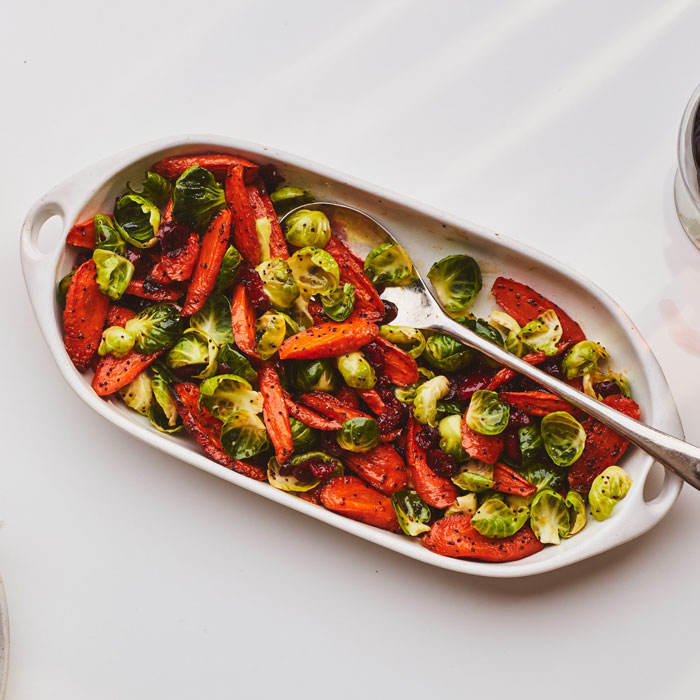 This vegetable medley contains an outsider but that okay! Why not add some cranberries to your vegetables for a little zip!
18. Company Vegetable Casserole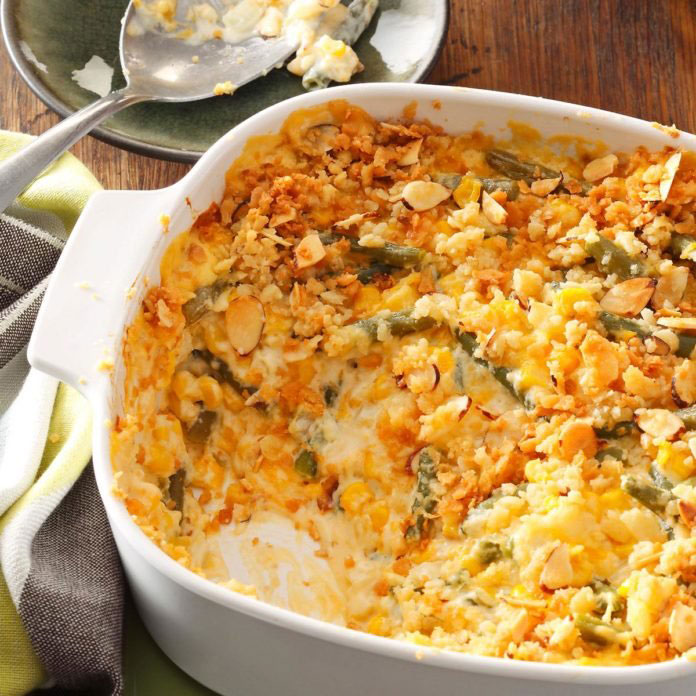 Topped with cracker crumbs and toasted almonds, this mix of green beans and carrots is sure to be a favorite.
19. Sauteed Green Beans And Cherry Tomatoes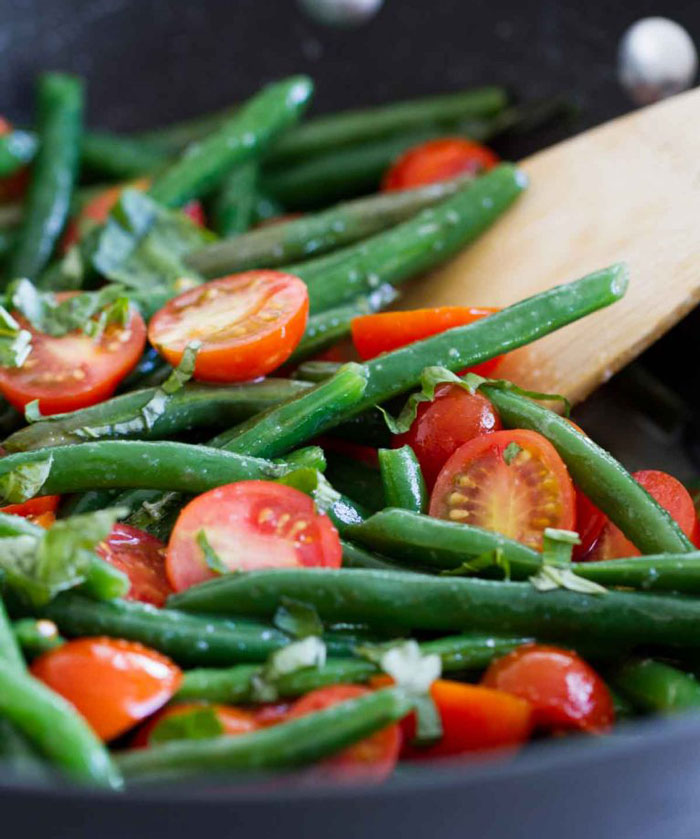 Here is a lively combination that would be great for both Thanksgiving and Christmas. All of that red and green is very festive.
20. Squash, Brussel Sprouts, And Chestnuts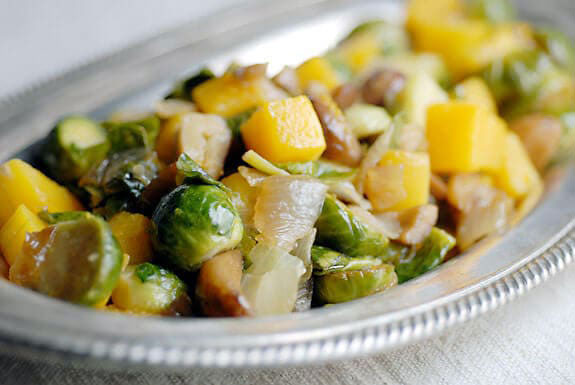 This vegetable combo definitely says holiday. A combination of squash, brussel sprouts, and the unexpected chestnut, rounds up to be very elegant and tasty.