The ambiance of your dining room can be changed dramatically by the style of walls that you choose to have.  Going from a standard painted wall to something more rustic can give you an instant feeling of intimacy and warmth.
Some of my favorite restaurants have had brick or wooden walls that have contributed to the romantic feel…..along with the low lighting and a bottle of wine!
Below are some great examples, of rustic dining room wall ideas, that could be incorporated into a space to add just a little bit of that coziness.
Wall Inspiration

Rustic wood dining room wall by Articature. Here is a fairly simple way to get a rustic wall.  Just hang a section of salvaged lumber to the wall that you can then hang artwork, antlers or whatever else you may want to decorate with.  Pallet wood would also work great for a project like this.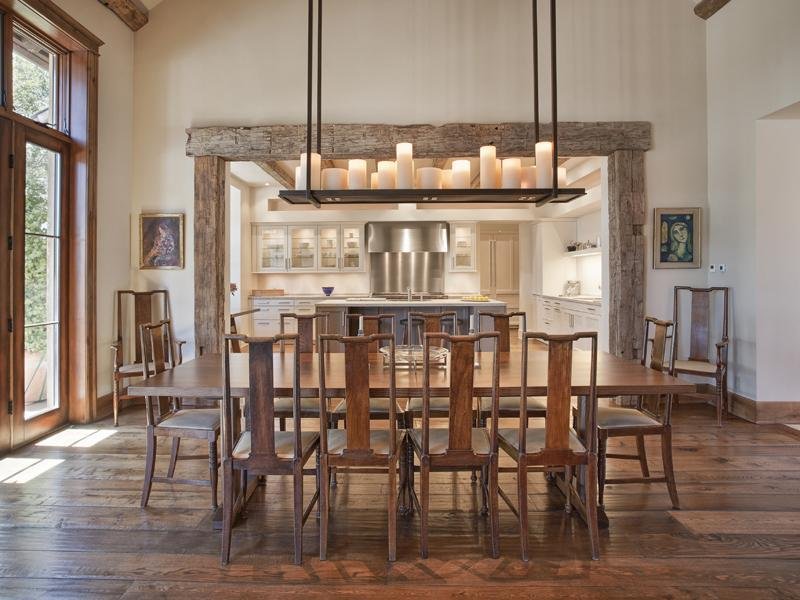 Another idea that isn't as heavy as an entire rustic wall is to trim out the entree with wooden beams.  The floor trim is also wide rustic wood.  This project would be most ideal at the point of new construction.

One complete wall of salvaged rustic wood definitely adds a lot of romantic warmth and character to the space.  All you have to do is cut the pieces to size and nail them in place.  Barn wood works great for a wall like this.  You could also use new wood that you stain to look old.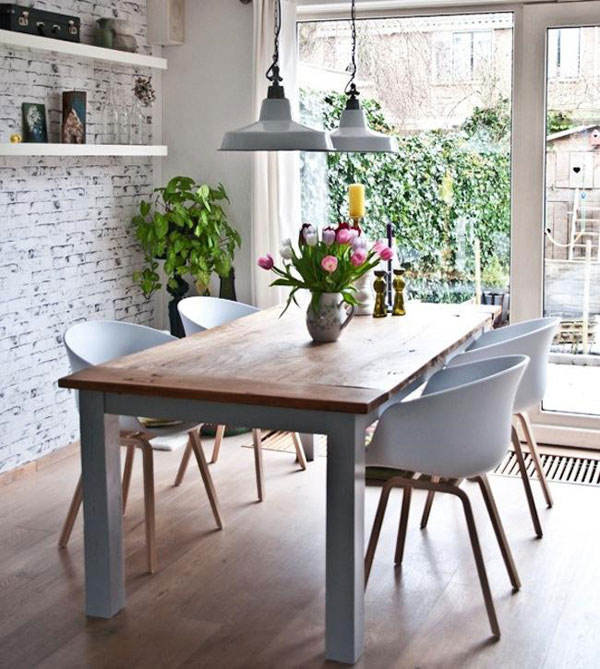 Brick walls are my favorite rustic wall idea.  This light brick is light, airy and chic but still gives a feeling of intimacy with the rustic texture.

I installed a rustic brick wall, in the little dining area at our cabin, to be reminiscent of one of the nearby downtown diners that has exposed brick and is decorated in a rustic style.  You can see how I easily did this at How To Install A Brick Wall In The Interior Of Your Home.
What ideas do you have for adding a rustic touch to a dining room wall?