Comfortable and nice looking outdoor furniture can be very expensive to purchase.  Ugly old sofas can be a pain to get rid of.  However, if you can turn that ugly sofa into a beautiful piece of outdoor furniture, you can effectively kill two birds with one stone!
Sofa Makovers
I am going to show you several examples of sofa makeovers to use as outdoor furniture.  You are going to love these ideas so much that if you don't have an old sofa to makeover, you will be running to your local thrift store to hunt for your very own!
This first example is actually from a thrift store purchase of a sofa with great bones for only $6.
Here are the before and after pictures:


See how Faded Plains transformed this avocado green sofa into a stylish sofa for the porch and how little it cost to makeover.  This would be great for a covered or screened in porch area.
This next one took a little more work but once again very little money:
Check out Hometalk to see how this old loveseat was broken down to the bare bones and the reconstructed to this beautiful outdoor sofa.  It is obvious that the upholstery is now a nice outdoor weatherproof fabric which is necessary when you have furniture that is exposed to the elements!
If you like the idea of an outdoor sofa but don't have an old sofa to make over, there is still another inexpensive option.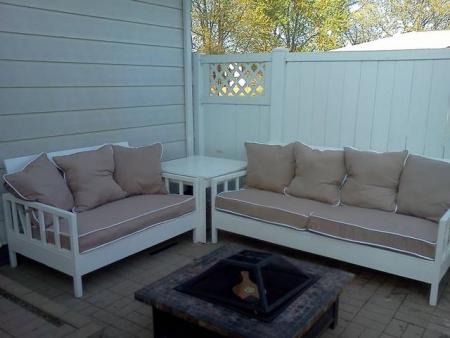 Ana White has detailed plans for making your own sofa and loveseat that will transform your outdoor space.  The plans are easy to follow and include instructions for making the cushions as well.
Do you like the idea of making over an old sofa to use outdoors or would you rather build one from scratch?