Why is it that when you give your walls a new coat of paint you always end up with just a little extra? That's actually okay since it's always nice to have the paint on hand for little touch ups. However, those big gallon containers take up a lot of space! I got tired of all those containers stacking up and figured out how to store the leftover paint in a better way.
It never fails. Just when I think I should dispose of some of my leftover paint, I need to use some for a touch up or a craft project. Digging through the deep dark corner of our basement, where all the paint was stacking up, was not fun. Half the time I couldn't even read the labels or figure out the paint color until I opened the gallon. I was tired of jumping through hoops just to find my paint. Here is the mess I was dealing with.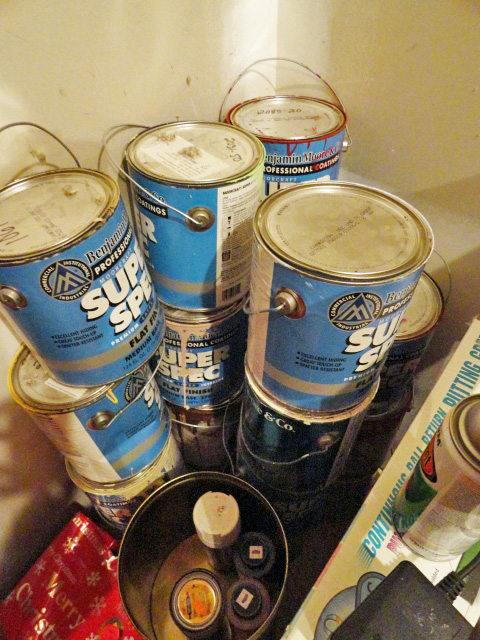 Paint Storage Solution
Because I really enjoy organization, I actually had fun with this storage project. It was a little time consuming but so worth it in the end.
Step One: Purchase Paint Storage Containers
While shopping at Home Depot, probably for some more paint, I spotted some quart size paint cans for sale. They were generic metal with no labels and just the size that I needed. I bought about eight cans, to start, and happily made my way home.
Step Two: Create Labels For New Cans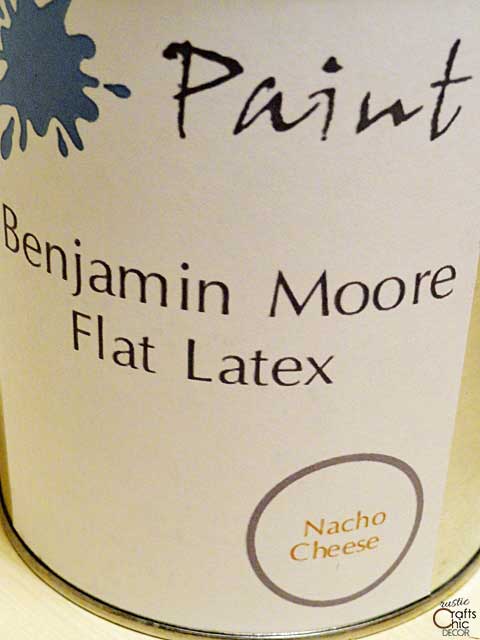 I used Photoshop to design custom labels for my cans. Any design software or even WORD will work for labels. I included the brand and finish of the paint as well as the color. When designing the label, I kept in mind the size of the can. I wanted all of the information to be easily seen at the front. After printing, I cut the paper to size and adhered it to the can with spray adhesive.
Because I have an entire swatch book from Benjamin Moore, I cut out the exact color swatch of the paint and glued that to the top of the can.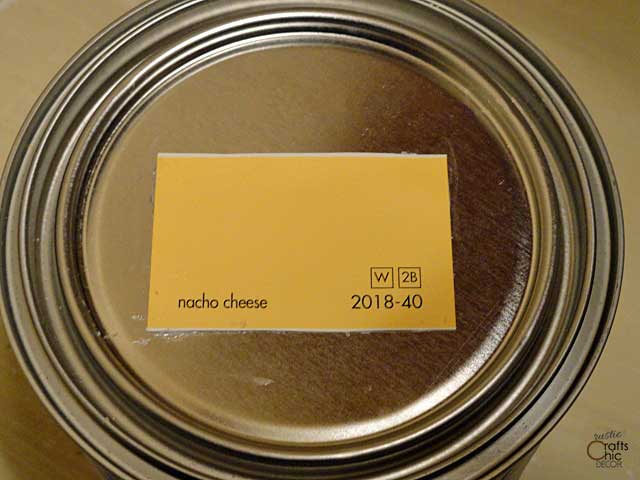 When shopping for new paint, it might be a good idea to save the swatch, from the store, to use for the leftover paint can. Otherwise, painting a small circle of the paint color to the top works good too.
Step Three: Place Containers In A Paint Storage Cabinet
Once I had all of my leftover paint put into the small containers, I had to find a place to store them. Instead of putting them back into a dark corner in the basement, I stacked them onto an old bookcase which now acted as my paint storage cabinet. The bookcase is in my craft room so now the paint is easily accessible for touch ups, craft projects, or furniture makeovers.