I bought a journal once with a plain black cover. It did nothing to inspire me for writing. The look was business like and boring. I like chic designs, nature, color, and pattern for inspiration. One way to get all of that is to do some mixed media art. I'll show you how I transformed a boring black journal into one that inspires me to write. It also looks good setting out on a desk for a little chic decor.
You may be wondering what mixed media art is. It's basically using a couple of different techniques or materials in one art project. Think about layering several different types of media in what piece of artwork. A unique design and texture is created when you layer things like fabric, paper, and paint in whatever you are decorating. Mixed media art can be done on pretty much anything that you want to add interest too. Use the technique on things like boxes, book covers, wood, or bottles.
I thought this would be the perfect thing to do to get an inspiring journal cover that I would like to look at. I'll show you what I did and how the journal gets a different look after each layer.
Mixed Media Art In Steps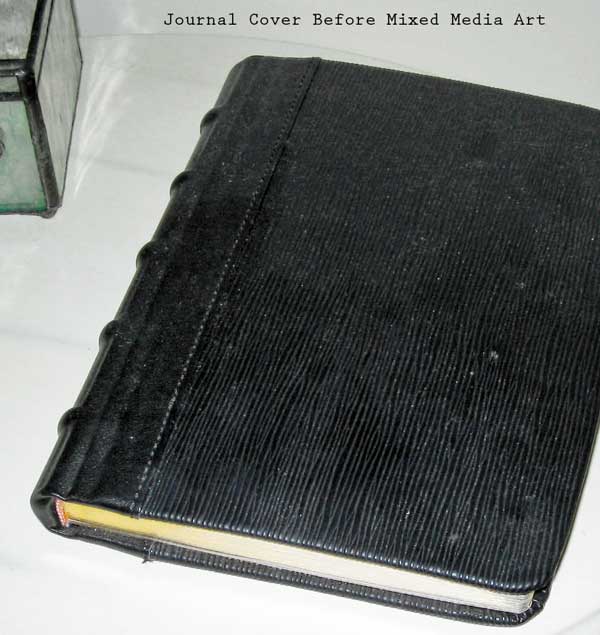 As you can see, there is nothing wrong with the journal. It's just uninspiring.
First Layer To Add Texture
I started by first adding some new texture. To do this, I just decoupaged a scrap piece of linen to the cover. The main thing that I was after was to have some frayed edges around the cover of my journal. I first brushed on a coat of Mod Podge over the entire cover. Next, I brushed a coat of the Mod Podge to one side of the linen and then placed the fabric on the cover. When I smoothed it out, the edges ran over the sides. I didn't worry about it at the time because it is real easy to trim the decoupage once it is dry. I ended with one more coat of Mod Podge over the top of the linen. Then I let this first layer dry.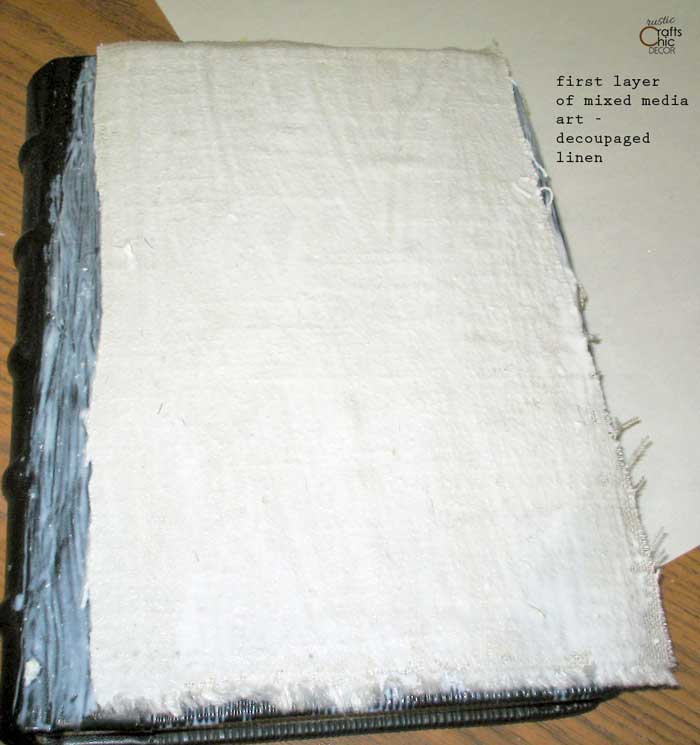 Second Layer Of Pattern And Color
For more texture and color, I tore some images from a magazine. The torn edges create a little more texture but you could also cut out images or shapes for a clean edge. What I was really looking for in my images is really just the colors. It didn't matter what the actual images are. This layer of media will mostly be covered with a paint layer later anyway.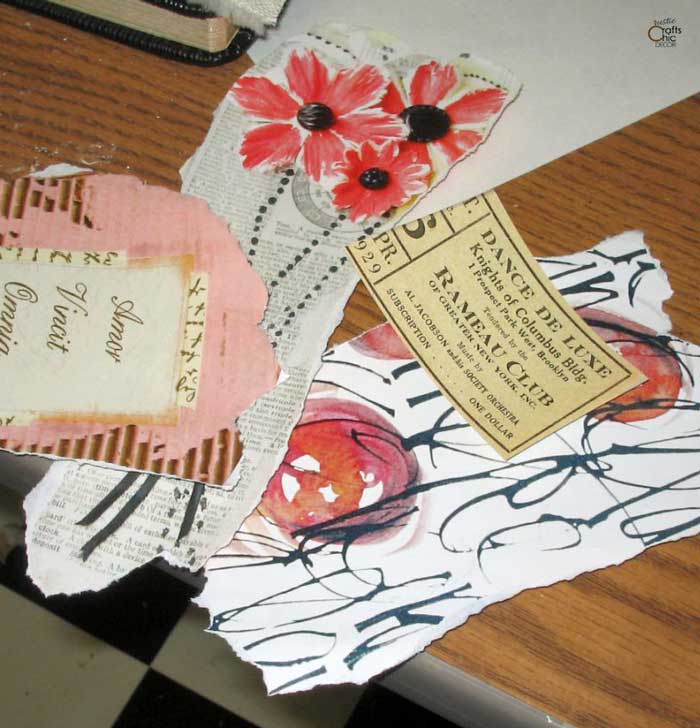 Once I had enough paper pieces to cover my journal, I decoupaged them, with the Mod Podge, right over the linen. I did leave some of the linen showing, especially around the edges. Again, when applying the paper pieces, put a coat of decoupage on the back side and then again on the front once your piece is in place. As I was waiting for the decoupage to dry, I painted the spine of the journal with some creamy satin paint. I purposely left some of the black showing through.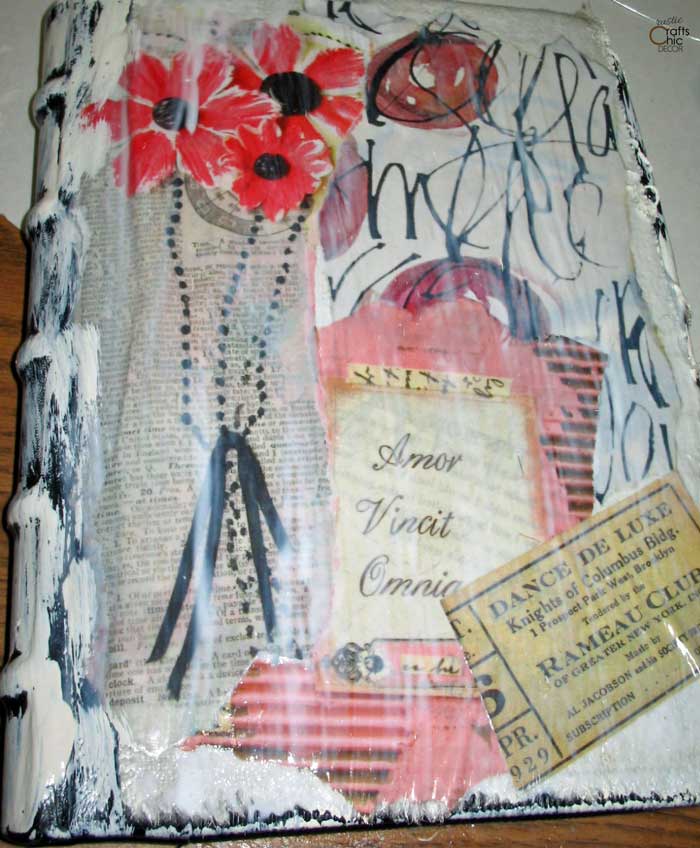 A Little Bird Embellishment
One of my favorite things from nature is birds. I wanted to add a little pop out with an inspiring little bird. To start, I drew a bird onto some textured paper. I actually used an old gift bag for the paper. Once my bird was drawn in pencil, I cut it out. Then I looped a piece of wire and glued it to the back to use as the legs. Once the glue was dry, I flipped the bird over and added some paint to give the bird more detail. I I then set it aside to use later.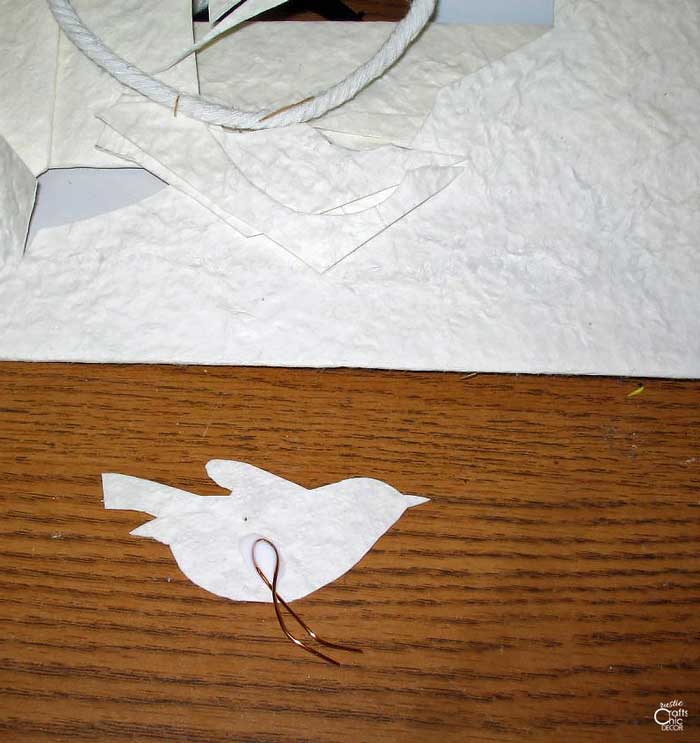 Layers Of Paint
Once the decoupage was dry, I was ready to add my paint layers. I used a light pink, metallic god, and a little of the creamy satin. Using a wet brush, I applied one color at a time. After applying each layer, I dabbed it with a paper towel to remove some of the paint. This was to let some of the paper layer underneath to show through. Now the journal cover has a more subtle mix of textures and colors making it ready for my embellishments.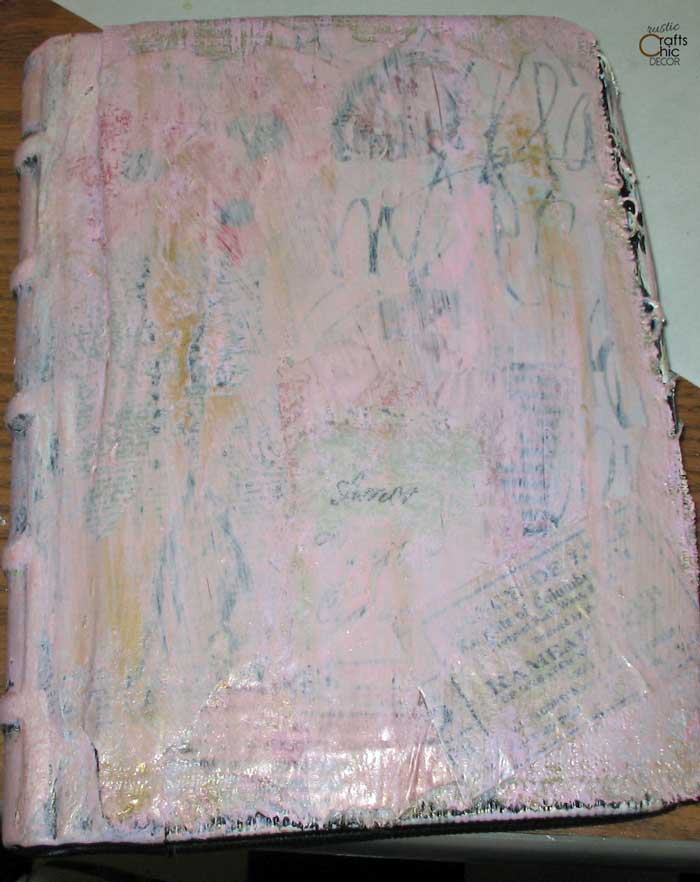 Add Cover Embellishments To Mixed Media Art
To give the bird, that I had cut out previously, some strength and durability, I coated it with some Mod Podge Dimensional Magic. This gave the paper a hard and glossy finish. Since I wanted the bird to be perched on something, I glued a birch twig to the cover. In order for the bird to appear like it was on the branch, I had to glue a couple of wooden beads to the cover first. Then, I glued the bird onto the beads to make it pop out a little and be at the same depth as the branch.
I could have ended there but decided to add a few more things. An antique key and pink glass berries seemed to fit the background well. Finally, I wanted to add a meaningful word. I chose "ponder" to signify writing down my thoughts. For the letters, I simply used a stencil on a scrap piece of leather and cut them out. To give the leather a little more glitz, I painted over it with a gold metallic paint. Then, I positioned and glued some clear glass sequins to the letters in a random pattern.
Finished Mixed Media Art Journal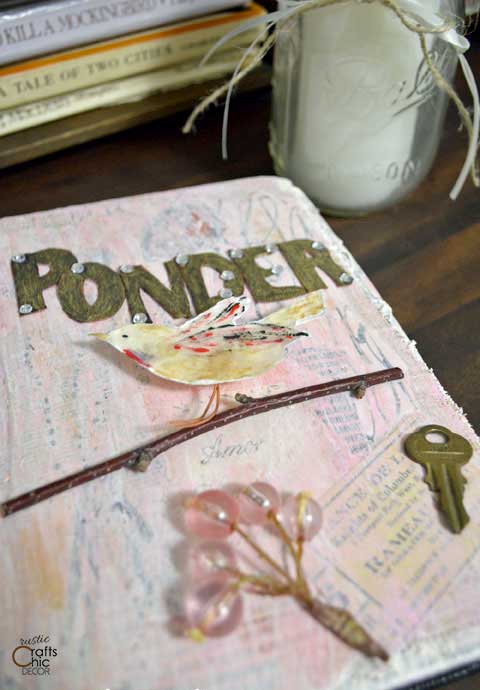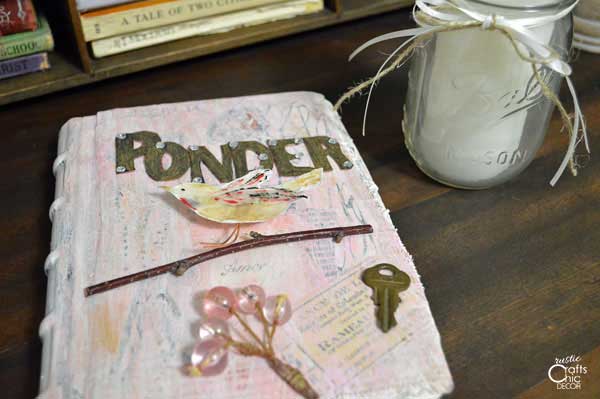 The nice thing about mixed media art is that you can use a huge variety of materials to make your own unique design. You don't have to follow specific rules which allows you to get really creative. For more creative ideas for journals, see how to make your own inspiring journal.