Who would have ever thought that fruit crates, wine crates or other bottle crates would wind up as such popular pieces in home decor? The rustic vintage look has become so popular and these crates are the perfect accessory for warming things up and adding some nostalgic interest to a room. Are you wondering what to do with crates? Have you come across a cool looking vintage style but it is left sitting in the garage for lack of a better use? I just might have some better ideas for you!
Ideas For Using Crates In Home Decor
These ideas will show you a wide range of ways that you can use crates in decorating. Whether you make the into furniture, shelving, or use them in a centerpiece, you'll never be wondering what to do with crates again!
Rustic Bookshelf Crate
I found an old shipping crate that I ended up using as a simple rustic book shelf in my office. It is basically a shell to enclose a premade cubby organizer. You can't get much easier than that!

Crate Side Table

I combined an old crate and an old step ladder to make a new tray side table. It was just a matter of painting the ladder and gluing the crate to the top of it. Such an easy project!
Wooden Crate Flower Box

I used an old crate and a rusty old sign to make a rustic flower box display. For this project, I white washed the crate to give it a lighter finish. This is an option for those crates with a lot of discoloration or staining.
Crate Shelving Unit

Here is another crate shelving unit but this one is a stack of three and it is put on casters for easy mobility. I'm thinking that I want to add casters to my crate. It just adds that little extra something not to mention the functionality!
Crate Storage Bins

A great way to display a collection of vintage crates and also use them in a functional way is to fill them with supplies, line them up on some rows of shelves, and enjoy them as decorative visible storage boxes.

You could also hang one on the wall for another storage option.
Crate Side Table With Storage

I love this crate side table idea with added magazine dividers for easy storage.
Crate Planter

Here is a super cool planter idea by Chipping With Charm using a great looking divided crate.
Crate Storage Unit

Okay…this example could be my most favorite use of crates by The Cozy Old Farmhouse. I see these vintage soda bottle crates all the time at antique stores. I've been passing them by because I haven't had an immediate use. However, now I am going to be on the lookout for an old dresser that I can take the drawers out of……and paint red!
Crate Coffee Table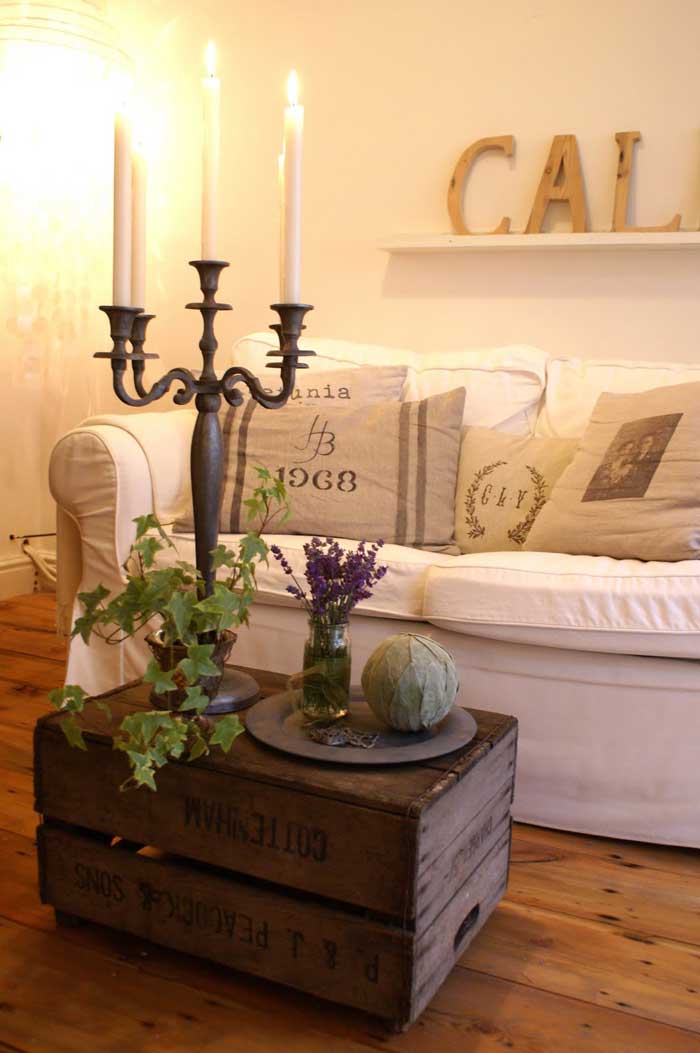 A large crate can be easily transformed into a rustic coffee table. Just flip it upside down for a super easy repurpose. Or, keep it right side up and add a hinged top so that you can also use the crate for storage. To make it easy to move around and for an industrial touch, you could also add casters to the bottom.
Crate Spice Rack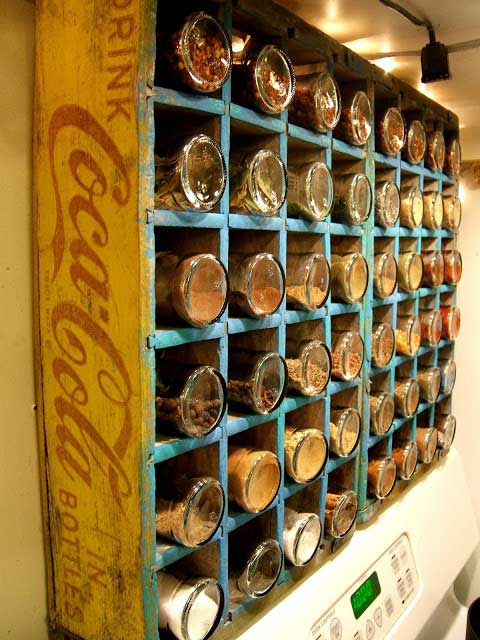 A coke bottle crate is fairly easy to find at antique stores or flea markets. Those little sections that are meant for coke bottles work perfectly for holding spice jars. Just hang one on the wall and fill with your favorite spices.
Industrial Crate Side Table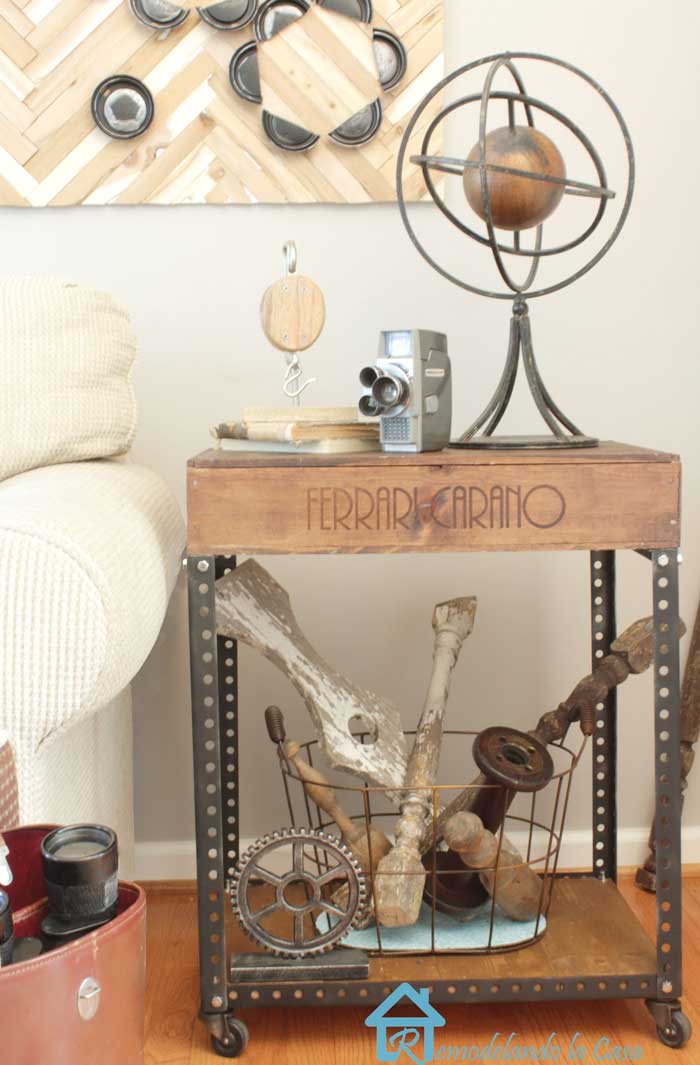 When you combine a wooden crate with metal parts, you get a rustic industrial furniture piece that will add some class to any rustic home. I love that this table is also on casters for easy moving and style.
Crate Dog Bed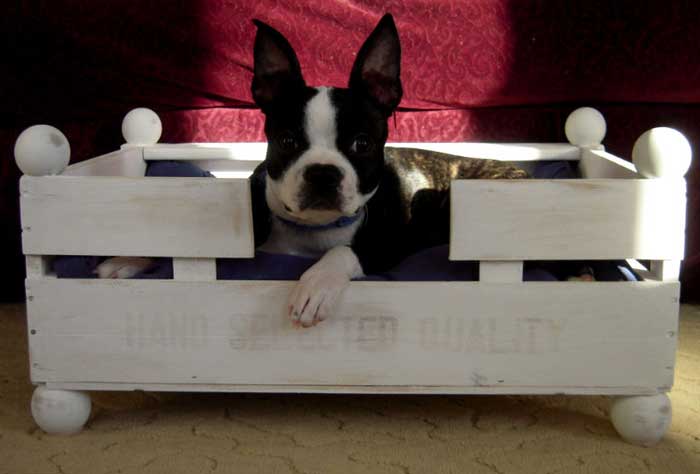 This idea for what to do with a crate is so cute! Make a comfortable dog bed by adding decorative round wood balls and a cozy cushion. This dog looks pretty relaxed in his new bed.
DIY Milk Crate Ottoman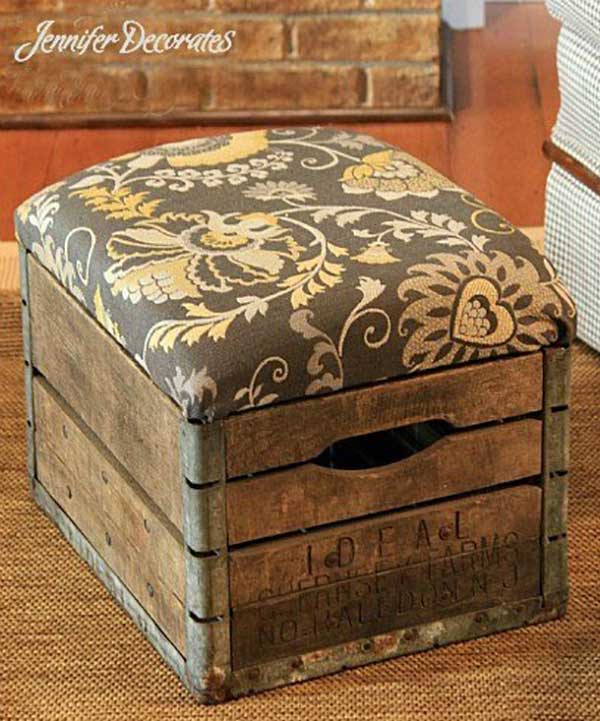 Do you need a new ottoman to go with your favorite chair? It's easy to make your own using a vintage crate. Just make a decorative cushion to fit the top of a crate. Make it so it lifts off so you can also use the crate for storage.
Crate Plate Storage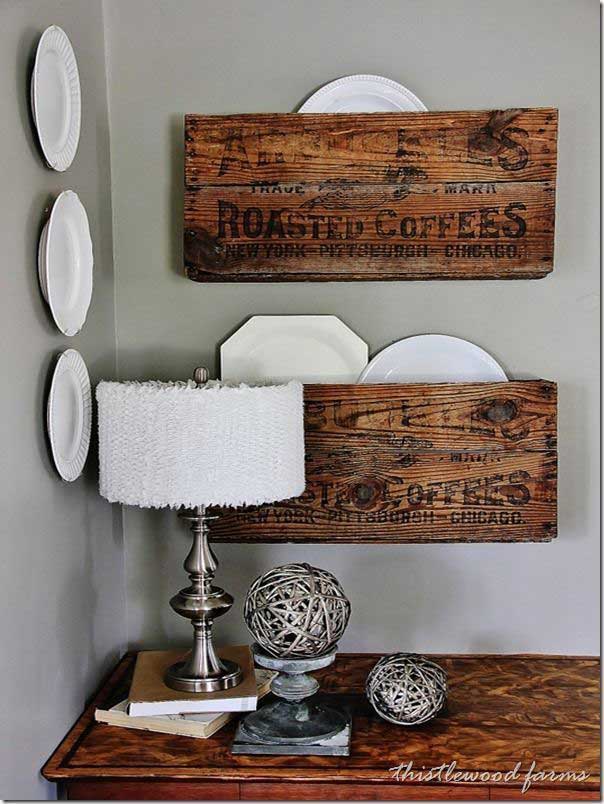 If you don't have the space or can't find the use for one large crate, then simply cut it up! That's what was done with these rustic chic plate organizers.
Crate For Stacking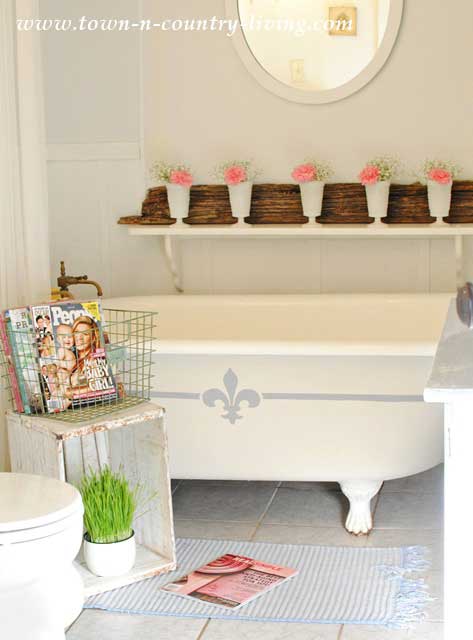 You know those times when you need to add a little bit of extra height to give to a decorative item? That is exactly when an old crate can come in handy. This basket of magazines is much more accessible at a taller height. Not only does the crate fill the purpose but it also adds to the rustic decor.
DIY Crate Lockers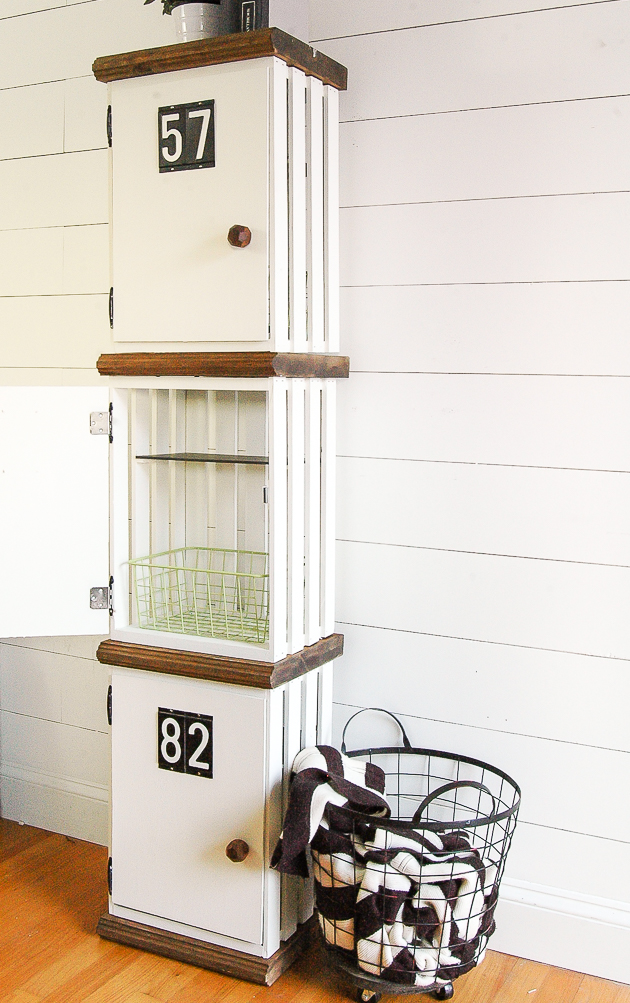 You don't always have to use old crates for these projects. Depending on the project, you may want to buy brand new crates to accomplish your task. These crate lockers are a perfect example. When you need to use several identical crates in a project, it's often easier to buy new.
Vintage Crate Centerpiece Idea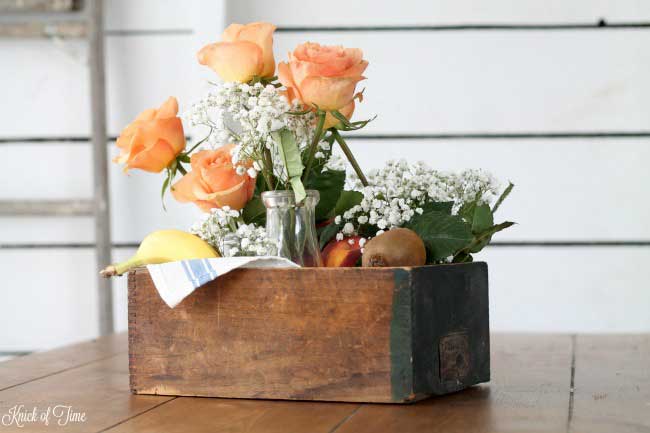 The easiest way to decorate with small crates is to use them in centerpieces. Fill them with fruit or flowers for a rustic chic table. Use the same crate but fill it with new decor for each season.
Crate On Wheels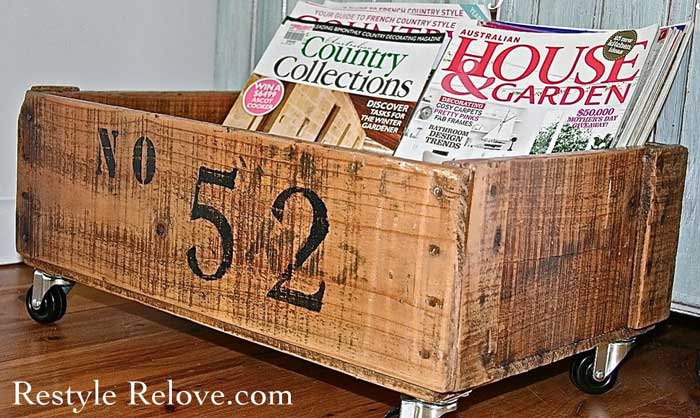 Add casters to any size crate for convenient rollable storage. The stenciled number gives this crate a more decorative look.
DIY Vintage Inspired Crates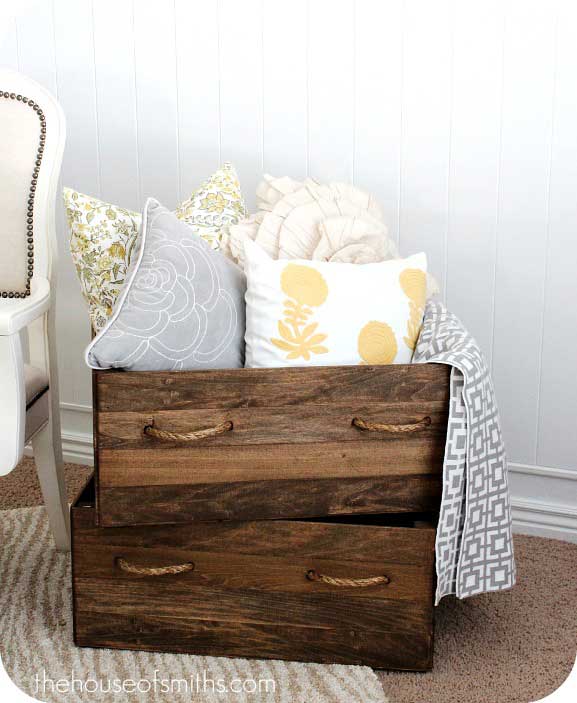 If you love all of these ideas but can't find your own crate. Or, if you would prefer decorating with new wood, then you have to check out this tutorial for making your own vintage inspired crate. It's easy to do and you can customize to get a crate in the exact size that you need. Use vintage label stamps or stencils to get an even more authentic look.