February is on its way out and although March seems to be such a looooong month, it gets broken nicely in half with a fun celebration of St. Patricks day.
So…..to get prepared for the festivities, now is the time to start thinking about those St. Patricks day crafts to help celebrate the day.
There are party decorations and invitations but you may also want to start decorating the house for the holiday.   If you are keen on green that is!
Even if you're not big into that bright kelly green decor, there are other ways to decorate in a more subtle way that will still give you a change and make you feel the excitement of another holiday.  I know that I prefer subtle myself!
I found so many different St. Patricks Day crafts that I wasn't sure how many I really wanted to feature.  The number seventeen may seem random and odd, but I figured that since St. Patricks Day is on March 17, it made sense to feature seventeen crafts.
So, here are my favorites that I think you will enjoy:
1.  Kiss Me I'm Irish Plaque by Paint Me Plaid: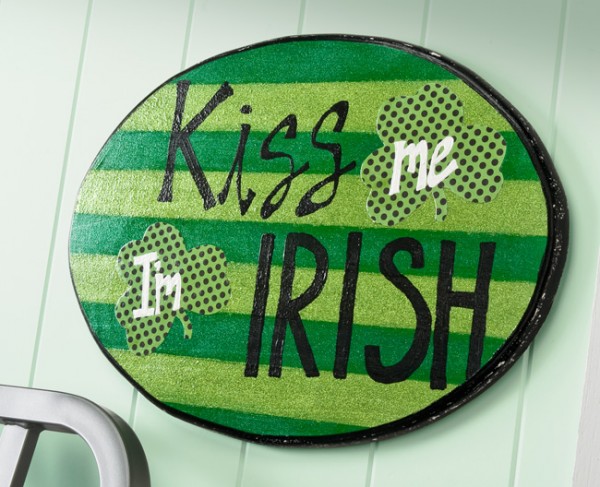 I think if you are Irish and you like kisses, you pretty much have to make this plaque!  It's such a cute way to make it clear that you are collecting kisses.
2.  Lucky Sign by Tatertots and Jello: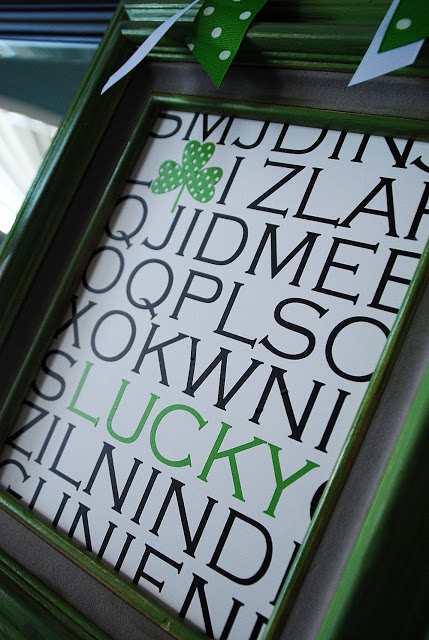 Here is a super cute sign that is quick and easy to make.  I love how the word "lucky" is highlighted.  You could choose to highlight any word or message in this letter scramble.
3.  Potted Clove Idea by Pretty Handy Girl.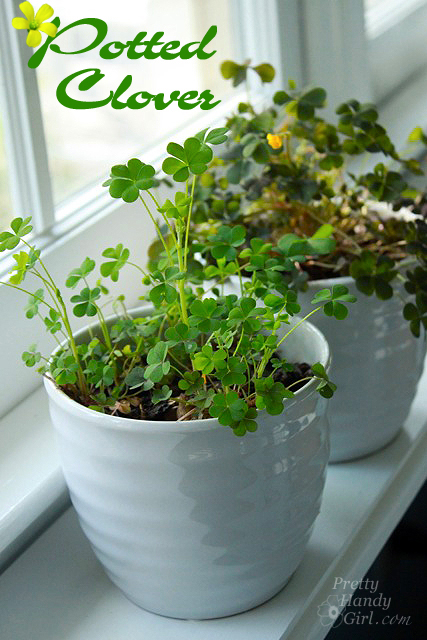 Okay, so this really can't be considered a craft, but it is an excellent idea for decorating on St. Patricks Day.  You have your cloves and of course the green……this is right up my alley!  I like the plain white planters too but I suppose you could embellish them with a sharpie or some paint if you like a little more to it.
4.  Washcloth Shamrocks by Craft Ideas: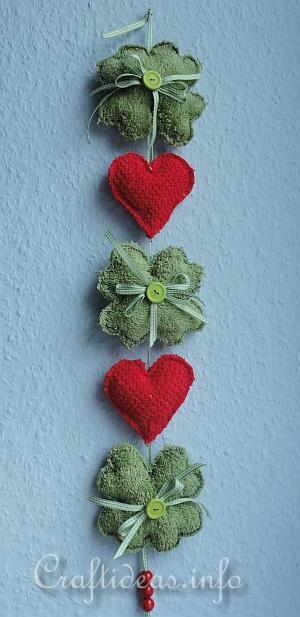 I like the soft texture of the shamrocks and hearts from using washcloths to make them.  However, I would probably change it up just a little by making the hearts and beads white instead…….because I like more subtle.  This makes a great wall decoration to use between Valentines Day and St. Patricks Day.
5.  Irish Chalkboard Message by Dear Lillie: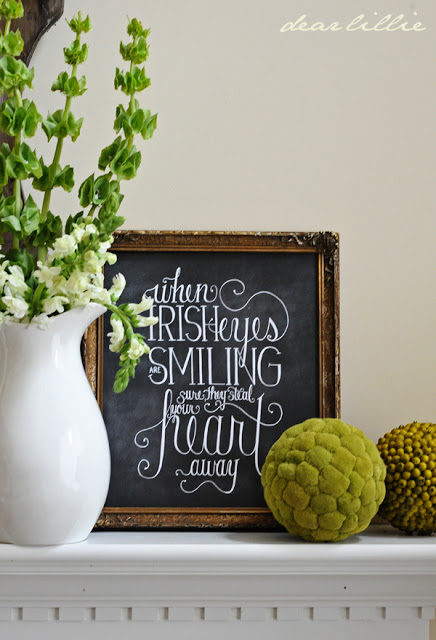 When I talk about subtle, I am thinking about something more along these lines.  This chalkboard message is actually a print that is sold by Dear Lillie.  However, you can also make your own using a vintage frame and chalkboard paint.  Check out my tutorial on a vintage chalkboard.
6.  St. Patricks Day Card by Fit, Crafty, Stylish and Happy: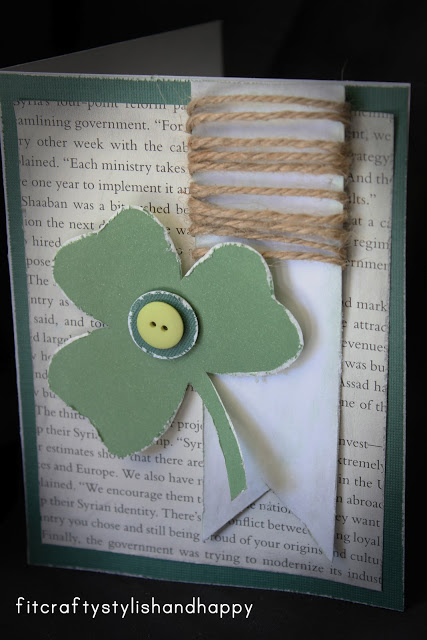 If you want to send a friend a cheerful greeting, then this card idea is the perfect inspiration.  I love that it uses a book page and some twine as an embellishment.
7.  Four Leaf Clover Topiaries by norikraft.blogspot.com: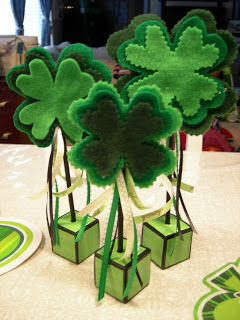 These cute topiaries will brighten any table, shelf or mantle for the holiday.
8.  Split Pea Wreath by Love Of Family And Home: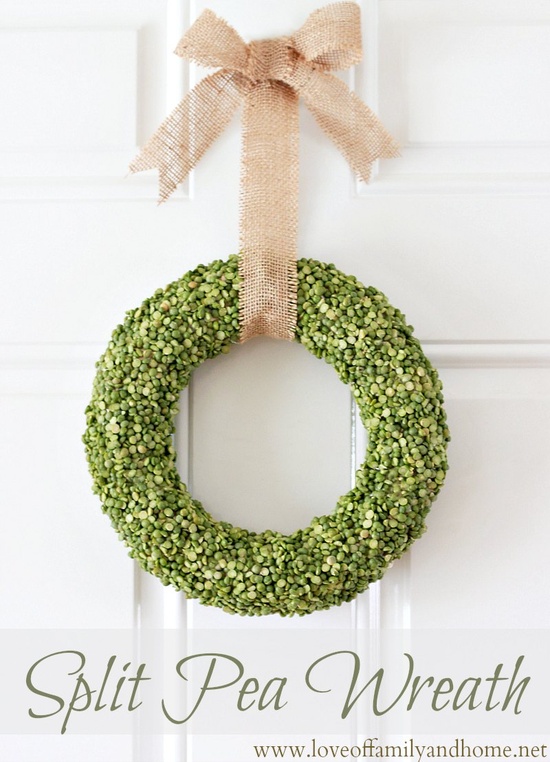 Using split peas is a very unique for adding some green for the holiday.  This wreath is festive for St. Patricks Day and will carry you all the way through spring.
9.  Wooden Clover Plaque by mamascraftyplace.blogspot.com: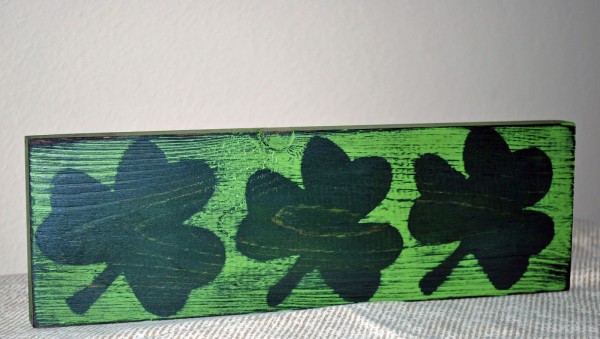 10.  Metallic Lucky Photo by thediyclub.com: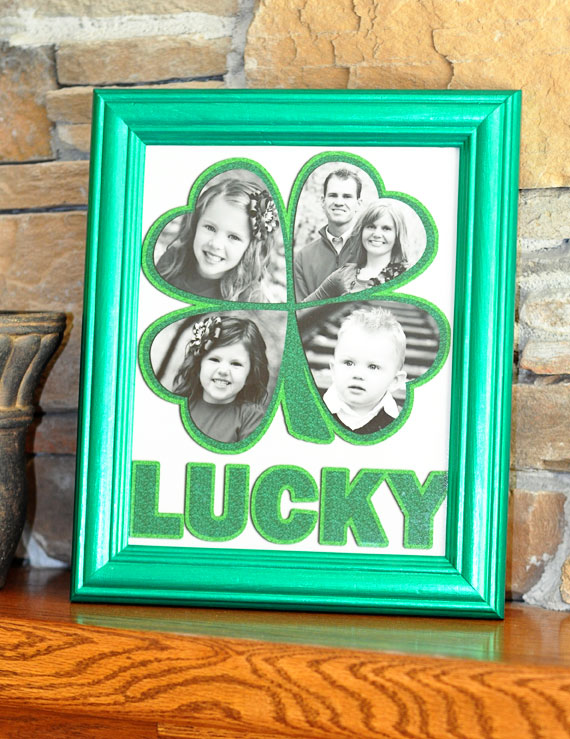 This is such a cute way to display family photos!
11.  Burlap Banner by momsecretweapon.com: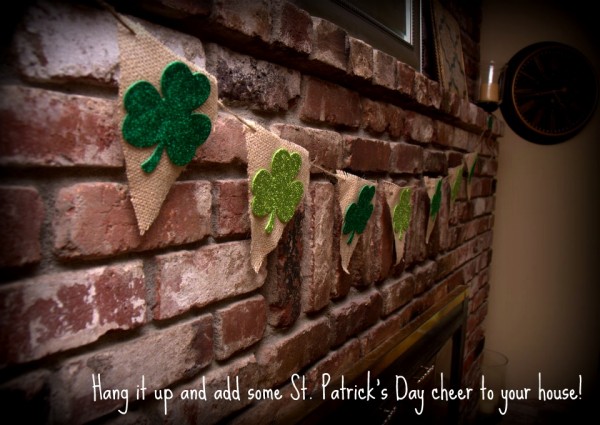 This banner can be made quick and easy and adds just a nice amount of festivity!
12.  Burlap Pillow by attagirl.com: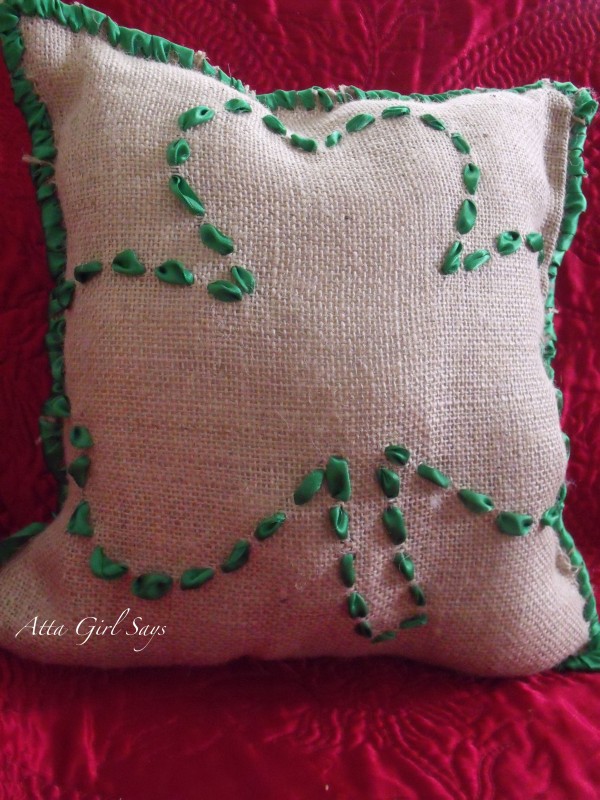 Throw pillows are a great decorating accessory that you change out with the seasons or holidays.  This pillow would actually coordinate perfectly with the banner above it!
13.  St. Patricks Day paint chip printable by Craftaholics Anonymous: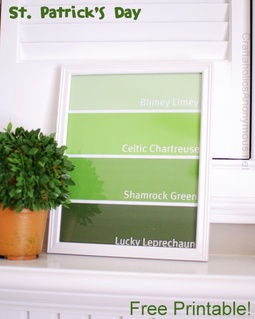 Here is a clever idea for a last minute decorating idea.  Just print off the paint chip printable of all the St. Patricks Day greens and frame it!
14.  Colorful banner by Celebrations: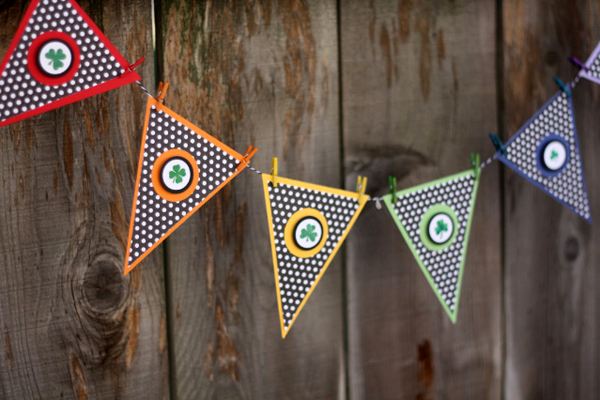 If you like a lot of color, then this banner craft is just the ticket.  This also would be perfect for celebrating that birthday that just happens to fall on St. Patricks Day.
15.  St. Patricks Party Decor by cocomatsnmore.com: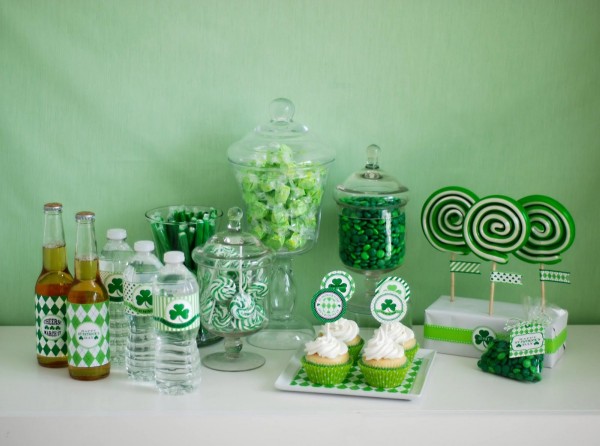 Candy always makes a wonderful decoration!  Check out these displays for inspiration.
16.  St. Patricks Day interchangeable frame by Today's Fabulous Finds: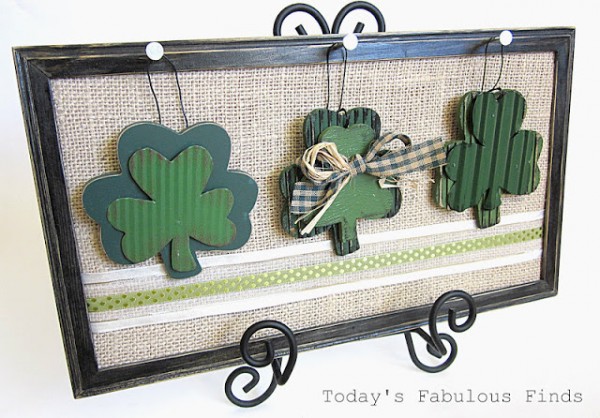 This cute display was made from a dollar store frame and is interchangeable for the different holidays.
17.  Felt Leprechaun Pants by Positively Splendid: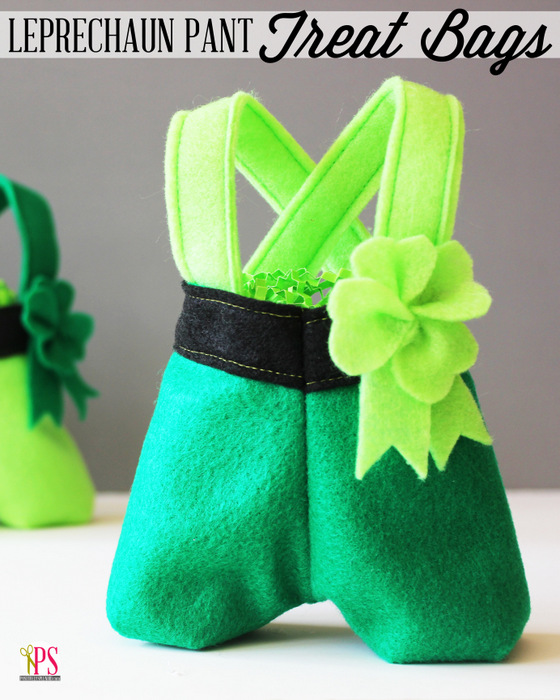 And finally, these leprechaun pant treat bags are just adorable and are easier to make then they look!
For more holiday crafts, make sure to check out my Holidays page.
Happy Crafting!