The best craft projects, I think, are made up of recycled items or renewable resources from nature.  This particular Christmas centerpiece uses both, making it very cost effective so you have plenty of money leftover to spend on gifts!
By looking at the picture, you may think that there was a fair amount of money spent on floral picks for the arrangement – but not really!  Well, years ago there was a small amount of money spent but that is all in the past.  You have to be a little bit of a hoarder I guess.  If a decoration that I bought previously just doesn't quite fit the bill anymore, I will hold onto it for its crafting potential.  The pieces and parts can often be used in a fun new way.
This centerpiece idea started with a tin can and then blossomed from there.  Let me show you what I did.
I started out with these objects in mind:
The tin coffee can and birch bark would be my base.  If you don't have access to birch bark and would like to do a project like this, check out my sponsor listing on the side bar for companies that supply birch bark.
I had saved the wreath that had once been hanging on our front door.  The sun had taken quite a beating to it and parts of it are very dried out and faded.  However, there are many salvageable parts that I could clip and use in other arrangement.
I'm not sure what I originally bought the artificial poinsettia plant for but didn't want it setting out as is.  I had already used part of it in another centerpiece project so I had some flowers left to still use up.  It's kind of nice to be able to get more than one use out of an old decoration!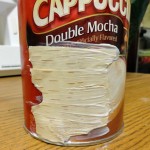 1.  First, I started applying small sections of birch bark to my can using decoupage.  I applied one coat to the back of the bark and then another coat to the top of the bark when it was adhered in place on the can.  I kept adding pieces, overlapping as I went, until the entire can was covered.
Here is how the can looked when it was completely covered with the bark.
2.  Next, I inserted a round Styrofoam ball that was trimmed a little to fit inside the can.  I used this to poke my poinsettia flowers and other picks into.
3.  With a tin snips, I cut three flowers from my artificial poinsettia plant to insert into the can.  To add some fill around the bottom, I clipped some of the picks from the wreath which consisted of small pine cones and berries and rusty tin stars.
4.  I filled the can with Spanish moss to further secure the Styrofoam and glued some small pine cones at the top of the can.
5.  Finally, I tied a peppermint stick to the front and wrapped some jute string around the can a few times.
Here is a close up of the finished Christmas centerpiece: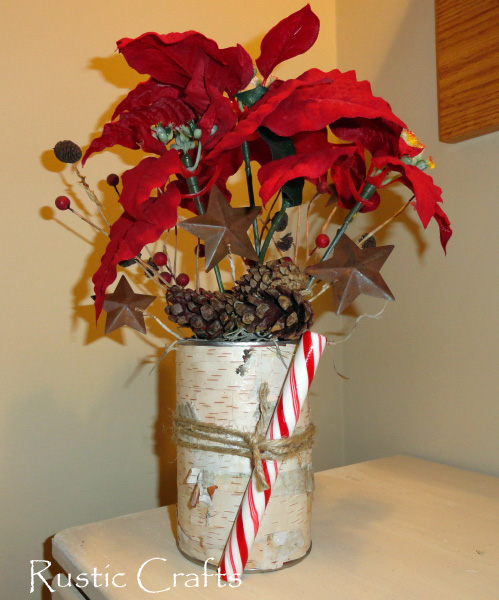 Even the peppermint stick was somewhat recycled since it was unopened from last year.  However, now that I took it from it's wrapper, I will be throwing that out at the end of the season!
Happy Crafting!