Candles are so popular to decorate with, especially at Christmas.  You can do so much to dress up one or more candles to give them some festive flair.  I like setting out a grouping of different sized candles with complementary decor.  However, decorating a candle in a glass holder allows you all kinds of unique options.
For this particular arrangement, I just started layering.  First I filled the glass candle holder with coarse Kosher salt.  It gives a sparkly look of snow.  Next, I wanted to add something rustic or natural in color.  I thought about pine cones, or chestnuts but decided on wine corks since they also added just a little touch of burgundy with the wine covered ends.
To fill in the top, I add a few picks from an old wreath I have been recycling.  I liked the simple red berries and small pine cones on the natural colored straw like picks.
Here are some more Christmas candle pictures to give you some ideas.  First I will start with some more candles in glass holders: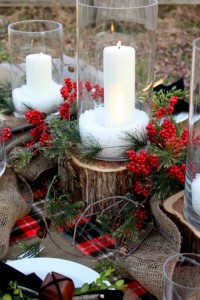 This is a real pretty idea by Houzz.  They did a similar look with the salt but decorated around a grouping of glass candle holders.  I love how they used wood logs to perch some of the glass up higher than the rest.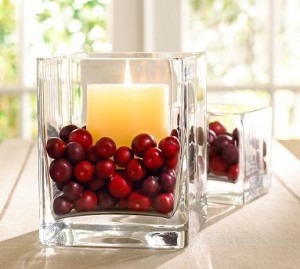 The Yellow Cape Cod uses cranberries to fill the candle glass.  This adds such a nice pop of red color.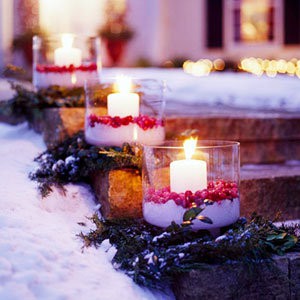 And, here is one with sugar and cranberries from Project Wedding.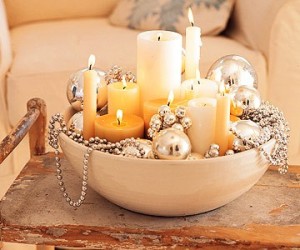 I love this bowl full of candles and glitz from BHG.  This would be a great way to make use of some of those extra ornaments and garland, that you have laying around, too!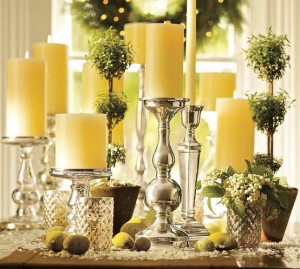 This is one of my favorite ways to decorate with candles!  Just pull out your favorite candle sticks and make a fun grouping.  You can add in any decor that you want to add some extra festivity.  Haute Design did a nice job of coordinating the yellows and greens.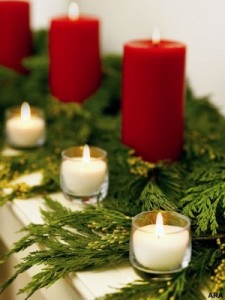 I like the use of colors in this design by Your Nest Design.  This is such a pretty way to line a mantel or a shelf.
Now go pull out all your candles and have fun displaying them in a festive way!  Don't be afraid to raid your kitchen cupboards either for decorative ideas.
Happy Decorating!