Christmas Tree Craft: Pine Cone Christmas Tree
Miniature Christmas trees are fun to make to place on a mantel or table for some festive decor.  A tree made from pine cones brings in some nature that is especially warm and decorative for a rustic Christmas.
This craft is so easy that you will be wanting to make several to place all around your house.  These would also be fun to give as gifts.  You could use scented pine cones to fill your house with a fragrant aroma for the whole holiday season.  I love the cinnamon scented pine cones!
Here are the easy instructions for the Christmas tree craft:
Materials Needed:
stryo-foam cone
pile of small pine cones, found or store bought
hot glue and gun
berry picks
48 inches thin gold ribbon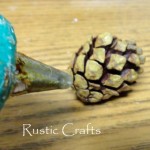 Set your cone upright.   Adhere a pine cone to the bottom of the cone using hot glue at the base of the pine cone.  Continue attaching pine cones working your way from the bottom of the Styrofoam cone to the top.  Place one more pine cone, upright, at the top of the Styrofoam.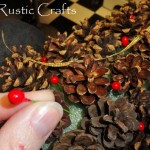 Insert your berry picks into the styrofoam in between the pine cones to fill in the gaps.  The stem of the berry will just stick into the foam.  You can add a little tacky glue to the end of the pick before inserting it into the foam.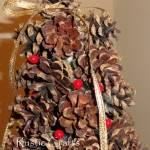 Cut your gold ribbon in half.  Tie each half around the top of the tree in a bow.  Let the two ends from each bow hang down, all the way to the bottom of the tree.  Attach the ribbon to the tree, with a little glue, in spots to keep it in place.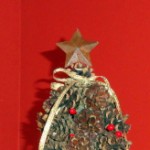 As an option, you could add some more embellishments like this rusty star topper to the tree.  I simply twisted the wire end around the top pine cone.  You could also add some snow-tex to the ends of the pine cones for a more outdoor wintry look.  You can definitely make this craft your own by the way you decide to decorate your pine cone Christmas tree.
Happy Crafting!