Have you ever noticed how much Christmas decor there is that involve pine cones in some way? Pine cones are rustic and cozy and have traditionally been used in wreaths, candle displays, and Christmas ornaments. Because pine cones are so easy to find, it's popular to use a collection of them in a variety of pine cone crafts for Christmas decorating. Many of us love the idea of homemade Christmas decor and when you can make something for very little cost it's a huge benefit. When you have a lot of other costs during the Christmas holiday, every little savings helps. Here are 20 pine cone crafts that you will want to try for this Christmas.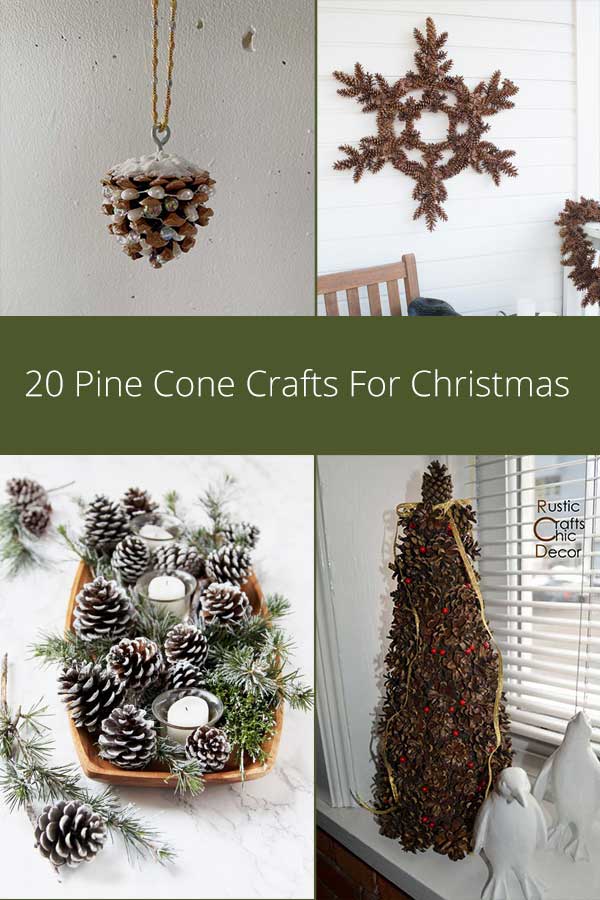 Fall is a great time to collect some pine cones that have recently fallen from trees but they do fall, less abundantly, throughout the year so you are not limited to just the Fall. After I have collected a bunch, I like to scrub off any dirt and bake them on a foil lined cookie sheet at 200 degrees for about a half hour all the way up to two hours, depending on the dampness of the cones. This gets rid of any sap or little bugs. You can follow the same procedure that I use for cleaning and drying acorns. Just go to: how to dry acorns for crafts.
With your prepared pine cones, you are now ready for one of these fun pine cone Christmas crafts.
Pine Cone And Old Jewelry Ornament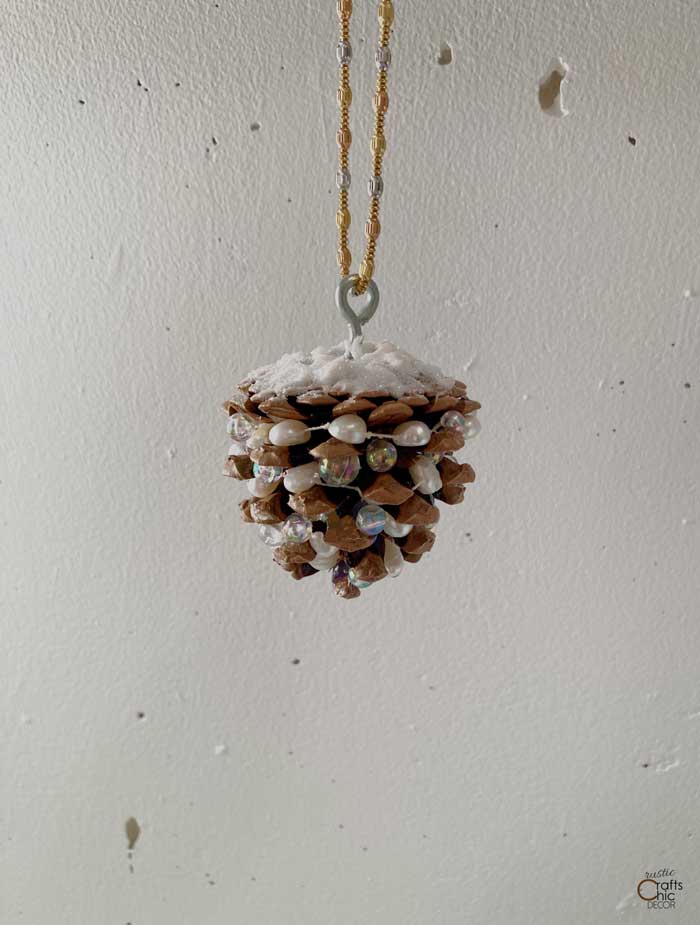 Add elegance to a pine cone ornament by embellishing it with some old jewelry. This way, not only is the pine cone free but the jewelry as well.
Make A Pine Cone Snowflake Wreath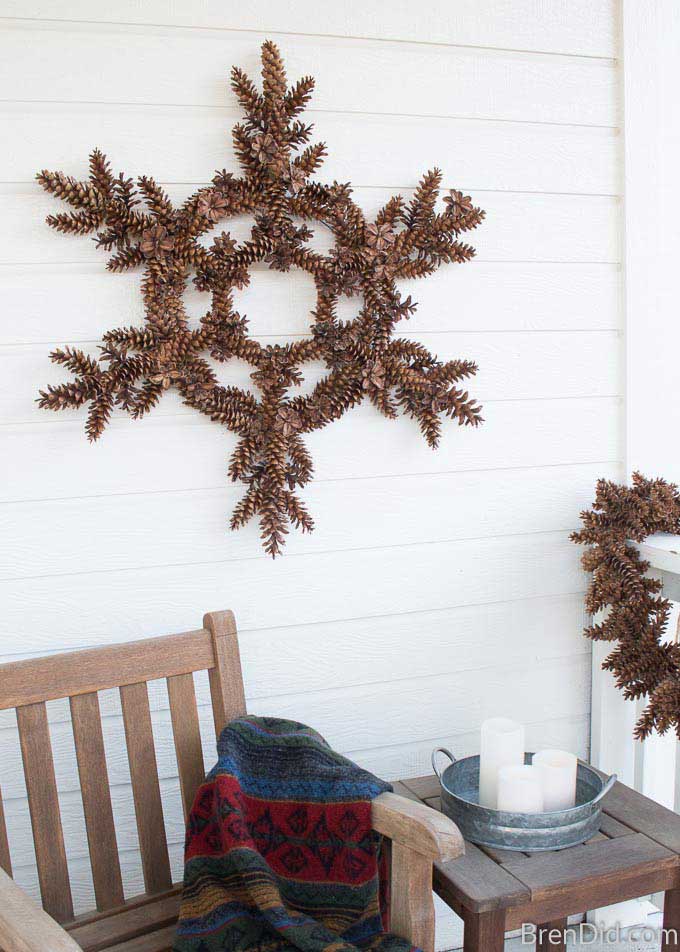 When you think of a Christmas wreath, you normally think of something round. However, in this case, the wreath takes on the shape of a snowflake which makes it super unique. You won't believe how easy this is to make with pine cones, paint stir sticks, and a wire wreath form!
Craft Your Own Pine Cone Garland
Probably one of the most popular pine cone crafts is the making of garland. It's surprising all the different looks you can get with pine cone garland. The style changes with what you use to string the garland. And, you can choose to paint all or part of the pine cones to fit your own style.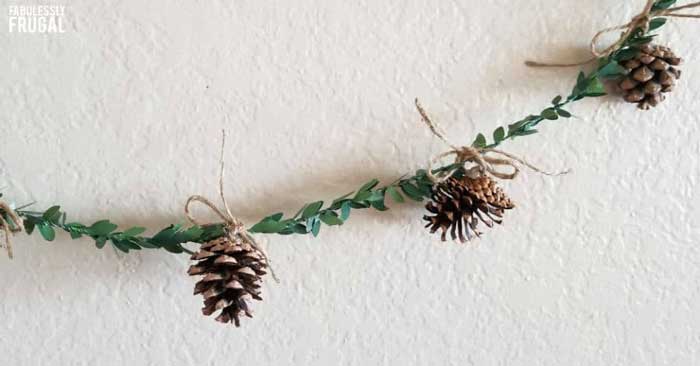 TUTORIAL: Fabulously Frugal
Besides the Christmas tree, this budget friendly garland idea would look pretty draped from a mantel or shelf.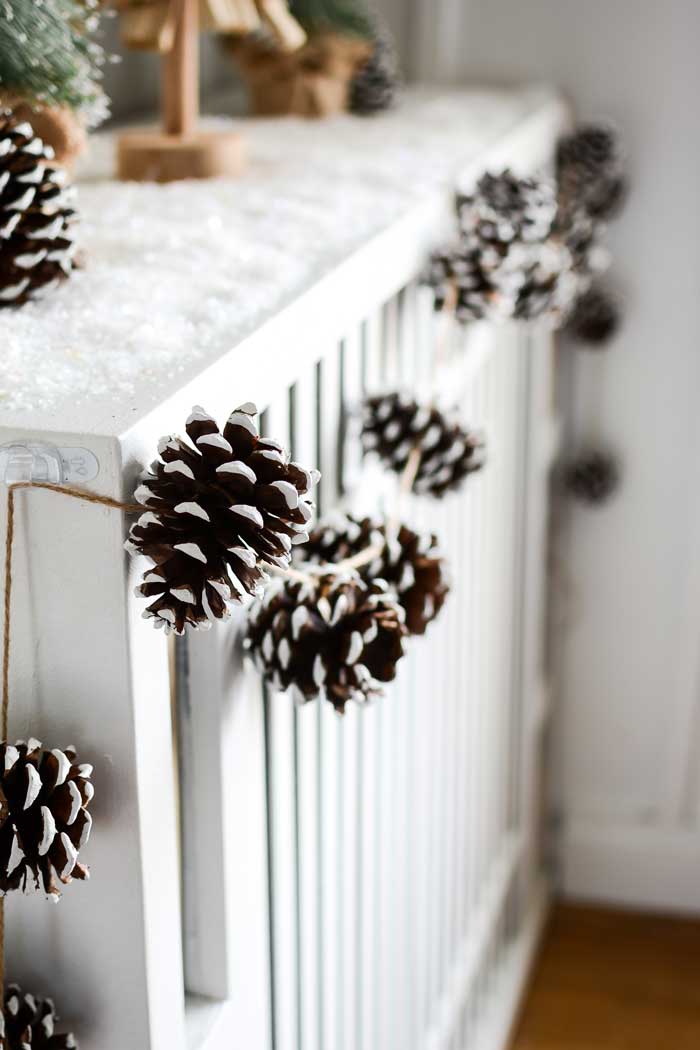 TUTORIAL: It All Started With Paint
Another way to hang pine cones in garland is to string them together with twine. A simple rustic idea with a lot of impact. Because these pine cones have the tips painted in white, they look more wintry. You could also paint either the entire pine cone or just half of it in a colorful paint. Metallic gold or silver are fun colors to use for a little shimmer and shine.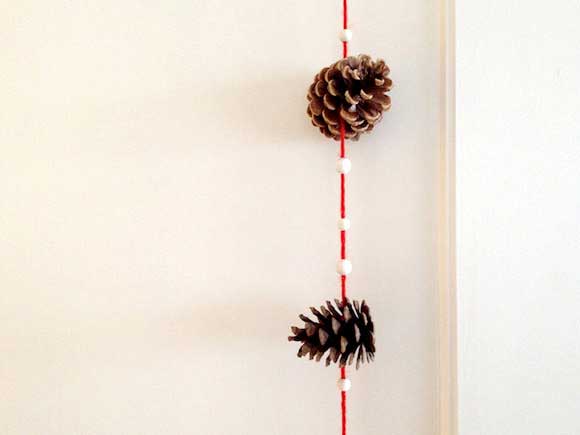 TUTORIAL: Handmade Charlotte
Besides coloring the pine cone itself, another way to add color to a pine cone garland is to string the pine cones with red yarn. The addition of the white beads almost gives this a peppermint candy stripe feel.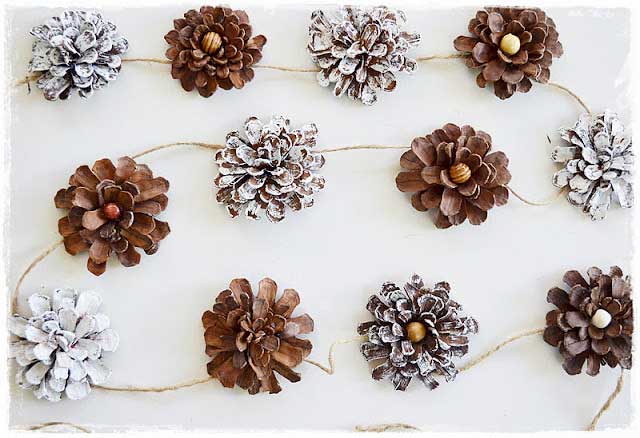 And yet another version of pine cone garland uses but pine cones that resemble flowers.
Make Easy Place Card Holders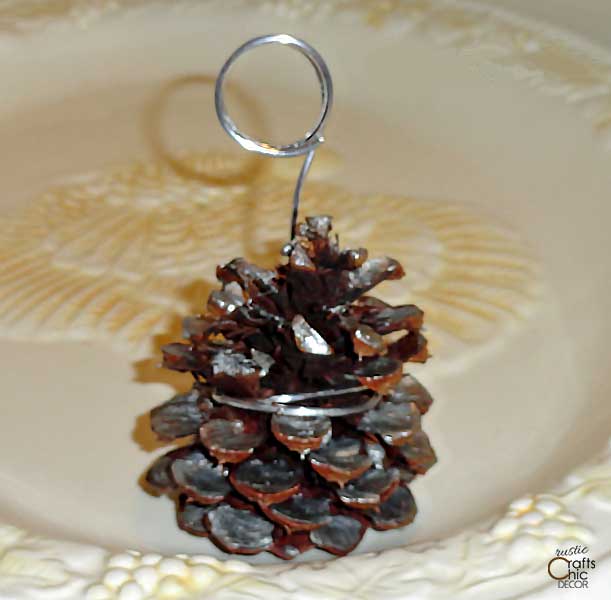 TUTORIAL: DIY Pine Cone Place Card Holders
These place card holders are perfect for a rustic holiday table. However, any rustic dinner party setting would benefit from these holders. They are so easy to make and can be left plain or decorated with any color paint to match your table setting. For an even easier idea, you can leave off the florist wire and just stick the name tag between the pine cone petals. That idea works best with the pine cone laying on it's side.
Create A Pine Cone Christmas Tree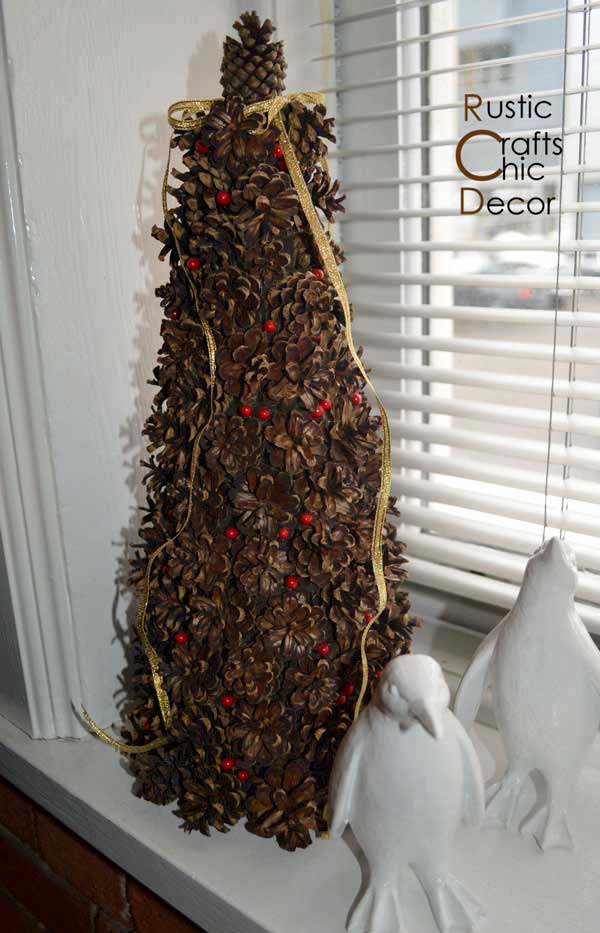 TUTORIAL: How To Make A Pine Cone Christmas Tree
I had quite a collection of mini pine cones that I used to make a couple of these Christmas trees. They are a perfect size to fill in a tree without creating too much bulk. If you want to give this pine cone tree more height, just set it on a candlestick. This is especially a nice idea for smaller cones.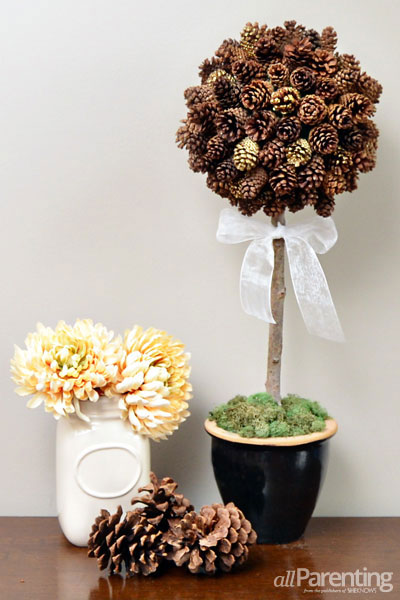 TUTORIAL: All Parenting
If you prefer a round topiary tree, that can be decorated for Christmas as well. Try using a Christmas patterned ribbon or adding color to the pine cones for an optional look.
Decorate A Large Pine Cone For Hanging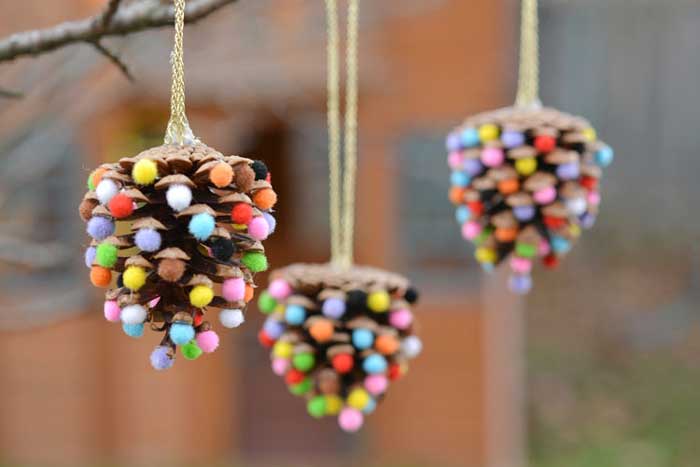 TUTORIAL: One LIttle Project
Large pine cones are a great size for simply hanging on their own. To create some colorful interest, add colored pom poms to the pine cones. Go for multi colored pine cones like these or use one solid color.
Make Cute Little Pine Cone Owls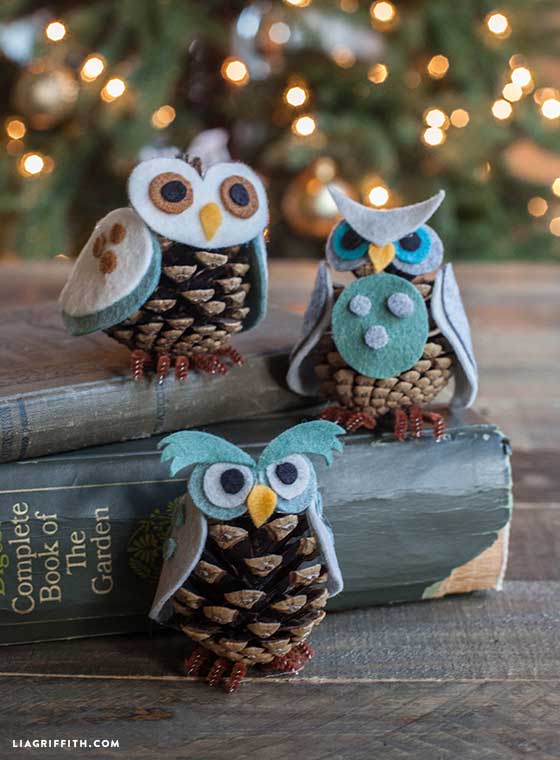 TUTORIAL: Lia Griffith
These adorable little owls would look fantastic nestled into your Christmas tree. This may be one of the most unique pine cone crafts!
Create A Beautiful Pine Cone Wreath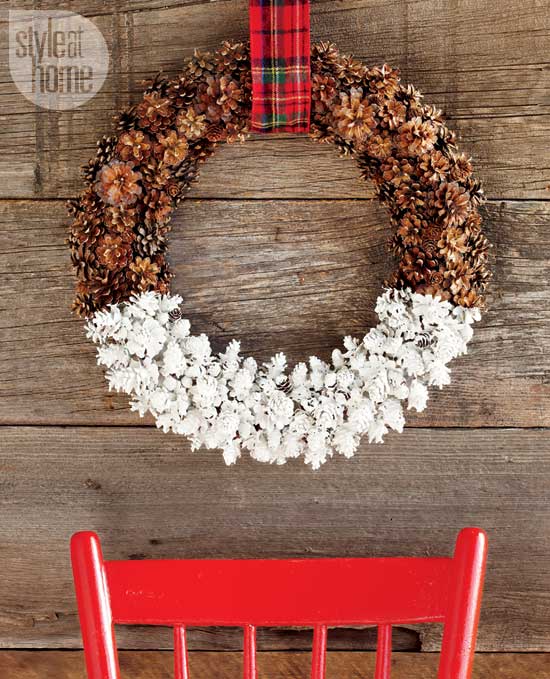 TUTORIAL: Style At Home
This is such a beautiful idea for a wreath. By dipping half of the wreath into white paint, you get a more festive snow dipped look.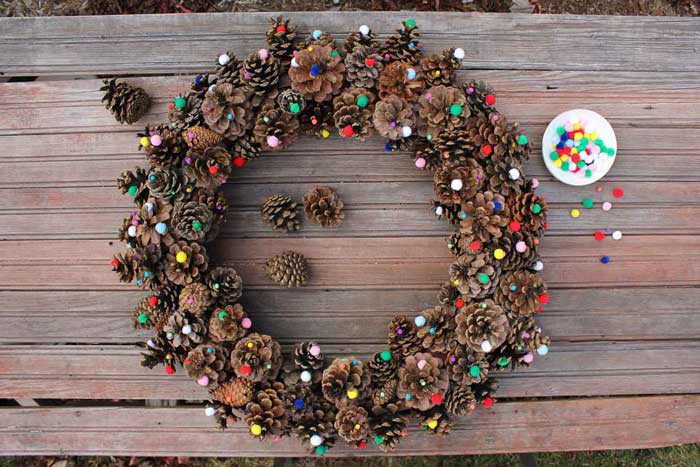 TUTORIAL: Make And Do Crew
One way to add color to a pine cone wreath is to scatter some colorful pom poms throughout. This project would go well with the pine cone ornament craft above. Since they both use pom poms to add color, they coordinate perfectly.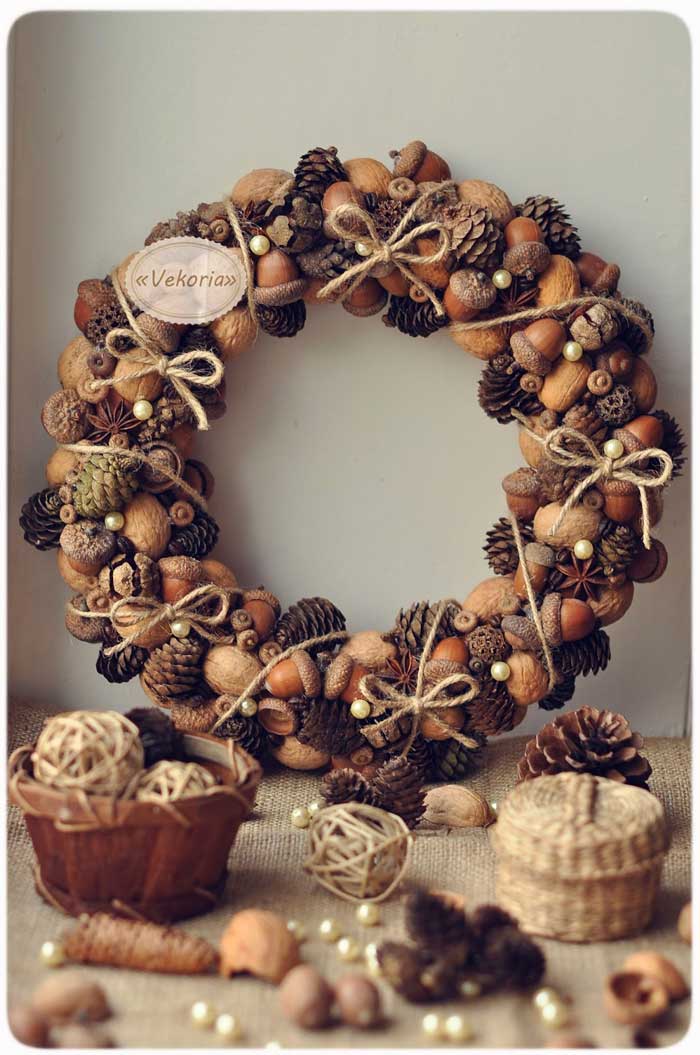 Combine pine cones with nuts for a rustic Christmas wreath that is full of texture. The addition of pearl like beads and some chic styling for the holidays. For another options, the pearl beads could be changed up with red or any other color that you would want to use.
Make Glimmering Pine Cone Luminaries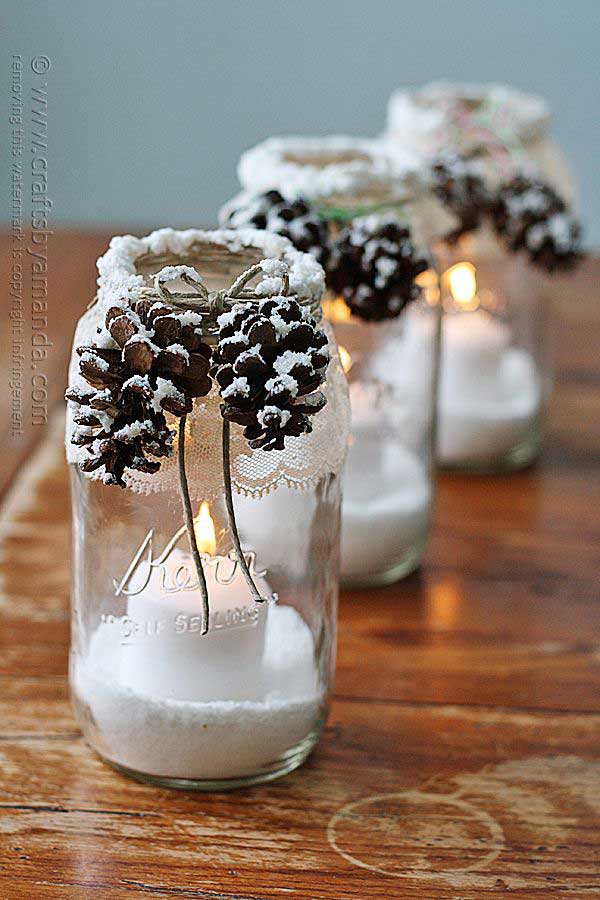 TUTORIAL: Crafts By Amanda
These pine cone luminaries are so pretty all lit up. Not only can you use free pine cones but you can also recycle mason jars for this project.
Create A Warm Pine Cone Centerpiece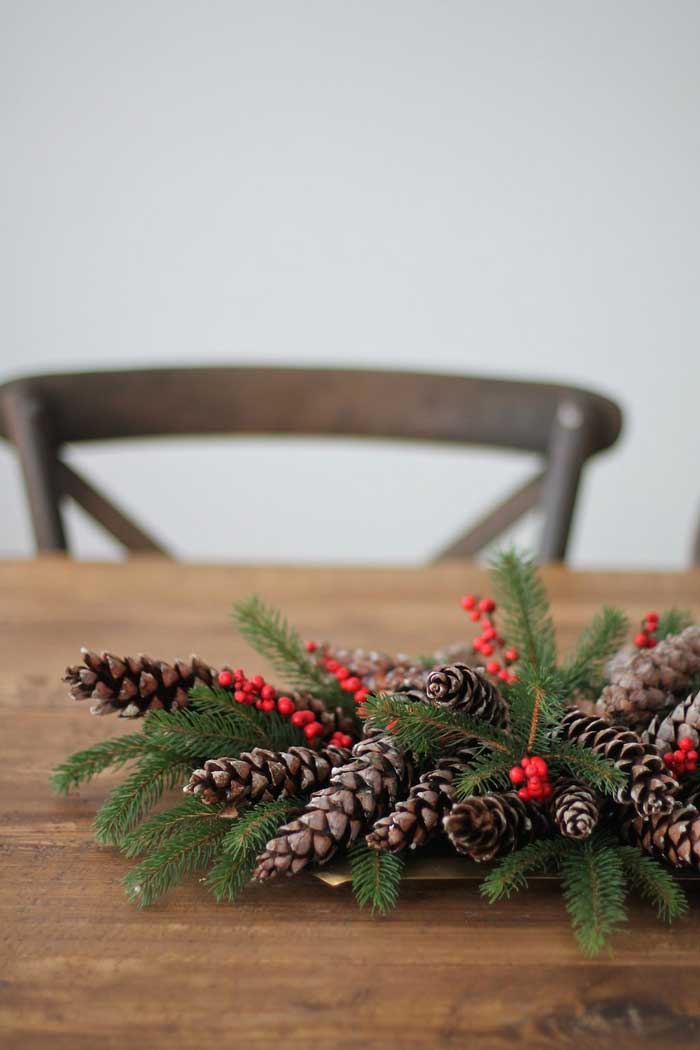 TUTORIAL: Julie Blanner
This beautiful centerpiece only uses three items and has the perfect styling. What more do you need than a little red and green and rustic?
DIY Pinecone Topiary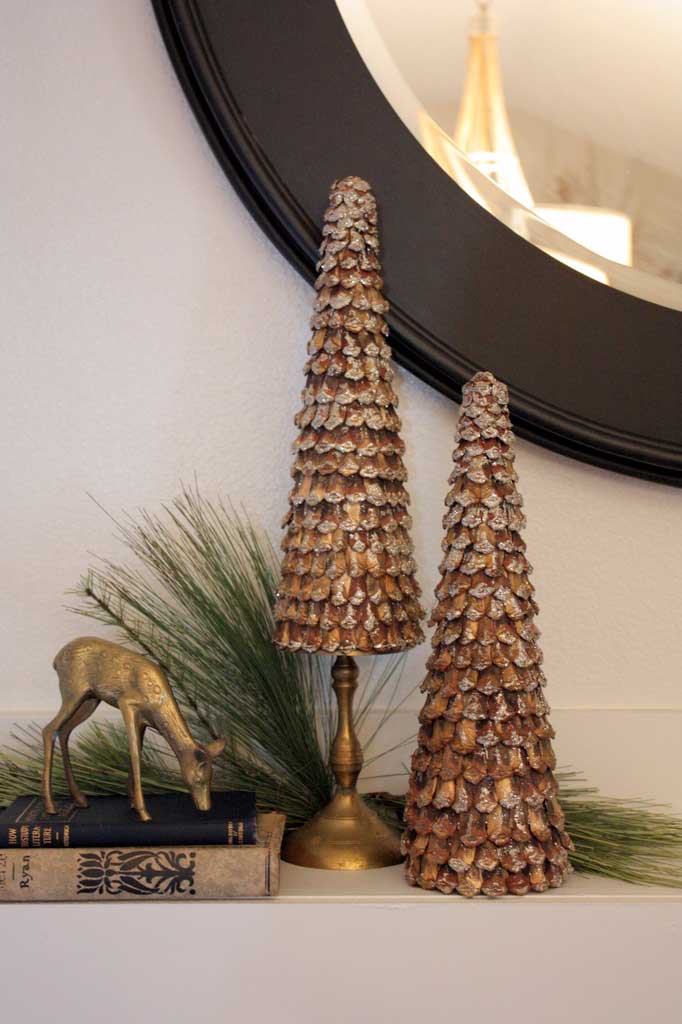 What I really like about this particular design is that she uses just the pinecone petals. It is more time consuming but creates a nice look. If you like this idea, you may also want to make pine cone flowers using a similar technique with the petals.
Mini Pine Cone Christmas Trees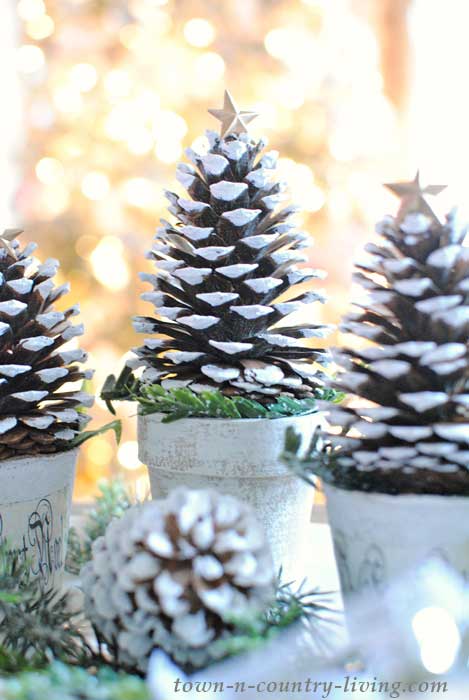 A large pine cone can quickly become a mini Christmas tree by how it is displayed. Just add a little white paint, place the pine cones in pots, and arrange a few on a table for an elegantly rustic display.
Pine Cone Candle Display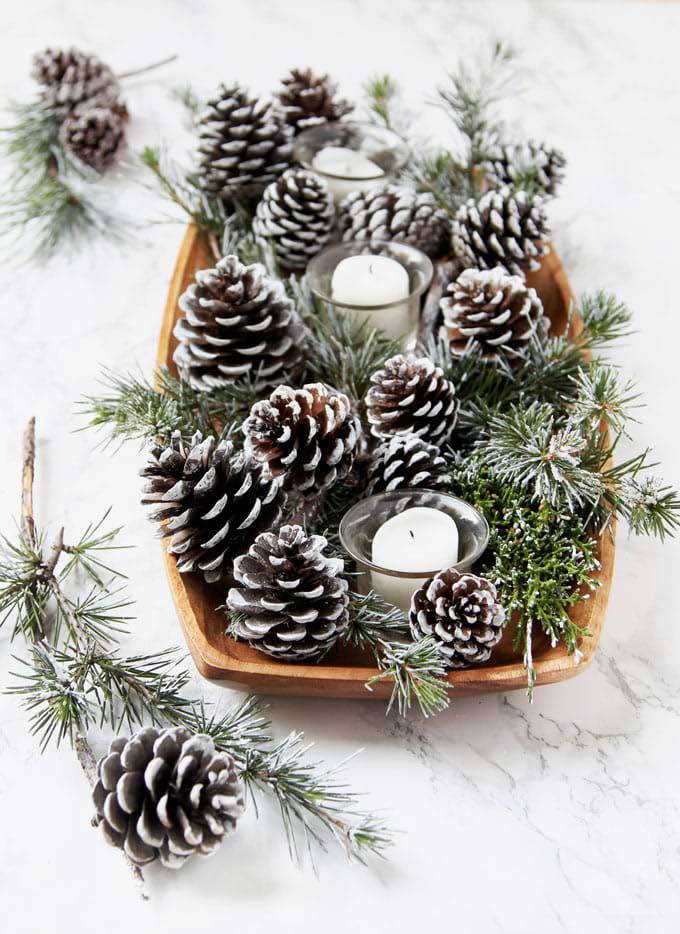 Some pine cone crafts can be as simple as displaying some in a decorative bowl. Add snowy paint and warm candles for a festive look that is perfect for Christmas.
Cranberry And Bleached Pine Cone Garland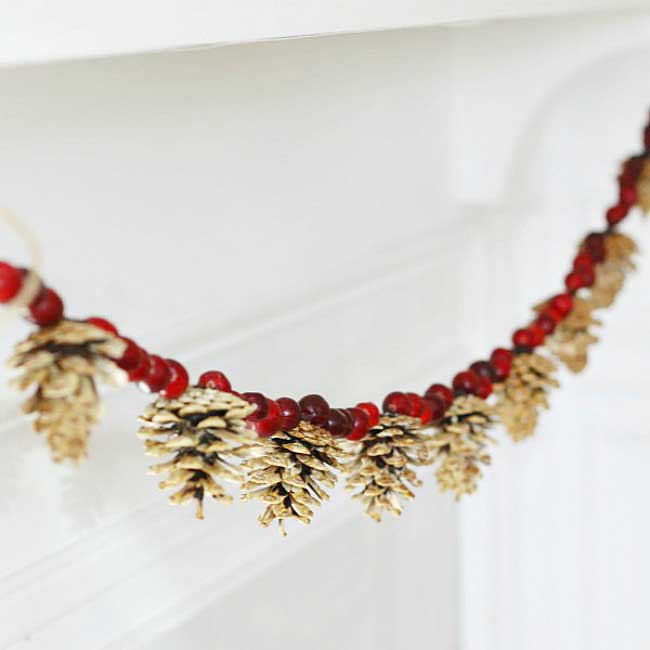 A unique look for a pine cone garland is too first bleach the pine cones and then string them together with cranberries. The look is so cheery and festive.