A cottage or cabin is often times smaller than your actual home but can require more sleeping space to accommodate extra guests.  You will want to make the most of your bedroom space as well as other areas of your cottage to fit in as much sleeping room as possible.  The trick is to maintain a stylish looking cottage with sleeping nooks that fit right in to the decor and bedroom ideas that are seamless.
I found several ideas that offer cozy tucked away sleeping areas that remain fluid with a rustic cottage decor style.  Most of the nooks offer a dual purpose during the day for sitting and reading or just relaxing.
Some of the cottage bedroom ideas give space saving solutions to allow for the maximum amount of per person sleeping.  Others just help you to make the most of the typical small rooms in a cottage or cabin.  We used the antique full bed shown, which is a bit smaller than average, in our cabin loft and use this space as our master.   With built in drawers in the opposite sloped wall, the room size works out just right.
There are so many ways to make small spaces work.  I think you will be inspired by the following designs!
Cottage Bedroom Ideas: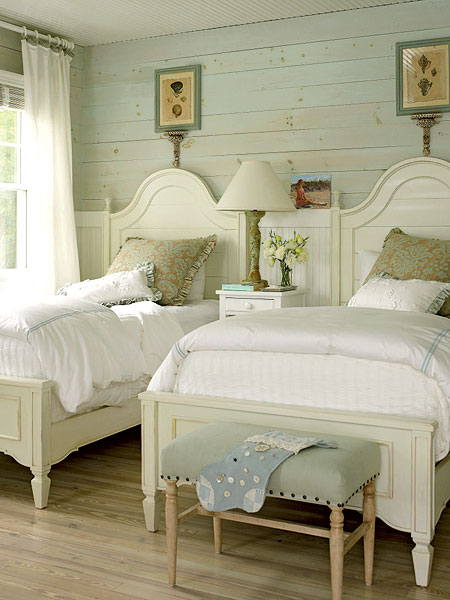 One idea, for a small bedroom, is to put in two twin beds instead of a double or queen.  The beds can be used by two children, two separate adults or the beds could be pushed together for a couple.  The chic beachy style of the room works for anyone!
Here is just a cool airy design for a small bedroom space.  The natural elements make you feel like you are sleeping outside!
Unique Sleeping Nooks: