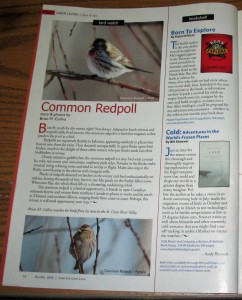 You just never know where your next idea for a project is going to come from.  I was reading an issue of Cabin Life magazine and came across a page about birdwatching and also a couple of book reviews.  Well these are two things that I just love to do when I am up in Northern Michigan at my cabin.  I just loved that page!
I'm always trying to think of fun pillow ideas and I needed another decorative pillow for our large window seat at our cabin.  This also happens to be where I sit to watch all of the birds at the feeders.   I had a thought that accent pillows should someone signify those things that we enjoy doing.   Well one thought led to another and I finally decided to transfer that magazine page onto a piece of linen and make a pillow.  I didn't want a solid copy of the magazine, I wanted something more subtle so decoupaging the page onto the fabric was out.
I decided to print the page onto t-shirt transfer paper and iron it on to the fabric.  I had to first get the image to print in a mirror setting which was easy to do in Adobe Photoshop.  One thing I don't like about transfer paper is that the background comes out super white.  I wanted something more old and rustic looking so it would take some experimenting.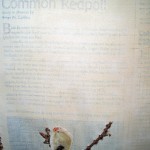 I got pretty lucky with my experimenting!  I figured that if I tried to scorch the iron on a little bit as I was applying it I would either get a nice old look or my project would go up in flames.    Fortunately, there were no flames – just a little bad smell.  I also started to remove the transfer paper while it was still warm to give a little torn edge at the top.  I didn't want a perfect square – again a more old and tattered look.   If you click on the close-up picture, you will get a better idea of the finished look.  I was going for a subtle old look that you could just barely read – more of a background thing than anything else.  I loved the birds though and wanted to recreate those in 3D.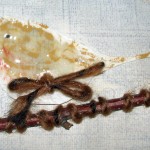 To recreate the bird on a twig, from the picture, I first took a birch twig and secured it to my fabric using a darning needle and yarn.   Then  I cut out a bird shape from a heavy textured gift bag.  I  added a little paint and secured it to the fabric with a strand of yarn.  To give the bird some added dimension, shine and strength, I then coated it with Modge Podge Dimensional Magic.  Now there is no worry of getting any tears.  I did the same thing for the bird at the bottom of the magazine page.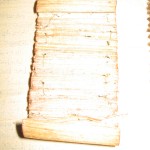 The magazine page had two books pictured.  I opted to leave one just as the printed red square.  For the other one, I chose this piece of potpourri, which kind of looks like an open scroll, to add dimension.  It was simple to sew through with just regular thread.  There are so many interesting pieces in a bag of potpourri that can be used for embellishments in a craft project.  This makes a great use for an old bag that has lost its scent!
After adding all of my embellishments, I just chose a coordinating fabric to sew my "magazine" square onto and then continued to sew a simple pillow square and inserted a pillow form.   Now I'm ready to bring it up north to the cabin and set it in my window seat to start watching those birds!