Throw pillows are one of the most versatile decorating accessories and are also very easy to make.  The only trouble that you can run in to is coming up with some fresh new ideas. One way to get inspired is by looking at what is currently for sale in stores. Pick your favorite styles and then make your own. For instance, I have always loved the sweater pillows available at Pottery Barn so I made my own DIY pillow using a recycled sweater. I'll show you more DIY pillow ideas that will be sure to inspire you.
DIY Pillow Ideas To Complement Your Rustic Home
The advantage to making your own pillows is that you can really customize them to fit your exact style. Even when you find inspiration in a store, there may be some tweaks that you want to make for your own taste. This is easy to do with different fabric colors and textures. You can also easily customize by adding embellishments like buttons or trim. Maybe you want to stencil a design onto plain fabric. All of this makes a fun and truly custom project. Here are some creative pillow ideas to get you started.
No Sew Burlap Flower Pillow Idea

SOURCE: Stone Gable
Burlap is a great material to incorporate into a pillow for a shabby chic or rustic style. What I love about this pillow is that the burlap flower focal point is no sew. This makes it super easy for anyone to complete. The white background of the pillow fabric creates a nice contrast that is perfectly chic.
DIY Linen Flower Pillow

SOURCE: Burlap And Blue
If you like the concept of a burlap flower pillow but want to use a different fabric, try this version with sewn petals. The entire pillow front is made with the same fabric and the entire front is full of beautiful linen petals. I love the fresh chic look in linen but you can customize with any type of fabric.  
Embellish With Fabric Flowers

SOURCE: Homedit
If you don't want to have your entire pillow be covered in a flower, make smaller fabric flowers to embellish just a corner or section. Make a plain pillow cover or use any plain pillow that you have. Then, give it some shabby chic style by embellishing it with handmade fabric flowers. It's an easy way to get a custom look. I also have a couple of easy methods for making burlap flowers. The burlap flowers would add a little rustic flair to this idea.
Create Words On Pillows With Pom Poms

SOURCE: Crafts Unleashed
Little pom poms will make your pillow really pop. Whether you spell out words or create other art, the look will be fun. Simply draw out your design on the pillow fabric and then glue the pom poms to the outline. 
Felt And Pom Pom DIY Pillow Idea

SOURCE: Domestic Charm
Another fun way to use pom poms on a pillow is in the form of a wreath. The wreath leaves are made from felt and the berries are little pom poms. Felt is another one of those great fabrics to use in embellishing because it doesn't fray. I really like the neutral white pom poms for berries on this pillow. However, you can change up the color to red for some Christmas decorating.
Knit Your Own Throw Pillow

SOURCE: Savvy Apron
With chunky yarn, you can knit your own throw pillow in just a couple of hours. The look is so warm and cozy. The tutorial for this project is geared toward beginners so it is one of the easier knitting projects.
Stamp A Leaf Pattern With Actual Leaves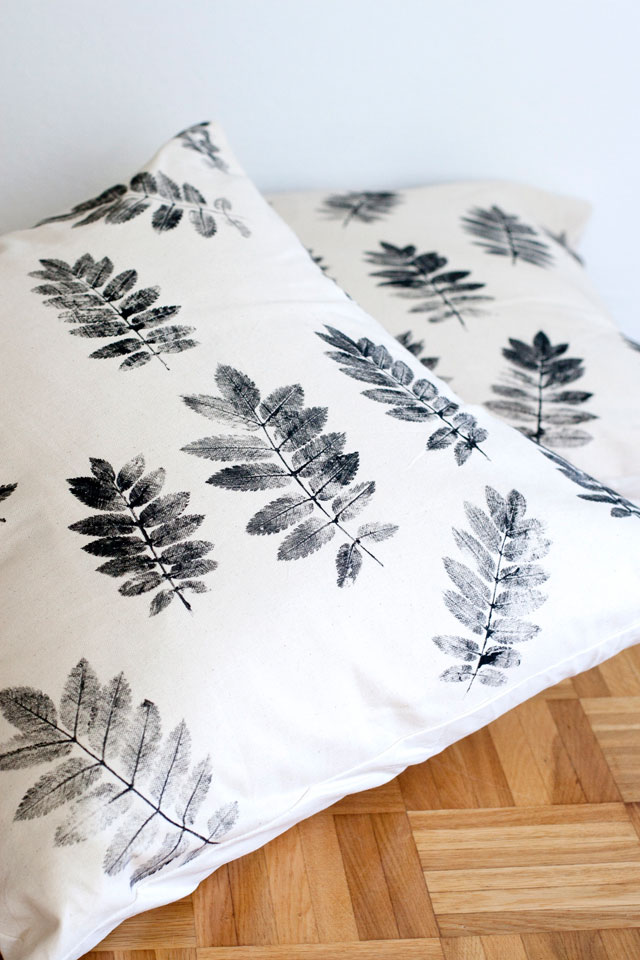 Stamps of any kind are a great way to customize your own fabric to make a pillow with. What makes these leaf stamps so special is that they are made with actual leaves. The leaves are covered with printing ink and then pressed onto the fabric.
Leather Tree DIY Pillow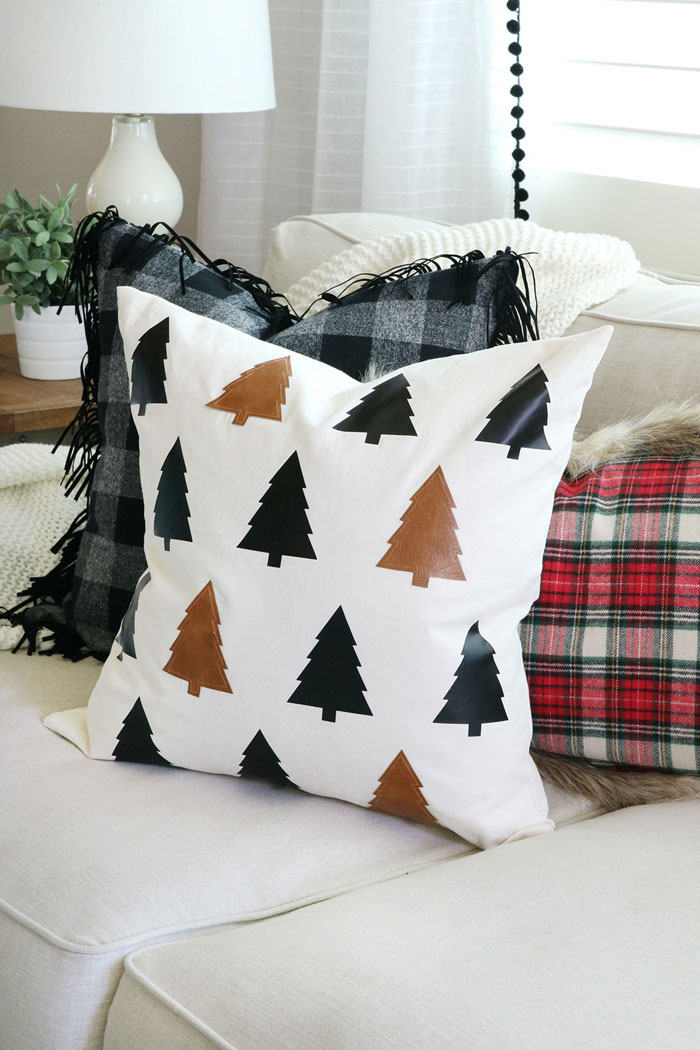 How is this DIY pillow idea for rustic goodness? The pine trees are cut from both leather and heat transfer vinyl. If you have a Cricut, the shapes are easy to cut. However, you can also use a stencil on the fabric and cut them out by hand.
For more creative fabric and DIY pillow ideas, check out my post on how to recycle old clothes into fun home decor.