Coasters are a fun and easy craft project that can be made from a myriad of different materials.   You can get extremely creative with all of the options out there.  I have made a couple of different sets myself.  One set came straight from nature using only a pine log and a bit of polyurethane and the other set was from recycled materials.
Along with these, I have also found several other unique ideas that you can try.  Each one has a fun design that will be sure to inspire you.
The great thing about making coasters is that they also make great gifts.  So go ahead and start creating some of these for yourself and everyone you can think of!
Here are all of the fun ideas:
The tutorial for the pine coasters is here.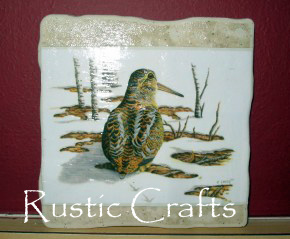 I had a lot of fun making these bird coasters out of leftover tiles and magazine pictures.  Each one has a different bird picture and the set is perfect for up at our cabin where we do a lot of bird watching.  You can also use maps, photos, song sheets or newspaper.  Find the tile coasters tutorial here.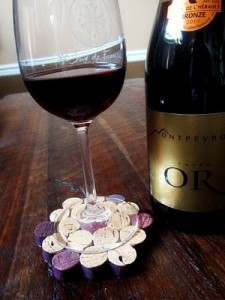 I've done a few wine cork crafts here and now it's fun to feature this coaster made from sections of wine corks.  WineandCork came up with this nifty idea and I think it is a perfect material to use because of it's absorb-ability.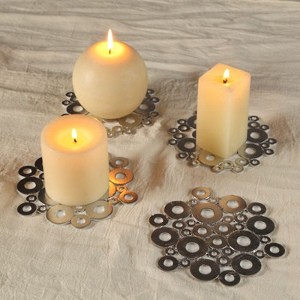 Here is a super cool idea by Fave Crafts for using washers.  This is pretty to use as either a drink coaster or a candle coaster.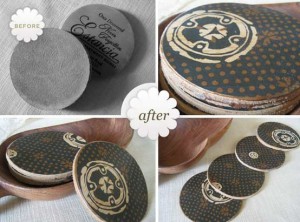 What if you get some promotional coasters that you really aren't interested in setting out in your home?  Evie shows you how you can make these over so that they don't go to waste.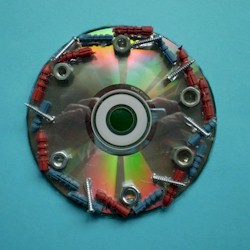 I am always looking for creative things to do with old cd's so I was excited to find this idea from Free Kids Craftsfor a cd coaster.  This is very rustic and industrial looking for a man cave or other masculine room.
What do you think of these ideas?  Leave me your thoughts or other suggestions below.
Happy Crafting!