I bought a couple of end tables last year from a thrift shop for about ten dollars for the pair.  I knew what I wanted to do with one of them and fixed it up to put it my office.  The other one had just been sitting in our basement storage area collecting dust.  That is until now…
I am in the process of re-doing my son's bedroom.  The timing hasn't been right to start the painting on the walls just yet but I have been just itching to paint..something!!   I desperately wanted to paint his desk and dresser set but so far my husband has put the kabash on that idea.  Something about it being his dad's old set and antique and sentimental…but the finishes are in rough condition!  So….I am still working on that one!
Anyway….in my quest for something to paint, I remembered that old end table just sitting there all lonely and I got a little hip to my hop!  I figured it would make a great nightstand…..if I could get it teenage cool enough!
Here is the sad sad before picture:
Before doing anything else, I knew right away that I wanted the bottom half to be black.  So, I quickly painted the first coat and went to work thinking about a new handle pull.
My craft room just happens to be full of birch branches in all sizes and I do love birch so it was only logical to make my pull out of a section.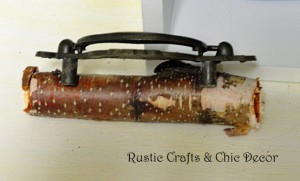 I lined up the posts of the old drawer pull against the birch so I would know where to drill my holes.  Once I had my spots marked, I drilled through the branch.
Then, I put another coat of black paint on the table.
Once my paint was dry, I attached the birch handle pull to the drawer with long screws and nuts.
I also had figured out what I wanted to do with the table top.  First, I put a very light coat of white paint on with a wet brush.  I wanted some of the wood to show through.
When the paint was dry, I rubbed on two vintage stamp images using my freezer paper transfer technique.  Make sure to check out that link for the full instructions.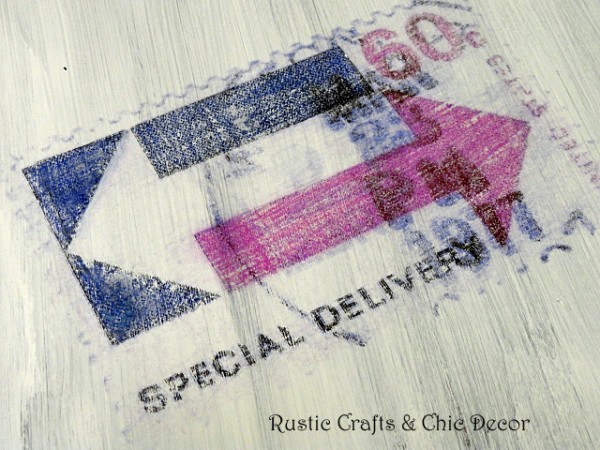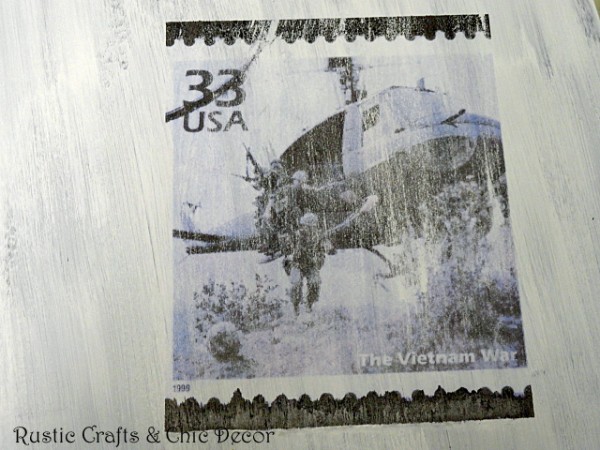 You can see that using this method, you get a nicely faded and distressed looking image.  You have to make sure to rub your tool in one direction, back and forth, while transferring the image.  Otherwise, it will look messy when you are finished.  I goofed up a little with the first image because I was getting too excited to see the result.  I fixed the lines somewhat by smoothing the ink with a paint brush while it was still wet.
The final step, that I did, was to put a coat of oil based urethane over the table top for protection.  I used oil based because I wanted a little bit of the yellowing for a more aged look.  If you don't want white paint to turn yellow, you would want to use a water based urethane or varnish.
And…………..here is the finished table in all it's glory: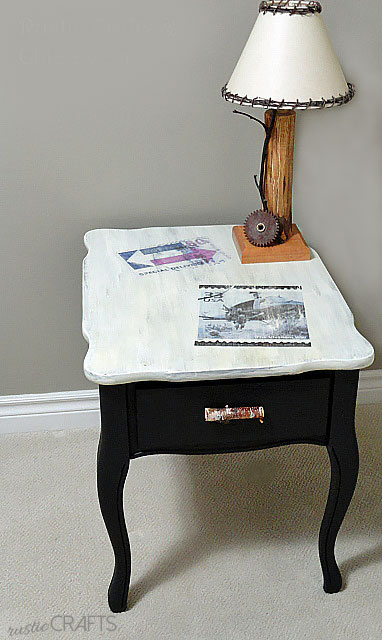 And here are the before and after pictures side by side: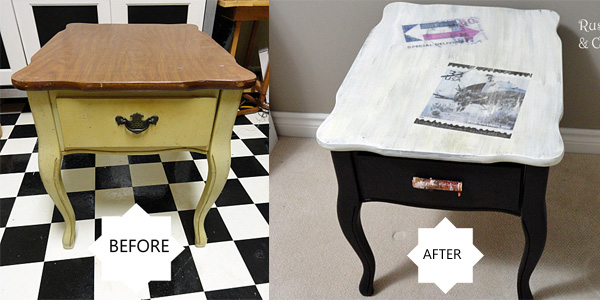 And, one more close up just for kicks: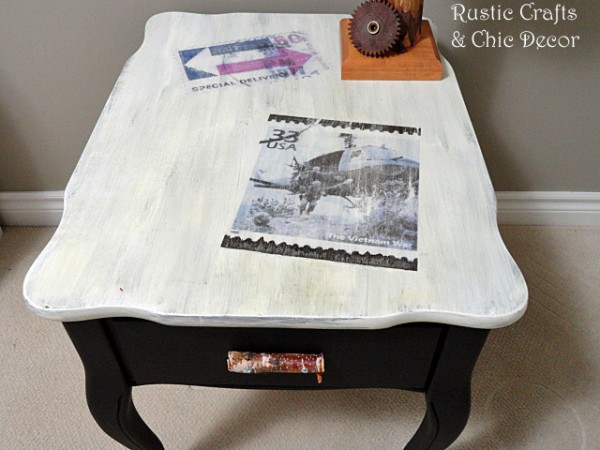 Happy Decorating!