Welcome to the first link party of the new year…and it's up just a wee bit late for you early birds!  Let's just say yesterday was….. eventful.  Between recovering from the flu, crashing my website, the furnace breaking and driving my son around because he crashed his truck this week (he is totally fine…truck not so good), I was a little bit distracted.  However, I am sitting by a cozy fire now, sipping my coffee and contemplating what the furnace guy will have to say when he check's things out.
Anyway, I hope you have had a great start to your new year with a renewed ambition to accomplish all of your craft and decorating projects.  If so, I would love to have you share what you've been working on here.  It's always such an inspiration for everyone to see the unique ideas that you all have to offer.
Before we get started, let's take a look at the featured project from the year end link party: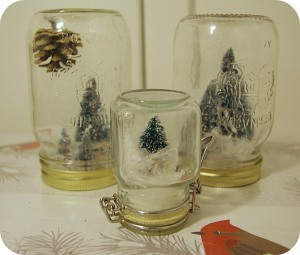 These Anthropologie inspired snow globes by Ugly Duckling Transformations were a big hit with viewers and I can see why.  They make such a pretty display and what a great way to use up some of your old mason jars as well!
Now let's see what you have been working on.  There are just a few simple rules to follow and then you can link up as many projects as you wish.
1.  Link up the URL of the actual project post and not the homepage of your blog.  We want to be directed right to your project.
2.  Link back to this site by grabbing my button from the side bar or by simply placing a text link at the bottom of your project post.
3.  Visit at least two links from the party and leave a nice comment.
4.  Check back often as this link party stays open for an entire week!
That's it!  Go ahead and start linking!
02/04/17 Update: The links from this party are closed.