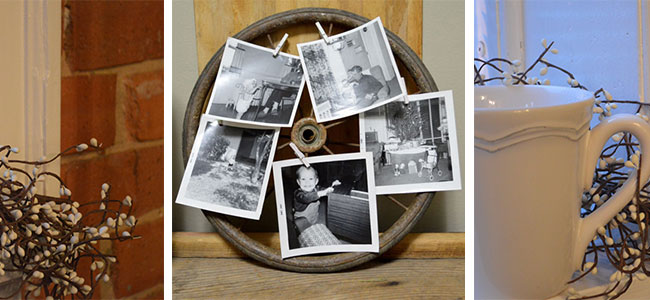 Recycled & Rustic Crafts-Ten Best Bird Feeder Craft Projects
It is fun to feed the birds any time of year.  However, it can get expensive to purchase enough feeders to attract a nice variety of birds.
This led me to search for some of the best bird feeder crafts around and I was happy to find quite a nice variety.   My goal was to find inexpensive yet attractive feeders for the yard.  Many of the feeders I found use recycled material which is about the cheapest way to go.
1.  This recycled jug bird feeder is one of my favorites.  Not only does it use a recycled jug but it also is very rustic in design with the pine bark roof.   The tutorial by Heidi Borchers of FaveCrafts is easy to follow and understand, making it possible for anyone to create this wonderful design.
I think you will like the variety of bird feeder tutorials that I found.  The styles are all rustic or whimsical and fairly simply to complete.  Any one of these will make a great addition to your yard or garden.  Most of these are recycled crafts too, making them inexpensive to make.
Let me know your favorite by leaving a comment!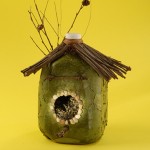 2.   Here is another great example of rustic and recycled!  This super cute bird feeder by Mother Nature Network is another easy to do craft with a fantastic look.  The stones around the opening and the twig roof really make this bird feeder a great rustic design.  It's also easy to refill the seed through the top opening.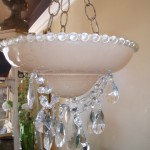 3.   For the elegant back yard, this next feeder is perfect.  Deanna from AlchemyFineLiving.com repurposed old light parts to create this beautiful chandelier bird feeder.  It shows that you can use just about anything to feed our feathered friends.  This is definitely a fine dining atmosphere for the sophisticated bird.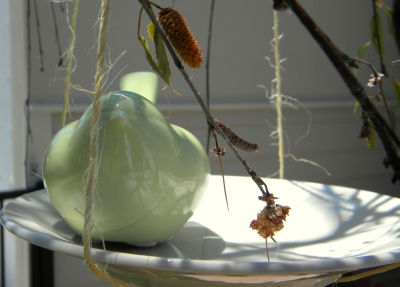 4.  This bird feeder only looks expensive!  To make this craft you simply need to do some shopping at a dollar store.  Rhonda from Dollar Store Crafts created this feeder for just a few dollars.  I particularly like the ceramic bird, sitting on top of the plate, ready to greet his feathered friends.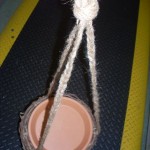 5.  I had to pick this one because of its simple rustic design.  I can picture it hanging from a tree, almost blending into the background.  This subtle design is made from a grapevine wreath, a clay pot saucer, and some jute.  The craft tutorial was put together by Vicki Odell of  FaveCrafts.  Simply fill the saucer with seed and watch the birds come flocking in.  It could also be filled with water for a bird bath.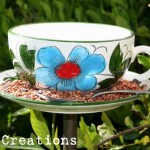 6.   This up-cycled tea cup bird feeder is so whimsical and fun.  It certainly gives a cup and saucer a great new use.  This craft tutorial by CapCreations.com is fairly easy to do and will definitely add a bright spot to your yard.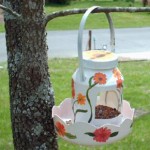 7.  Who would have known that this happy feeder was once a McDonald's happy meal bucket and a mayonnaise jar?         Thrifty Fun put together this tutorial which is sure to spur on even more ideas for containers that can be recycled into feeders.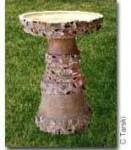 8.  I have seen many bird feeders made from clay pots but I especially like this one.  It could easily be used for either a feeder or bird bath.  The tutorial from rosebud's blog looks easy to do.  There are many different ways to decorate pots as well with paint, stones, sea shells or branches.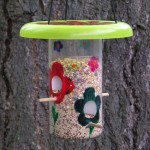 9.  Turn a frisbee and a jar into a colorful feeder in just a few easy steps.  Instructables shows just how to do it.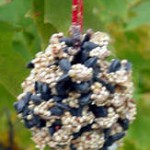 10.  Finally, I had to include a quick and easy pine cone feeder.  See the tutorial by Kaboose for the instructions and ingredients.  This is a great craft for kids and can be used with bagels and paper tubes as additional ideas.  Just coat the object with the butter mixture and seeds, hang from a tree and enjoy all of the bird traffic to come.