Have you ever wanted to added a little texture or just a little something different to one of the walls in a room in your house?  Why not decorate with boards?  You could either do a whole wall or just a partial space for a fun accent.  I found some examples to inspire you and get you thinking about your own space.
This first example shows what we did with one entire wall in our basement game room.  Lucky for us, we knew someone who was tearing down an old barn.  All we had to do was tear down the barn wood pieces that we wanted and haul them home.  We then cleaned them and cut them to size.  It was then just a matter of nailing them in place to the drywall.  We trimmed out the top and bottom of the wall with long pieces of barn wood for a finished look.  The best part about this project was that it was totally free!
Barn wood is naturally rustic so it complements a rustic decor very nicely.  You could even do just part of a wall if you have a smaller supply of wood.
I love this next example which is a great accent to do behind a piece of furniture.  It could be done with barn wood or any other type of wood slabs.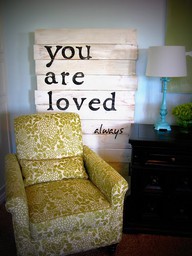 This design, by Corner House Blog, has such an impact, especially with the words in black.  It shows that you can create unique decor with a little imagination.  The boards give just the right amount of texture and pop to the wall.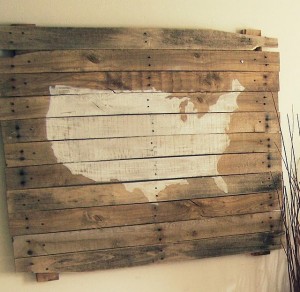 Here is another great example from Kelly Simon Says.  Pallet boards make a wonderful canvas for artwork.  I just love this. Check out her tutorial to see how she put together this great design.
I had to include this next picture as inspiration.  It was done by an artist but it may inspire you to try some painting or stenciling of your own.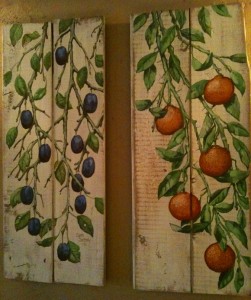 You can see a couple more examples of this artist's work here.  I like how the boards are first distressed painted and then the design carries over onto both wall boards.  If you have a talent for painting, this is a unique canvas to use.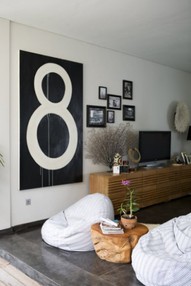 Here is a fun and funky idea by Desire To Inspire.  A large piece of plywood painted black and white makes quite a statement, especially against a white wall.  I would think that the number eight could be outlined with almost any circular objects that you may have – wastebaskets, mixing bowls, hula hoop, etc..depending on the size you want.