A well functioning kitchen can also have tons of warmth and rustic appeal. All you need to do is incorporate some distressed, vintage, or worn accessories. These rustic elements go along way in warming up the more industrial look of appliances or other modern fixtures. Since the kitchen is the heart of the home, a modern rustic design will help to make the space more inviting. Check out all of the easy ideas for getting the look.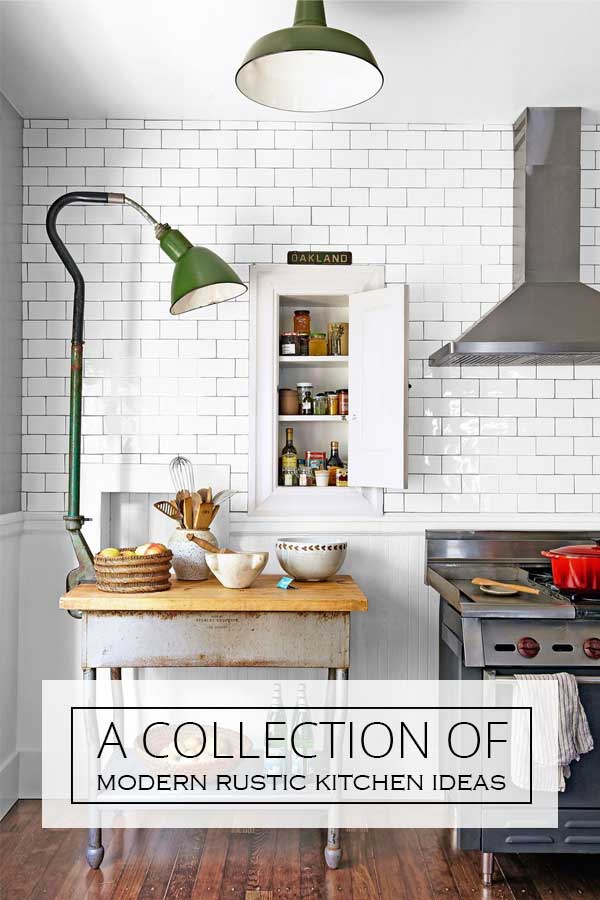 This post contains recommended product links. If you make a purchase through one of the links, I will earn a small commission.
Open Shelving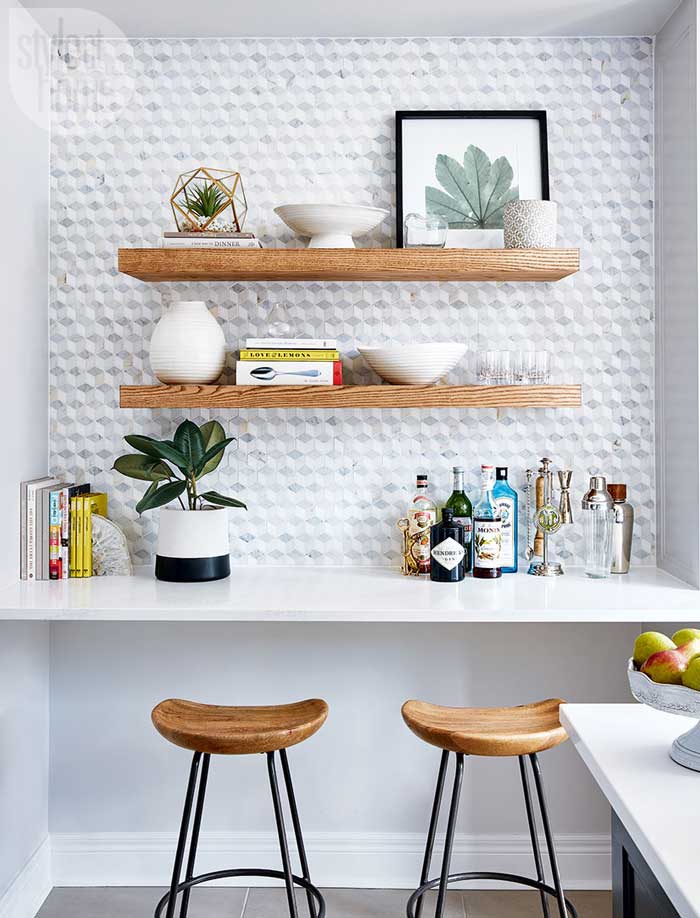 As long as you style open shelving in an organized and minimalist way, the warm wood adds some easy rustic styling. Not only do the shelves warm up a wall but they also provide extra storage which is always welcome. For a cohesive look, store like colored items, like bowls or vases, together on a shelf.
High End Appliances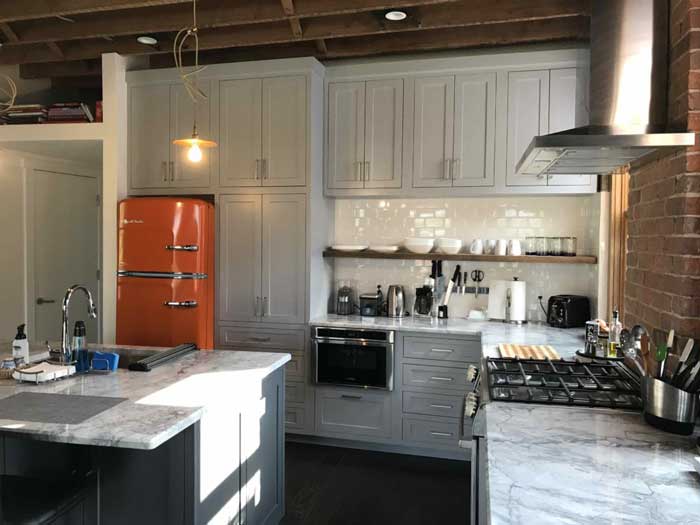 When you already have a lot of rustic elements in a kitchen, adding some high end appliances will work to dress up the space. Sleek stainless steel with all of the bells and whistles create a high end feel. A touch of retro will also fit in nicely. The refrigerator still looks classy but adds some nostalgic appeal to the kitchen.
Artsy And Eclectic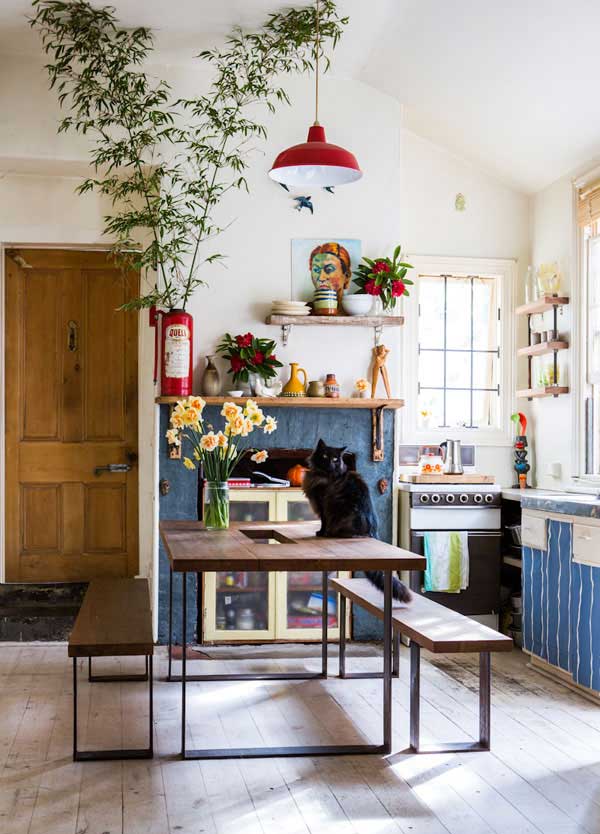 There is nothing like art pieces to give a space a modern edge. You can see how the artful decor in this kitchen really dresses up the distressed wood floor and other rustic pieces. The combination is so cheerful and welcoming.
Black And White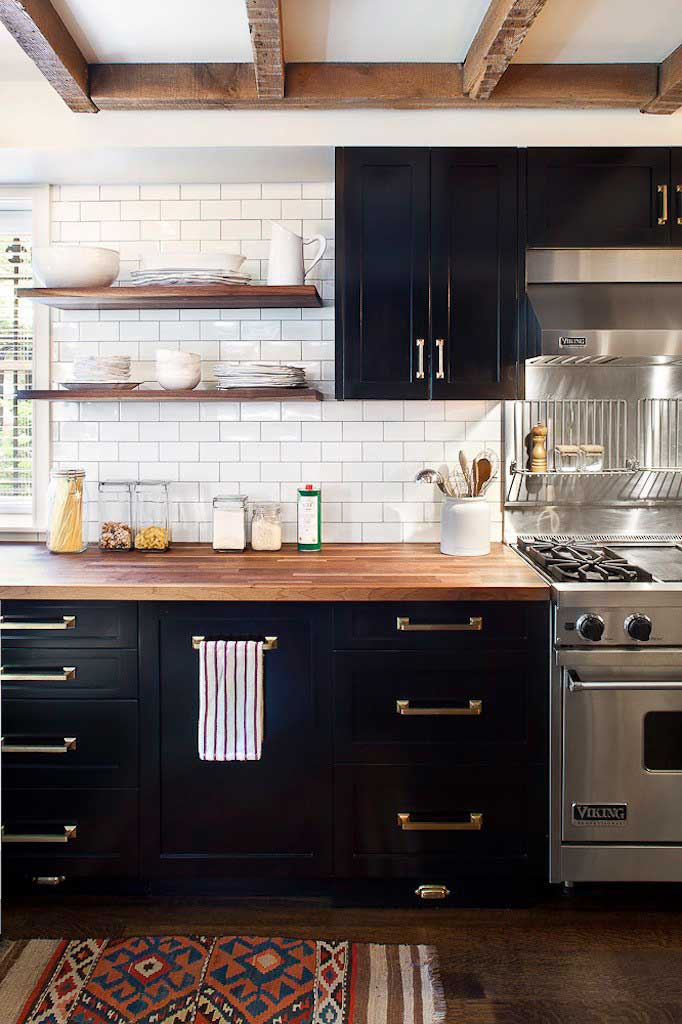 A black and white kitchen is a sophisticated look. When it is paired with a butcher block counter and wood floors, the kitchen is also warm and inviting. This modern rustic kitchen is especially elegant with the brass cabinet handles on the black cabinets.
White But Rustic Kitchen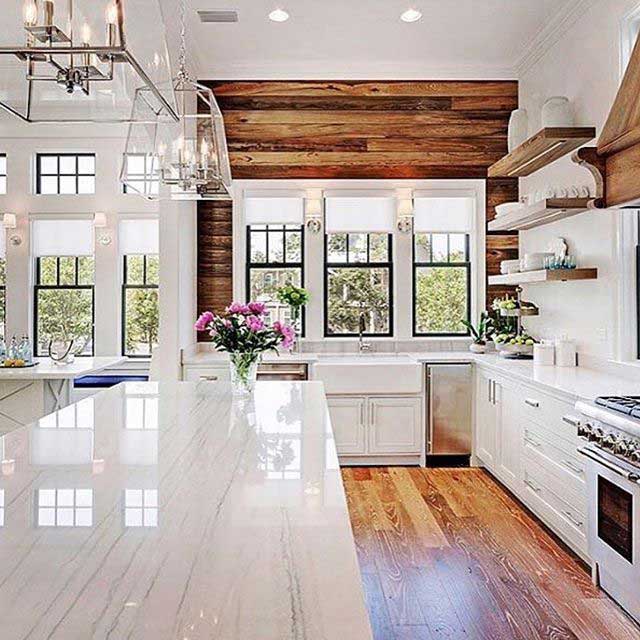 A bright white kitchen is both simple and clean. To keep the kitchen from looking too sterile, the added wood accents dirty it up a bit – in a good way! Who wouldn't feel right at home in this spacious but comfortable rustic kitchen?
Creative Kitchen Lighting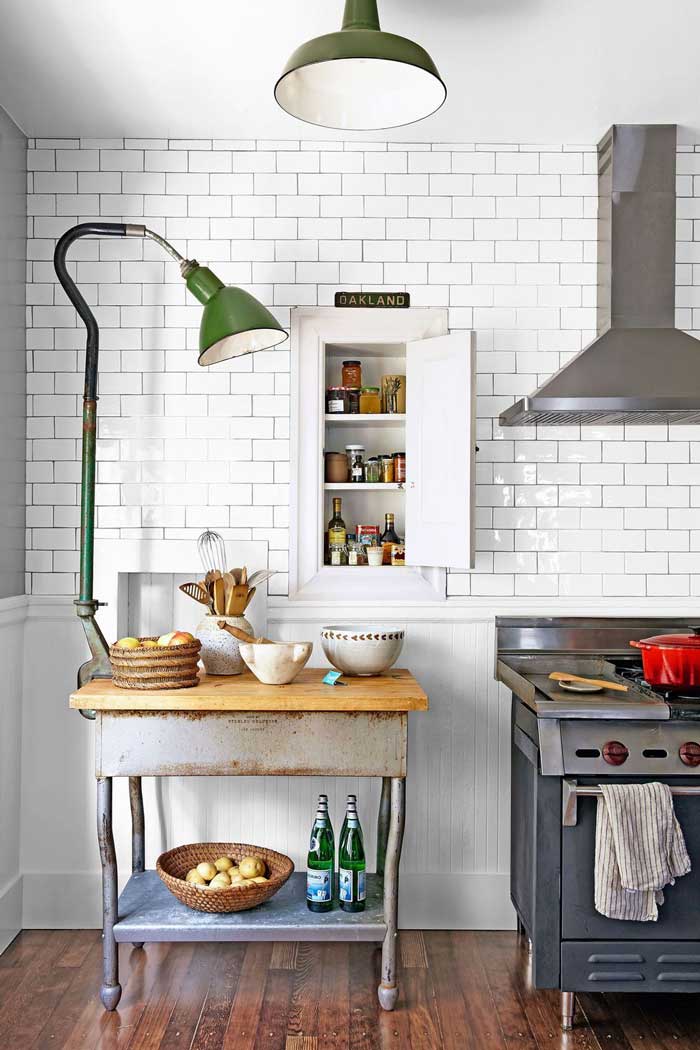 Think outside the box when it comes to kitchen lighting. An industrial clamp on light is a unique and artsy way to highlight a work area. When other elements in a kitchen are sleek and modern, some industrial vintage accessories really make a pop.
Dramatic Gray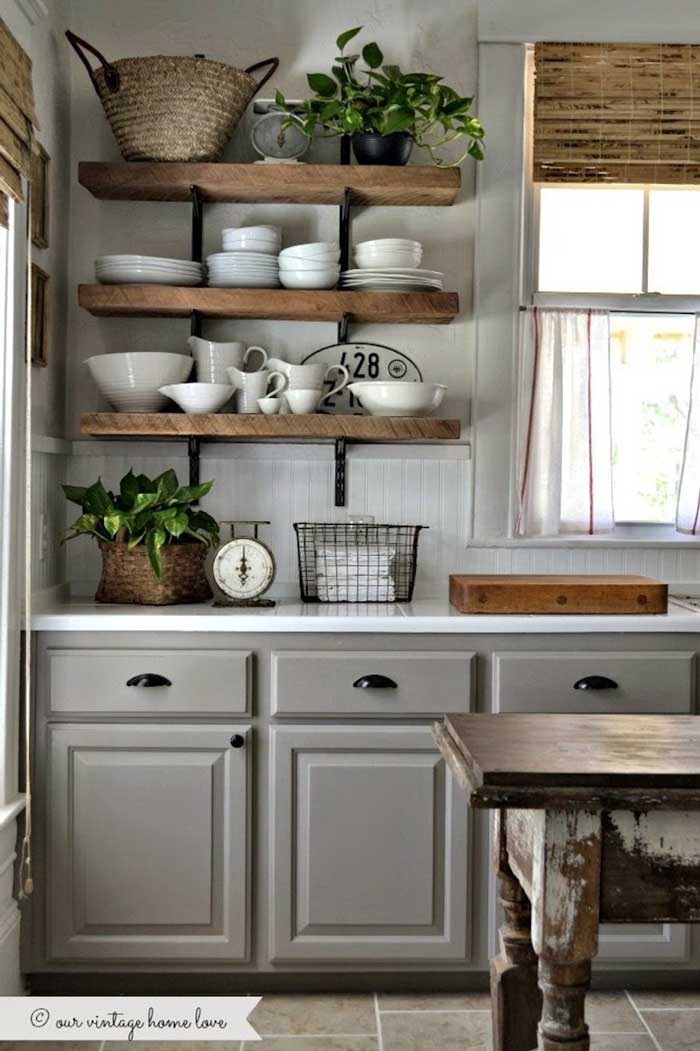 Add a little drama by incorporating some elegant and classic gray into your kitchen. Gray kitchen cabinets are a popular way to update a rustic kitchen. Use black or brass cabinet pulls to dress up the look even further.
Modern Finishes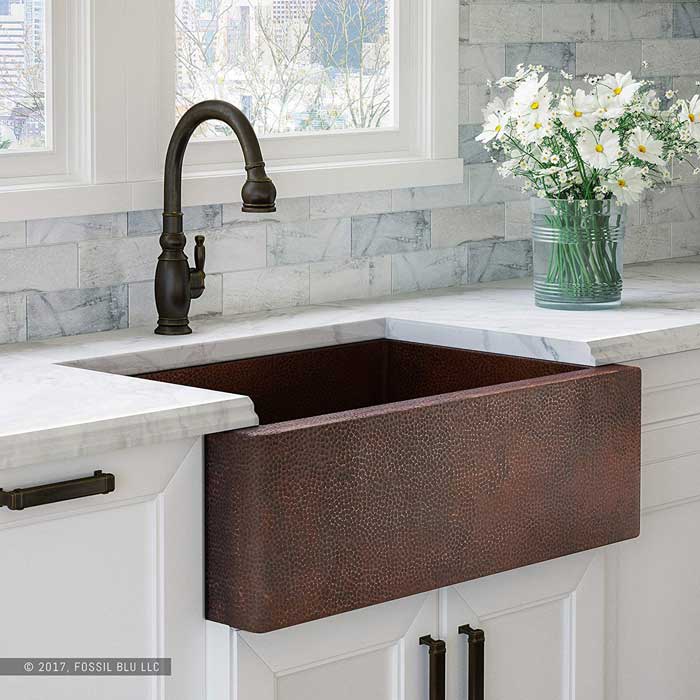 The kitchen finishes that you use have a lot of impact on the overall design. Instead of a stainless steel sink opt for copper for an elegant modern rustic look. Marble is another finish that adds sophistication. Use it on countertops and back splashes for the most impact.
Bold Color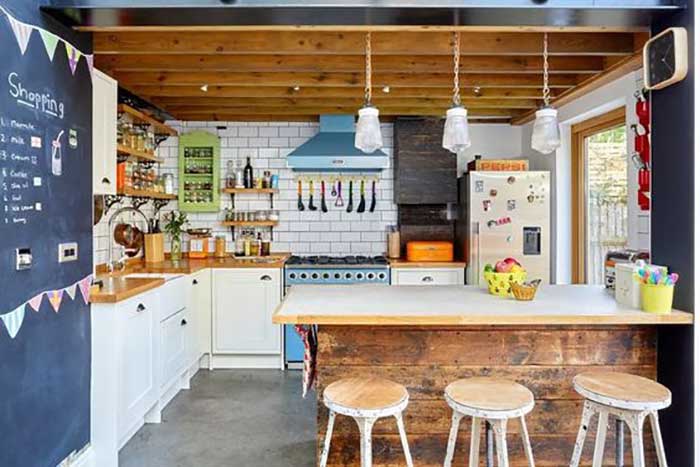 Just like artsy elements add a modern feel to a rustic kitchen, pops of color work in the same way. So, instead of choosing a traditional neutral appliance, go bold with a fun color. You can also easily add small pops of color with small appliances and countertop accents.
SHOP COLORFUL SMALL APPLIANCES
Chalkboard Wall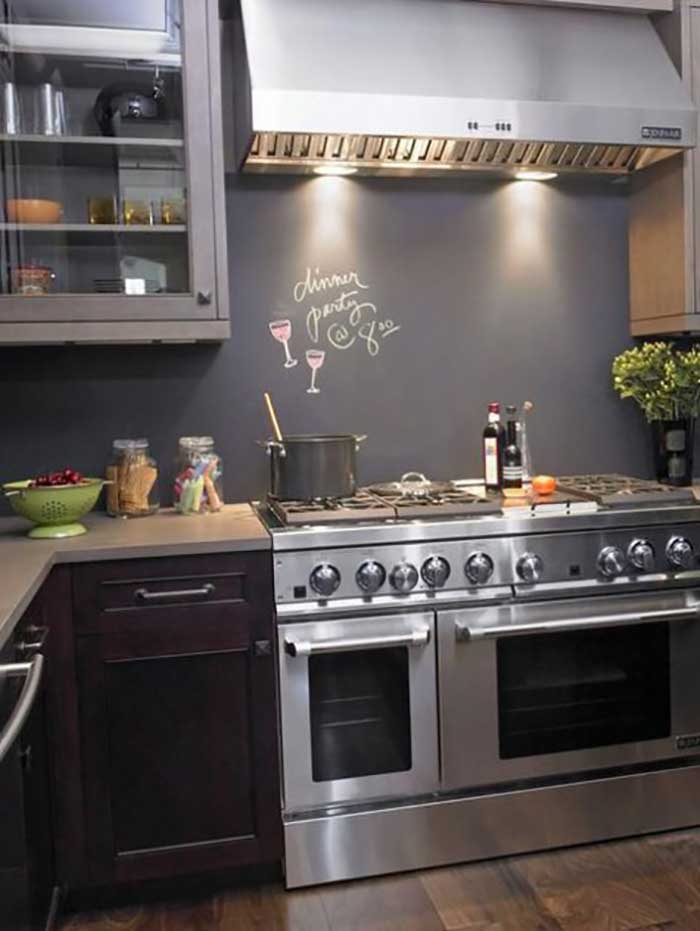 A chalkboard wall isn't just for farmhouse kitchens. If you need a touch of fun drama, try a chalkboard wall in a modern rustic kitchen as well. Whether you do a full wall or just a partial wall, the impact will be dramatic.
Corrugated Metal Ceiling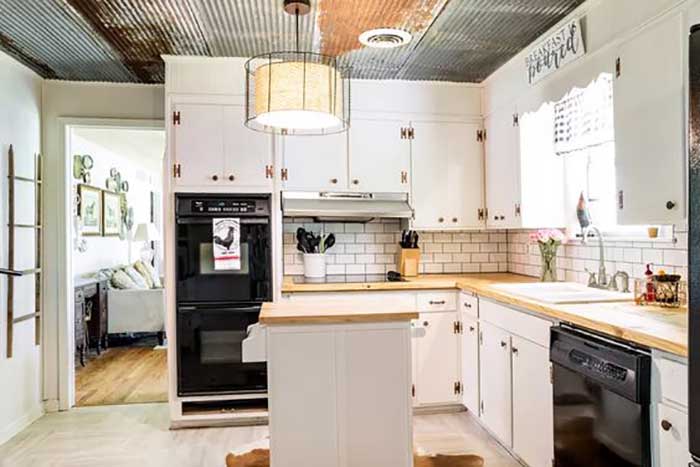 Incorporating some industrial touches is a good way to add a bit of modern flair to a rustic kitchen. A fun way to do this is with corrugated metal on the ceiling. Even better yet is to use aged metal for a fantastic patina that will be sure to be noticed.
Brick Flooring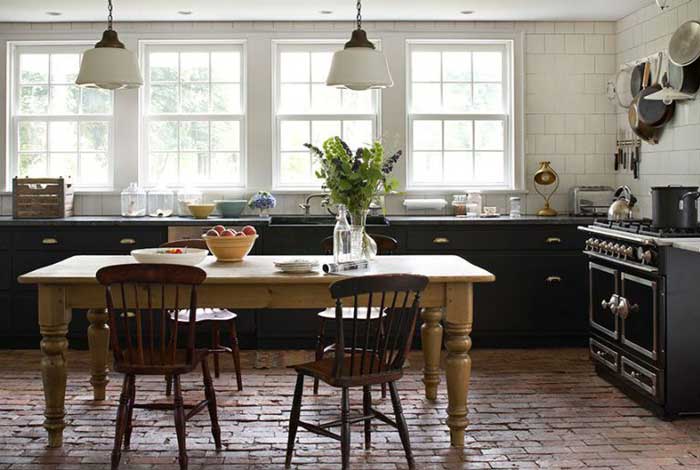 When you have a lot of modern elements, you can always warm up the kitchen with brick flooring. This is a unique idea that adds a ton of character. The bricks, or thin bricks, should be just as durable as tile once they are set.