It may be easy to visualize rustic decor but, what about modern rustic decor? Think about everything that you know about rustic decorating and then combine it with more contemporary pieces. Just like shabby chic combines rustic and soft feminine accents, modern rustic also combines rustic and chic but is a little more polished and simplistic. You will typically see a modern rustic style in more of a city setting although it can be done anywhere.
Inspiration For Decorating Modern Rustic
The following examples show this twist on rustic decorating. Just because your space may be more contemporary or industrial doesn't mean that you can't warm it up with some rustic accents. In fact, this combination is a great way to warm up a space that may otherwise be too cold or uninviting.
And, if you have a rustic space, you can easily lighten it up by adding in some fresh modern pieces. Either way, there is a lot that you can do with this style. The following examples are meant to provide a little inspiration.
Downtown City Loft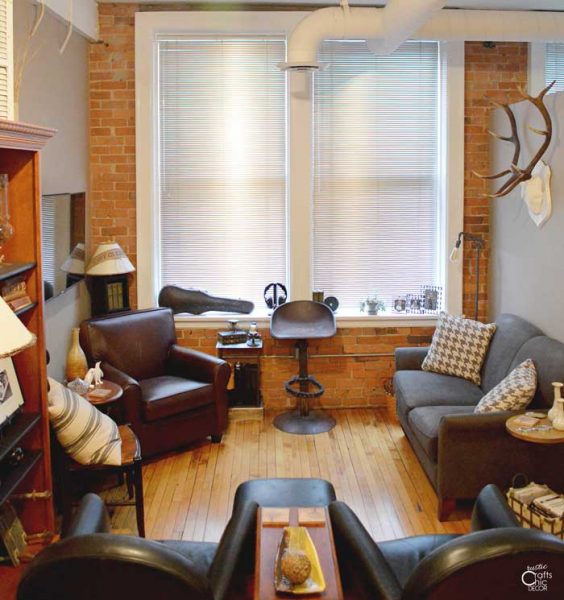 A downtown loft, that has been converted from an old factory building, is a good example of modern rustic. To begin with, the combination of cool exposed metal duct work with warm brick walls is a great recipe for modern rustic decor. Plus, extra high ceilings and large windows work to lighten a space while the distressed wood floors keep it cozy. Furnishing materials also play a role in this style. This salvaged metal stool contrasts but also works with the sleek leather chairs.
Of course, there are other ways to blend the two styles together with fabric. Use contemporary velvet pillows to add a touch of modern to a rustic space. Or add metallics like copper or gold to dress up a rustic room.
Modern Rustic Manhattan Dining Area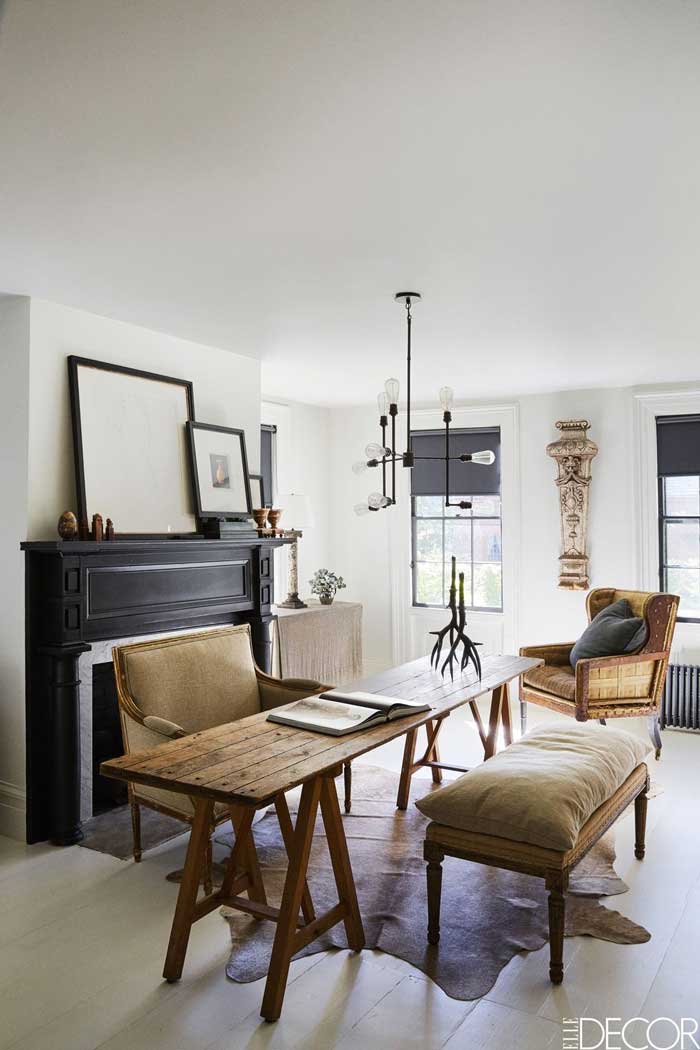 Clean white walls and formal chairs are warmed up significantly with a rustic trestle table. The rustic accessories, like the antler candlesticks and the animal hide rug, also play a part in adding comfort to the room. Finally, a fun industrial light fixture is both contemporary and rustic.
Get the look: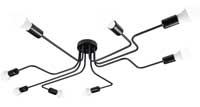 A Sitting Room With Modern Rustic Decor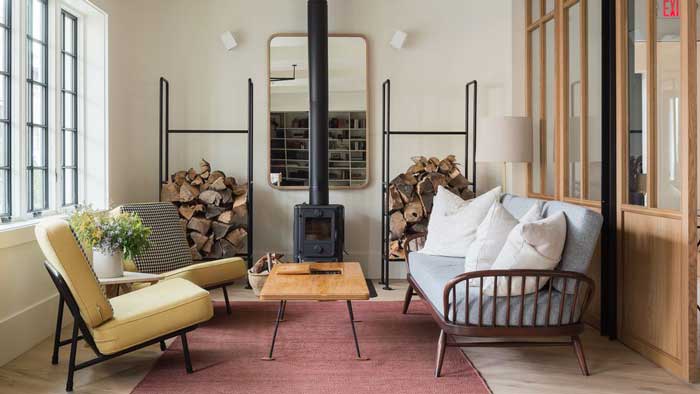 This otherwise contemporary sitting room space is warmed up with the stacks of natural logs and the wood burning stove. Any time that you add natural earthy materials to a space, you automatically create an inviting atmosphere.
Contemporary Rustic Living Room

This living room is quite contemporary. However, what makes it less stark is the rustic wood around the shelving unit. It sets off all of the pottery on the shelves nicely. Also, barely in the picture is a very rustic wood end table that contrasts the room in such a warm way. The large wicker basket also lends a spot of warmth to this space.
Simple Color Scheme Combines Modern And Rustic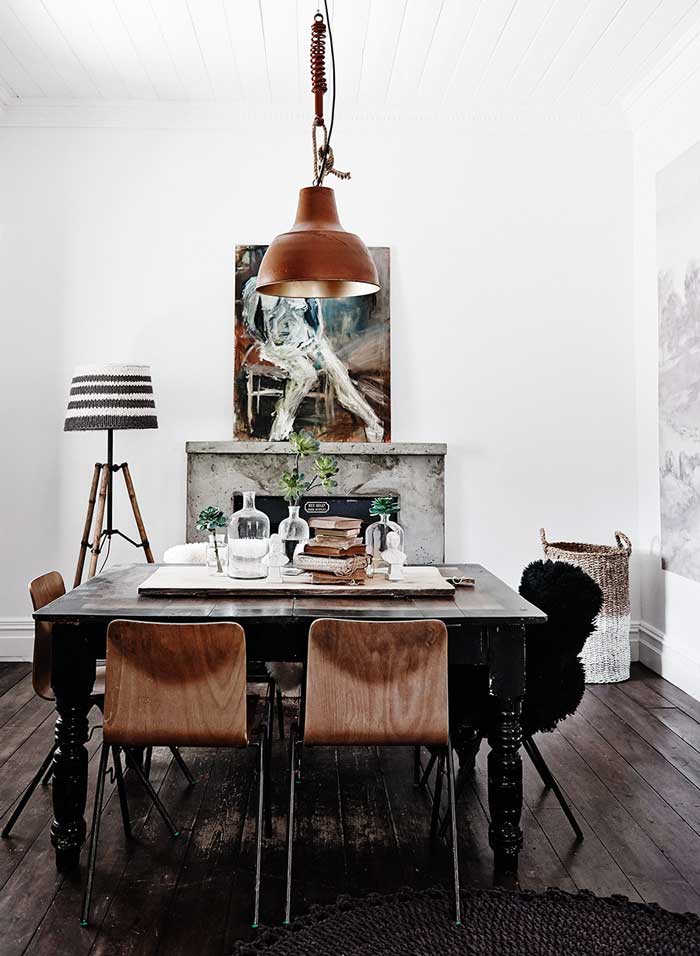 A simple color scheme is what works to unite two styles here. Everything blends together so well in this dining room. It's hard to tell where the modern stops and the rustic starts.
Think Natural For Warming Up Modern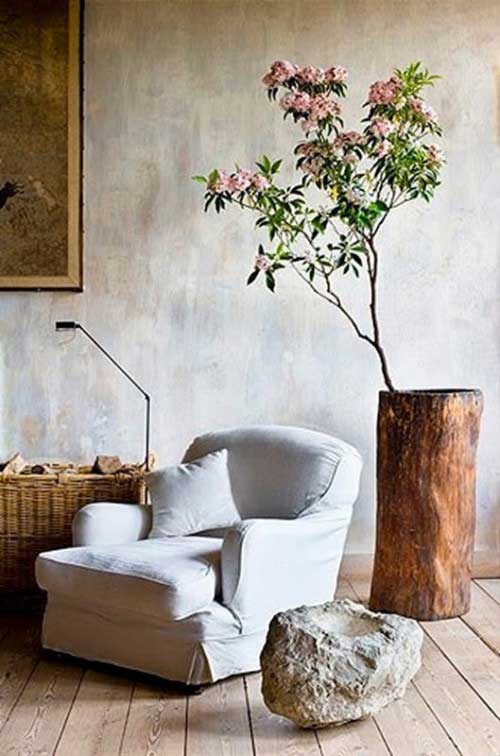 When it comes to adding warmth to a contemporary space, just think nature. Rocks and trees can still look very artsy and modern but offer a less serious look to the space. Here a tree stump acts as a vase but you can also simply add tree stumps as tables or stools.
Modern Rustic Decor In A Bedroom

We can't forget about bedroom spaces. If your furniture is modern, add some rustic or vintage pieces to add a little character. An old ladder not only adds some character but it can also provide a perfect spot for shoe storage.
Use Antlers In Any Modern Space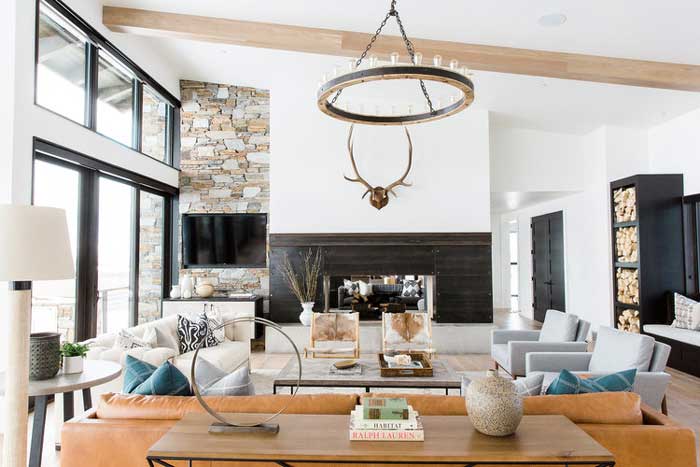 One of my favorite rustic decor accents is antlers. They are not just for ultra rustic spaces either. Decorating with antlers can be done in any home style. This modern living room is warmed up with the antlers on the wall. Plus, the stacked wood in the shelves and the stone wall warm the space further.
A Modern Rustic Cabin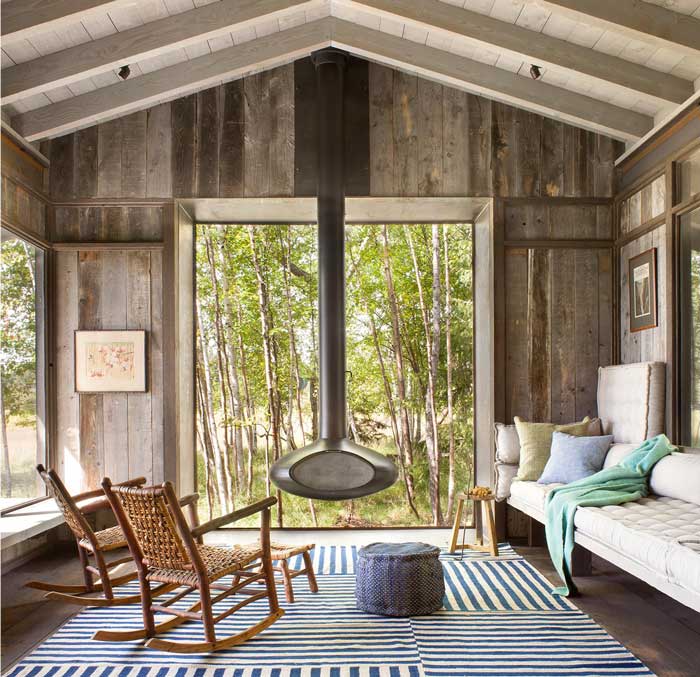 With all of the rustic wood in this cabin, the modern fireplace really adds some class. The fireplace along with the white contemporary sofa bench are what makes this space totally modern rustic.
Salvaged wood plank walls are a popular rustic accent that can be added to any modern space to give it warmth. Whether you do a full wall, an entire room, or just a small accent, the wood gives inviting character.
Have Fun With Color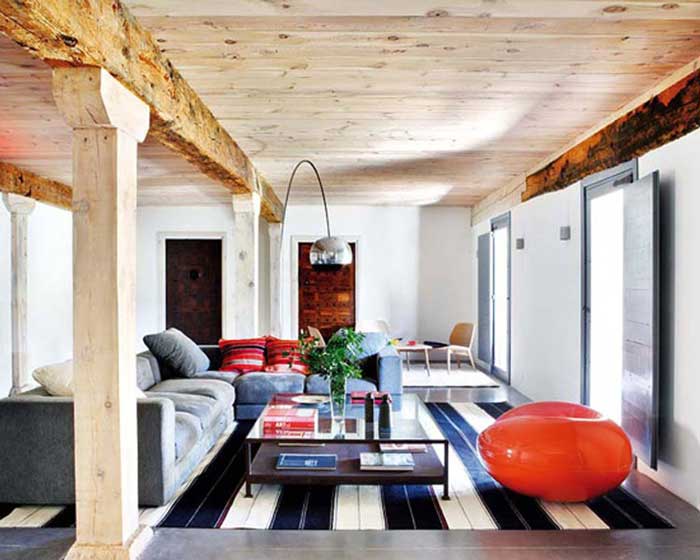 Unlike shabby chic style which uses a lot of neutral colors, modern rustic goes all out at times. The colorful accents are part of what makes this space modern. However, because of the rustic wood beams and other wood accents the space has a little more comfort.
If you are looking for ways to add color to your space, think throw pillows and area rugs. You can change the look of a space a lot by your choice of area rugs. Colorful geometrics or high contrast patterns will add a fun contemporary look.
A Bathroom In A Rustic Modern Style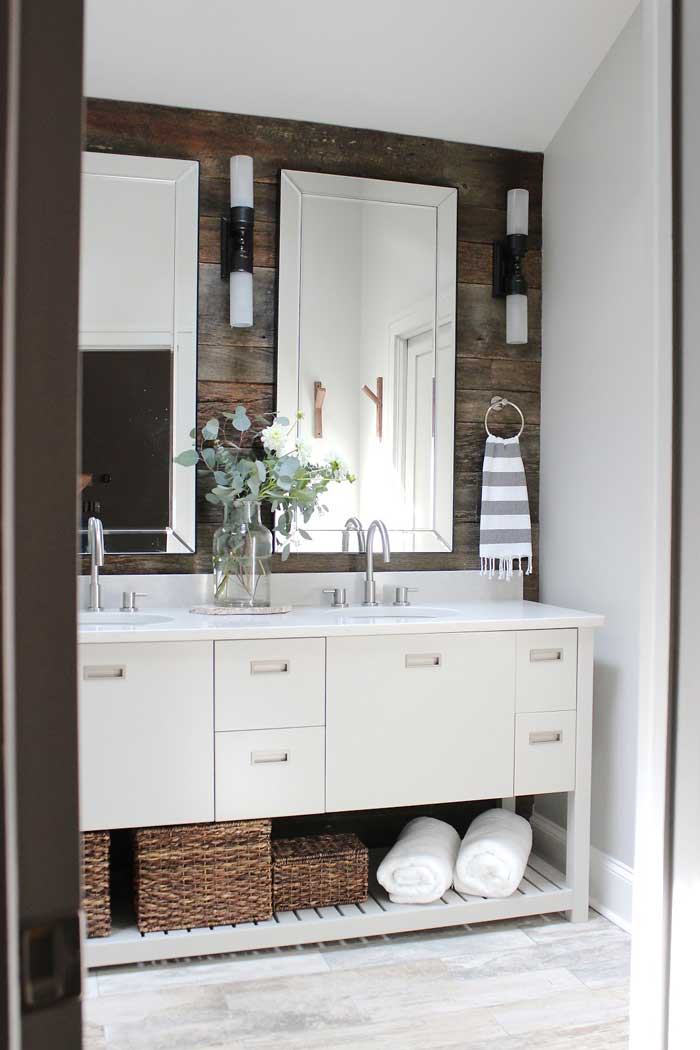 This spa like bathroom is the essence of modern rustic. The bright white vanity is very contemporary and clean. However, the look is not sterile with the added rustic touches. A wood plank wall and textured baskets really warm up this bathroom.
The Same Bathroom Idea In Reverse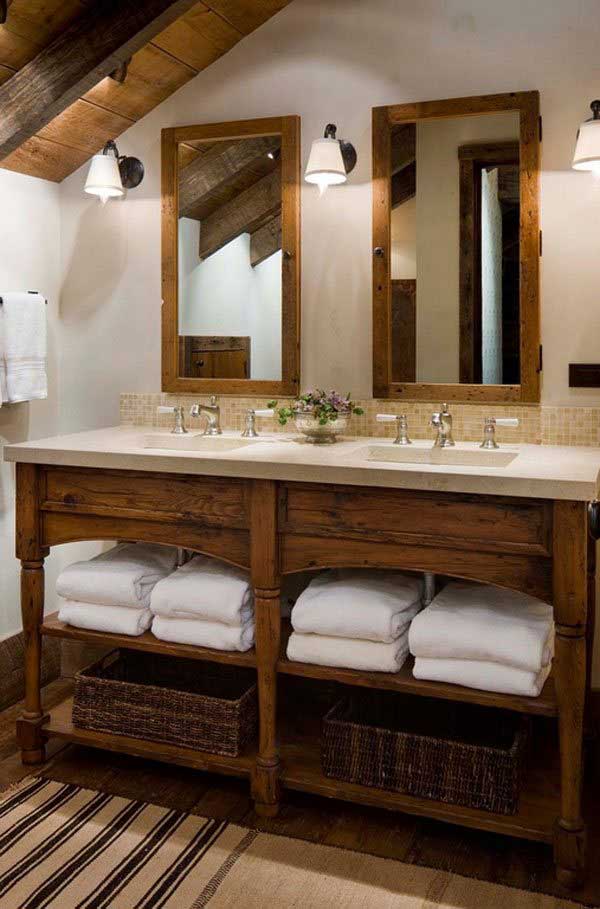 Here is a bathroom design that is basically the reverse of the previous one. However, this is also modern rustic. Instead of a white vanity, this bathroom has a warm and rustic wood vanity. To lighten things up a bit, there is a contemporary marble counter top. Besides the counter, the white towels and white walls really brighten up the space.
Modern Rustic Decor Checklist
There are basic things that you can add to either a rustic or modern space to give you that warm and fresh look. First, I will go over what to add to a contemporary space and then I will do the same for a rustic space.
Things To Add To A Modern Space For Rustic Modern Decor
rustic wood accents – Things like wood beams, wood plank walls, ceiling or floor, and distressed wood furniture all work to warm up a space.
vintage accessories – Use old books, antique lamps, ladders, or old bottles to add character and warmth.
a sliding barn door – You tend to see sliding barn doors in a lot of rustic spaces. However, think about adding one to a modern space for a welcoming look.
antlers – Whether you display antlers on a wall or on a table, the look is sure to add comfort.
natural items – Don't forget about easy things like sticks and stones or tree stumps, plants, and rocks.
rustic metal – While shiny metallics are great for modern accessorizing, rusty or industrial metals are perfect for adding a rustic accent.
What To Add To A Rustic Space For Rustic Modern Decor
colorful accents – Rugs, throw pillows, colorful pottery, and wall art all work to brighten up a rustic space.
modern fixtures – Light fixtures, metal accents, and modern appliances add a cool clean chicness to a space.
contemporary furnishings – Add a couple of pieces of modern furniture to dress up a room that is rustic.
white walls – White walls or cabinets will do a lot to lighten and brighten a dark rustic room.
geometric patterns – Fun contemporary patterns will give a playful edge to a warm space.