With Valentine's day just around the corner, you may be thinking about ways to add some romance to your decor. An easy way to do that is with some festive heart garland. Although I still love to go rustic with Valentine decor, sometimes a little chic is appropriate for the holiday. All of these garland ideas are quick and easy to put together and are guaranteed to add some chic romance.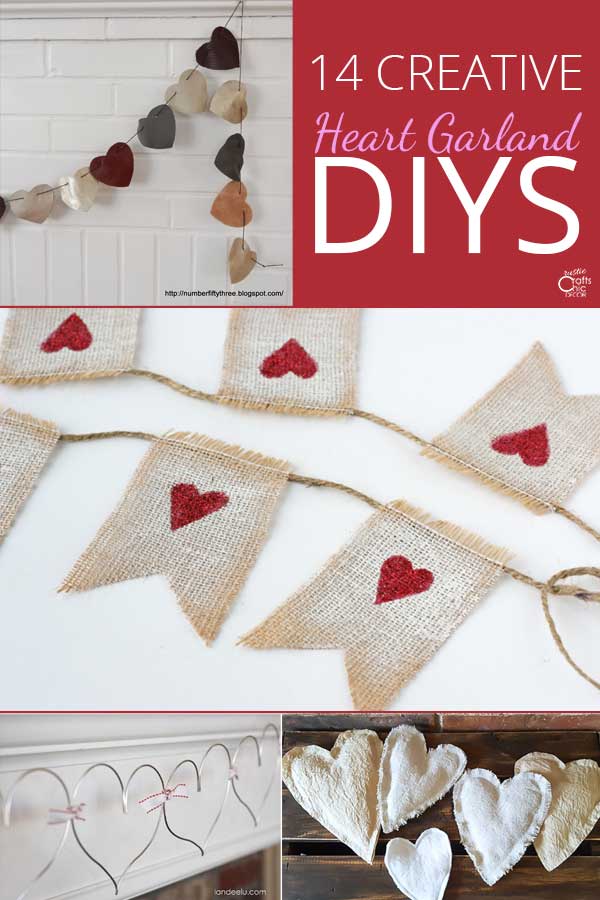 The nice thing about garlands is that they are easy to drape across a mantel or a shelf. I also like to decorate an old window with festive garland.
No matter what you have available in your house for garland materials, there are plenty of ideas for creating something fun. I have found tutorials for heart garland using paper, fabric, leather, wire, playing cards, book pages, yarn, and even duct tape! With all of these ideas, one of them is sure to stand out and fit your style.
Rustic Burlap Heart Garland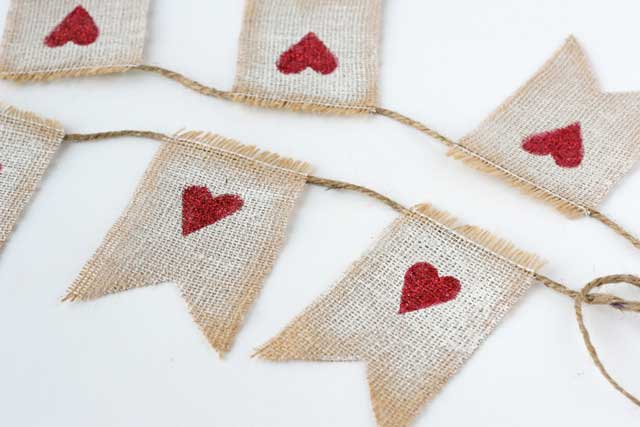 I'll start with a rustic garland that really can be used for any holiday or occasion. What makes it perfect for Valentines Day are the stamped hearts. The burlap base is a versatile material for anything that you want to decorate it with.
Lavendar Filled Heart Bunting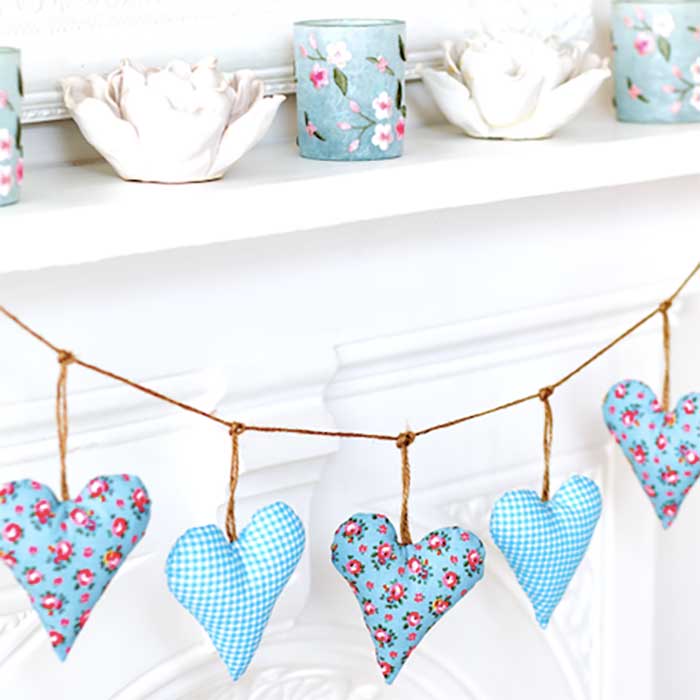 Stuffed fabric hearts strung on twine make a great holiday garland. You don't even have to use red material. Create hearts with any chic material that you have for a soft romantic look. Instead of filling the hearts with pillow stuffing, try using lavendar for a nice scented option. Although this idea is pretty for Valentines Day, it could be used anytime or anywhere you want to add some chic freshness.
Denim Woven Hearts Garland

A slightly more rugged garland can be made by combining denim with another scrap fabric. The idea of weaving two fabrics together is super creative and interesting. If you don't have scrap fabric on hand, this project would be great to use recycled clothes for. Just clean out that closet and start creating!
Suit Of Hearts Card Strand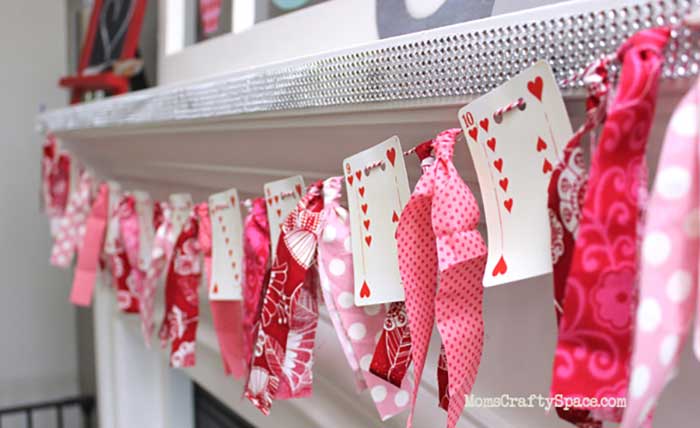 Never throw out a deck of cards just because it may be missing a few cards! At least not when you can make a playful garland using the hearts. Use just the cards are combine them with some fabric strips for a garland perfect for Valentine's Day.
Kraft Paper Heart Garland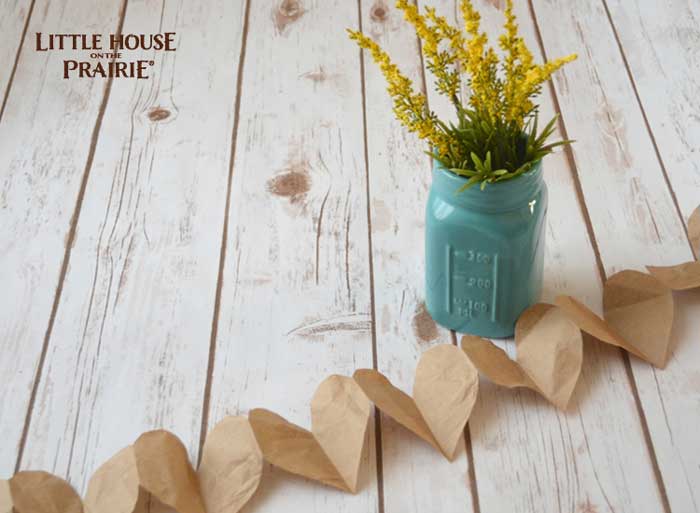 Here is a super easy and fun garland idea that you might have learned in kindergarten. Using old packing paper, Kraft paper, or even a paper bag, create a neutral rustic heart strand. In just a couple of easy steps, you can easily decorate a mantel, shelf, or table.
Farmhouse Fabric Hearts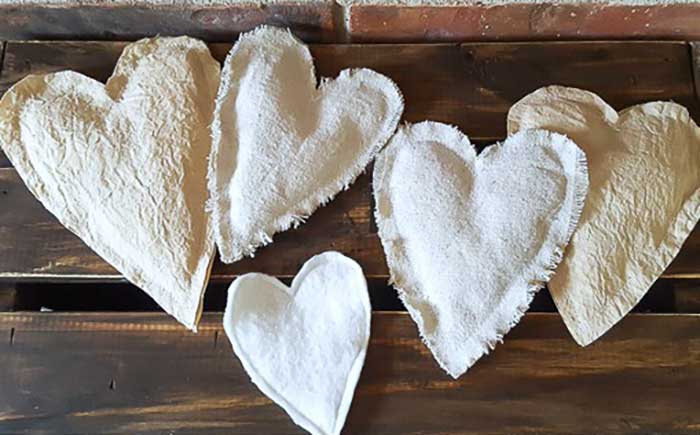 With the farmhouse style being so popular, there are perfect fabric hearts to fit right in. Just use creamy neutral fabrics, in a variety of textures, to create a homey garland for a heartfelt holiday. Vary the sizes of the hearts to for more interest. Then string or clip them to a section of twine using tiny clothespins.
Paper And Bead Heart Garland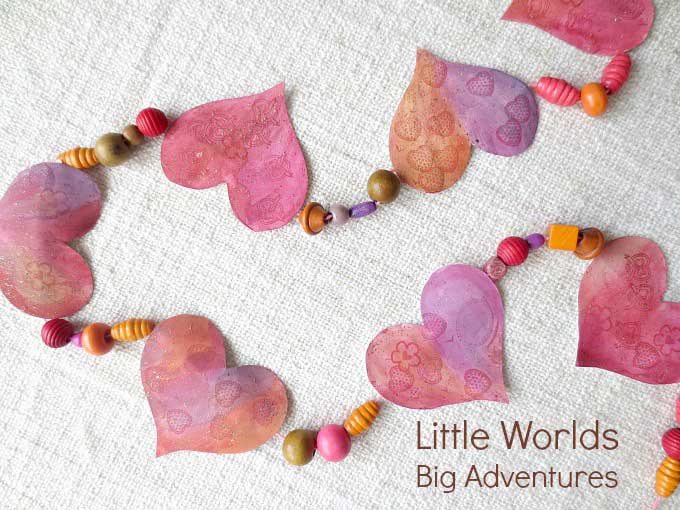 Sturdy paper hearts are easy to make and when you combine the hearts with beads you get an upscaled look. Experiment with different paper patterns and bead colors for a variety of different looks.
Duct Tape Heart Bunting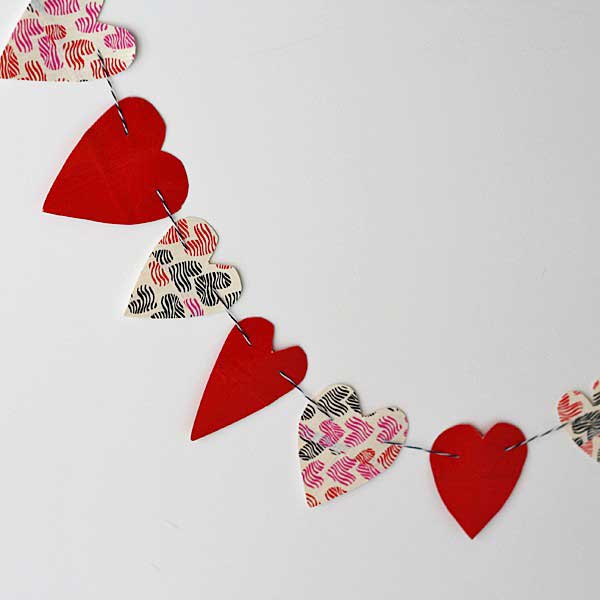 You may have never thought to use a common household supply for pretty heart garland. However, even duct tape can be transformed into something creative and chic. I love when the unexpected is used. It just shows that most anything goes!
Book Page Heart Garland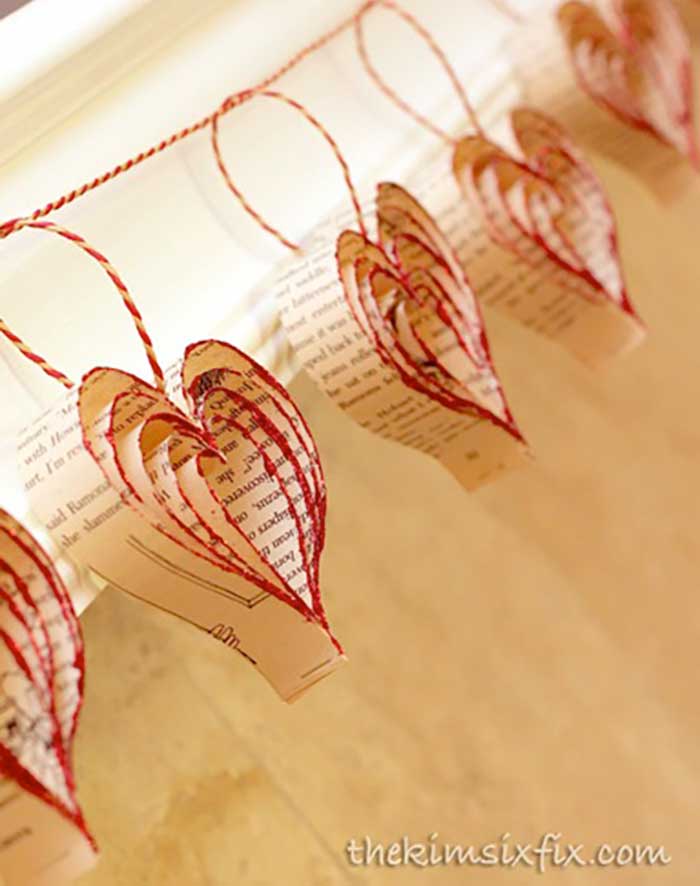 Speaking of the unexpected, book pages are also a fun material to use for making hearts. These particular hearts have a ton of interest with the layered design. To add a touch of color, simply dip the paper edges into some red glitter. This makes them especially festive for Valentines Day.
Mini Origami Garland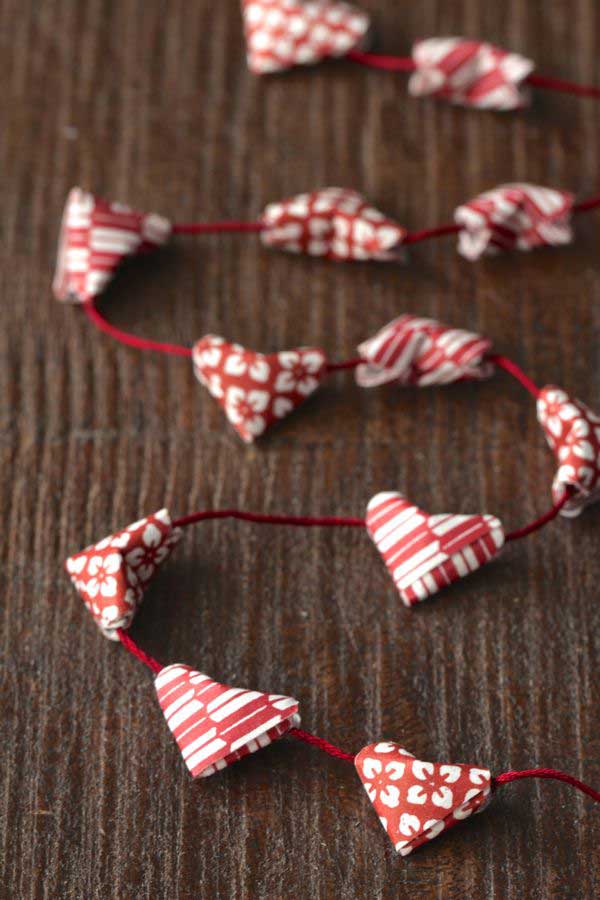 If you enjoy origami, then this fun garland idea is just for you! The actual term for this particular technique is kirigami since the process involves both cutting and folding rather than just folding in origami. This is a perfect way to make mini hearts that can then be strung on yarn or twine.
Leather Heart Bunting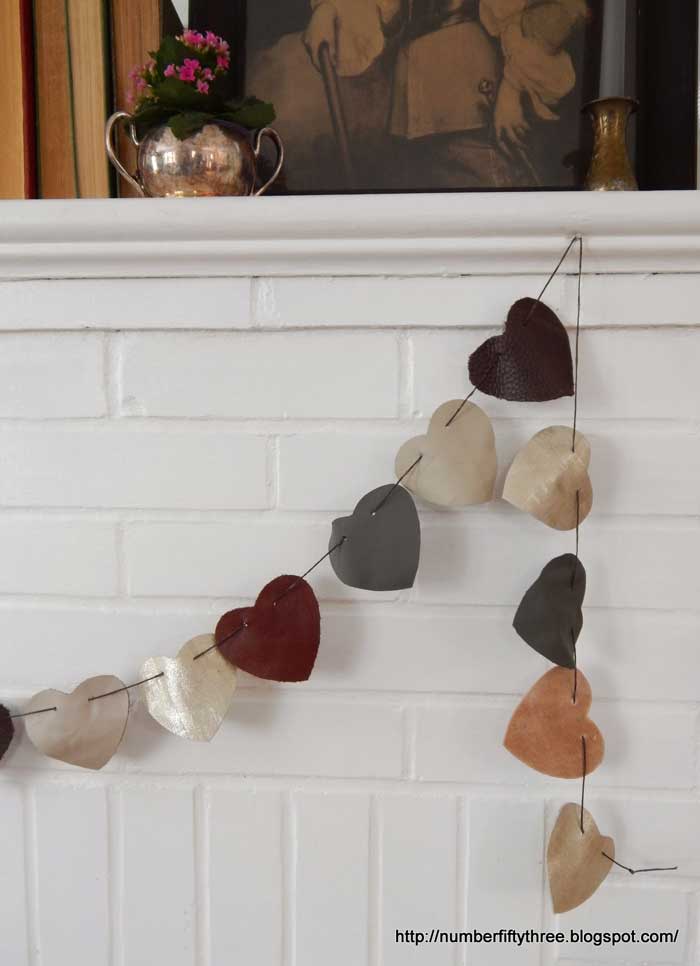 Since leather doesn't fray when cut, it is an easy material to use in making hearts. Leather also gives a bit of a rustic feel allowing it to easily fit in with a rustic decor style. A variety of shades of leather keep this garland interesting.
Yarn Wrapped Strung Hearts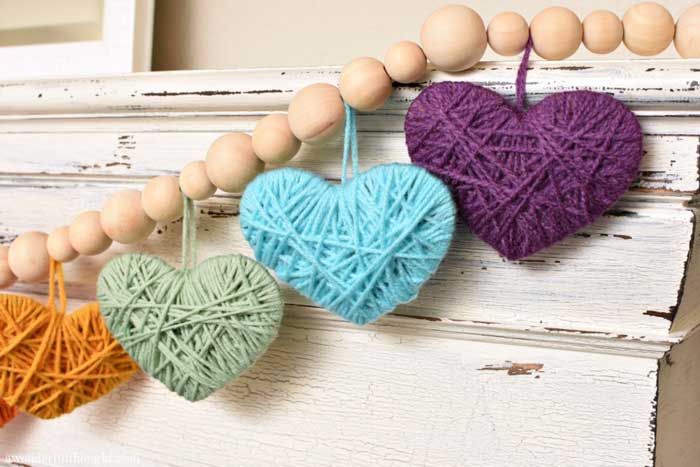 This heart garland is full of textural interest. The smooth wooden beads create a perfect contrast to the hearts wound in yarn. You could also use twine for a more neutral style.
No Sew Heart-Felt Garland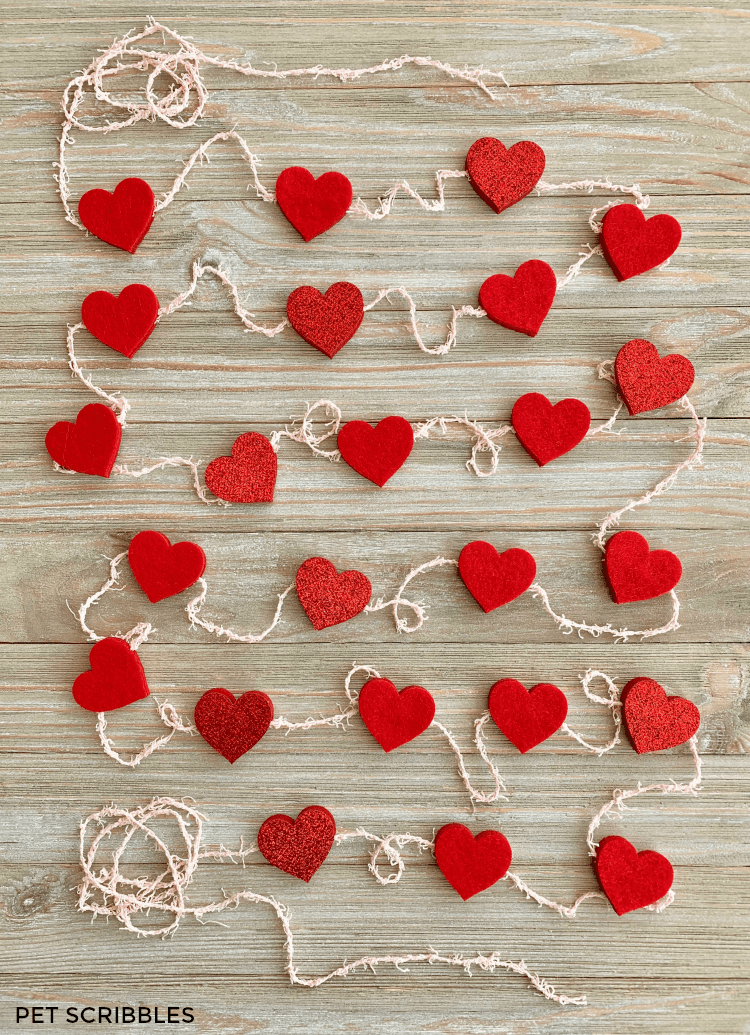 Like leather, felt is another material that doesn't fray when cut. Just stencil your hearts unto your felt and cut away! You can add glitter to some or purchase felt that already is coated with glitter for a fun variation.
Wire Heart Garland DIY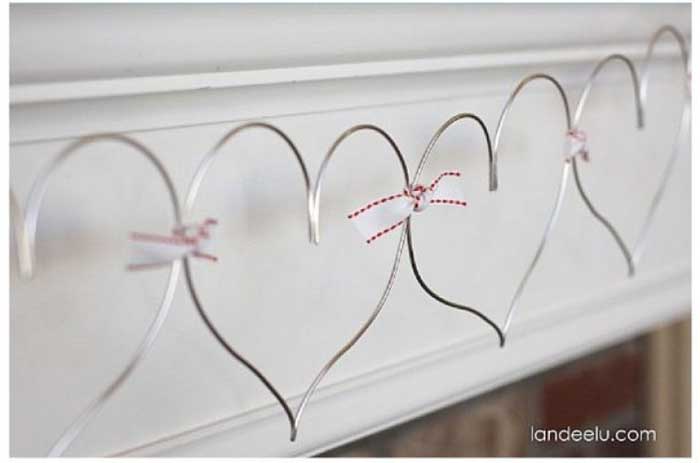 Just when you think you've seen everything that heart garland can be made with, I throw in a shiny alternative! Wire hearts are easy to form and they connect together with just a small section of ribbon. The look is a bit more subtle and works well with a rustic industrial space.