Fall is just around the corner and with that brings about the thought of pumpkin crafts!  I love setting out pumpkins all through the Fall season and I have made several different types using things such as sweaters, books and even birch bark to decorate.

If you just can't get a traditional orange pumpkin to fit into your decor style, there are plenty of other options that are a little less traditional. By using a variety of different materials, you can change up the color, texture and even the shape of your pumpkin.
That is why I put together this collection of unique pumpkin crafts. With all of the unique ideas, you should be able to find one to match your style and your crafting ability. Go ahead and browse this collection to find the perfect pumpkin craft for you!
Pumpkin Crafts
These crafts are all about making a new pumpkin or decorating an old one in a new way. If you already have a collection of pumpkins that you no longer care for the style of, you may just be inspired to make a little change. Reuse what you can to get the most satisfaction.
1. DIY Book Pumpkin
This first one is one of my favorites and is made up of an old paper back book.

TUTORIAL: Book Page Pumpkin Craft
This book page pumpkin craft is quick and easy to make and only requires a paper back book, a small branch piece, some burlap, bark covered wire, and just a little paint. Make sure to check out the tutorial to see just how easy these really are to make.
2. DIY Sweater Pumpkin
For this next one, an old orange pumpkin and a worn out sweater combine to make a new neutral and chic pumpkin that fits in with most of my decor.

TUTORIAL: How To Make A Sweater Pumpkin
The sweater pumpkin can be modified in color and texture depending on the sweater you use.  There are all kinds of possibilities with this craft.  Think about what you could do with an argyle sweater!
3. Birch Bark Pumpkin Craft
Another way that I like to cover an existing pumpkin is with birch bark.

TUTORIAL: How To Make A Birch Bark Covered Pumpkin
To make this rustic pumpkin, you can either buy birch bark or use bark from dried logs that are easy to peel. This craft takes a little more effort but the result is well worth it. Use the pumpkins year after year as a part of your rustic Fall decor.
Here are some more pumpkin crafts to inspire you.
4. Chalk Painted Pumpkin

It's easy to change the color of a pumpkin with chalk paint! Take any pumpkin at all, real or faux, and transform it with a new coating. Cap it off with a broken tree branch. I happen to think that the more rustic or odd shaped the branch is, the better.
5. Halloween Bandana Pumpkins

TUTORIAL: Sadie Seasongoods
Get your cowboy on for these fun little bandana pumpkins. The patterns are so much fun to display in this way.
6. Monogram Pumpkin Crafts
I love this monogram pumpkin idea for a little something different.  All you need are a fake pumpkin, paint and upholstery nails. If you want to change up the look a little, use rusty nails instead. Or, if a monogram is not your style choice, why not set one on your front porch with your house number? The variations for this craft are limitless!

TUTORIAL: Ask Anna Moseley
7. DIY Palm Leave Pumpkin
Here is a super creative idea by The Space Between Blog.  This pumpkin is made up entirely of palm frond leaves! The shape is definitely not lost in the forming of the pumpkin. Who would have thought to use palm frond leaves in this way. I love the creativity and neutral rustic look.

TUTORIAL: The Space Between Blog
8. Twine Pumpkin Craft
Of course I love things wrapped in twine so this next pumpkin by Jennifer Rizzo had to make the list! Grab any old pumpkin that you have and give it a fun update with twine.

TUTORIAL: Jennifer Rizzo
9. Linen Driftwood Pumpkins
This next example is fresh and simple and oh so lovely!  These linen driftwood pumpkins by City Farmhouse use a surprising material as the base.  Each pumpkin only cost 6o cents to make.  Not bad, I'd say!

TUTORIAL: City Farmhouse
10. An Antiqued Pumpkin
This next idea is to take a dollar store pumpkin and give it a rustic aged look by antiquing it. Debbie Doos shows just how easy it is to accomplish this with a little bit of dark wax. Doesn't the new pumpkin look rustic and warm? Check out this halloween craft and see how it also looks on a squash.

TUTORIAL: Debbiedoos
11. Reclaimed Wood Pumpkins
These rustic pumpkins were crafted from scrap wood. Not only is it a clever craft but it's also a fantastic way to recycle. Get the step by step tutorial from Finding Home.

SOURCE: Finding Home
12. Stacked Wood Pumpkins
Another type of scrap wood pumpkin to add to your Halloween crafts is a stacked wood pumpkin craft. It gives a totally different look that is still rustic and super fun. See the instructions at DIY Swank.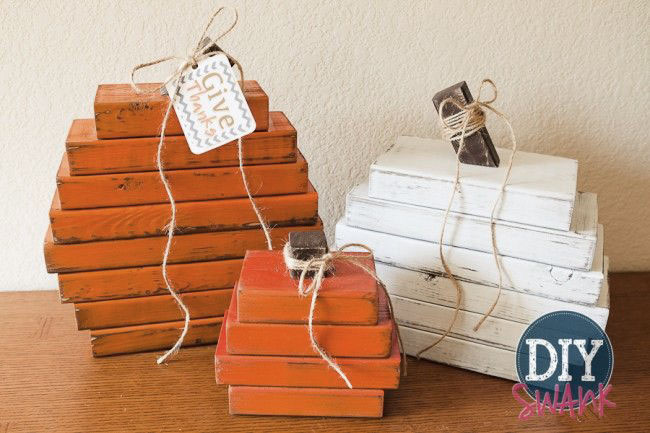 TUTORIAL: DIY Swank
13. Gold Leaf Painted Pumpkins
Just like a pumpkin was changed into a glitzy carriage, a little gold leaf paint transforms an ordinary pumpkin into something super chic.

TUTORIAL: Jessica Welling Interiors
14. Easy Fabric Pumpkins
Similar to the bandana pumpkins, these fabric pumpkins offer another twist. You see a lot of pumpkin stems made out of branches. However, using cinnamon sticks is a little more unique. Not only do they look cute but they will fill your space with a wonderful scent.

TUTORIAL: Creations By Kara
15. Halloween Yarn Pumpkins
Here is a unique idea for a somewhat spooky pumpkin. The black and burgundy roses really set the spooky tone for this one. I like how they are incorporated into the top of the pumpkin instead of a traditional stem.

TUTORIAL: Domestically Creative
16. Scrapbook Paper Pumpkin Craft
Just think of all the different looks that you can get from using scrapbook paper! This little patterned pumpkin is so adorable. The twine stem is a perfect match for the pumpkin design.

TUTORIAL: Atta Girl Says
17. Dryer Vent Pumpkins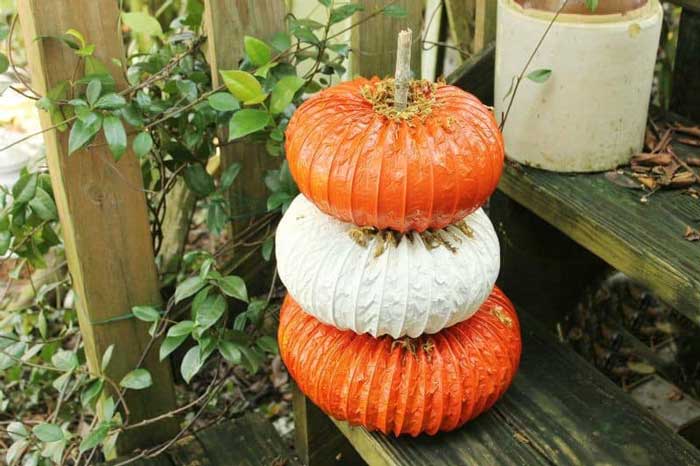 I can't say that I've ever thought much about my dryer vent. Or, ever even considered using such a thing in a craft project. However, making pumpkins out of one is a brilliant idea! It just shows how creative you can get when you think outside the box.
18. Felted Dryer Ball Pumpkins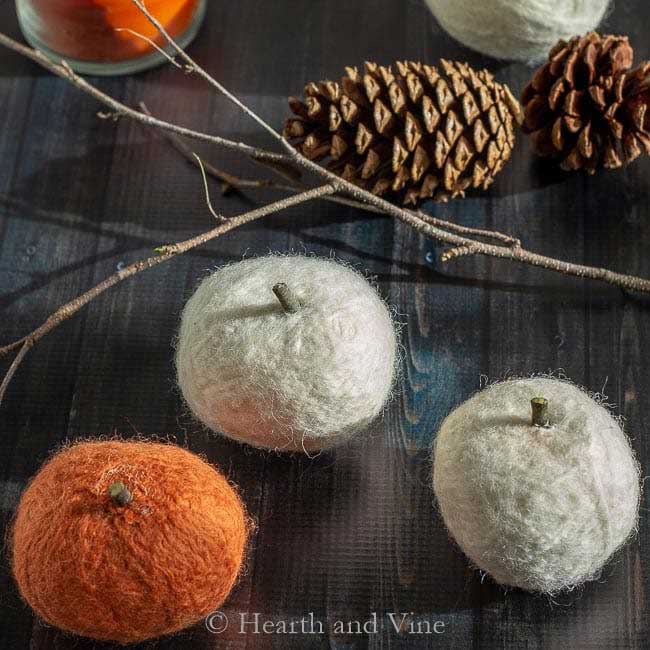 What's not to like about felted wool? Nothing is more warm and cozy than something that reminds you of a soft sweater or thrown. These felted wool balls were turned into pumpkins simply by adding a rustic stem to the top. And, if you think felted wool is difficult to make, think again. These balls are made up of roving wool yarn. Once they are run through the washer and dryer, they are good to go!
19. Rolled Book Page Pumpkins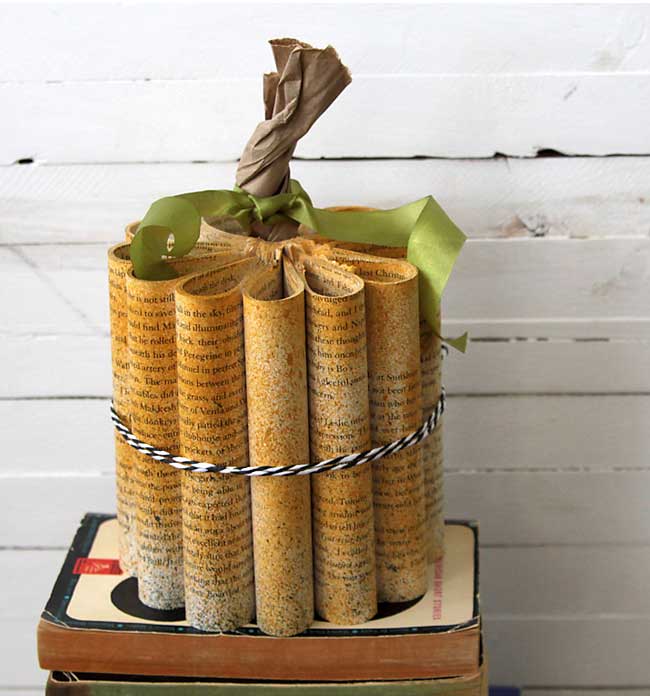 I've already shown you a pumpkin made from an entire book. This pumpkin craft is a little different in that instead of shaping the book with cuts, the pages are rolled for a more abstract look.
20. Fence Post Pumpkins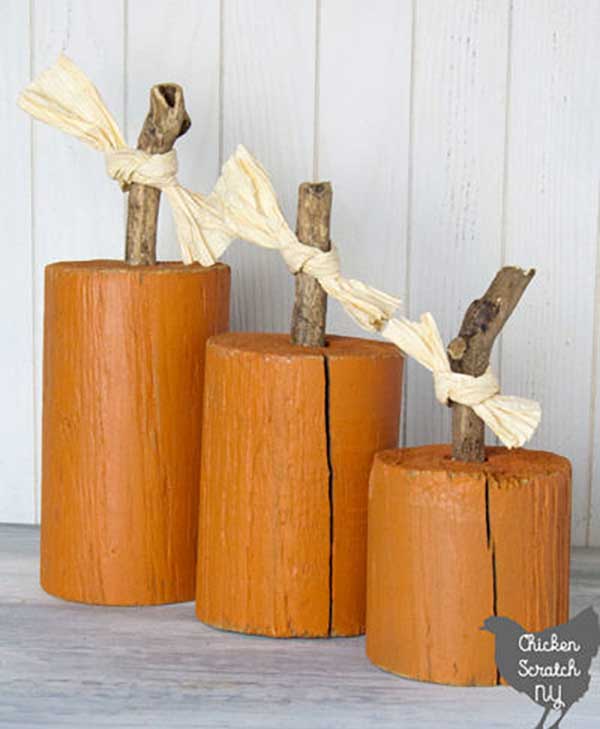 Even an old fence post can get a new life as a cheery pumpkin! Are you starting to get the idea that almost anything goes? If you like the idea of using fence posts, you may also want to see a few more craft ideas using posts and pillars.
21. Chicken Wire Pumpkin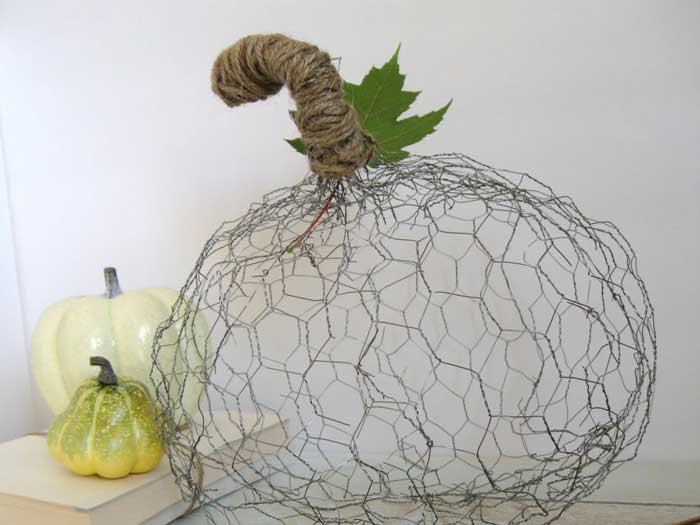 Sometimes subtle is the best way to go. This see through pumpkin, made from chicken wire, may be subtle but it delivers a ton of style and impact. And, if you are going for a rustic industrial look, this one definitely fits the bill.
22. Decoupaged Pumpkins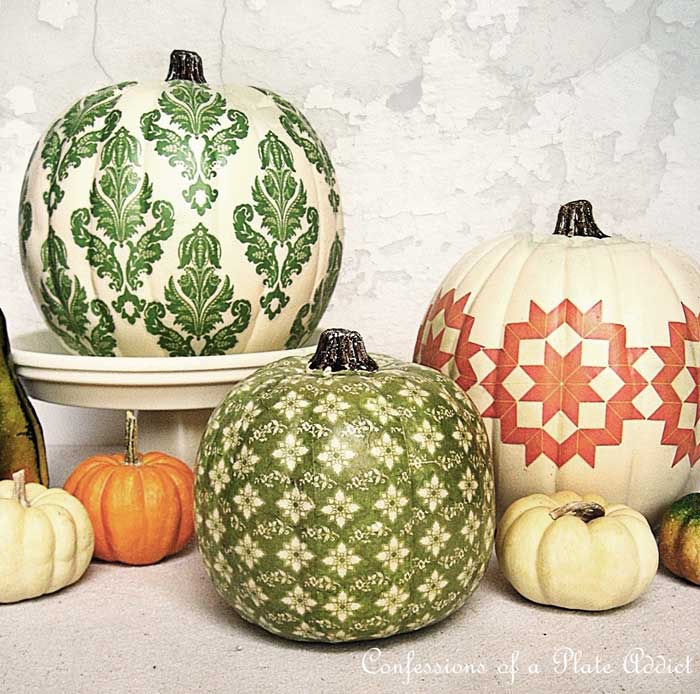 It's so amazing how paper can transform a style in such an elegant way. By decoupaging decorative paper to an ordinary pumpkin, you can create a style that really fits your space. You can't even tell that the designs are paper. They almost look like they were painted on.
23. Easy Rustic Twine Pumpkin Craft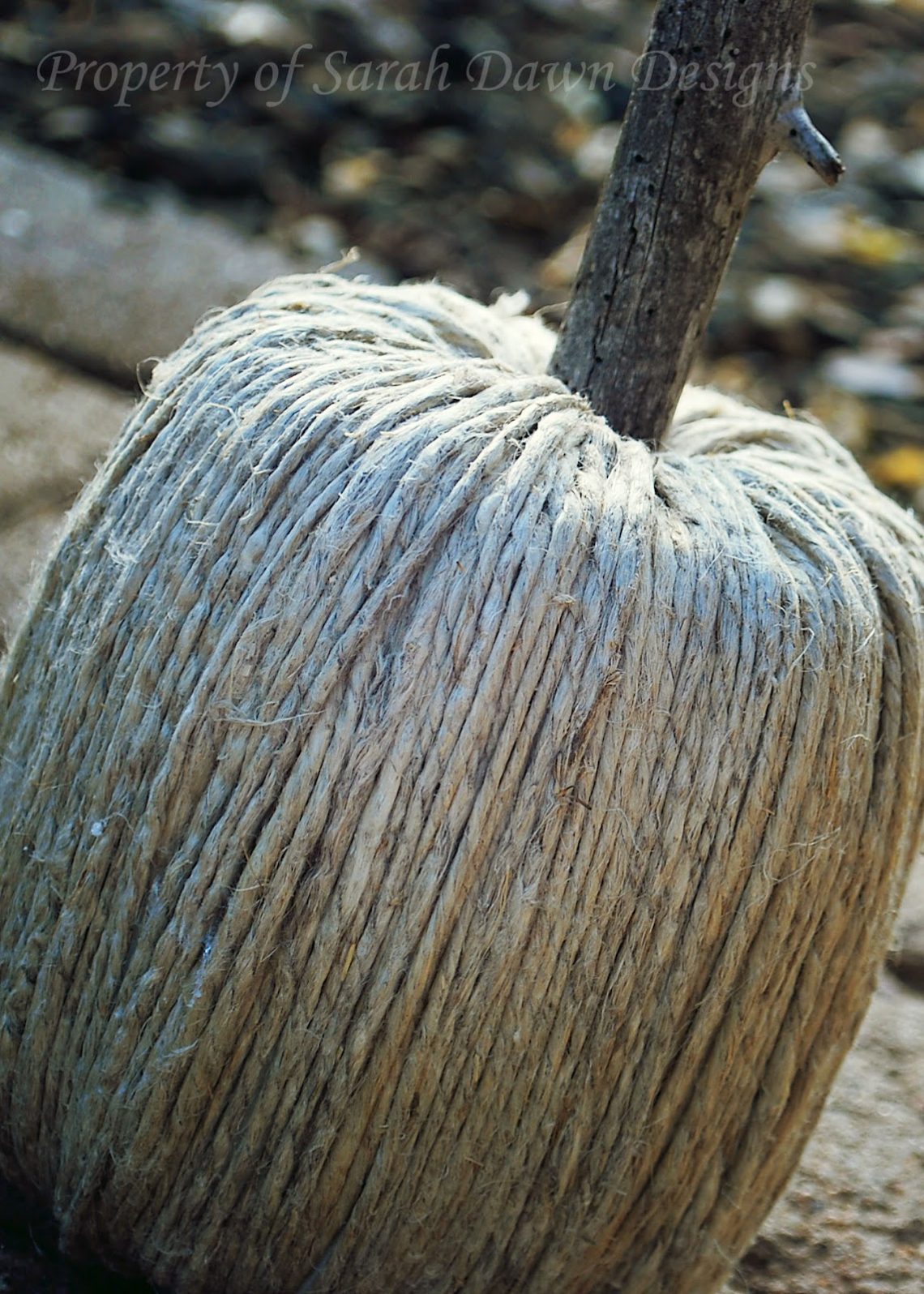 Any guesses to what the base of this pumpkin is? You may be surprised to learn that it is a roll of toilet paper. By simply winding twine around the roll, you get a cool rustic look for a pumpkin. The hole from the roll makes it perfect for inserting a branch stem.
24. Burlap Pumpkins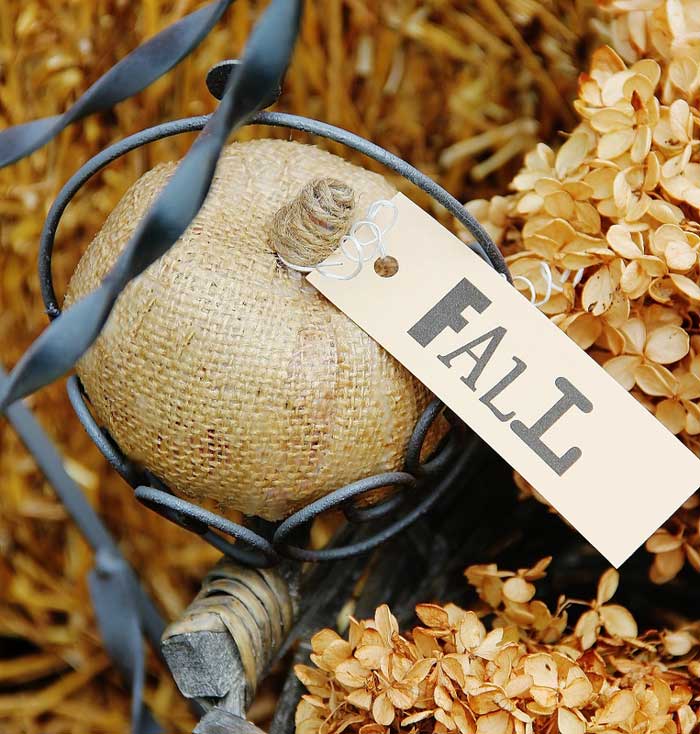 Besides twine, burlap is also an excellent material choice for creating a rustic style pumpkin. A dollar store pumpkin is nicely transformed by decoupaging burlap strips to it.
25. Sequined Polka Dot Pumpkins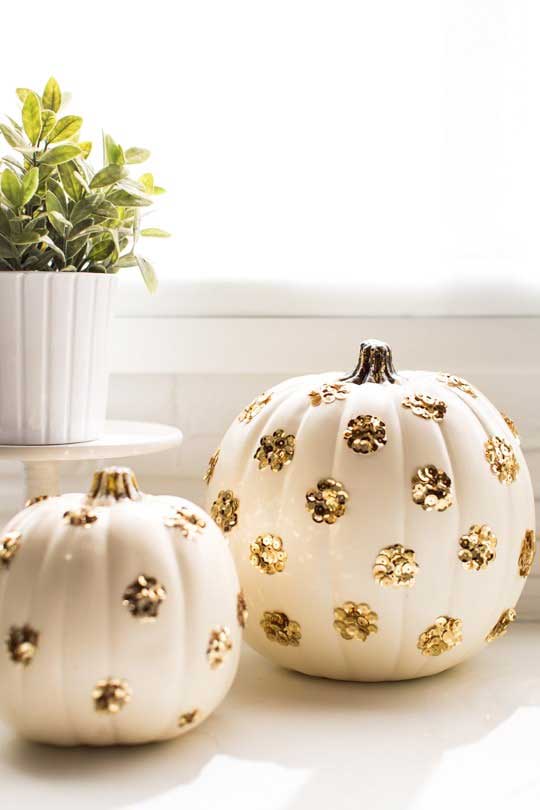 If you are nuts about polka dots, like I am, you will love this pumpkin craft idea! Not only do you get the dots, but the look is so totally rustic chic. All you need to do is glue sequins to a white pumpkin in a dot pattern. If you don't have a white pumpkin, simply paint whatever you have.