Decorate Your Home With Handmade Mummies, Witches Shoes, Ghosts and More
Decorating for Halloween can be as basic as setting out some festive pumpkins or you can put a real chill in the air with decor that is a bit more creepy. It's fun to get into the spirit of things in a way that is a little bit frightening but in a fun way. If you are looking to make your own Halloween decor, you'll want to check out these quick and easy Halloween crafts.
You can really set the mood with things like bats, ghosts, mummies, witches, crows and skeletons. All of these creepy subjects can be put on display in various forms like wreaths or signs. The best part is that these Halloween craft ideas are not expensive to make. They just take a little witch craftery and some simple tricks.
Here are some of the best easy Halloween crafts to try.
Fun And Easy Halloween Crafts
1. Spooky Crow Wreath

Welcome your guests in a frightening way with this easy black crow Halloween wreath. Just spray paint a grapevine wreath black. Then, add a black crow and some glitzy floral stems for the perfect Halloween look.
2. Easy Halloween Wall Art With Free Printables

For some super quick Halloween decor, you can't get much easier than framing some Halloween prints. Use the free printables to get some nice artwork to frame.
3. DIY Halloween Candles

TUTORIAL: Melo-drama
It's easy to get decorative Halloween candles by simply transferring images with wax paper and a hot blow dryer.
4. Wooden Skeleton Hands

If you enjoy beading, this skeleton hand craft will be a perfect choice for you. Use wooden beads and empty thread spools to create a creepy hand to display. For added spookiness, put the hand on a scary book or two.
5. Craft Some Witch Shoes

This Halloween craft looks harder than what it actually is. Using a template, these shoes are made from heavy cardstock. I am a shoe lover so it makes sense that I would love this craft idea! What a fun way to display treats and all it takes is some craft paper, ribbon and buttons!
6. Easy Mummy Tutorial

How cute are these block mummies! Not only are they easy to make but you can display them on any flat surface like a shelf or fireplace mantel.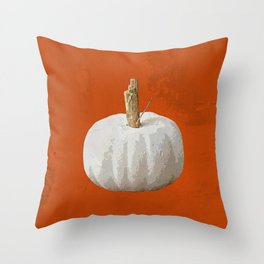 AVAILABLE AT AMAZON: Fall Pumpkin Pillow
7. Creepy Spider Craft

Spiders are so creepy! This spider craft will have you creating several of these little pests to display throughout your home. Dangle them from the ceiling or set them on a table for creepy Halloween decor.
8. Edgar Allen Poe Craft

Print off a page from a scary book like The Raven and age it to display in a frame. Add little crow cutouts and other embellishments to finish the look.
9. Ghost Pop Up Pages

Pop up ghosts are super easy to make and display. Simply cut out the shape of a ghost from a book page, leaving the bottom of the ghost uncut. The fold the ghost up to stand up. It's a fun way to get some Halloween decor to set out on a small table.
10. Super Easy Fabric Pumpkin Craft

Although this Halloween craft isn't very creepy or scary, it is super easy! Whip up several of these little pumpkins using toilet paper rolls and fabric scraps.
Related: Recyled Halloween Crafts