Summer and warmer weather means much more time spent outdoors. This can lead to sprucing up our outdoor living spaces for entertainment and personal enjoyment. The hardest part can be no knowing where to start. Sometimes it helps to first come up with a theme. Since I like rustic styling, I tend to look for projects and ideas that are rustic in styling. Rustic outdoor decor makes a warm and inviting setting for you and your guests.
To provide some inspiration, I have put together a whopping collection of cool ideas for rustic outdoor decor. With this many ideas, something should spark an interest.
Rustic Outdoor Decor Inspiration
Whether you are planning an outdoor party or just want a space where you can really relax, these ideas for DIY decor will help you to accomplish your goals.
1. Outdoor Table Place Cards

SOURCE: Kara's Party Ideas
You only have to go as far as your own backyard to come up with some decorative rustic outdoor table decor. I love this rock place card idea that doubles as a weight to hold the napkin down. A sprig of greenery is perfect for decorating the plate further. Since there is no cost at all for this decor idea, you can spend the money on food or other projects for an outdoor party or event.
2. Rustic Fire Pit Area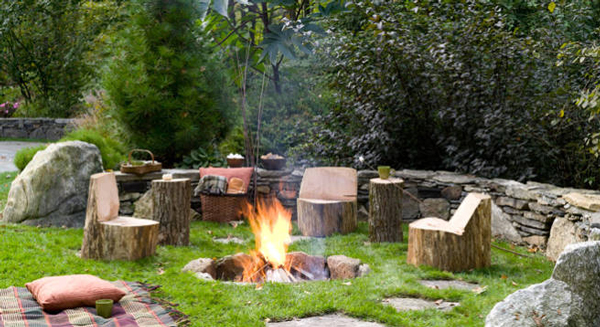 SOURCE: Elle Decor
Simple…rustic…and so very cool! The seating for this outdoor fire pit is simply made by slicing a seat into a large tree stump. Of course, there are other ways to create a rustic fire pit area with more traditional seating. The fire pit area at our cabin also looks rustic with a field stone retaining wall and a rustic metal fire ring.
3. Rustic Outdoor Bistro Table

SOURCE: Outdoor Theme
This cool table is not only rustic but looks very artsy as well. All you need is an interesting stump and a glass tabletop to fit. Of course, the basket style stools really add to the charm.
4. Peaceful Outdoor Seating

SOURCE: Houzz
Wherever you have a particularly relaxing spot, you will want to have a place for sitting. A rustic bench enhances a scenic view. This inspirational scene gives an idea for placement. I like how it is tucked in to the surrounding nature.
5. DIY Vertical Garden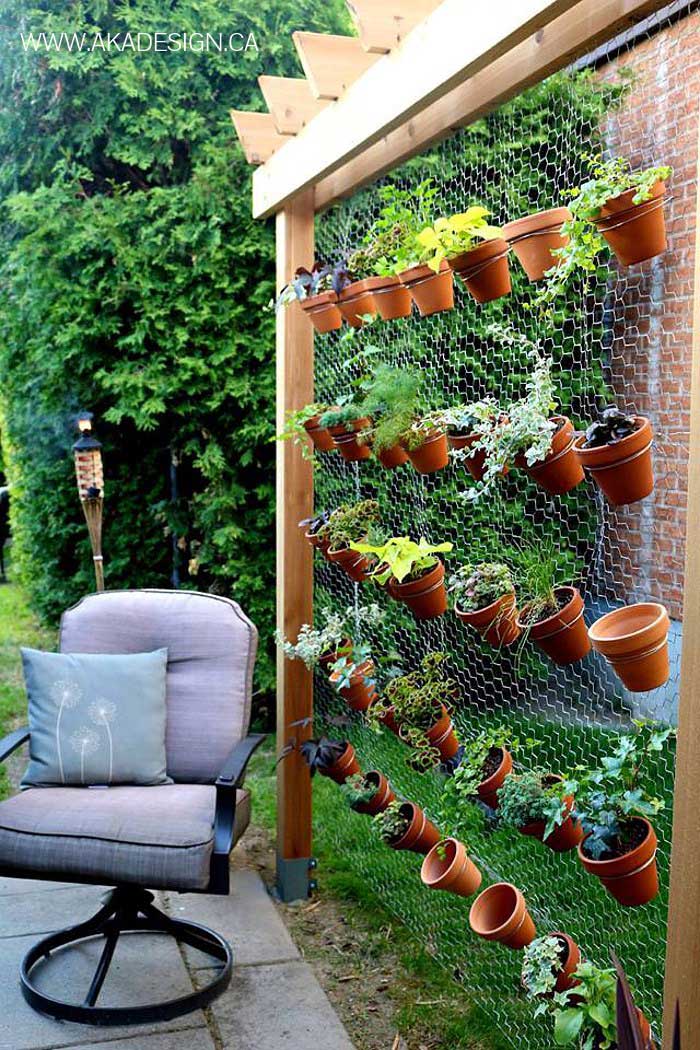 If you don't have a lot of land space for a regular garden, no problem! All you need to do is plant up. Create your own vertical garden easily with wood and wire fencing. Then hang your potted plants from the wire. This is a great way to dress up a side of the house or even use it as a privacy screen to block views you don't want to see.
6. Old Door Arbor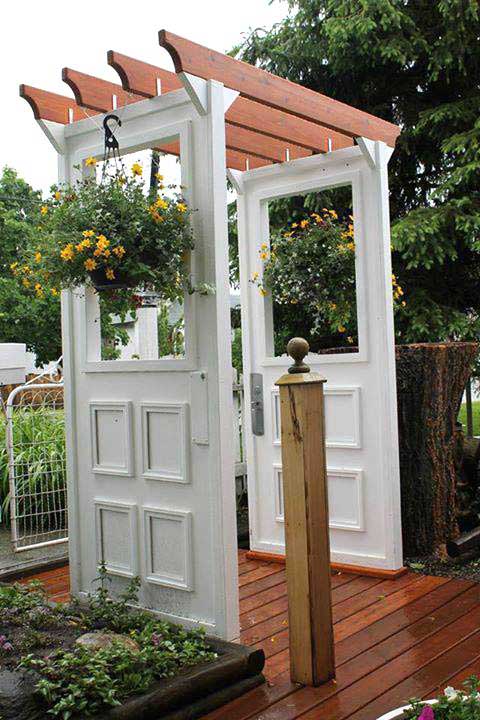 Make a super cool garden arbor using old doors. It is sure to be a conversation starter. Use clean white doors, like these, chippy painted doors, or distressed wood doors for a variety of options. The more weathered and chippy, the more rustic the look will be.
7. Step Stool Side Table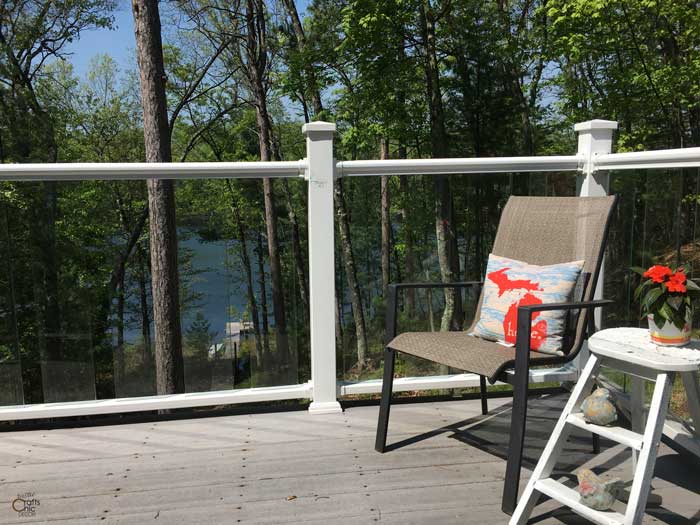 Besides old doors, you can also use other vintage items for outdoor decor. Old step ladders make great side tables. You can even use the steps as shelves for more rustic outdoor decor.
8. Bed Frame Bench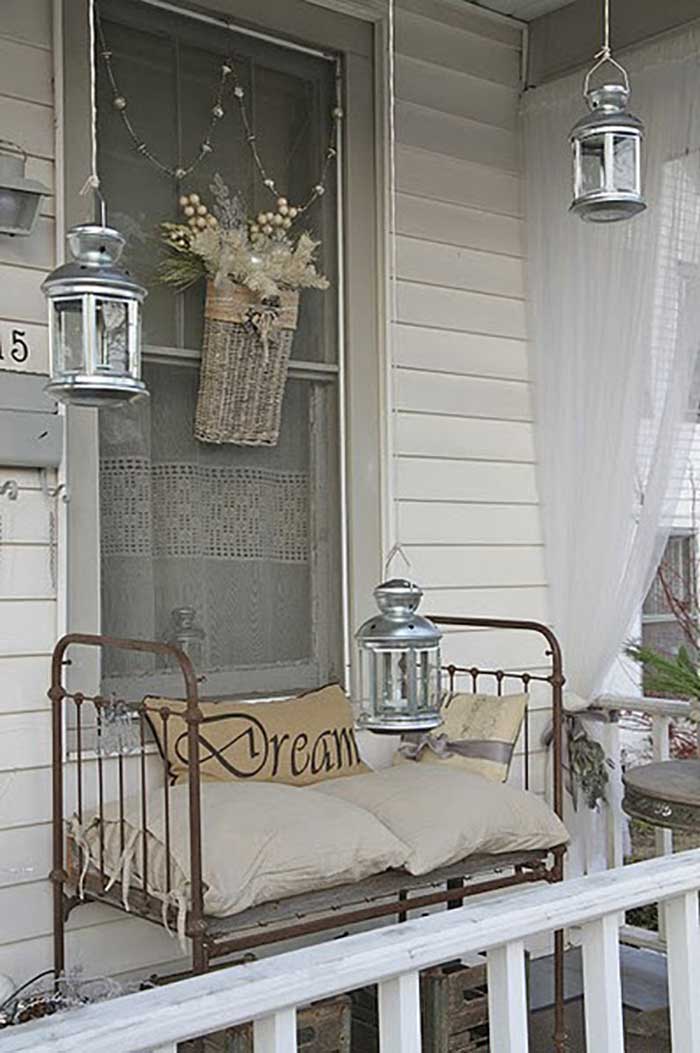 How about using an old rusty bed frame for a comfy porch bench? It may not be the first thing that you would have considered but it does make a fun and decorative statement! Rustic outdoor decor does have a way of being unique and relaxed.
9. DIY Pallet Walkway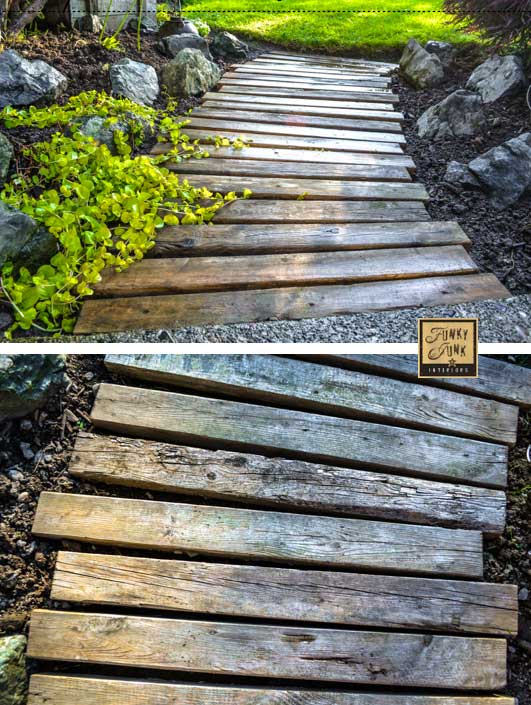 Save money on wood and use old pallets to make a wooden walkway. The rustic look of the weathered wood will enhance a pretty garden area. No building is required for this project. Just take apart your pallets and place them in a somewhat uniform pattern.
10. Rustic Farmhouse Porch Decor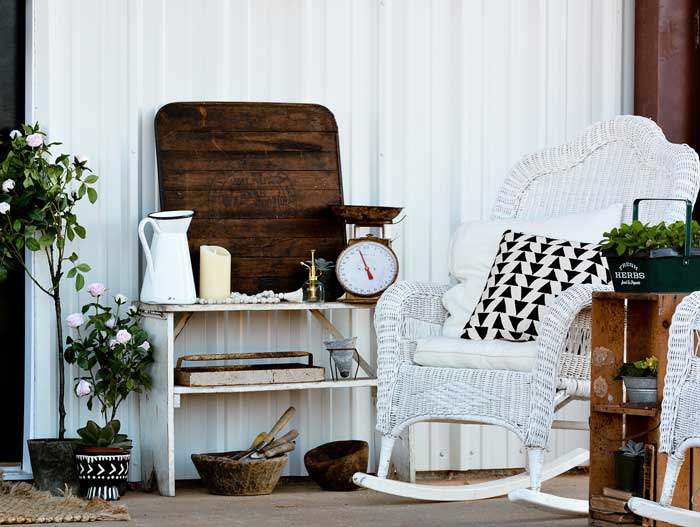 Antique collectibles aren't just for indoor decorating. Fill a farmhouse style porch with antiques for a fun rustic extension of your home. When you have a porch decorated in this way, it really sets the tone for the rest of the home and creates a welcoming atmosphere for your guests.
11. Old Chair Planter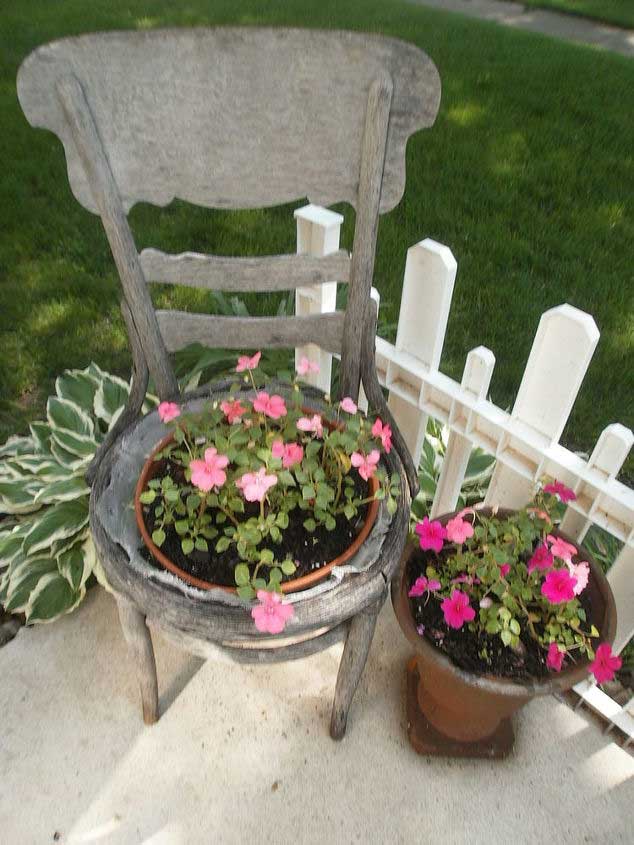 I feel like I am always seeing old cane seat chairs at antique stores or flea markets. The problem is that most of the time the cane is ripped, fraying, or completely missing. With this idea for using a chair as a decorative planter, those seatless chairs can have a brand new life. There is so much character in an old distressed chair that one makes the perfect rustic outdoor decor accent.
12. Outdoor Potting Table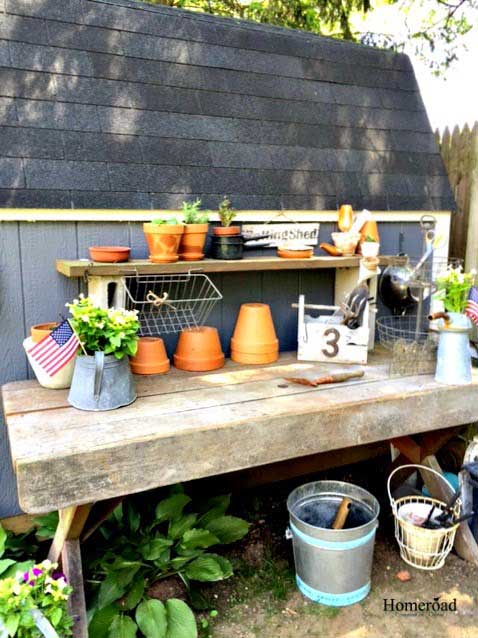 It really doesn't take much to create your own outdoor potting table. This table is actually an old picnic table that was repurposed into a potting table. I like the idea of having a potting table next to a garage or shed to decorate the exterior and make the outbuildings look more warm and cozy.
13. DIY Cedar Fence Coffee Table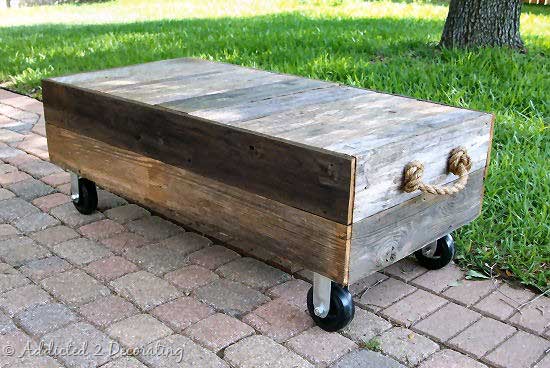 Outdoor coffee tables are just as handy as those inside. And, you can make a wooden one easily with an outdoor material. Old cedar fencing can be repurposed into a rustic outdoor coffee table. I would even use this table inside the home.
14. Rustic Vintage Flower Pots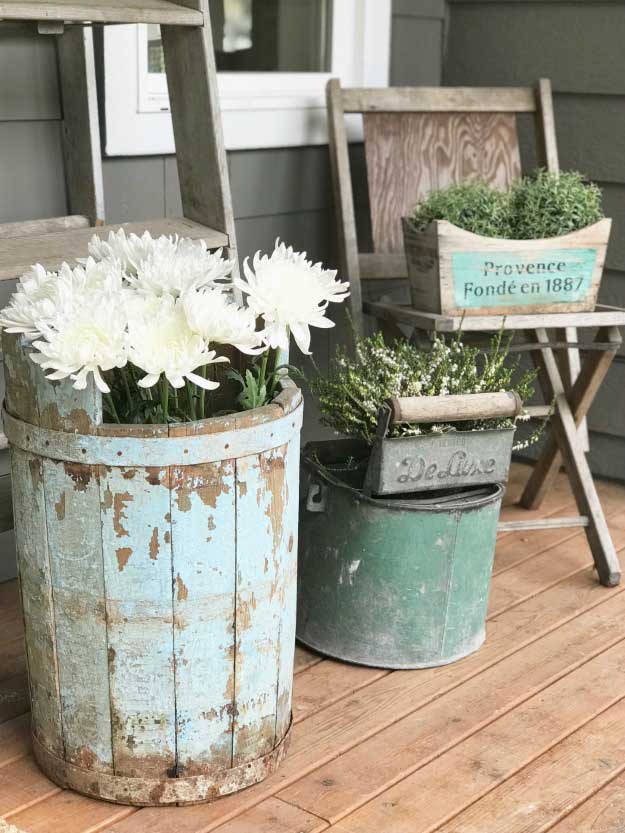 Flowers and other plantings really brighten up a porch or deck. Planting the flowers in vintage containers, adds a ton of warmth and character. I love all of the rustic chippy wood and old metal on this porch.
15. Rustic Outdoor Lighting Base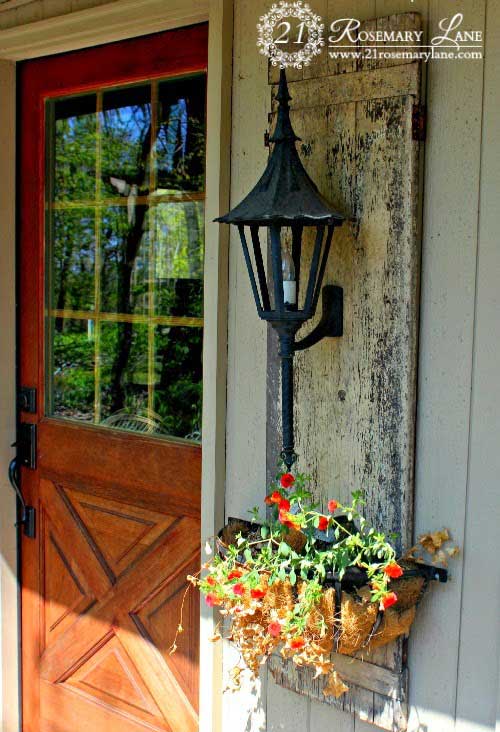 Instead of simply attaching outdoor lighting to the siding of your home, add some salvaged wood between the two. The old wood adds a warm relaxed welcome right outside your door. By also adding a planter of flowers, you get some cheerful chic to complement the rustic.
16. Pallet Potting Bench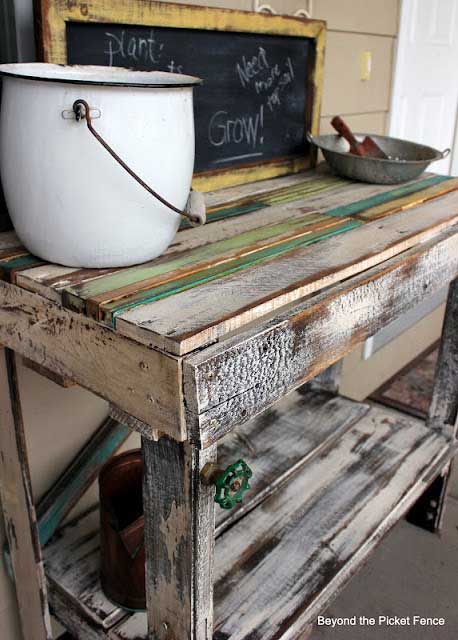 Here is another cool potting bench or table. This one is made up of old pallets and rustic vintage embellishments like a faucet handle. You can get really creative with your build and incorporate some of your favorite outdoor vintage accessories.
17. Canoe Outdoor Shower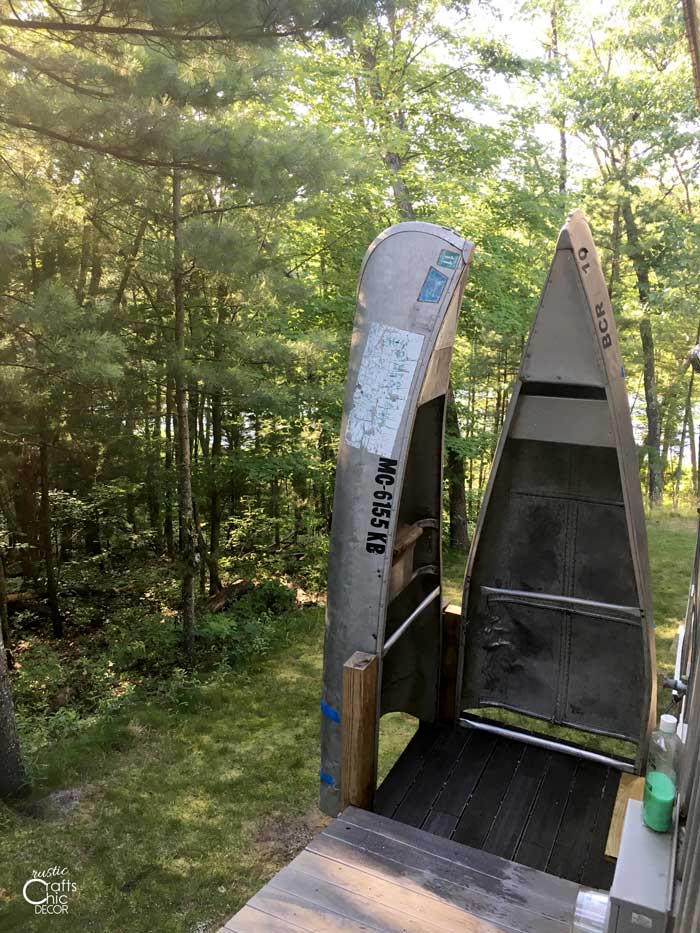 You can't get much more rustic than an outdoor shower made from an old canoe. We thought it would be fun to build our outdoor shower area with something that reflects our cabin on the lake. An old canoe, split in two, creates fun sidewalls that we couldn't get from a traditional build.
18. Rusty Bike Planter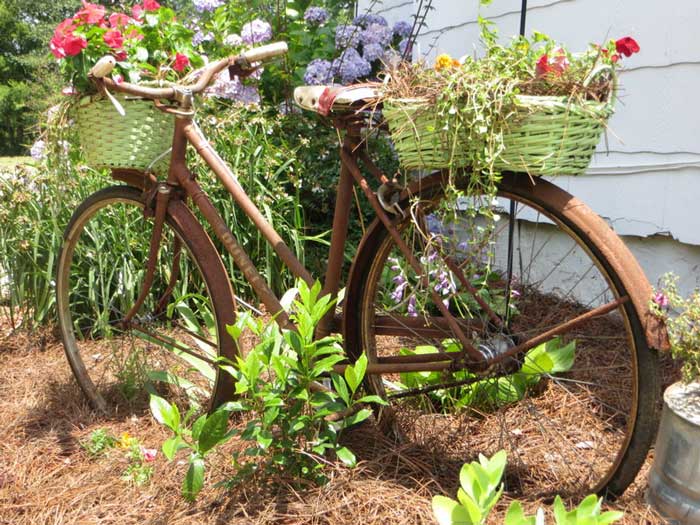 Rusty vintage items are such a nice rustic contrast in a pretty flower garden. An old bike works particularly well for displaying baskets of planted flowers. I like this vintage bike that is totally rusted.
19. Rustic Address Number Sign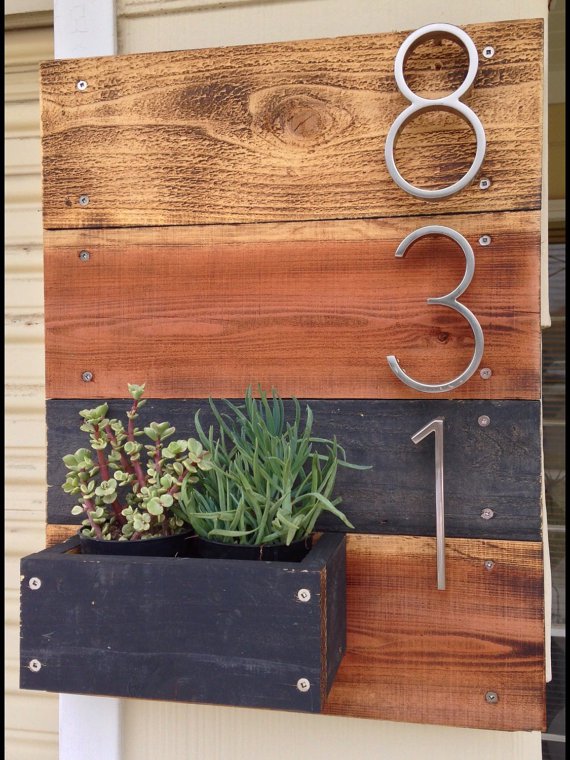 Get your house number to really stand out by making a full rustic sign. This wooden number sign is especially attractive and rustic with the various stains of wood. The added planter box really enhances the whole design and creates a welcoming look.
20. Ladder Flower Basket Holder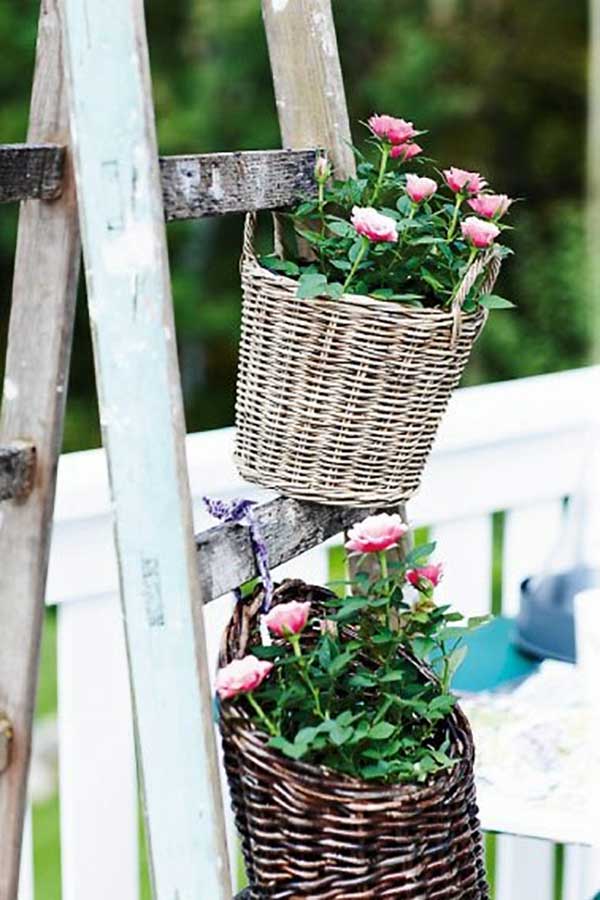 There are so many cool uses for old ladders. Here, an old ladder is used to hang flower baskets from. The tall tiered effect is pretty and is perfect for those small areas where you can use a little height to your outdoor decor.
Old Drawer Planter Box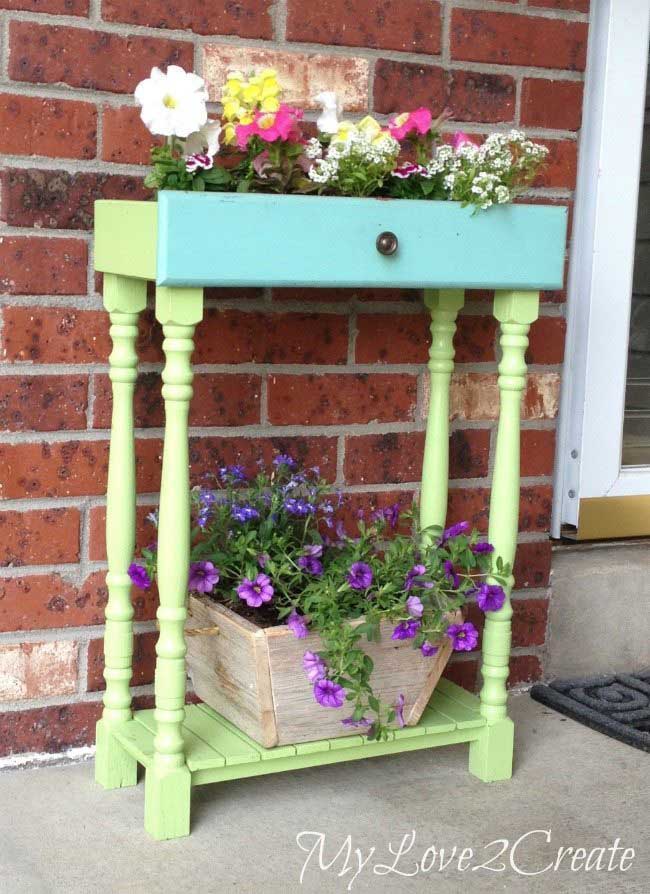 This next project reminds me of the old drawer that I repurposed into a side table. I love the idea for using one outside as a planter box. It makes such a pretty and colorful vintage display.
More Rustic Outdoor Decor Ideas
You can find a lot more inspiration for rustic outdoor decor at the following posts.
I hope you have been inspired! Do you have an idea for rustic outdoor decor that you would like to share? I would love to hear your ideas. Just leave a comment below!