Since I am a bit of an organization freak, I love to post about creative storage solutions. When it comes to the craft room, I get especially excited. There is so much that you can do to make your craft room more functional and organized. I don't know about you, but I feel more inspired to create when my work space is well thought out and custom made for what I need. These craft room storage ideas are full of DIY projects that you can easily build yourself.
I have shared before, several ways to make your own craft room storage containers from recycled materials. Those are some of my favorite ways to organize. However, sometimes what you need cannot be totally customized using recycled material. In those cases, you may want to build something from scratch. The nice thing about building your own storage racks or containers is that you can customize them to your exact needs. Even if you are following a plan for craft room storage, you can still adjust the measurements to fit your space perfectly.
Craft Room Storage Ideas
Here are some of my favorite DIY projects for craft room storage. Try one of these projects as is or customize it a little to suite your own style and needs.
Thread Spool Rack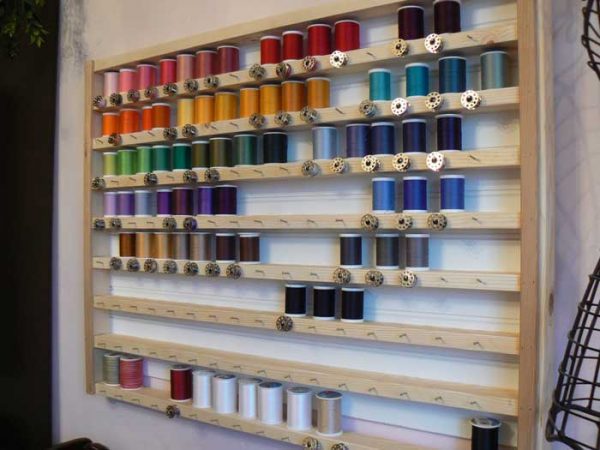 This simple design is easy to make with just small strips of wood and nails. Not only do you get custom visible storage for both thread and bobbins, but it also makes a fun and colorful wall display for your craft room. I like how there is a place for bobbins right under the thread spools. This makes it super easy to grab the set that you need for your next sewing project.
Craft Room Jar Storage Rack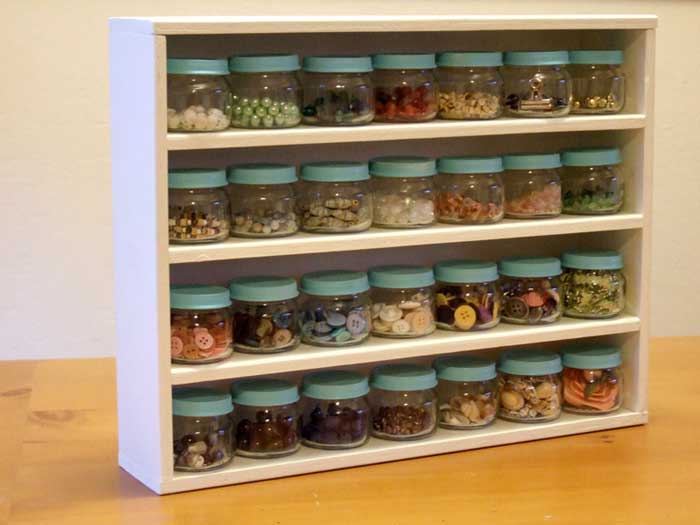 Here is another handy little storage rack. It can be kept on a table top or hung on the wall. Although this was originally built as a spice rack for the kitchen, it works perfectly for storing small craft supplies. The small baby food jars are the perfect size to fit into this rack and no labels are necessary since you can see right inside the jars.
Gift Wrap Station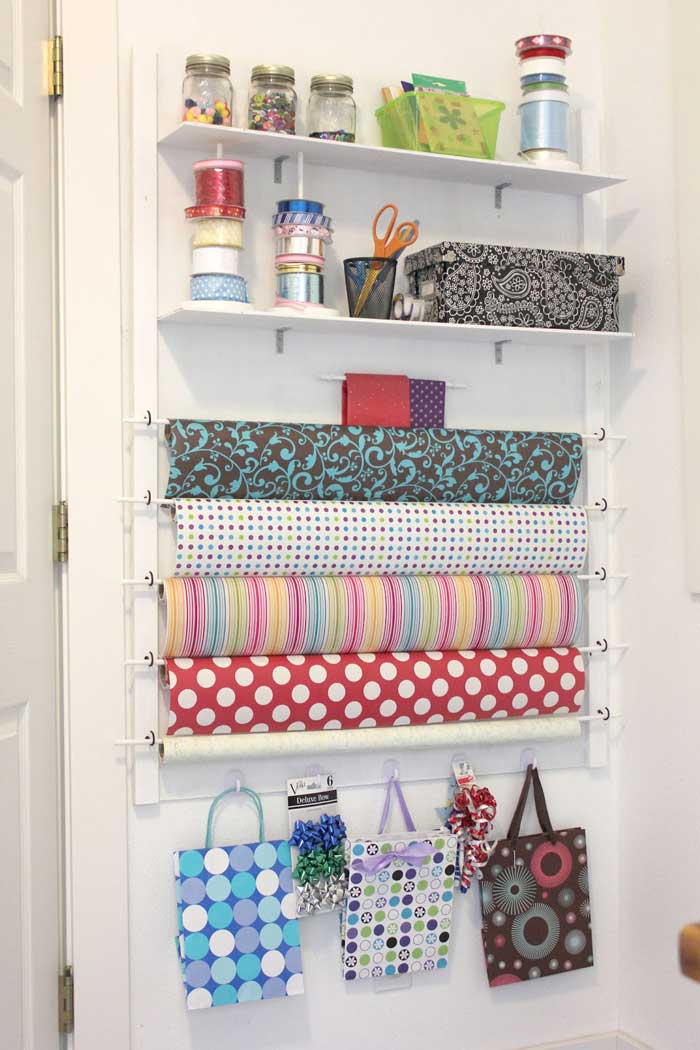 I feel like a space for crafting and a space for gift wrapping kind of go hand in hand. After all most gift wrapping can be considered a craft project. To keep all of those wrapping supplies organized and convenient, build your own gift wrapping station. It's really quite easy with a little wood, dowels, and small hooks.
Craft Room Storage Desk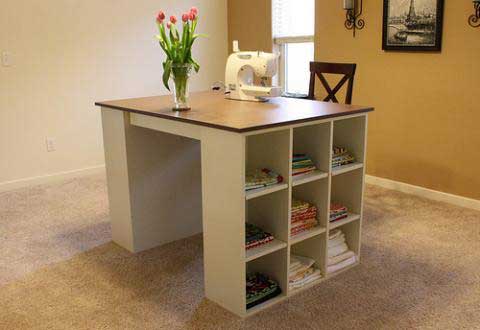 Instead of building just a basic desk for the craft room, why not incorporate some storage into it as well? I love the cubbies on the sides of this desk for holding fabric, books, or other craft room essentials. Since the design is all square, it is another easy build. You can also change the look of the desk depending on your choice of paints or stain.
DIY Ribbon Holder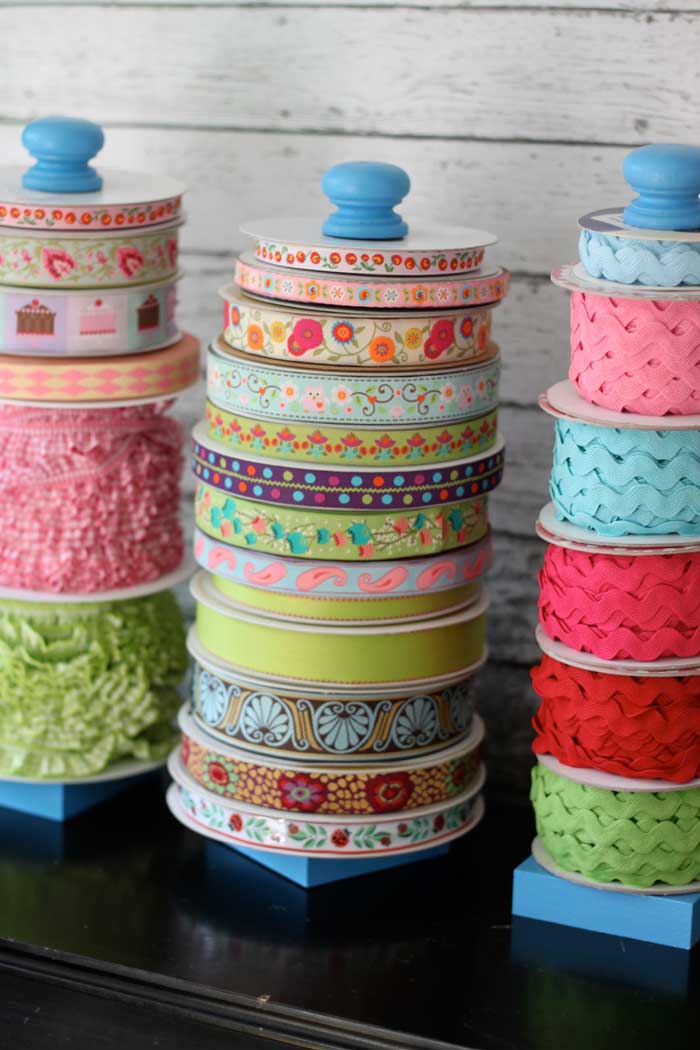 Although it looks like this ribbon storage towel is a repurposed paper towel holder, it is not! The small holes of a spool of ribbon would not fit over most paper towel holders. This DIY project was made completely from scratch for a custom ribbon holder. The skinny dowel fits into a small square base that is perfect for ribbon. To top it all off a wooden removable knob fits onto the top of the dowel.
A Place For Twine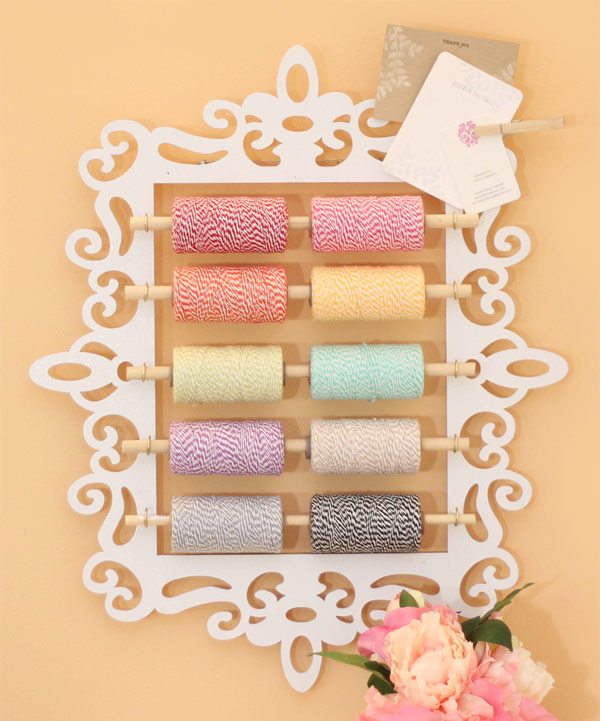 If you use a lot of twine in your projects, you will want to keep them visible and within reach. This DIY project uses a laser cut frame from a craft store, wooden dowels, and brass cup hooks. The dowels allow the twine to roll easily. Just unwind the amount you need and clip it where it's at. There is no need to take the twine off the rack! This is another example of craft room storage that is also decorative as wall art.