I never realized twenty some years ago that getting my builders license would lead to an interest in home renovations and property flipping. When I went through the builders class and obtained my license, it was with the intention of acting as the general contractor for our first home build. The experience of controlling a project was such an exciting part of home building. Later, I realized that home renovations were just as, if not more, exciting and challenging. This has led me to come up with this guide to home renovations.

Property Flipping Guide
1. Purchase The Right Home
You may have heard the phrase "buy the worst home in the best neighborhood". I would add to that "at the right price!" If you are truly buying the worst house in the neighborhood, there will most likely be substantial costs in renovating. It would also be good to point out that the "worst house" should only look cosmetically like the worst one. If a home is not structurally sound, the repairs could be costly. Obviously, the lower the price paid for a home, the more money you can spend on renovations. Just have a good idea of how much those costly projects might end up being. You can always get some job estimates before agreeing to purchase the house.
Checklist For Finding The Perfect Home
Choose a desirable neighborhood.
Find a home that looks bad but is structurally sound.
Know how much is in your total home budget.
If you need to borrow money for the renovation, get pre-approved for a home renovation loan. There are several options available. Check out this renovation loan guide from Bankrate.
Have a good understanding of projects you can do yourself and what exactly would need to be contracted out for the home.
Take your time to get the right price – it should be low enough to allow for the renovations in your budget.
Obtain a builders permit from your city.
With our first home renovation, the price of the home was about the cost of a lot to build on. I'm thinking that a lot of people overlooked the house because it was filled with junk, the layout was funky, and the stairway, among other things, needed to be repaired. However, we saw the potential with the beautiful woodwork and built ins. Plus, the home was in a desirable location, close to shops and restaurants.
A peek inside this diamond in a rough: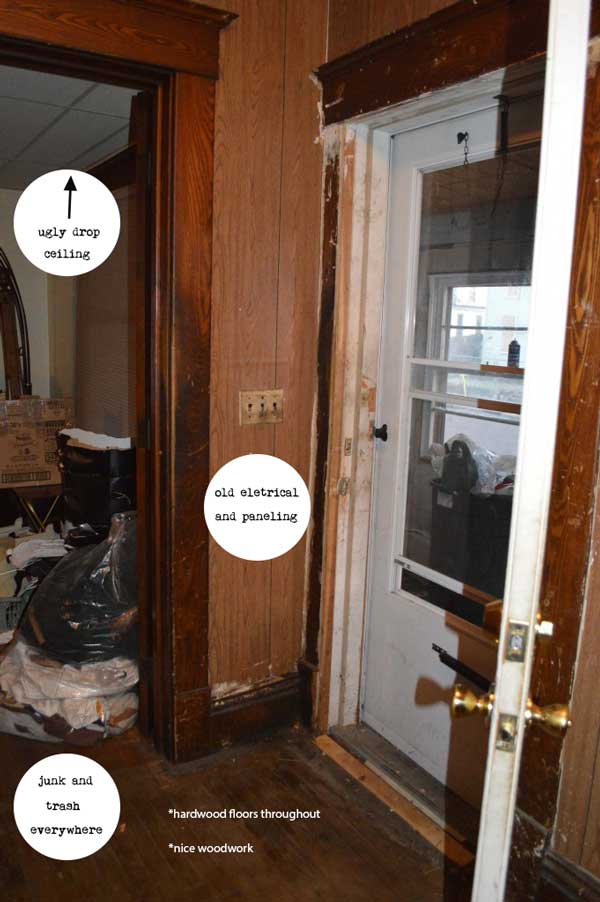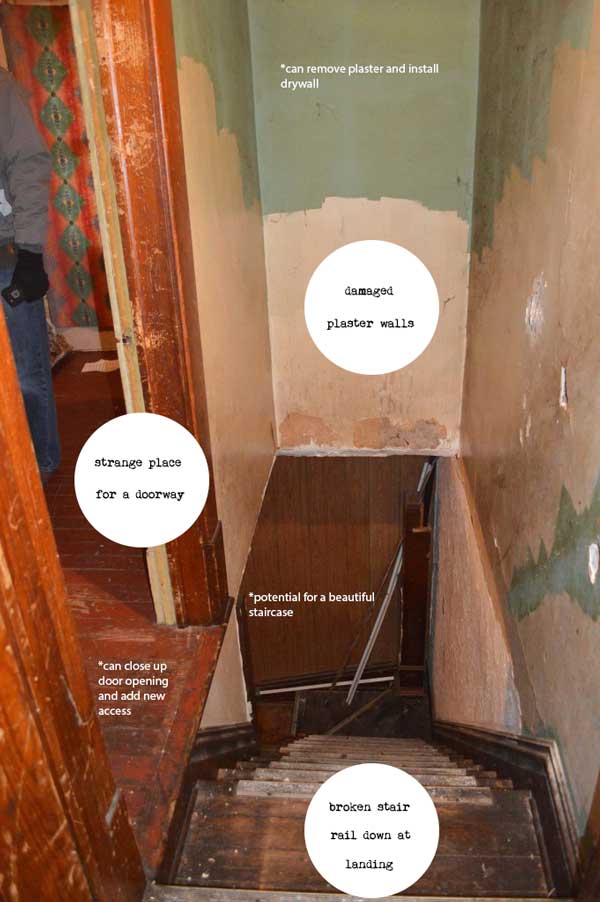 The place may have looked scary but there was a lot of the work that we could do ourselves. And, what we couldn't do we had room in the budget to contract out.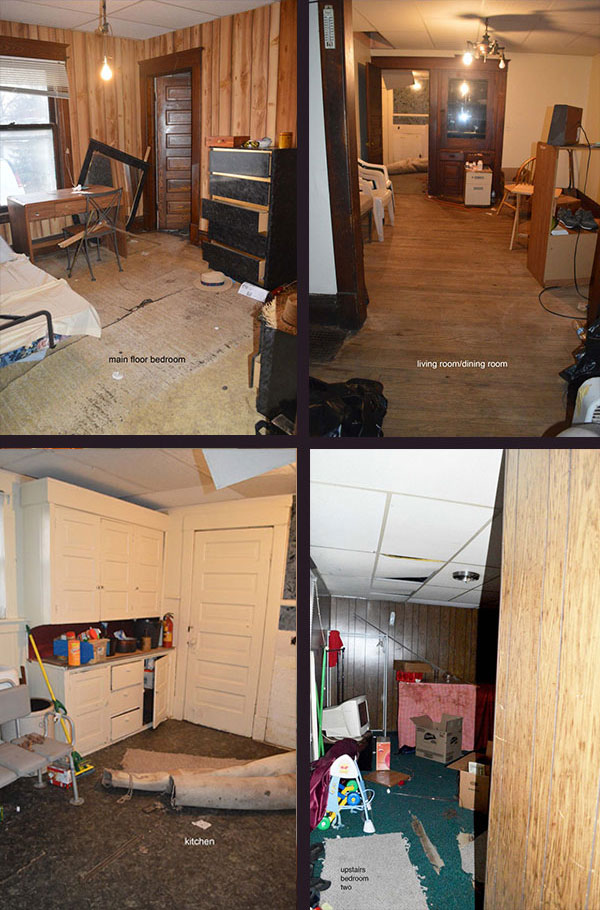 2. Plan Out Your Design Ideas
Chances are, when you purchased your home you had all kinds of ideas for improvements. Getting these prioritized on paper is a huge start to the home renovation. Don't assume that you will remember every little detail that you want to change. This is how things get missed. For instance, you may know that you want an extra outlet or cable run in a certain room and assume you won't forget. But, in the midst of all of the projects going on, this little detail is easily forgotten.
Design Checklist
Using graph paper, draw out the current floor plan. The plan should be to scale. For instance, one square on the graph paper could be equal to one square foot.
Make a copy of this floor plan and redraw your new layout if you are making changes. I like to use Photoshop for drawing up my plans. However, there is free software available for drawing up plans on your computer instead of on graph paper. You can find a list and review of various free software options at House Plans Helper.
Draw out placement of outlets, vents and lights on your new layout plan. Include any other details that you want done.
Keep an inspiration folder of design ideas. Things like magazine clippings, swatches for paint or flooring and appliance information are good to keep organized by room. The earlier that you have your design choices made the better. Waiting to figure out colors or materials until needed will most likely cause delays in the project.
Make a copy of the floor plan for any sub-contractors that need to see it. For example, the copy for an electrical contractor could include the mark ups for placement of outlets and switches.
Create your itemized budget based on your design plans. Make sure to include a miscellaneous line item for those unexpected costs.
Here is a copy of one of the layouts I completed using Photoshop: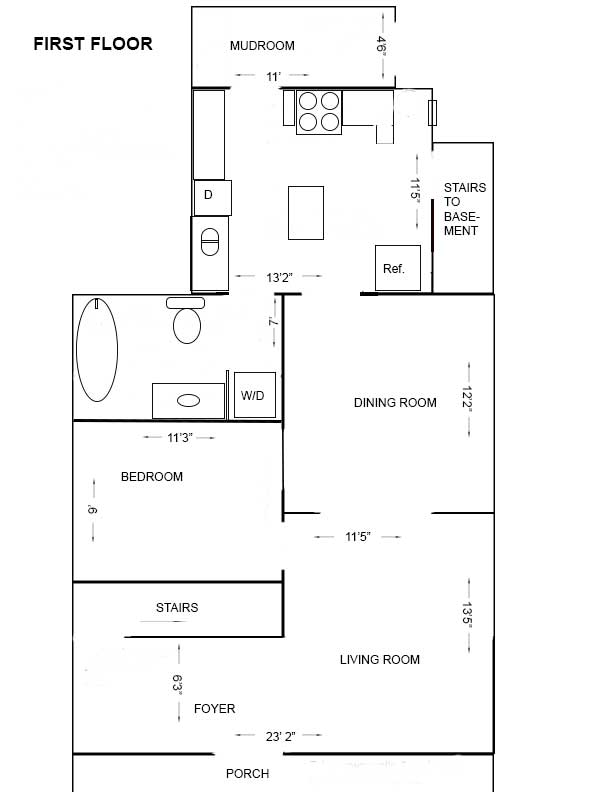 3. Find Sub-Contractors For The Work You Can't Do Yourself
Unless you are a builder yourself, most people don't have the expertise to work on every renovation detail. Things like electrical or plumbing work are best left to the professionals. Since all work will need to be inspected, you want to make sure it is done right the first time. Most professional sub-contractors will obtain a permit themselves for the work being done. However, if they don't you will need to also pull these separate permits. For instance, a plumbing or electrical permit is not included with the general building permit.
Sub-Contractor Work Checklist
Get at least three quotes for the work you want to have done. You will be surprised at the variances in job quotes. However, make sure that you are always comparing apples to apples. Quotes can be broken down in different ways. Sometimes one job quote will look more desirable when in fact it doesn't include some necessary expenses found on another quote. It's better to know all of the expenses up front rather than half way through the job having something added that you weren't planning on.
If possible, get references for previous work done by a sub-contractor. When a sub-contractor has a good reputation, you can feel confident that you will get quality work. Pay attention to any negative feedback, even if they charge a much lower rate. If a job has to be done over because of shoddy workmanship or the sub-contractor doesn't show up to work in a timely fashion, it could end up costing you more in the long run.
Project Management
Plan out the entire expected timeline for the home renovation and schedule the sub-contractors accordingly. Normally, a sub-contractor is not available immediately. You don't want to be wasting time waiting for schedules to clear up. Having the advanced schedule will keep the project running smoothly. It's also important to communicate the whole timeline to your sub-contractors and hold them accountable for showing up on time.
If you are not comfortable acting as the general contractor, it would be best to hire one to manage your job. Just remember that the more professionals hired, the less money you will have to work with to renovate.
4. Reuse or Restore Whatever You Can To Cut Down On Expenses
Just because a house is in need of a renovation, doesn't mean that everything must be replaced. In fact, keeping some of the old fixtures or built ins can give the home a unique charm. Restoring a wood floor and trim can be less expensive than installing new. If you can do the restoring yourself, the savings is multiplied. Things like a claw foot tub or farmhouse sink are fantastic items to restore. A little elbow grease can be well worth the effort for the wow factor.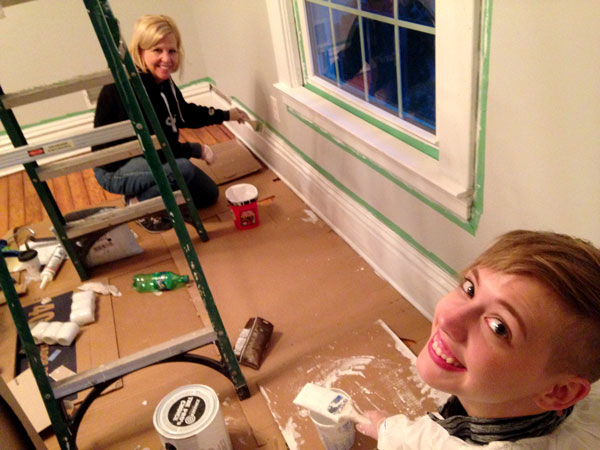 Figure out what can be saved and restored and who will do the work. Factor in the overall cost in comparison to replacing with new and determine what will stay and what will go.
With our last renovation, there was a farmhouse sink in the kitchen. Since we couldn't keep it in the kitchen with our new plan, we instead used the sink in one of the bathrooms.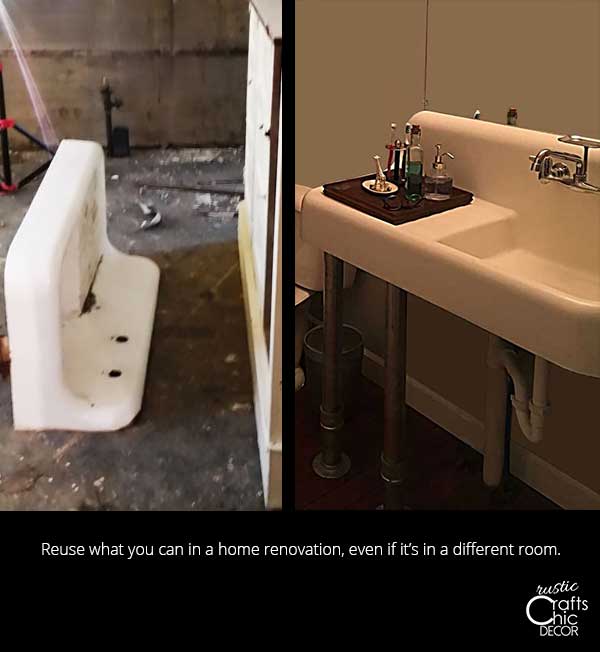 Home Renovation Safety
When working on an older home especially, there could be hidden dangers lurking about. Things like lead paint, asbestos, mold and general grime can be a hazard to breathe in. If you are doing demolition work, there is the possibility of falling debri. There are some good tips for working around these dangers that should be followed.
Best Safety Practices
1. Wear a mask – to avoid breathing in toxins, wear the appropriate mask.

This alien like mask was a lifesaver during demolition. There was so much dirt and dust flying that it would be nearly impossible to breathe without it. The type of mask to get will depend on the work being done as well as the environment.
2. Wear heavy duty gloves – a strong glove can help to prevent cuts and scrapes as well as exposure to any toxins.
3. Use a hard hat – protecting your head will help to prevent injury from fallen debri.
4. Protect your ears with ear plugs – a lot of power tools are very noisy to use. Your ears will thank you to muffle the sound!
5. Call in professionals when needed – if you suspect mold or asbestos, it is a good idea to get an expert to get rid of it. For more information on where asbestos may be lurking and what to do with it, see what you need to know about asbestos.
Finishing The Renovation
Do you remember the photos, at the beginning of this post? They were a peek into our last renovation home before any work was done. What looked to be an almost impossible task has actually been completed. For me, the most overwhelming area to renovate was the stairway walls, railing, and funky bedroom entry. I have to wonder who thought it was safe to put an entry sideways at the top of the stairs!
With the bedroom door closed in and the walls and stairway repaired, I can breathe a sigh of relief.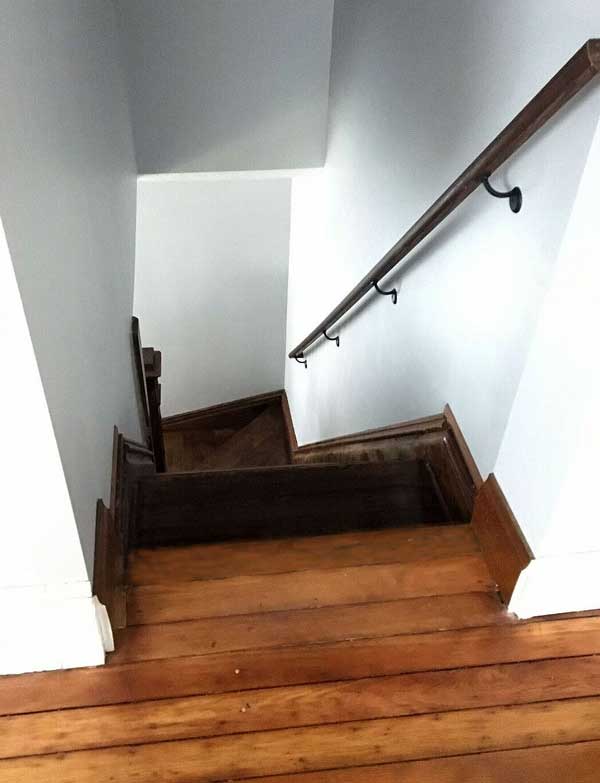 Of course when we closed in the doorway, we had to add a new one. The new spot is a way more functional entry to the bedroom.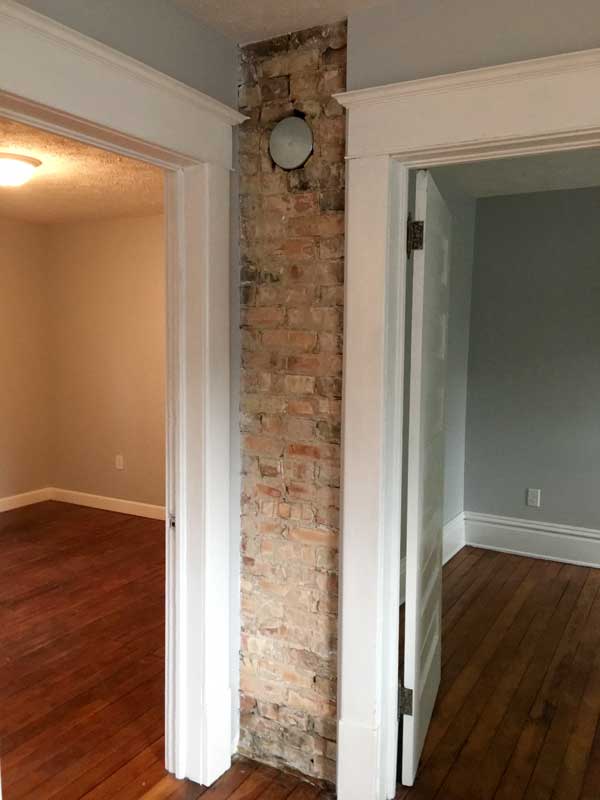 We reused the door frame and trim from the old entry to the new entry at the left of the brick. It really was an easy fix that made such a huge difference.
The best thing to do when shopping around for houses is to keep an open mind. Changing the layout can not only improve the function but will also increase the home's value.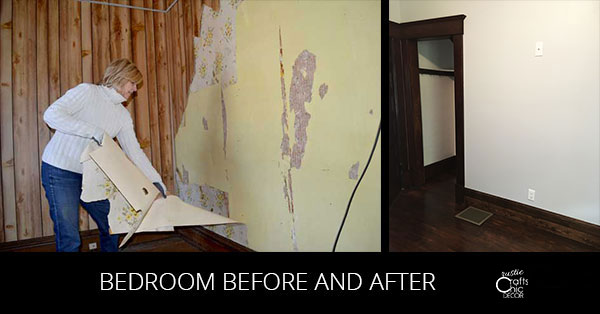 Know The Tax Implications If You Plan On Selling The Home
Be careful about flipping a house too quickly. A short term capital gain is at a much higher rate than a long term capital gain. To be a long term gain, you have to own the home for more than a year. If you don't want to live in the home yourself, then you might want to consider renting it out for a while. Of course, if it becomes your primary residence, you won't have to pay capital gain taxes. There are so many different scenarios and ideas for offsetting the gain tax, that it would be good to check out Money Crashers ideas on how to reduce or avoid capital gains tax.