I know that everyone has at least one hard to shop for person on their list. It is always a challenge figuring out what significant item will make the recipient fall over with joy! That one item usually doesn't surface because this, hard to shop for person, already has everything they could possible need. That is why I came up with some homemade gift basket ideas. Almost everyone will enjoy a gift basket tailored exactly for them.
When you put together your own basket, you get to choose what you use as your container and of course the contents. This makes it highly personal and it is usually much easier picking out several small gifts that will be enjoyed.
Presenting a well packaged gift basket is always festive and is sure to be appreciated.
DIY Gift Baskets
Choose A Container
The first step is picking out the basket or other container.

You can use almost anything for your container and if you are going for a theme, you might want to pick something to coordinate.   For instance, a movie gift basket could be filled in a large popcorn container.  I'm showing some generic ideas that are fun and decorative.  Of course, I love old vintage wire baskets which can be incorporated into home decor afterwards.  The same holds true for wicker baskets or even a bushel basket.
Gift Basket Fillers
Next up are your fillers and there is no end to the possibilities.  Here are some homemade gift basket ideas to provide some inspiration.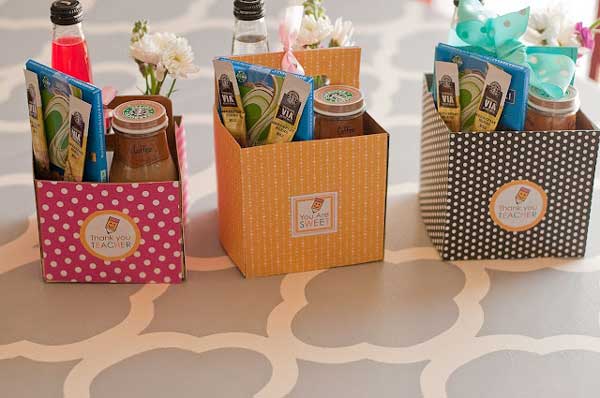 I love these cheery little gift boxes made from drink containers.  They make perfect hostess or teacher gifts.  I did something very similar with a six pack container which I used for craft storage but could be used as a gift basket and later for storage.
Gift Basket From A Six Pack Container

This six pack gift basket is easy to make and can be done in a variety of styles.
Vintage Suitcase Gift Basket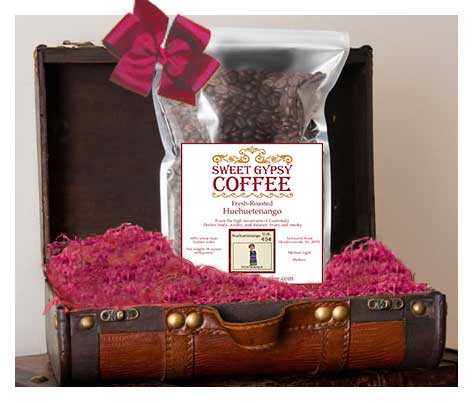 An idea that I thought would be super fun is to use a vintage suitcase as a container.  You can purchase these in a wide range of style, colors and prices from antique stores.  This would be a great idea for a traveler.  You could fill it with such things as sunglasses, a beach towel, lotion, etc..
Bucket Gift Basket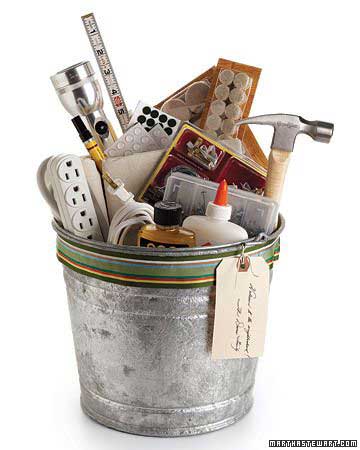 This gift basket idea was suggested as a housewarming gift but it would almost make an excellent Christmas gift for your favorite DIY-er.
Homemade Sweets Gift Basket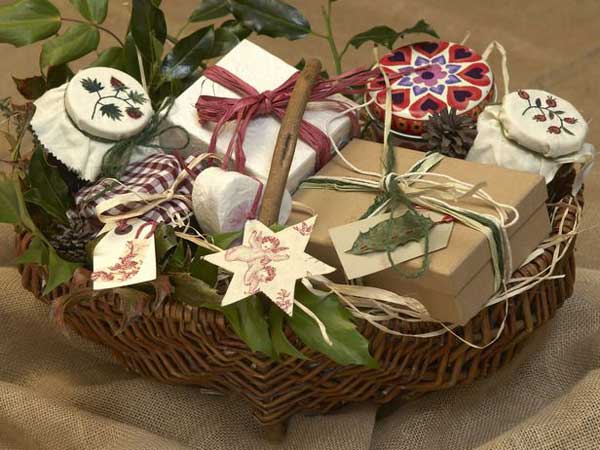 Pretty much everyone I know loves sweets!  A basket of homemade treats, packaged like this, will be a pleaser for sure!  Another idea is to make up some mason jar gifts and fill up a bushel basket.
I hope you have been inspired!