A loft space in a home may seem like a small area for a bedroom but it can work out just perfectly. With a little bit of organization, the space can be very functional. Typically the walls in a loft space are short with the ceiling being steep and angled. This makes the floor space challenging to work with. Because of this, these loft bedroom ideas offer inspiration for overall layout and storage ideas.
Loft Bedroom Storage Ideas
To start with, my own cabin has a loft bedroom that we have had to incorporate some built in storage and open hanging solutions to make the most of the limited space. With a cabin, it's a little easier to get away with some open storage!

The little nook area next to the dresser is an area we intentionally recessed when we were building the wall. It gave us a little bit of extra room for an open hanging shelf and rod, just enough for a few hanging items for the weekend! Most all of the stored items go in the dresser or in the built in cabinets and drawers in the knee wall.

Making use of the space behind the wall is a huge plus for storage! Even though we lose a lot of room square footage with the angle of the ceiling, we could still use that low ceiling space by building in drawers and cabinets. Now we almost store too much up there!

This just gives a better idea of the size and angle of the ceiling. There is also a nook on this side of the bed to fit a nightstand with drawers for more storage. And, the trunk at the foot of the bed holds blankets. This small space is quite packed with storage!
More Design Inspiration
Here are a few more ideas that I found: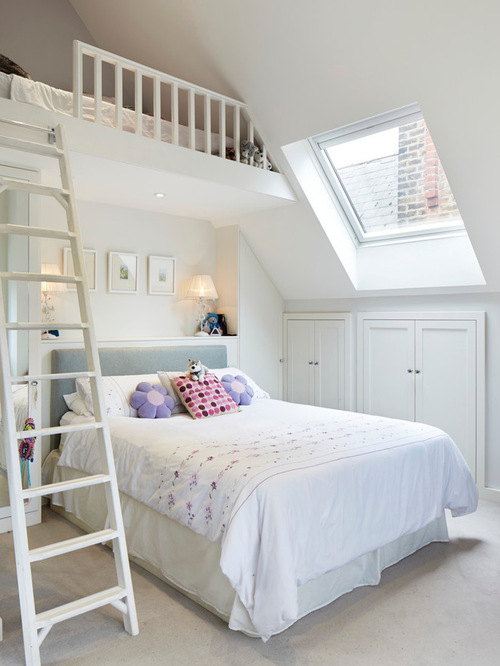 I like how this one not only has the built in cabinets in the knee wall but also the extra bed built up high!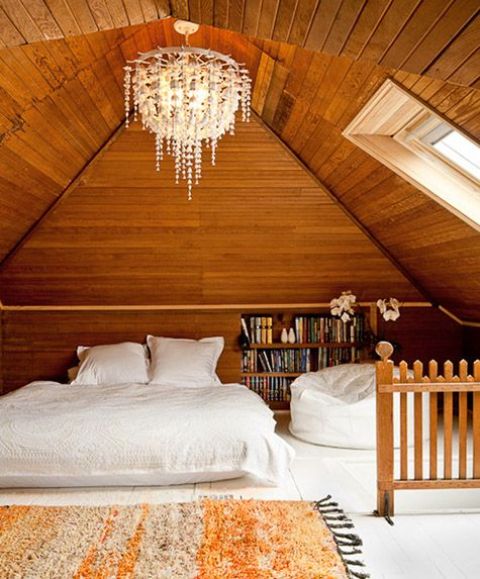 The definition of rustic chic!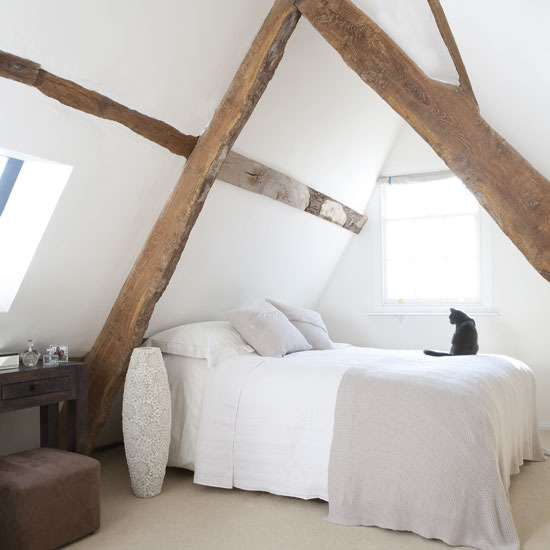 I just love the beams on this one!
I hope you have enjoyed these loft bedroom ideas.
Happy decorating!