I love decorating walls because you can keep adding to them without taking up valuable floor space.  If you are going for a shabby chic style, you may be looking for some unique wall art ideas in keeping with your decor.
Sometimes just a picture on the wall isn't enough – so… I have found some inspirational diy wall art  for you.  All of the ideas are sure to get your decorating head a buzzing.
One idea is to use old windows.  I used this old window very simply by hanging it as is and then just clipping a floral pick to one of the panes with a distressed metal clip that I had.  You could also fill the panes with photos, cork board, or other art work.
Here are some of the other ideas that I found:

This beautiful crab apple tree wall art was created by Missy at  Marvelously Messy.  She used a section of sub flooring for the wood base.  Check out her blog for the tutorial for this great piece.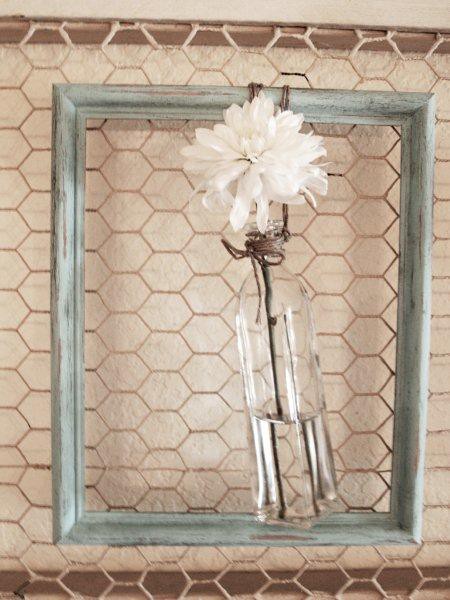 Flamingo Toes uses a chicken wire screen door as a base to hang other wall art in her dining room.  This is such a funny shabby chic idea.  The framed vases with Spring flowers add such a nice bright spot to the wall.

Young and Crafty makes a shabby sign from pallet wood that will add a smile to any room.  Check out her easy tutorial to make one of these yourself.

Here is a fun idea by Lushlee using embroidery hoops and vintage buttons.  I like the distressed wood shelving unit these are displayed on too!

I mentioned old window earlier and to go right along with that would be old shutters.  A Glimpse Inside gives a great example for using shutters as wall art.  They make a wonderful base for pictures, wreaths and other decor.
Hopefully all of these ideas have inspired you to start dressing up your walls in a shabby chic style!  Do you have any other ideas that you would like to share?  Let me know your thoughts 🙂
Happy Decorating!