I love decorating walls because you can keep adding to them without taking up valuable floor space. If you are going for a shabby chic style, you may be looking for some unique wall art ideas in keeping with your decor. Sometimes just a picture on the wall isn't enough. Therefore, I have come up with this collection of DIY shabby chic wall art ideas for inspiration.
One idea is to hang old windows. An old window is usually decorative enough to use as is. However, it's easy to add a little bit to the window by just clipping a floral pick to one of the panes. You could also fill the panes with photos, cork board, or other art work.
DIY Shabby Chic Wall Art
Here are some of the other ideas that I found for making your own wall art.

This beautiful crab apple tree wall art was created by Missy at Marvelously Messy. She used a section of sub flooring for the wood base. Check out her blog for the tutorial for this great piece.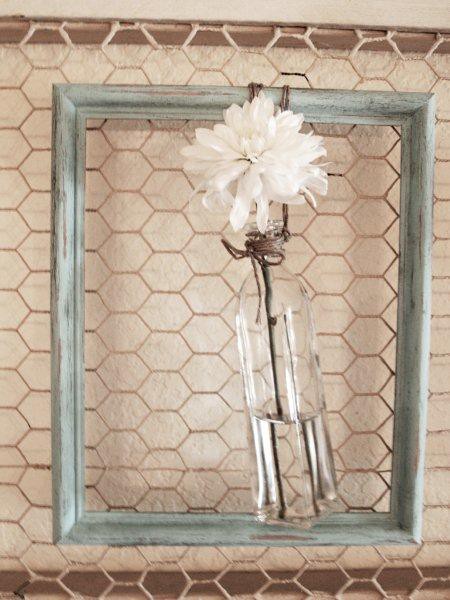 Flamingo Toes uses a chicken wire screen door as a base to hang other wall art in her dining room. This is such a funny shabby chic idea. The framed vases with Spring flowers add such a nice bright spot to the wall.

Young and Crafty makes a shabby sign from pallet wood that will add a smile to any room. Check out her easy tutorial to make one of these yourself.

Here is a fun idea by Lushlee using embroidery hoops and vintage buttons. I like the distressed wood shelving unit these are displayed on too!

I mentioned old window earlier and to go right along with that would be old shutters. A Glimpse Inside gives a great example for using shutters as wall art. They make a wonderful base for pictures, wreaths and other decor.
Hopefully all of these ideas have inspired you to start dressing up your walls in a shabby chic style! Do you have any other ideas that you would like to share? Let me know your thoughts 🙂