My home office space has been a work in process that is being pieced together as I find the right accessories. The biggest item that I have been in search for has been a new "vintage" desk and chair set.
When I first made over my office from a play room to my work space, I took whatever furniture was available from around the house. It has worked fine for the interim but definitely was not the intention. I had a look in mind that was a lot of vintage, rustic and industrial or you could say a shabby chic style.
Vintage Desk Set Search And Find
I finally found the desk set that I wanted while shopping at a local antique market for my birthday! First, I spotted the chair in one booth. I loved the look of it but wasn't totally sold on buying it on it's own. Not until…………
I walked a few yards further to another booth that had a desk on it's own. I loved the desk too! Hmmm…I had my husband haul the chair from the first booth over to the desk at the second booth to see how they might look together and…..
WALAA!!!!!!
They went together like peanut butter and jelly! It was a small set but I didn't need a big desk. I work on all of my craft projects in my craft room on a large work surface and only need a desk in my office for basically my lap top and periodically to write.
I couldn't wait to get them home!
Before: Old Pieced Together Set
My husband took out that old pieced together desk for me.

I would miss it just a little. My husband build that little table when we were first married. It was actually our first kitchen table! Later, it became a changing table in the nursery for all three kids. With all of the sentimental value, there will probably always be a spot for it somewhere in our house or at one of the kids. 
Welcome New Vintage Desk Set
Once the old was taken away, there was plenty of room for my new set. I think it looks a little more adult……even if it is so small.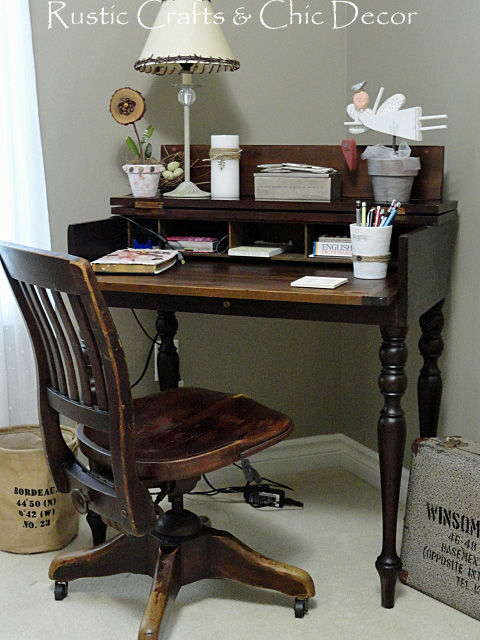 Here is how it is looking with some of my shabby accessories. I kind of collect a bunch of things to later use in other projects.

Next on my list will be to replace that white bookcase and smaller white cabinet!
Buy A Vintage Desk Set
You can find a variety of different desks and chairs for sale on Amazon. I liked this vintage inspired desk with a dark wood finish.