What is better than creating decorative items straight from nature? Natural items, like pinecones, are already beautiful which makes them perfect for incorporating into holiday decor. In fact, there are so many Christmas decorations that you can make with pinecones. From garland to wreaths to even pinecone trees, there are many creative ideas. However, today I will be focusing on ornaments. This collection of DIY pinecone ornaments is full of festive creativity.
Unique DIY Pinecone Ornaments
There are plenty of simple ways to simply hang pinecones on the Christmas tree. For hanging, use twine or ribbon attached to the top of the pinecones. Natural pinecones look great hanging from festive ribbon. However, you can also decorate the pinecones with paint or glitter for some added style. To get even more creative, the following ideas provide some great inspiration.
Make Pinecone Elf Ornaments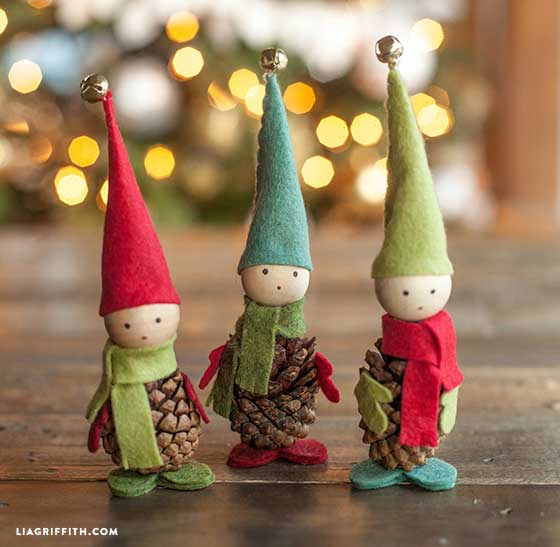 These adorable pinecone elves would also look great hanging on a tree. Just thread some clear elastic string through the top of their hats for hanging. The ornaments are so easy to make with just pinecones, felt, and wooden beads.
DIY Pine Cone Penguin Ornaments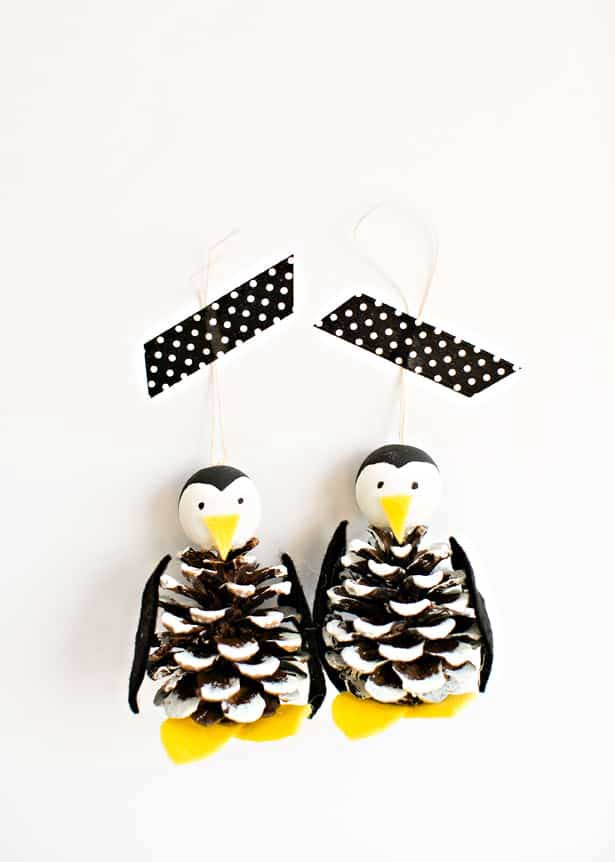 Similar to the elves, are these cheery penguin ornaments. Just by changing the felt shapes and painting the wood face, you get a completely different look using the same materials.
Create A Pinecone Trio Ornament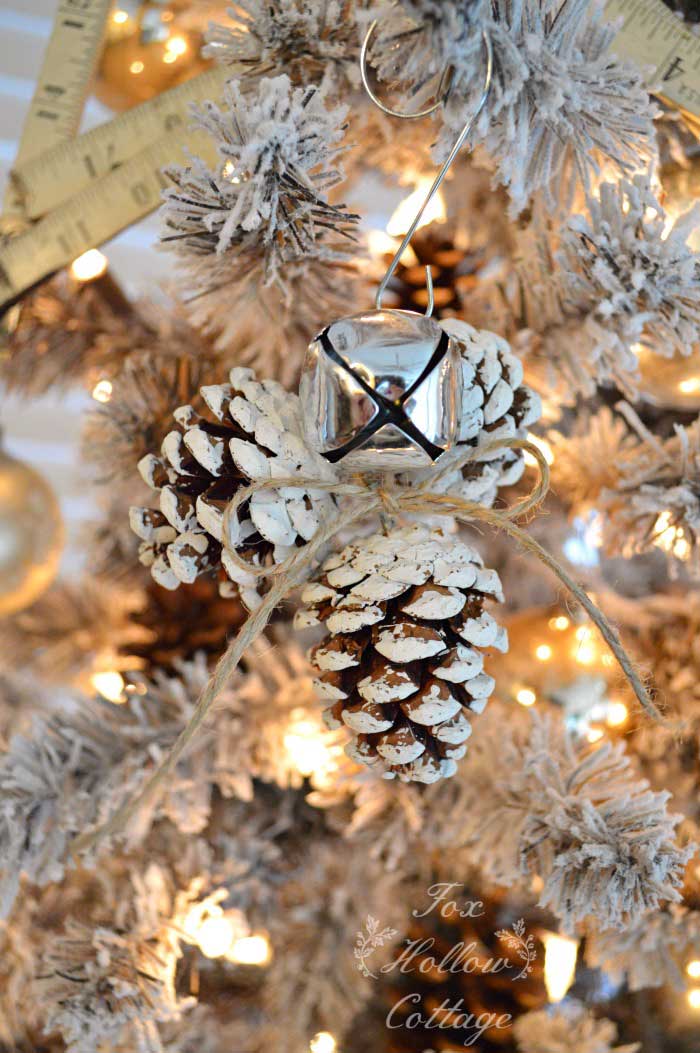 String a few pinecones togethe,r with a festive bell, for a creative ornament for the tree. The added white paint gives the pinecones a definite rustic chic look. If you want to add a bit of color, use red velvet ribbon instead of the twine for stringing.
Birch And Pinecone Flower Ornament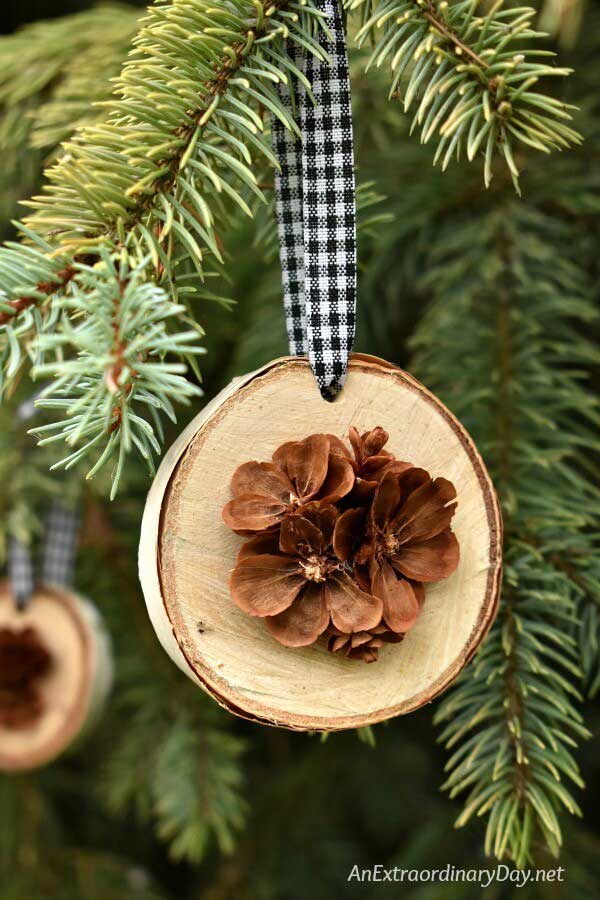 I have made pinecone flowers using the cone petals and a small round slab of wood. Instead of inserting a branch into the bottom of the flower as a stem, just drill a hole at the top of the wood slab. Then thread a festive ribbon through the hole and hang it on the tree.
Pinecone Fairies For The Christmas Tree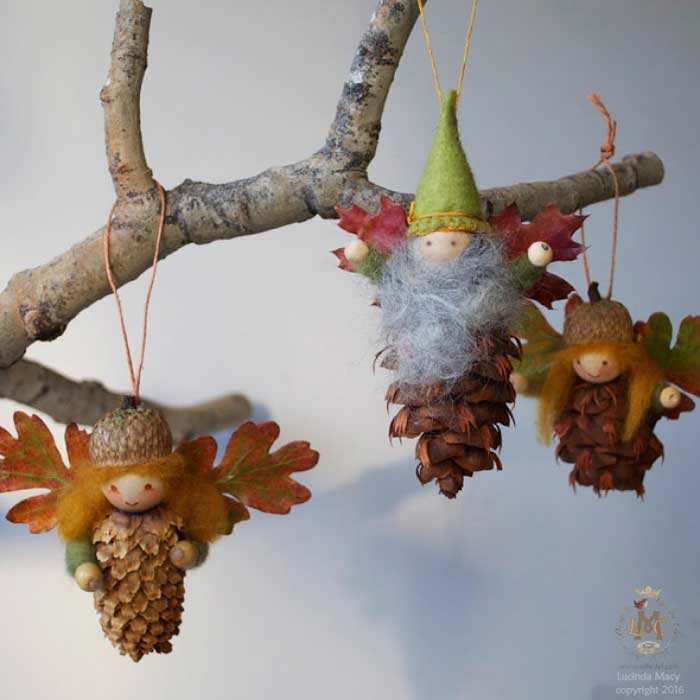 These little pinecone fairies would look great hanging outside in a garden. However, they would also be fun on a Christmas tree. They have a festive look that is appropriate for the holidays.