An easy way to dress up your Thanksgiving table is to make decorative place card holders. Not only do they look pretty and enhance the Thanksgiving centerpiece, but they serve a good purpose as well. Whenever you have a large group over for dinner, it's nice to have place cards to assign the seating.  And, Thanksgiving is probably the most popular time for having a large dinner party. So, I came up with this collection of DIY place card holders that are easy to make for your Thanksgiving table.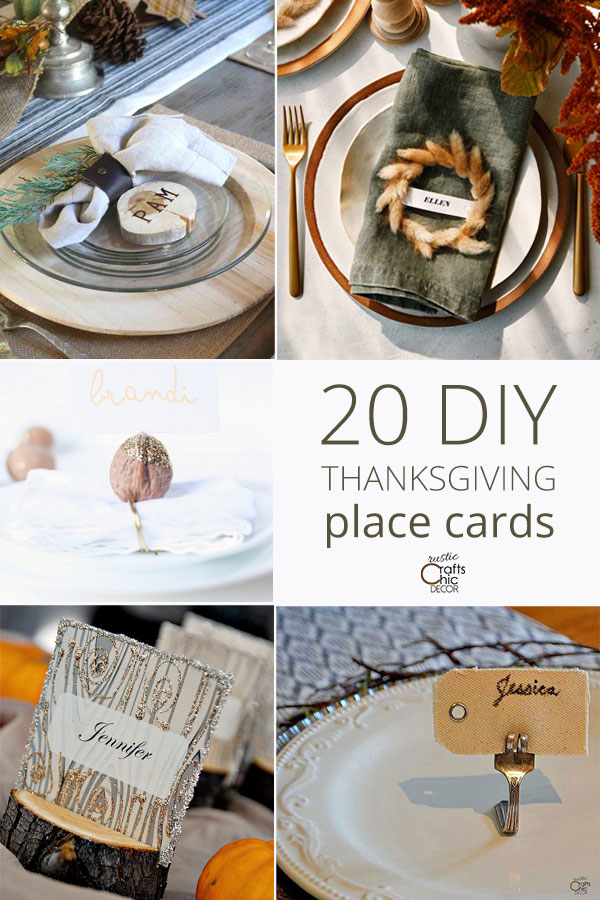 This post contains recommended product links. If you make a purchase through one of the links, I will earn a small commission at no extra cost to you.
Ideas For DIY Place Card Holders
All of these ideas can be made in very little time and will add some more formality to your holiday table.
Mini Wreath Place Cards DIY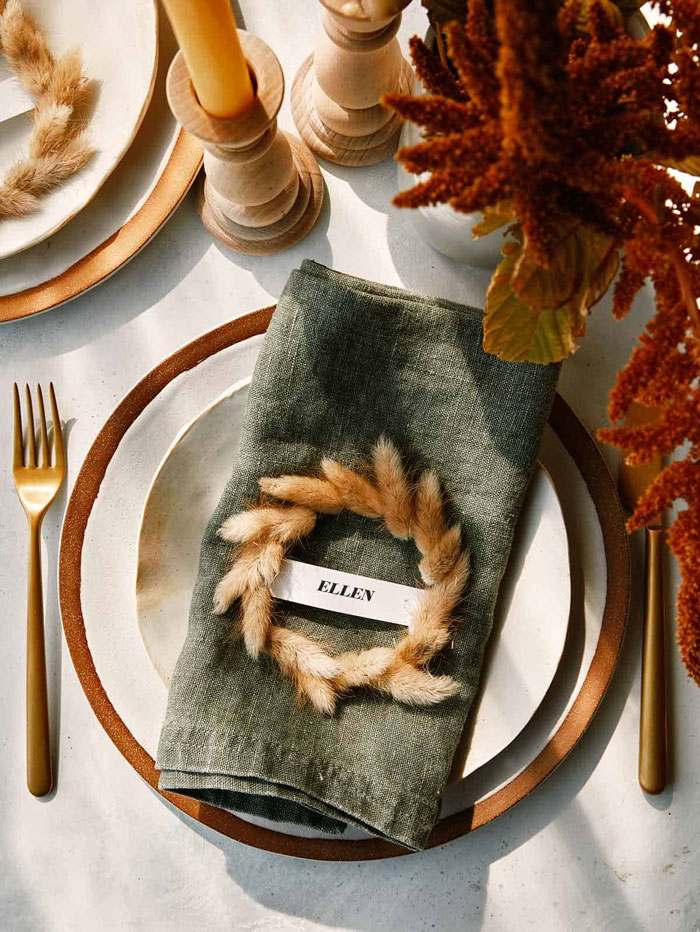 A simple but festive wreath that is perfectly Fall for a Thanksgiving place card.
SHOP: Dried Bunny Tail Grass
Mini Pumpkin Thanksgiving Place Cards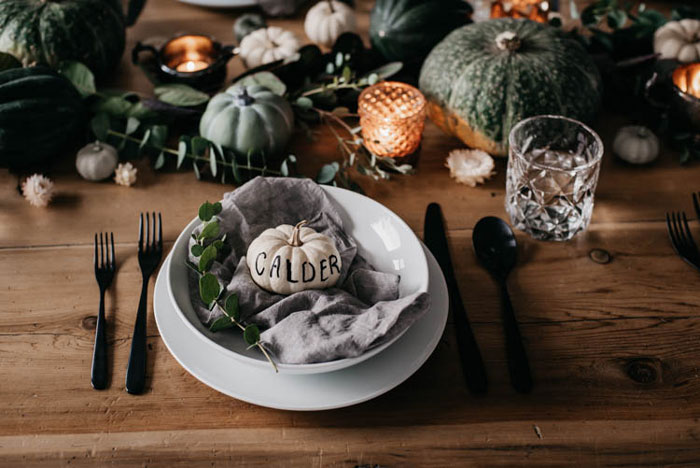 Simply writing a name on a mini white pumpkin is all that you need to create a festive place card.
SHOP: Mini Pumpkins
Log Stand Place Card Holders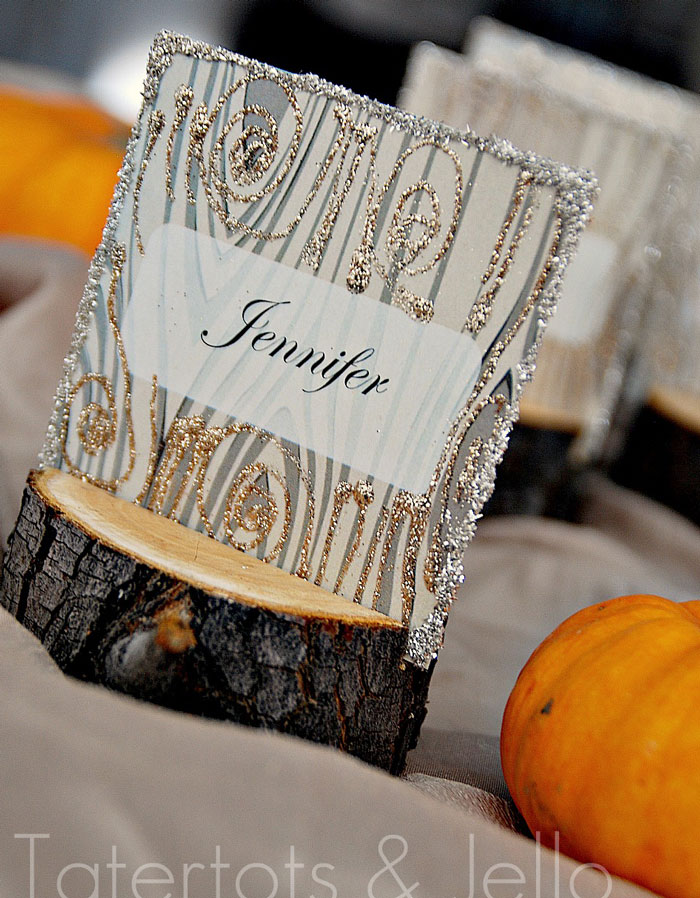 Use a log slice with a slit to hold a decorative paper name tag.
Wood Burned Leaf Place Card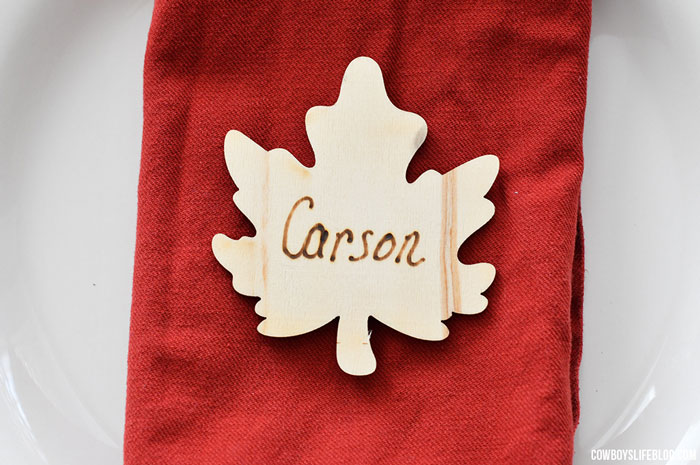 A wood burning tool seems to make any writing more rustic chic. When a name is burned onto a wooden leaf it is all the more perfect for a Fall holiday like Thanksgiving.
SHOP: Wooden Leaves
Glittered Walnut Place Card Holders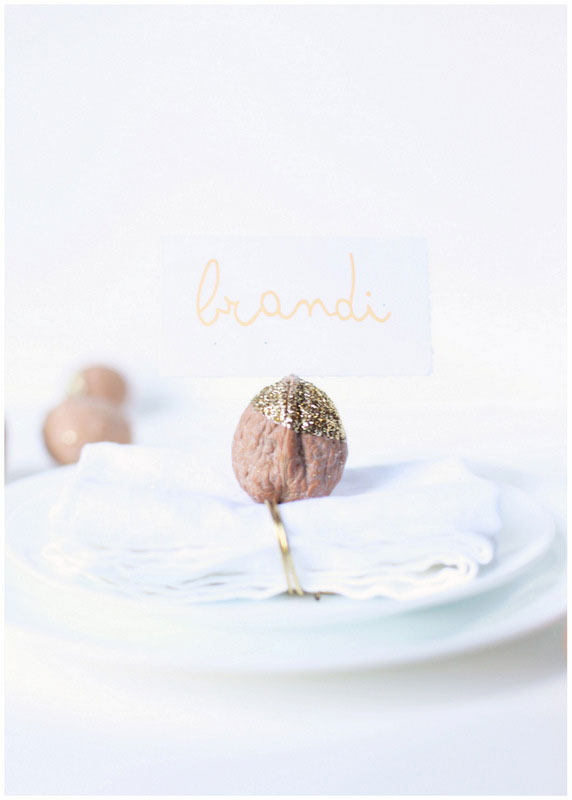 It's amazing how something so simple can look so elegant. By dipping a walnut into glitter you get a beautiful and festive holder for each of your place cards. You could do the same thing with mini pumpkins or pinecones.
Framed Chalkboard Thanksgiving Place Cards

Place cards don't always have to be at the table setting. For an easy and unique idea, why not hang mini chalkboards to the back of the chairs?
SHOP: Mini Chalkboards
Thankful For Name Cards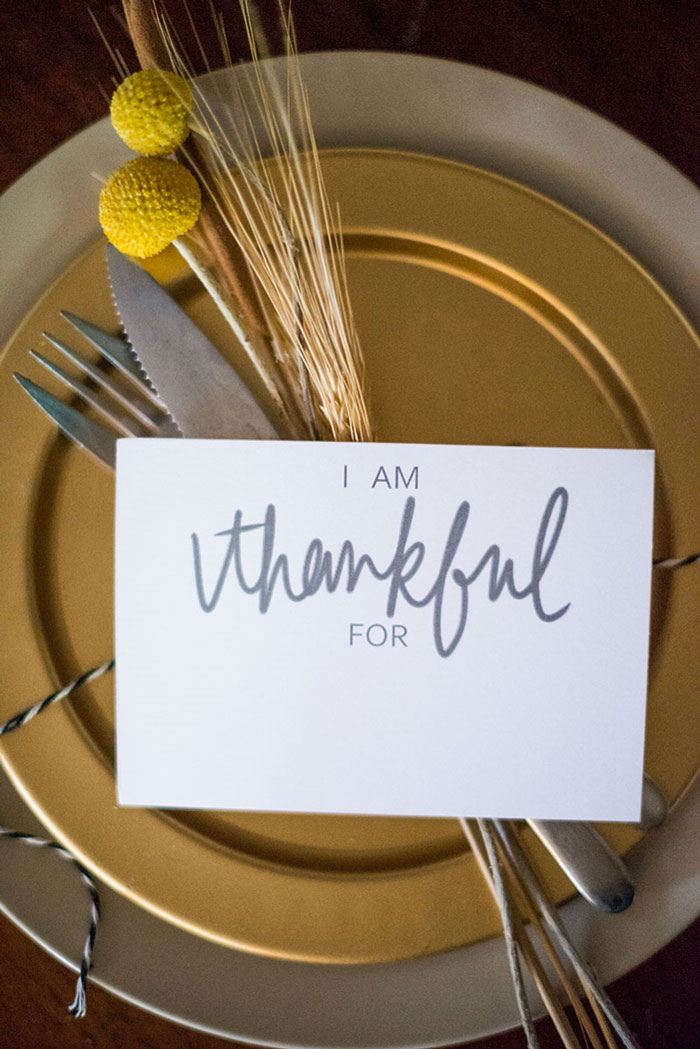 It's nice to show who you are thankful for! Get this free printable and then just fill out the names of your guests.
Rustic Wood Slice Place Card Holder

I always like natural options for craft projects and this one is both natural and festive. Simply cut slices from a wood log and use iron on vinyl letters for the names.
SHOP: Iron On Vinyl Letters
Corn And Feather Place Cards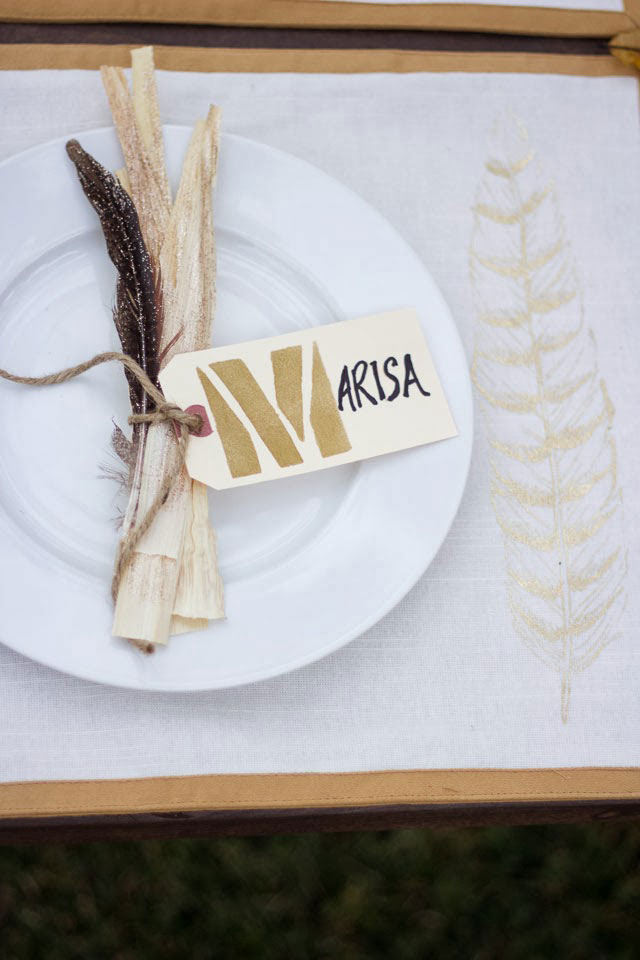 Make a bundle of corn husks and feathers to attach a name tag to. Adding glitter adds a nice amount of elegance. You can really use any elements that you want for this idea. Even a bundle of twigs would do!
Feather And Cork DIY Place Card Holders

SOURCE: Carolyn's Homework
What's not to love about these elegant and festive Thanksgiving place card holders? It's a simple idea with a ton of impact. They are light, wispy, elegant, and rustic all at the same time. Start saving your wine corks or this place card idea!
SHOP: Feathers
Create Place Card Holders With Twigs And Twine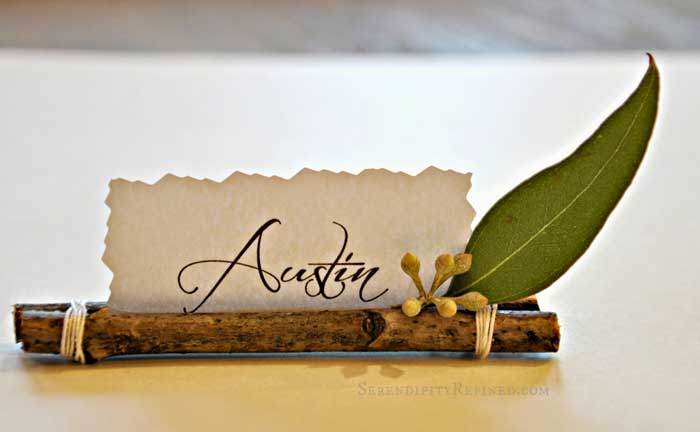 TUTORIAL: Serendipity Refined
All you need to do for this place card DIY is to wrap two twigs together with twine. The place card will fit in between the twigs. Then, just embellish it with some Fall decor. You could also use cinnamon sticks instead of the twigs for this project.
Make Place Card Holders With Vintage Forks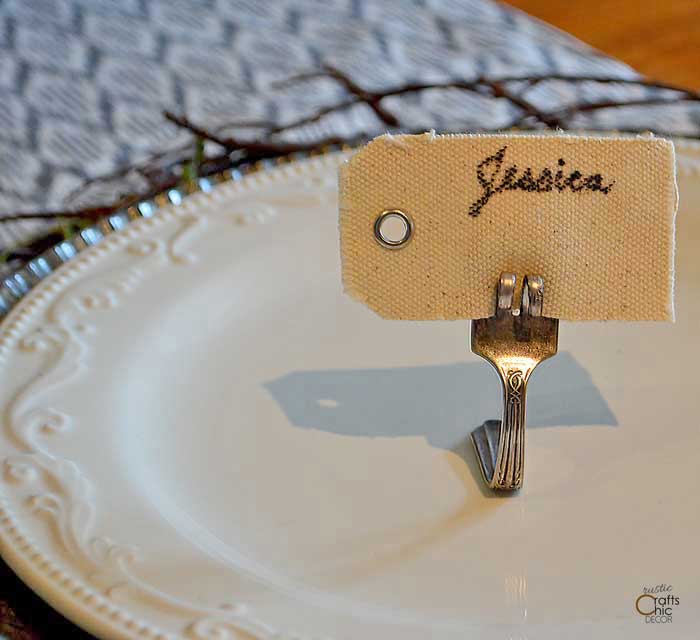 TUTORIAL: How To Make A Vintage Fork Place Card Holder
Old forks are easy to bend and manipulate with a needle nose pliers. Then, the place card holder just fits between the fork tines. Silver place card holders can be used any time of the year but add an elegant touch to a Thanksgiving table.
Gilded Pear DIY Place Card Holders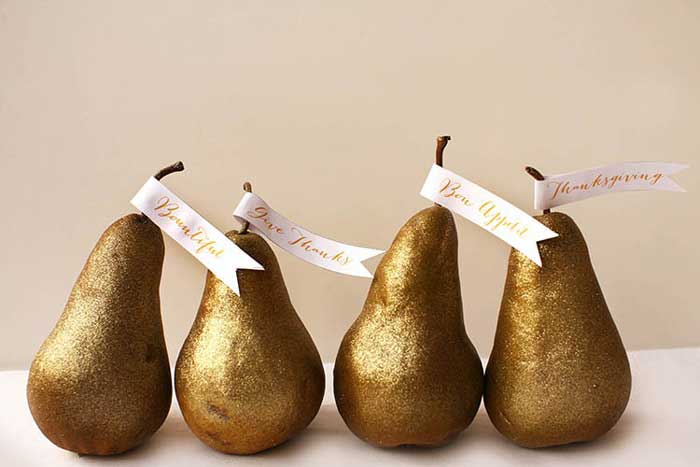 TUTORIAL: Freut Cake
Another way to add elegance to your Thanksgiving table is with gilded pear place card holders. The shimmery Fall color is so pretty.
Use A Pinecone As A Base For A Holder
I came up with a very simple design using pine cones purchased from a craft store.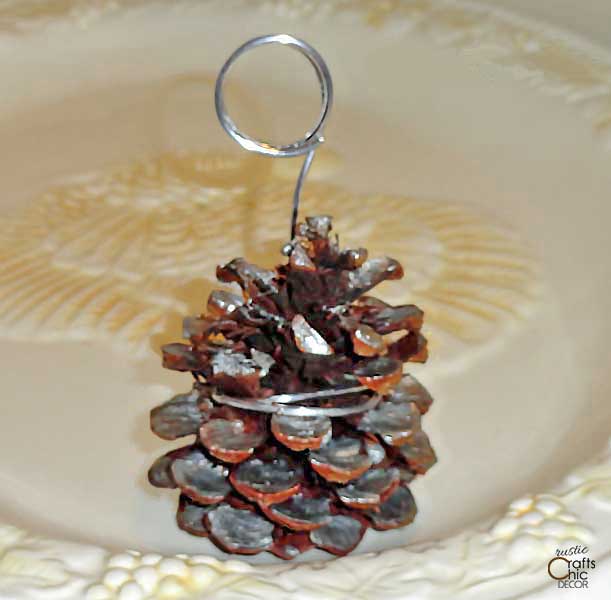 To create the pine cone place card holder, you just need a handful of pine cones, some floral wire and a little paint. If you collect your own pine cones, you will want to bake them in the oven at 200 degrees for a couple of hours, before using them, to dry them out. I purchased a bag from Joann on clearance which is a good option too.
I could have left the pine cones natural for a more rustic look. However, I wanted to add a little shimmer to dress them up. Since I did want some of the natural color to show, I just painted the petals of the pine cone with silver acrylic paint. It kind of reminds me of a frosty Fall day.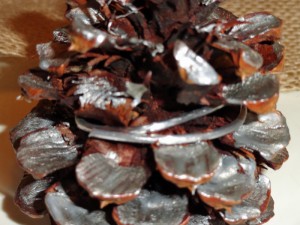 I clipped about an eighteen inch section of silver floral wire, with wire snips, and wrapped it around the middle of the pine cone a couple of times. Then, I brought the remainder of the wire straight up the back of the pine cone.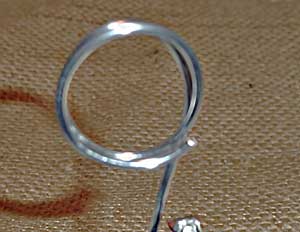 Next, I formed a circle with the wire and wrapped it two full times, clipping the leftover wire at the bottom of the second circle. The place card will fit between the two circles. That's it!
DIY Place Card Holders Using Acorns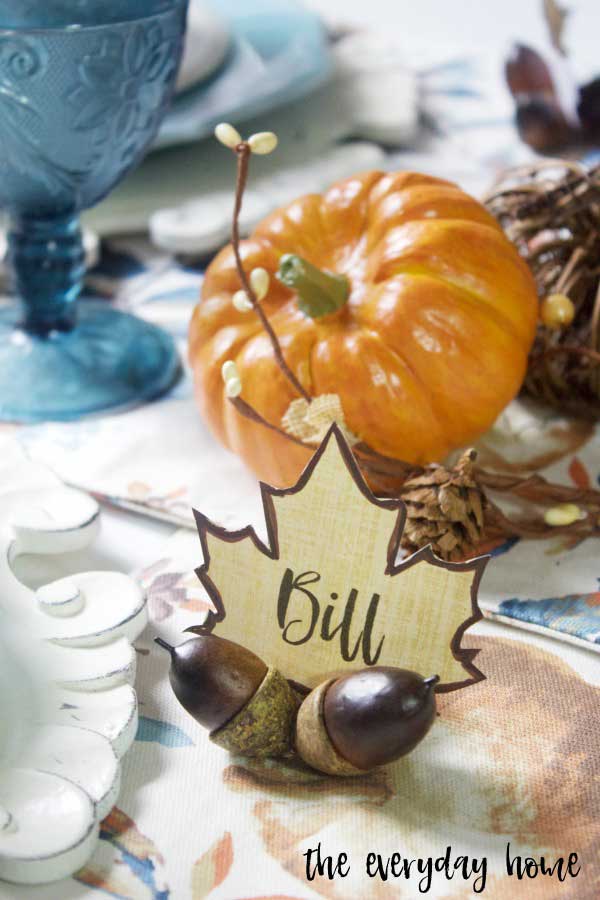 SOURCE: The Everyday Home
Besides pine cones, acorns are another popular Fall item to decorate with. This project uses faux acorns that can be purchased from pretty much any hobby store. However, if you want to use natural acorns, first check out my post on how to dry acorns for crafts.
Make Place Card Holders Out Of Clothespins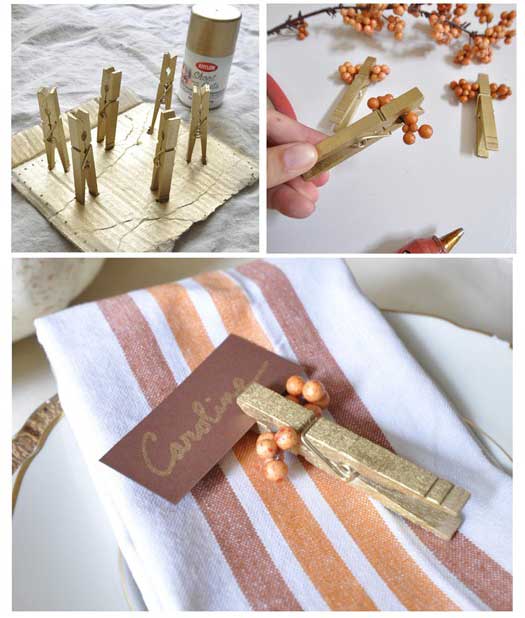 TUTORIAL: Centsational Girl
I thought these clothespin place card holders were such a cute and simple idea. They can either be laid out o a napkin, as shown, or be placed upright on the table. Either way, they look pretty on the table.
Book Pages And Pumpkins Are All You Need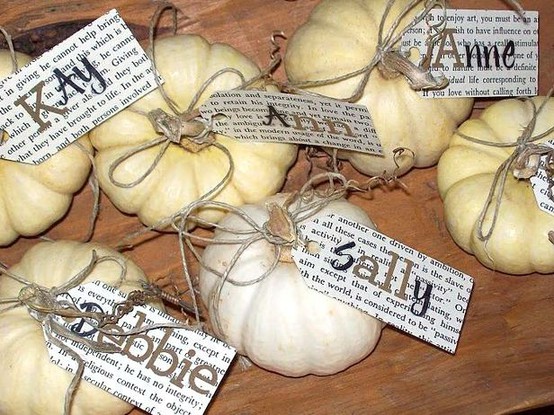 SOURCE: HGTV
Glue a book page to a manila tag for a fun look. Then just add some sticker letters for the names and tie them to mini white pumpkins with jute string. The fresh miniature white pumpkins and homemade tags get a perfectly shabby chic theme going for your table. The neutral coloring will go with any color place setting too!
Make Pilgrim Hat Place Card Holders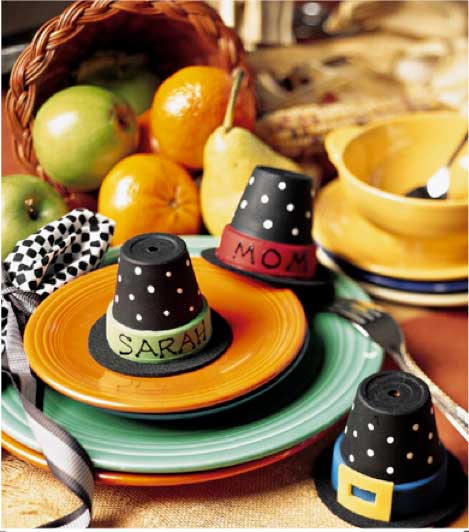 TUTORIAL: Mrs. Design Her
For a little more whimsy, these fun pilgrim hats add just the right touch of color and festivity to your Thanksgiving table.  You can't get much more into the Thanksgiving spirit than with pilgrim hats!  The majority of the hat is made from little flower pots.
SHOP: Mini Flower Pots
Cornucopia Place Cards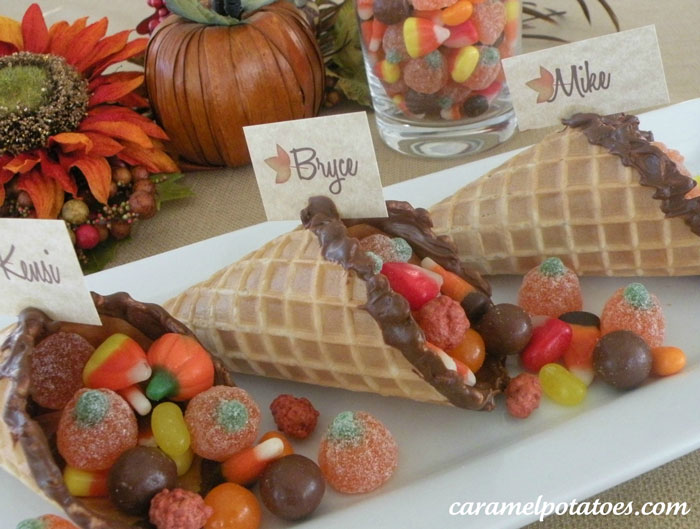 These place cards second as a festive tasty treat. This could be a favorite idea with your younger guests.
Vintage Hose Nozzle Name Tag Holder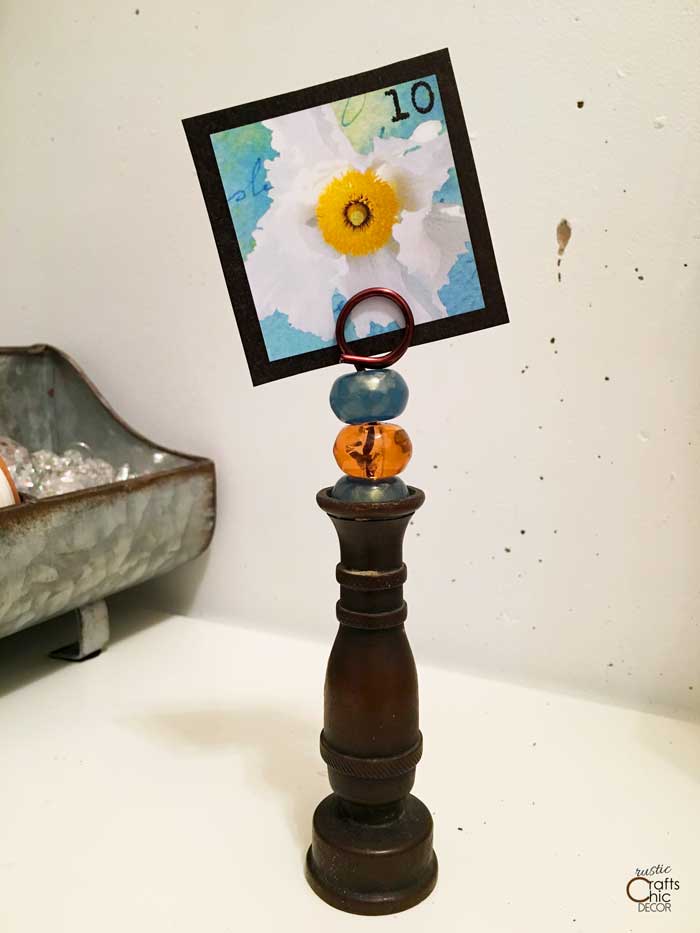 This vintage hose nozzle project is a fun one to do for any dinner occasion. For Thanksgiving, you could use beads in Fall colors to blend with the rest of your holiday dinner decor.
More Ideas For DIY Place Card Holders
Some other ideas for DIY place card holders would be to simple cut a slit in a wine cork and place some decorative paper in the slit maybe with the person's name written in gold ink. You could also use natural leaves that have been spray painted with names written on the top or paper cut out leaves simply placed on each plate.
Hopefully you have been inspired! The nice thing is that these can be created ahead of time leaving you free to handle the dinner preparations later.