The Thanksgiving table is going to be full of wonderful and eye appealing food that you almost don't need anything else on the table. Everyone will already be drooling over everything they see. But when all of the side dishes are quickly devoured, you may want something left on the table that is pretty and festive. That is when the centerpiece will really be noticed and appreciated. Thanksgiving centerpieces can be anything from a few pumpkins to an all out crafty display. I'll show you some great ideas that will give you some creative inspiration.
With Thanksgiving being in the Fall, capitalizing on some of the natural elements like leaves, pine cones, and nuts are great natural and rustic choices. You can't beat the beauty found in nature and whenever you can bring some of that inside, it makes a bold impact. And, you will be surprised at how elegant you can make your table with some of these items from nature. I found several great examples of Thanksgiving centerpieces that are easy to put together and that will make a big statement on your table.
If you love to make your own home decorations, you will love these simple ideas to decorate your table. Not only are these Thanksgiving centerpieces easy to make but they also are very budget friendly. It's always a win win when you can make something pretty without spending a lot of money.
To give your entire home a festive look for the holiday, make sure to check out some of these thankful crafts that even include a free Thanksgiving printable.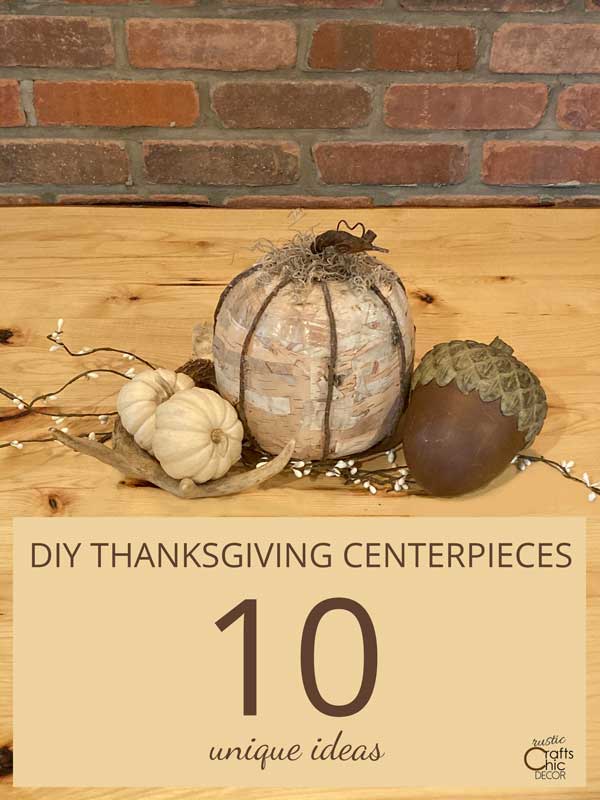 This post contains recommended product links. If you make a purchase, through one of the links, I will earn a small commission at no cost to you.
DIY Thanksgiving Centerpieces
The following DIY Thanksgiving centerpieces use a variety of items from creative pumpkins to rusty lanterns and some upcycled decor. All of them are unique and may inspire your own unique idea. Try one of these and let me know what you think!
Pumpkins, Pipberries, And Paper Sheds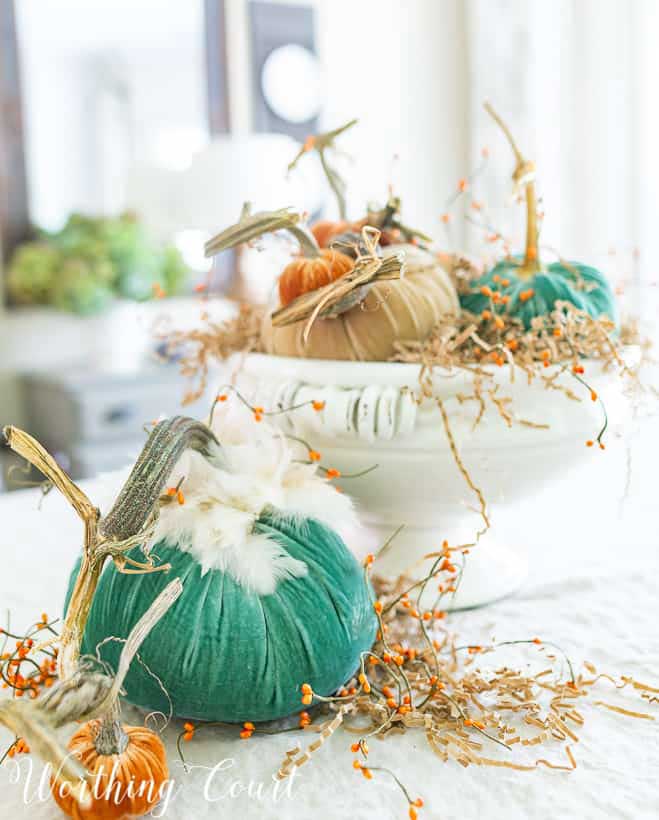 Although pumpkins are popular to use on the Thanksgiving table, they don't have to be traditional. I love the elegant and airy look of this Thanksgiving centerpiece that features velvet pumpkins. When combined with some papers shreds and pipberry strands, the look is both unique and chic.
You can either purchase velvet pumpkins to recreate this look. Or, make your own by following the same tutorial I did for sweater pumpkins. Just substitute the sweater material for velvet.
A Fresh Apple Centerpiece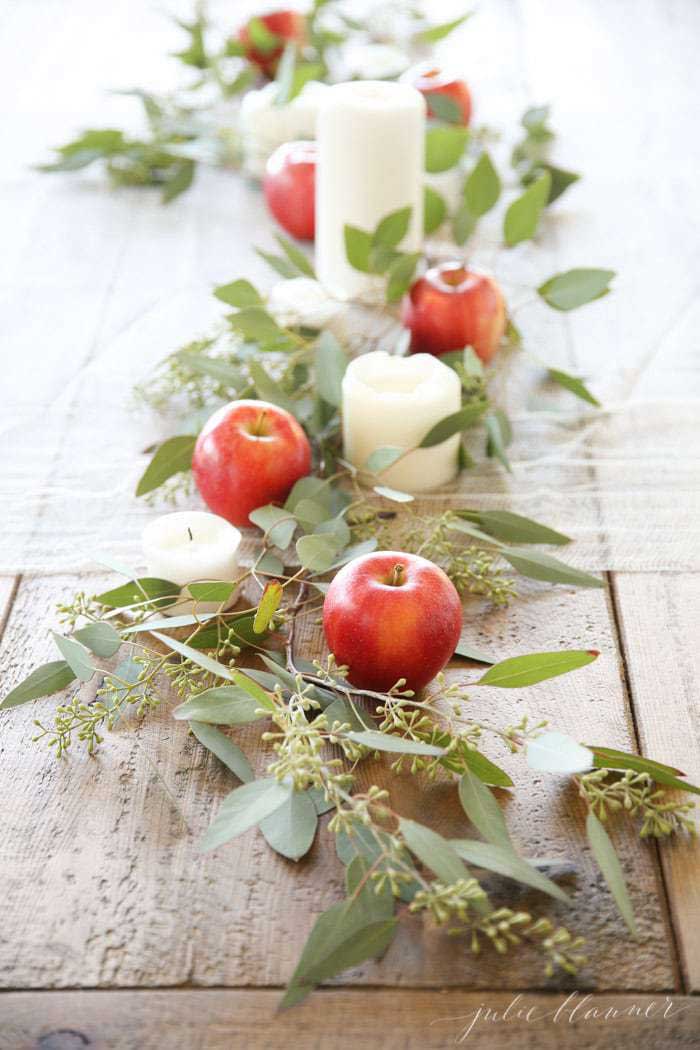 Besides pumpkins, the first thing that comes to mind with the start of Fall are fresh apples. Previously, I have shown how to decorate with fresh apples in a lot of creative ways. When it comes to decorating the Thanksgiving table, apples are a perfect pick. They add pretty color in such a simple way. I love how this display just flows down the center of the table.
Recycled Can Votive Holders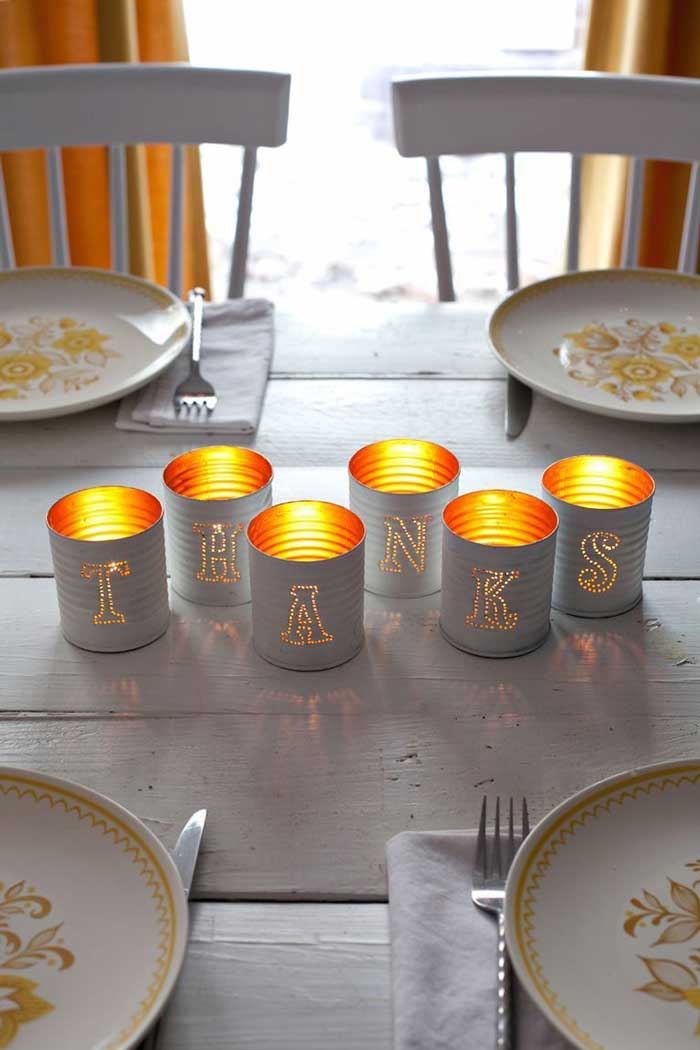 It's always great to be able to upcycle a throwaway item into some fun new decor. I love that these votive holders are made from common tin cans from the pantry and yet they look so elegant. A tin can should never be underestimated for what it can become! I have used plenty of empty cans myself in projects. The last one being a new tin can herb garden!
Tiered Tray Thanksgiving Centerpiece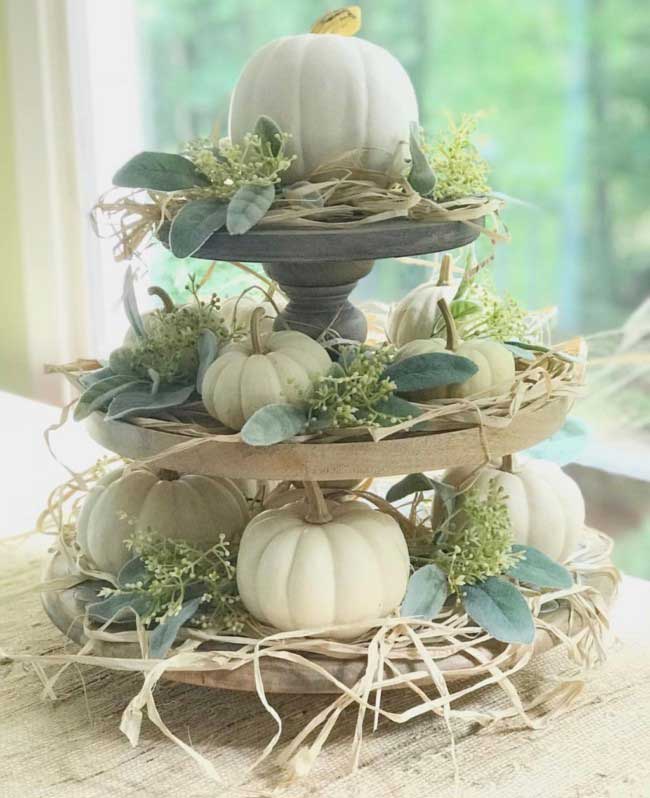 A great way to add height to your Thanksgiving table is to fill a tiered tray with mini pumpkins and other embellishments. You know how pretty these trays look when they are filled with treats. It just makes sense to use one to decorate your table as well! Use either an actual tiered tray or stack together a few pedestal trays like this display.
Antler And Acorn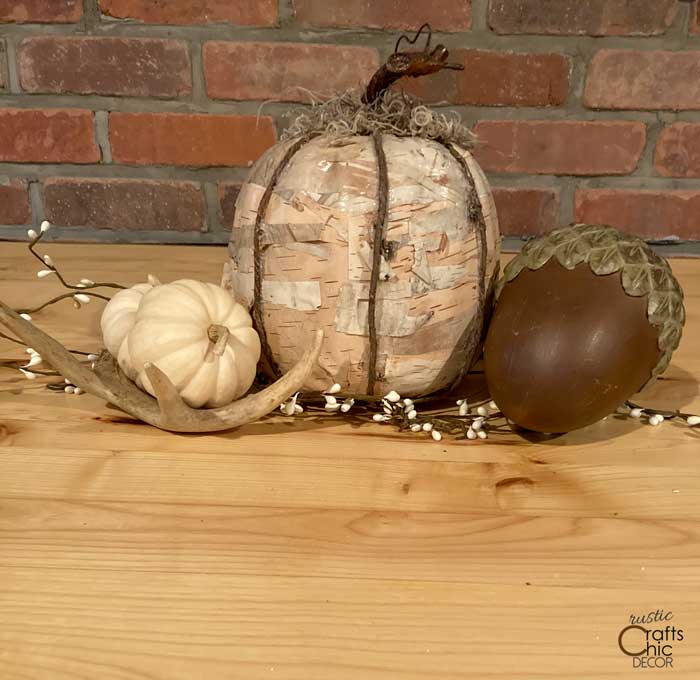 Whenever I can incorporate an antler into my decorating, I do. It helps that we've accumulated quite a few over the years since my husband is a hunter! I like using them in a table arrangement as a fun rustic filler. This antler helps to anchor the small white pumpkins with the rest and the pip berry holds it all together.
If you like the rustic look of the birch bark pumpkin, you can learn how to make your own at my post, Rustic Pumpkin Craft Using Birch Bark. It's pretty easy to make!
Wired Up Pumpkins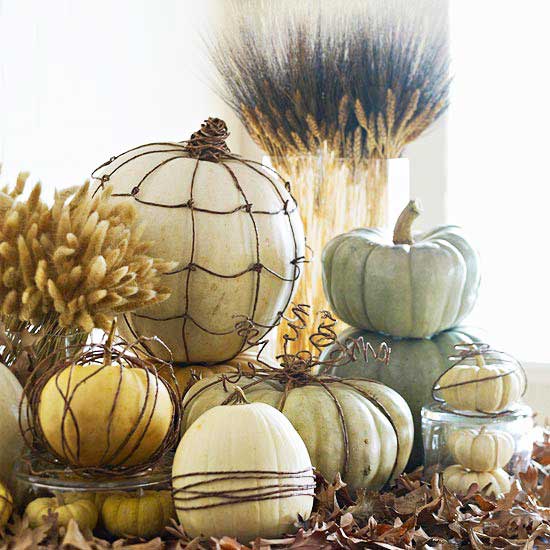 Here is another fun idea, for a Thanksgiving centerpiece, using pumpkins. What makes this arrangement special is the use of all of the bark covered wire. The wire wrapped around the pumpkins in various patterns adds a fun rustic element along with the leaves and wheat arrangements scattered throughout.
DIY Menu Pumpkin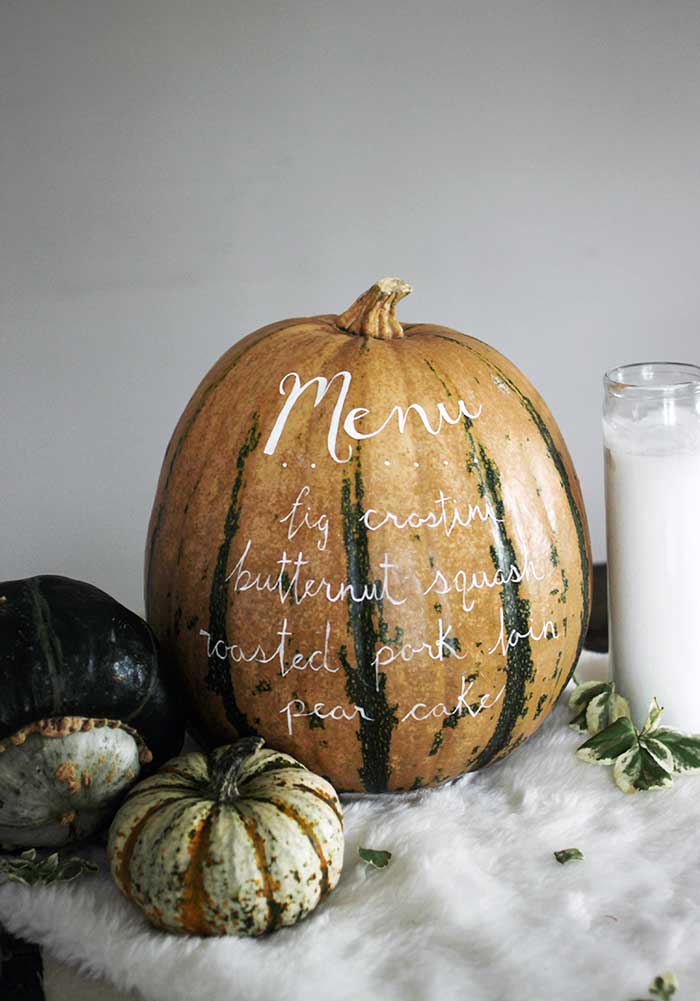 Do you like to write with chalk marker? A fun idea is to write out your dinner menu on a colorful pumpkin for a centerpiece. This is such a unique idea that it is sure to be eye catching. Not only does it look nice but it also informs guests on what they can expect dinner to be.
A Rustic Lantern With A Warm Glow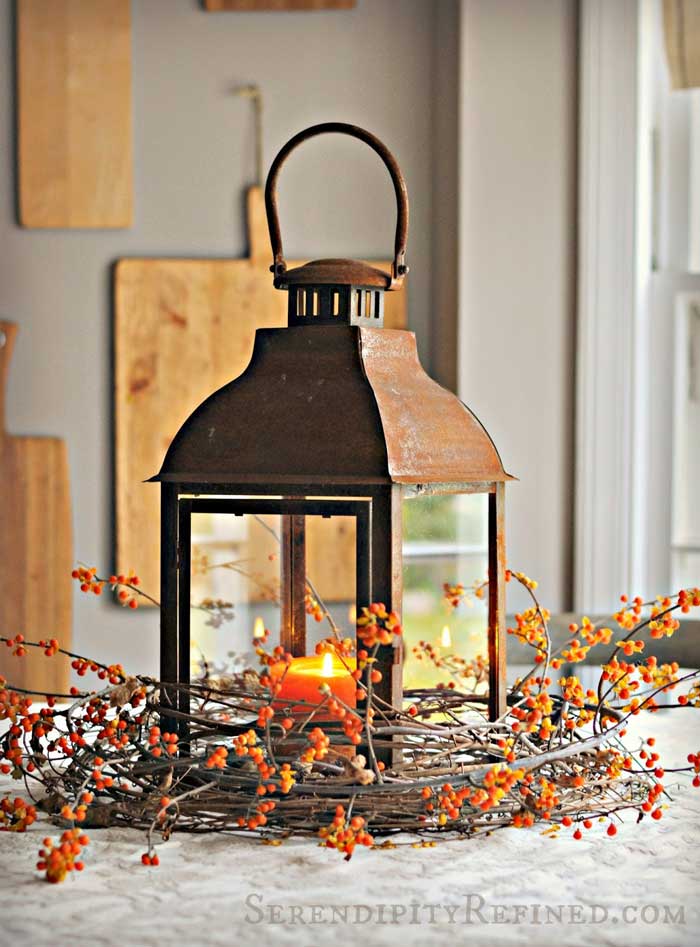 Did you ever think about putting a rusty lantern on the middle of your table? When it is surrounded by a pretty grapevine wreath and lit up with an orange glow, the look is stunning. I love the rustic elegance.
Wheat Bundle Centerpiece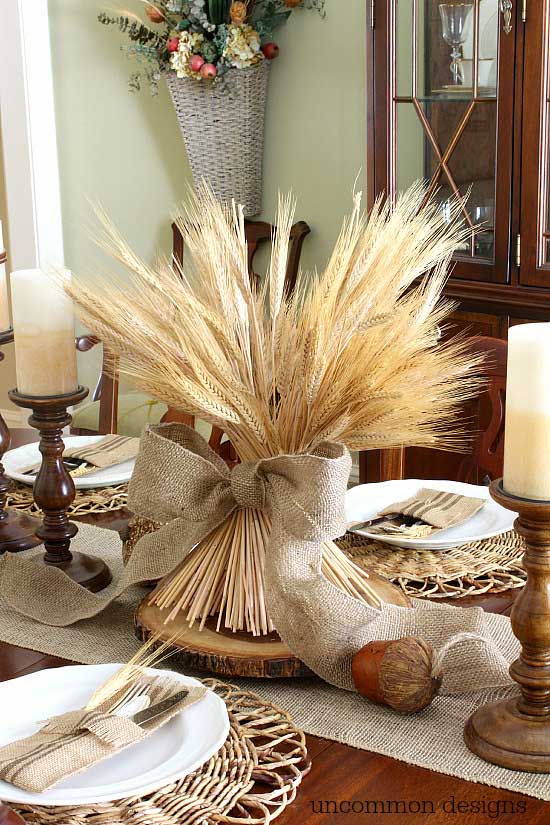 Here is a simple and chic idea that really dresses the table up in an understated way. Just tie off a bundle of wheat with a large burlap bow and you have an instant centerpiece. Set on a wood slab, the look gets a warm rustic touch.
Now that you have some ideas for your Thanksgiving centerpiece, you can make one up and then concentrate on your dinner plans! Do you have a favorite that you think you might try? Let me know what you do or if you come up with your own creative idea.