There are certain spots in a house where your decorating style can really shine through. One of those spots is your living room coffee table. Similar to a fireplace mantel, the coffee table tends to be a natural focal point. If you are short on ideas for decorating a rustic coffee table, here are some decor ideas you may want to try. Whether you buy the accessories or make your own, there are resources or tutorials for both.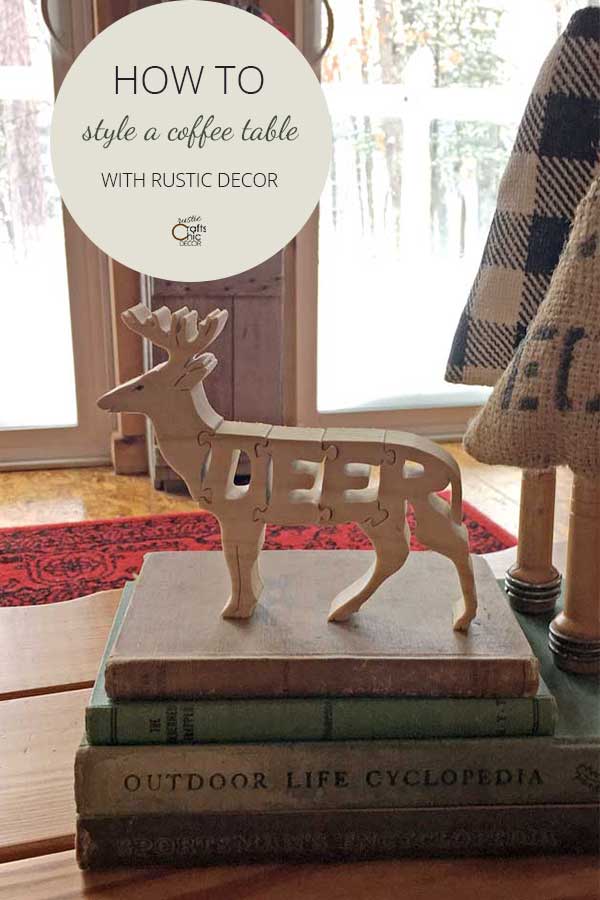 Whatever you use to style your coffee table, you will want to keep a few things in mind. Think about the height and sizes of your decor items. A good balance is visually more interesting. Also, when you break down your table top into smaller sections, you can concentrate on small decorative vignettes. Usually one to three sections are all you need, depending on the size of your table.
Besides the table top decor you will also want to keep in mind that the table serves a function. It is usually a spot for holding necessities as well. Things like magazines, books, remotes, or coasters tend to find their place there. However, there are creative ways to keep these things from becoming a chaotic pile. Trays, baskets, or crates are good to use for both function and decorative use.
Here are some rustic coffee table decor ideas that will make your table the decorative focal point that it deserves.
This post contains recommended product links. If you make a purchase through one of the links, I will earn a small commission.
Add Height With A Rustic Lantern
You may find that quite often you have accessories that are all of similar size. When this happens, you will want to find a way to add some height. A rustic lantern is a perfect addition that will add height and interest to your coffee table. And if you still need more height, then just stack the lantern on a pile of books or a rustic log.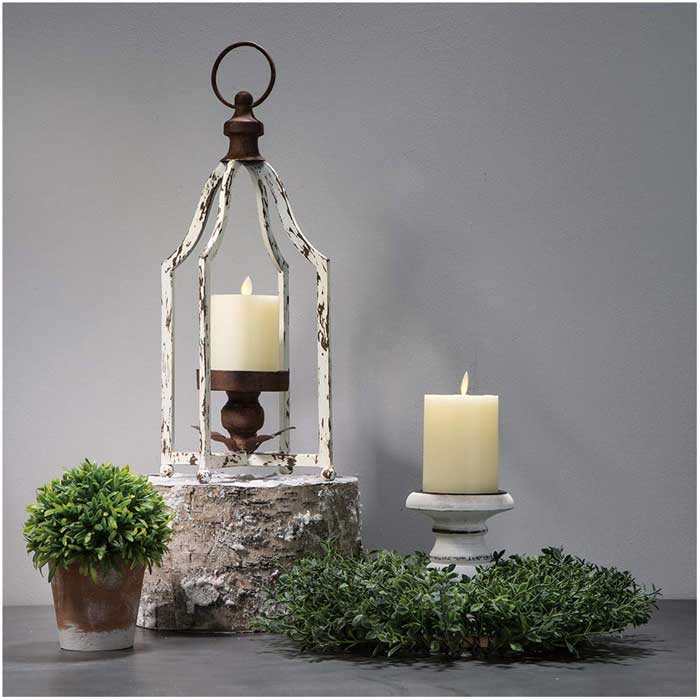 A combination of metal and distressed wood makes the perfect rustic lantern for a coffee table. If you would prefer to make your own, use scrap wood for an easy an inexpensive version.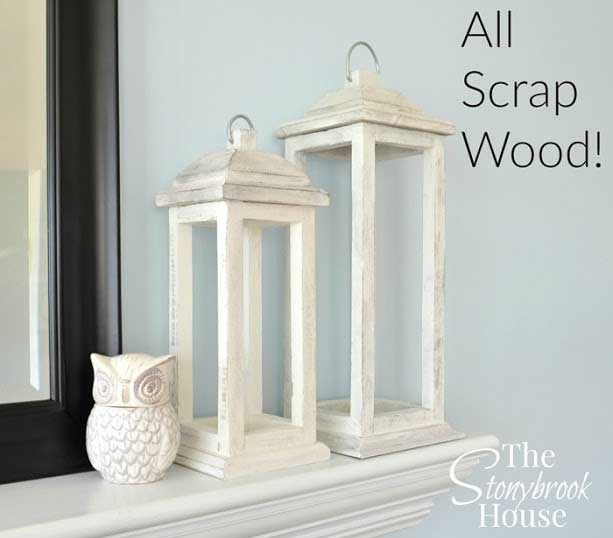 When you make your own lantern, you can customize the size and style to fit your needs.
Use A Rustic Crate For Small Necessities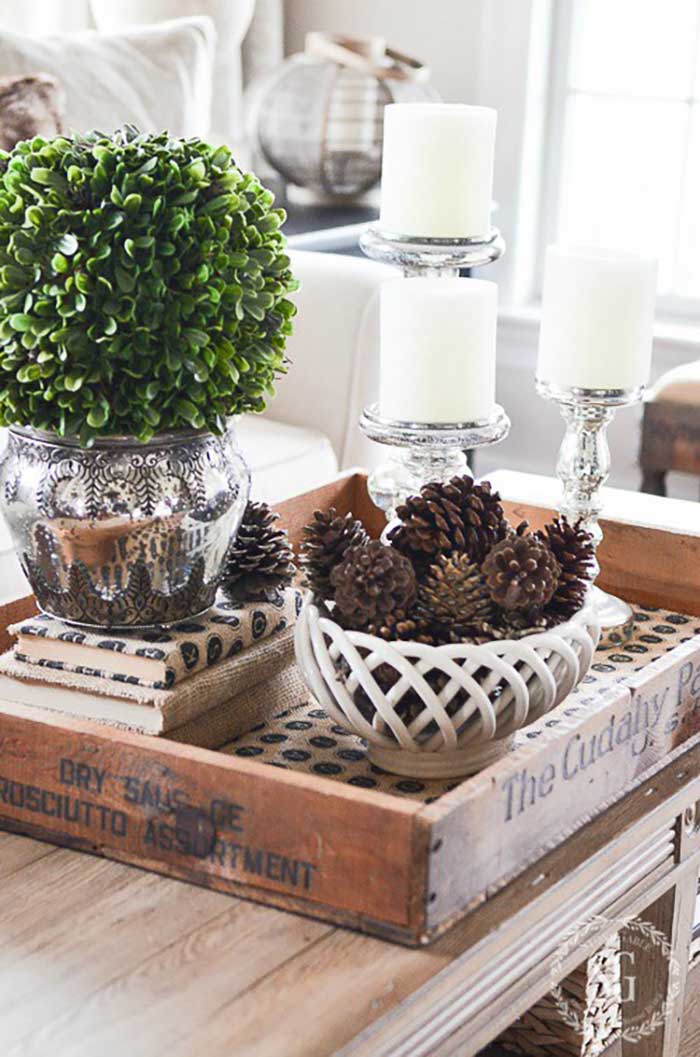 There is something about an old crate that is just so charming. I especially like the crates that can double as a decorative tray. Then, all you have to do is create a vignette inside the tray to add some creative style. Of course, you can also use a crate/tray to store handy items like remotes.
If you don't have an old crate or are having trouble finding one to use as a coffee table tray, you can purchase a reproduction. One advantage to this is that you don't have to clean the wood as it is new.


This tray is a nice size and has good graphics as a coffee table piece. The cutouts on the sides make it easy to pick up and move.
Stack Old Books For Rustic Coffee Table Decor
I love to collect old books and use them frequently to decorate with. They are great for stacking and adding additional height to other decor items. Since you don't want all of your decor at the same height or size, books give you lots of flexibility.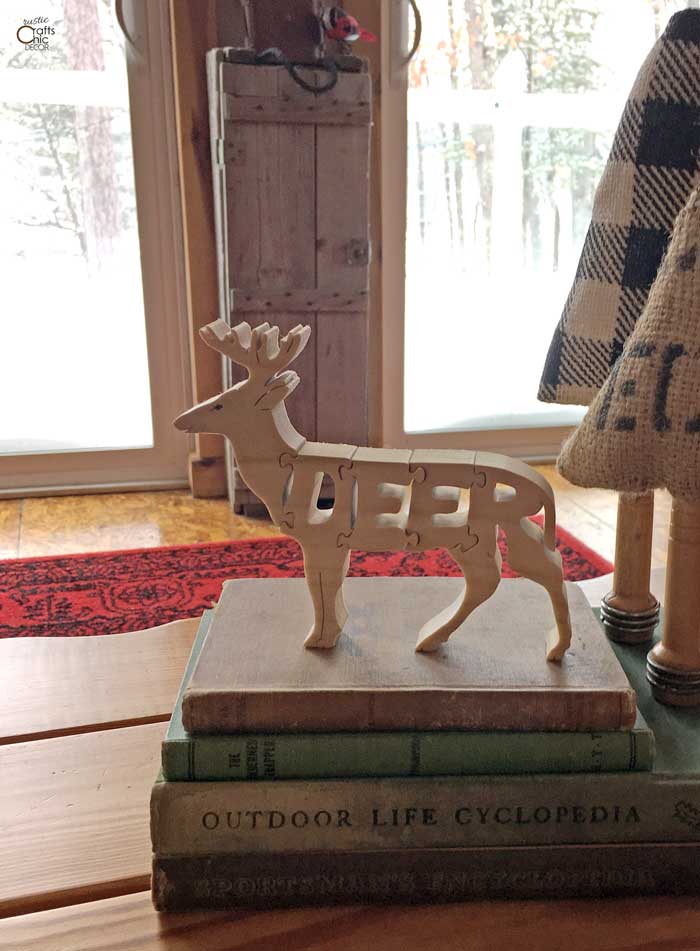 If you like the look of stacked vintage books but don't have any, you can create rustic book covers yourself.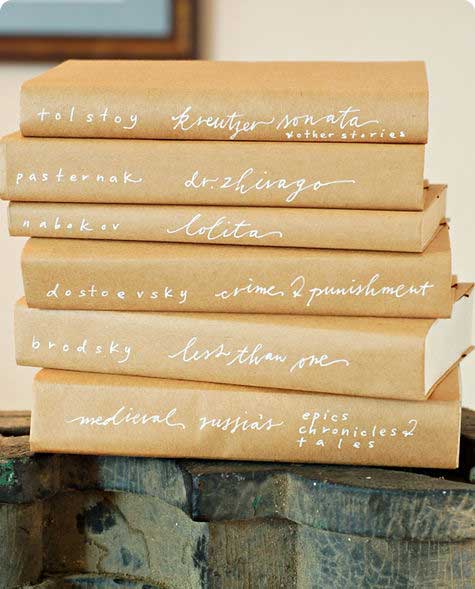 Simply cover whatever books you have on hand with Kraft paper. Then, write the titles on the binder with white chalk marker. The look is uniform and rustic making it a chic addition to your coffee table.
Add Greenery To Freshen Things Up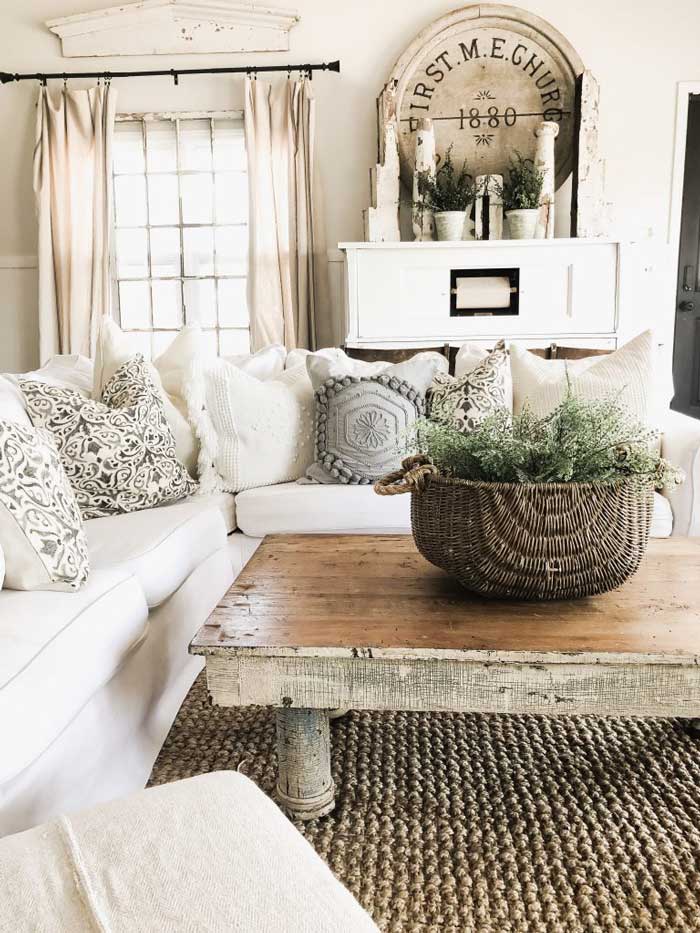 Whether you use greenery as one big statement place of integrate some greens in a coffee table vignette, greenery freshens a space up. To keep the coffee table decor looking rustic, simply place your greens in a rustic basket or crate.
I love to use birch branches in vases around the house. To give the branches a fresh splash of color, I make yarn pom poms to fit on the branch tops. Whether you use green yarn or another color, the idea is to create a look that adds some freshness and cheer.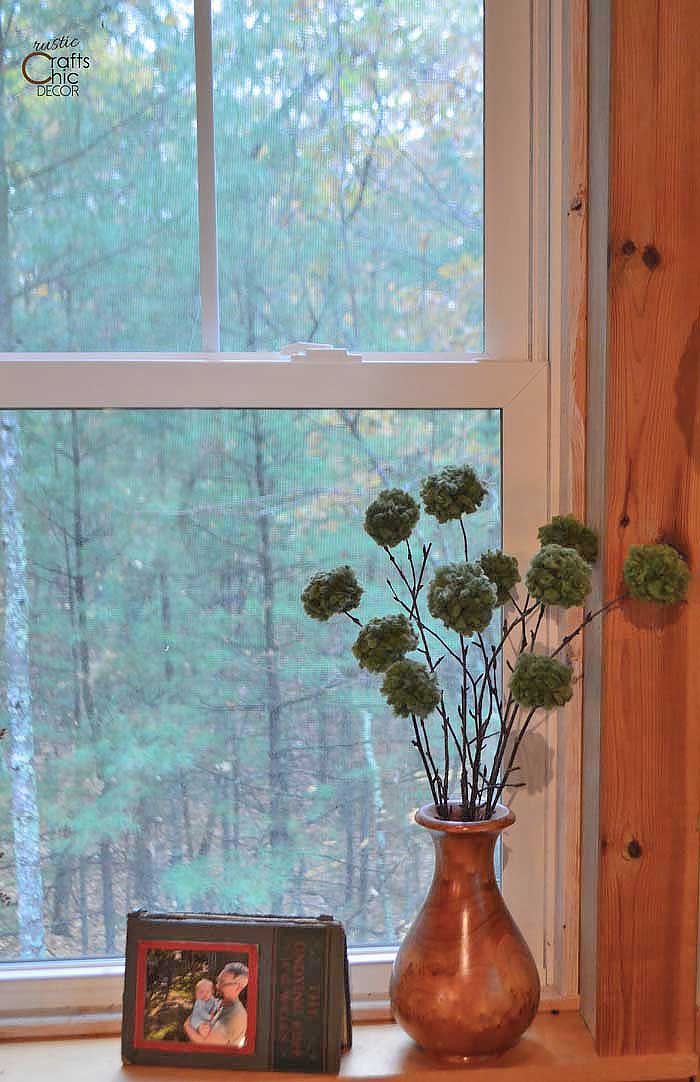 The type of yarn that you use for pom poms will determine the size and uniformity of the balls. With a finer yarn, you get a more defined ball. A thicker yarn is less uniform. It all depends on the look you are going for.
Candles Enhance Rustic Coffee Table Decor
Candles definitely have their place on a coffee table. A lit candle is the best way to warm up a space. Along with the warmth, the candle holder choice is what can add some rustic appeal. A combination of wood and metal is always a good choice for rustic decorating.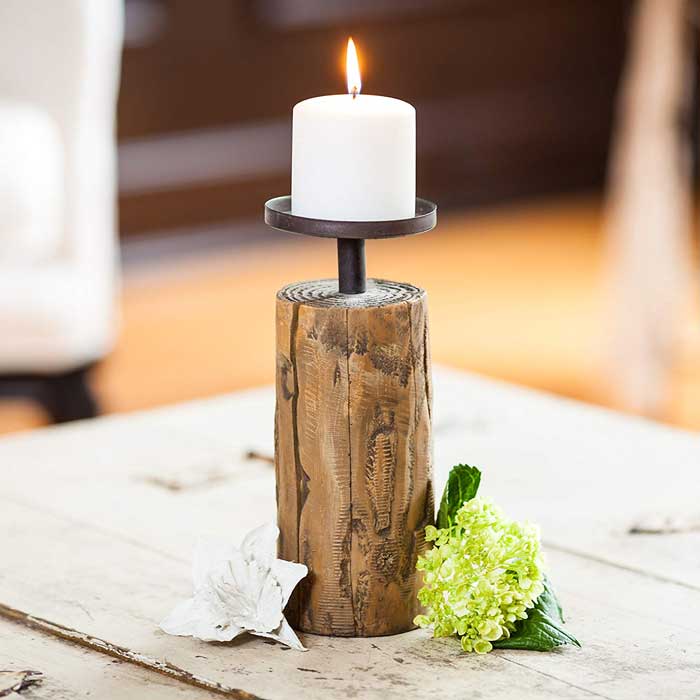 This particular candle holder is attached to a resin log. If you want more of a natural look, you can make your own candle holders using real logs.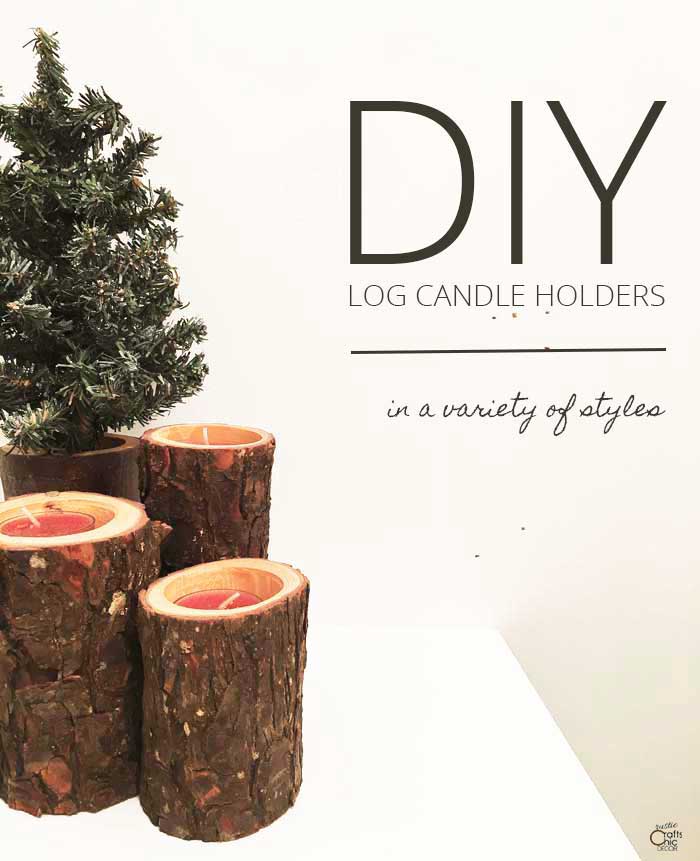 A grouping of candles can look especially nice on a coffee table. It helps to have varying heights for visual interest. When you make your own, you can create the exact sizes that you want. Experiment with different types of logs. You can even peel off the bark for a cleaner look. I've done both and enjoy the different looks.