To create a warm and inviting outdoor space, you will want to spruce it up with some decor accessories. I have rounded up a collection of rustic outdoor decor ideas that will fill your space with charm. Here are some of my favorites.
Rustic Outdoor Decor
Make A Unique Outdoor Beverage Station

This DIY beverage station is so perfect for an outdoor party. It's a fun idea that can be made using some of your own spare parts and pieces.
Create A Natural Log Pathway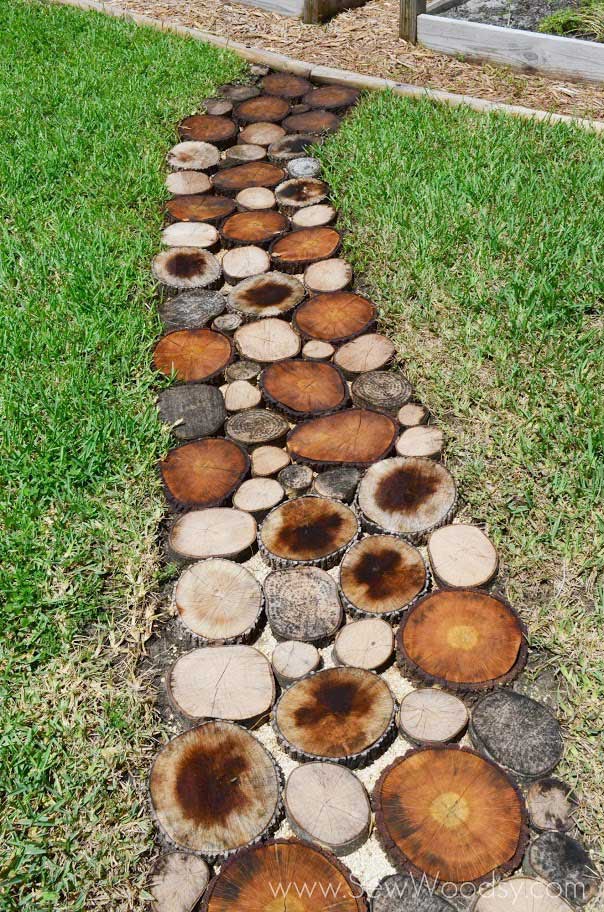 This natural log pathway is made from various log slices. Because of the varying colors, the path adds a lot of rustic interest to a yard.
Turn A Tomato Cage Into A Chandelier

I love how an old tomato cage was transformed into this rustic chic patio chandelier. Because this is fairly easy to make, it's a good project to add a big wow factor to your outdoor decor.
Make Rustic Planters From Old Shipping Crates

Plants on their own look great on a deck. However, when plants are placed in an old shipping crate they really shout style. Adding legs to a shipping crate makes the perfect elevated planter box.
Create A Rustic Garden Gate

An easy way to create a rustic garden gate is to hang an old rusty metal gate between two timbers of barn wood. It provides a nice warm welcome to a beautiful flower garden.
Use A Rusty Bucket To Hang Flowers

Instead of just hanging plastic flower pots, consider putting them into an old rusty bucket for some rustic appeal. This rusty bucket hanging planter makes a perfect contrast for the colorful flowers.
More Rustic Outdoor Decor Ideas
Create a rustic fire pit area for friends and family to gather around.
Make your own birdhouse to welcome the birds and add to your rustic decor.
Use old windows, in a variety of ways, to spruce up your outdoor decor.