Having a relaxing and enjoyable backyard doesn't have to cost a lot of money. You can even make it party ready and fun with some easy and decorative projects. To create a warm and inviting backyard, you may want to spruce it up with some fun decor accessories. Just like indoor spaces, the outside can also show your personality with what you put in to it. All of these DIY backyard ideas are more on the rustic side for relaxed styling.
I have rounded up a collection of DIY's and repurposes that will fill your backyard with charm. Here are some of my favorite ideas.

DIY Backyard Ideas
Make A Unique Outdoor Beverage Station

This DIY beverage station is so perfect for an outdoor party. It's a fun idea that can be made using some of your own spare parts and pieces.
Create A Natural Log Pathway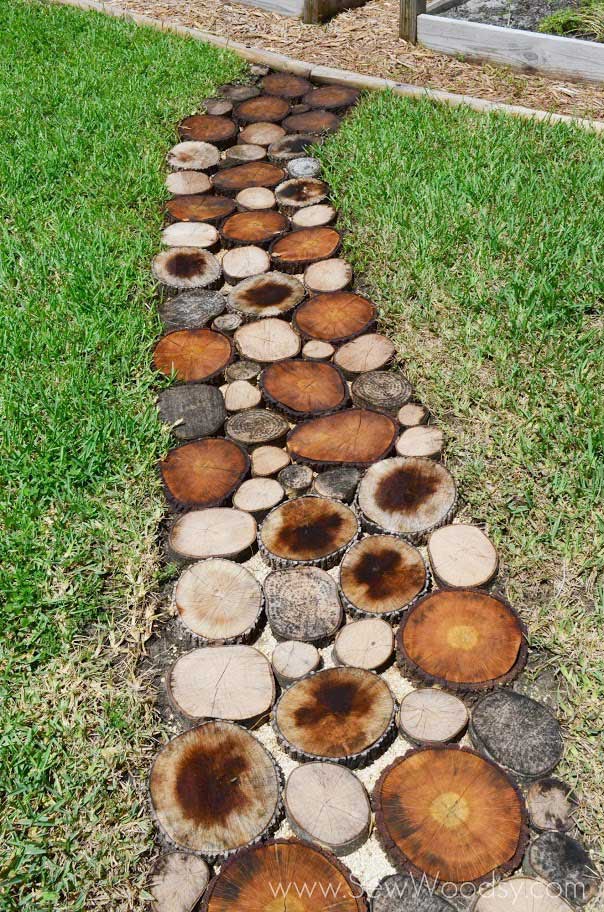 This natural log pathway is made from various log slices. Because of the varying colors, the path adds a lot of rustic interest to a yard.
Turn A Tomato Cage Into A Chandelier

I love how an old tomato cage was transformed into this rustic chic patio chandelier. Because this is fairly easy to make, it's a good project to add a big wow factor to your outdoor decor.
Make Rustic Planters From Old Shipping Crates

Plants on their own look great on a deck. However, when plants are placed in an old shipping crate they really shout style. Adding legs to a shipping crate makes the perfect elevated planter box.
Create A Rustic Garden Gate

An easy way to create a rustic garden gate is to hang an old rusty metal gate between two timbers of barn wood. It provides a nice warm welcome to a beautiful flower garden.
Use A Rusty Bucket To Hang Flowers

Instead of just hanging plastic flower pots, consider putting them into an old rusty bucket for some rustic appeal. This rusty bucket hanging planter makes a perfect contrast for the colorful flowers.
More DIY Backyard Ideas
Create a rustic fire pit area for friends and family to gather around.
Make your own birdhouse to welcome the birds and add to your rustic decor.
Use old windows, in a variety of ways, to spruce up your outdoor decor.